Doing Laundry at Walt Disney World: FAQ
You're at Walt Disney World on vacation! It's time to get away from chores like laundry, right? Well, maybe not.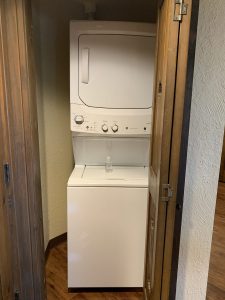 I'm not a fan of doing laundry on vacation, but I've done it more than a few times. There are plenty of reasons that people want to do a load (or two or three) of wash while they're visiting the mouse. Here are a few:
You've spilled something on a key piece of your travel attire.
You have an ill child who soiled some of their clothing
You want to avoid luggage fees and are trying to get by with only carry-on-size bags with minimal clothing
You're making a lengthy visit to Walt Disney World and it's not practical to bring enough outfits for your entire stay
You're on a long vacation with many stops and are sure you won't have access to laundry later in the trip
You have limited time when you get home and want to take post-vacation laundry off your to-do list
The weather at WDW was not as predicted, forcing you to re-wear your most climate-appropriate outfit
The weather at WDW was as predicted, but you weren't prepared for how much you would sweat during that weather, so that you can't re-wear your clothing
You want to dry swimsuits before packing them to go home
Okay, now that I know why I might need to do laundry at WDW, tell me what the easiest way to do this is.
The easiest way to conquer laundry at Disney World is to do it using the washer and dryer in your room, IF YOU HAVE ONE.
Whaaaat? There's a clothes washer in my room?
Maybe.
The standard hotel rooms at Walt Disney World function like standard hotel rooms. However, there are THOUSANDS of rooms at the Walt Disney World hotels that Disney classifies at "villas." The one-, two-, and three-bedroom villa-style rooms at Walt Disney World include a full-sized washer and dryer in the room.
Where are the villa rooms with washer/dryers?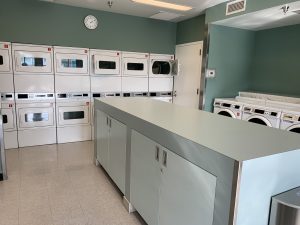 These rooms are in the Disney Vacation Club resorts. They are most often used by Disney Vacation Club members, but anyone from the general public is also able to reserve a villa room via the Disney website or their travel agent.
The WDW hotels that have villa rooms with washer/dryers are located at: Animal Kingdom Lodge (Jambo House and Kidani Village), Bay Lake Tower (at Disney's Contemporary Resort), Beach Club, Boardwalk, Grand Floridian, Old Key West, Polynesian Village, Riviera, Saratoga Springs, and Wilderness Lodge (Boulder Ridge and Copper Creek).
So all rooms at those hotels have in-room laundry?
Sadly, no.
Only the one-, two-, and three-bedroom villas. There is no in-room laundry in standard hotel rooms, nor is there in-room laundry in studio-size villas.
For most people, having in-room laundry isn't the main reason they'd choose a particular Disney hotel, but if you're on the fence between two different types of rooms, the washer/dryer may be the thing that puts your over the edge.
Got it. I have a villa room with laundry–do I have to bring my own detergent?
The villas with in-room laundry are stocked at check-in with one container (meant for one load of wash) of eco-friendly laundry detergent. If you use the detergent, it will be replenished on your "trash and towel" day (if you're staying at WDW using Disney Vacation Club points) or daily (if you're paying cash for your room).
There are no dryer sheets or fabric softener provided in the room. There is a plastic laundry basket provided in the one-, two-, and three-bedroom villas.
I need more detergent. Where can I get it?
Laundry detergent is sold in the gift shops at the WDW hotels. You can also buy detergent in the vending machines at the public laundry rooms at the Disney hotels. There are often boxes of Bounce brand dryer sheets sold in the resort gift shops as well.
What brand of detergent is provided with the Disney World washers?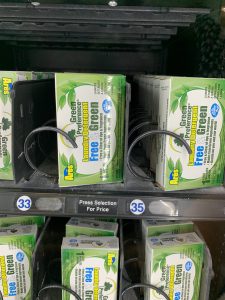 Several years ago, the ubiquitous vended brand was Tide. During a recent visit to WDW where I visited every resort hotel, the only brand of detergent I saw sold in the laundry rooms was powdered Ares Green Preference.
However, small boxes of powdered Tide detergent are available at most of the resorts.
I like the idea of having a washer/dryer in my room, but I'm worried about it being loud.
Honestly, that could be a concern. Some of the older machines are a bit noisy.
The in-room washer/dryers in the DVC villas are located in closets with folding doors, typically near the kitchen area. If you're sleeping in one of the real bedrooms, you can close the door and will have some insulation from the sound. If you're sleeping on the pull-out bed or couch in the the living room, you may find the sound distracting if you're trying to sleep.
The workaround for this is to throw a load in the washer when you head out to the parks in the morning; switch it to the dryer when you pop back to the room for a nap or lunch; and then fold in the evening.
I'm staying in a villa, but it's a studio. Will I have a washer/dryer in my room?
No. There are, however, laundry rooms at the Disney Vacation Club hotels (listed above) that are available for guests in studio-size rooms. Check your resort map or speak to the front desk at your hotel.
And – Good News! – if you're staying in a studio villa, there is no charge to use the laundry facilities at your DVC hotel. This is included in the cost of your stay. There is no payment mechanism on the machines in the DVC resort laundry areas.
So can anyone just go in and do free laundry?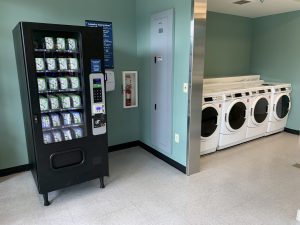 In order to get into the Disney Vacation Club laundry rooms, you need to scan your MagicBand or room key for access. So, no.
I'm not staying in a villa-style room, and I'm not staying at a Disney Vacation Club resort. Can I do laundry at Walt Disney Disney World?
Absolutely! EVERY DISNEY WORLD HOTEL HAS LAUNDRY ROOMS AVAILABLE FOR GUEST USE.
Cool. Where can I find these?
Most WDW resort laundry rooms are located adjacent to one of the hotels' pools. This allows you to keep an eye on your clothes while you lounge in the sun or take an afternoon swim.
The locations of the laundry rooms will be marked on the resort map you receive at check-in. Here's a round-up of laundry room locations if you want to plan ahead:
All-Star Movies: Fantasia Pool, Mighty Ducks Pool
All-Star Music: Calypso Pool, Piano Pool
All-Star Sports: Grand Slam Pool, Surfboard Pool
Animal Kingdom Lodge, Jambo House: Kudu Trail 2nd Floor, Zebra Trail 1st Floor
Animal Kingdom Lodge, Kidani Village: Samawati Springs Pool
Art of Animation: Cozy Cone Pool, Flippin Fins Pool, Big Blue Pool
Bay Lake Tower: 1st Floor Lobby
Beach Club: Tidal Pool, Villas Pool
Boardwalk Inn and Villas: Near 3rd Floor elevators
Bolder Ridge: Ground Floor
Caribbean Beach: poolside in Aruba, Jamaica, Martinique, Trinidad North, and Trinidad South
Contemporary: 2nd Floor
Coronado Springs: Next to the fitness center and three quiet pools
Fort Wilderness: Laundry facilities at comfort stations
Grand Floridian Resort and Villas: 2nd Floor of main building, Ground floor of other buildings
Old Key West: at all pools
Polynesian Village: Near Lilo's Playhouse
Pop Century: Bowling Pool, Hippy Dippy Pool, Computer Pool
Port Orleans, French Quarter: Doubloon Lagoon Pool
Port Orleans, Riverside: at 5 quiet pools
Riviera: 4th floor, East Wing
Saratoga Springs: High Rock Spring Pool, Congress Park Pool, Grandstand Pool, Paddock Pool
Wilderness Lodge: Near Roaring Fork and (DVC only, Boulder Ridge building 1st floor near the vending area)
Yacht Club: Admiral Pool
What are the laundry rooms like?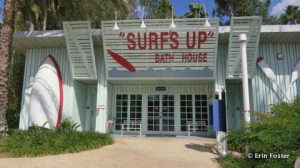 The hotel laundry rooms are set up like traditional laundromats, only much cleaner. Most laundry rooms have between three and seven each of washers and dryers, allowing you to accomplish several loads at once.
In addition to wash facilities, many of the guest laundry rooms also include a comfortable chair or two and sometimes a television set. There are also hotel phones in the laundry rooms so that you can easily keep in touch with family members in the room or contact housekeeping to report any problems.
How much does doing a load of laundry cost?
A wash cycle and a dry cycle each cost $3.00.
Do I need to bring a roll of quarters?
Nope. The laundry rooms at WDW are no longer coin operated. Payment is by card only at the laundry room. Your regular credit or debit card works perfectly for this.
Signs in the laundry rooms state, "If you prefer to use cash inquire at the front desk."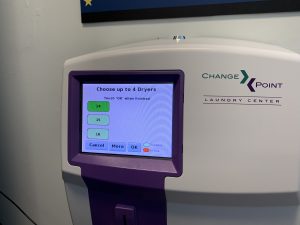 What happens if I go to the front desk?
The front desk of your hotel can sell you a "Wave Rider" card for $7.00. The card includes one wash cycle, one dry cycle, and one box of detergent. The card they sell you is basically a workaround if you don't have or don't want to use a credit or debit card.
How does the card-based payment for laundry machines work?
There are instructional signs in each laundry room. Here's what they say:
Load your laundry and soap into the washing machine(s).
Make your payment for each machine you selected at the payment station.
Select the cycles your desire at each machine before selecting OK to start the machine. The machine will lock one the cylce is started and remain locked until the cycle completes.
Repeat 1, 2, and 3 for the dryers.
Can I pay with my MagicBand?
Not now, though that may become an option at some point in the future.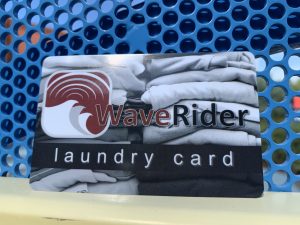 How long does each wash and dry cycle last?
Theoretically, a wash and dry are 30 minutes each, but there is a huge amount of variability in this.
Ugh, so do I have to keep going back to see if my stuff is done?
Nope. There's an app for that – called LaundryView.
How do I learn more about the app?
The following information is posted in the laundry rooms:
To check status and set alerts use Laundry View.
Scan the QR Code [displayed nearby] or enter the URL laundryview.com/disneyworld into your phone browser.
Select your location to view the status of each machine, including how much time is left on each cycle.
See laundry room usage reports to avoid the busiest times.
To receive text messages when your cycle is complete, select "option," enter your phone number, select save, then select which machine(s) you would like an alert on.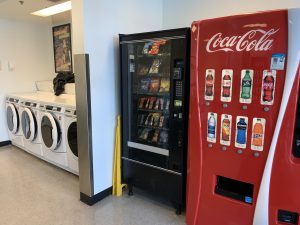 Any tips about the app?
Well, I find it clunky and less than intuitive. But the laundryview.com website is great.
If you want to check when each laundry room is typically most active, use the "weekly statistics" tab on the page for each room.
I need some clothing cleaned, but I'm super busy (or super hard into vacation mode) and I don't want to do it myself. Are there options for me?
If you're interested in getting your clothing clean, but not interested in doing the wash yourself, valet service is available at all the Walt Disney World resort hotels. Valet service includes dry cleaning, pressing, or straight up laundry.
What will that cost me?
Prices can change, but for ballpark information some sample rates as of early 2020 were: dry clean suit, $15.00; dry clean skirt, $8.00, dry clean shirt or blouse $8.00; launder socks $3.00; launder pajamas, $7.50; launder tee shirt, $5.00. Obviously, it is much more cost effective to launder washable items yourself, but the dry cleaning rates are not far off what dry cleaners charge in urban areas of the United States. Pricing is uniform across all resorts.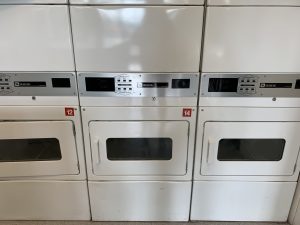 So I can just pay $3.00 to get my socks washed?
Well, kinda. There is a $10.00 minimum charge for any valet service, plus you should probably tip the housekeeper that brings the clothing back to you.
Is there any other fine print related to valet pricing?
Oh yes. "Silks, linens, pleats, and lined items – 50% surcharge."
I don't need anything washed, but I do want something pressed. Can Disney do that for me?
Sure – press only items are charged at 75% of the cleaning price.
There's also an iron and ironing board in every Walt Disney World hotel room, if you want to touch up some wrinkles yourself.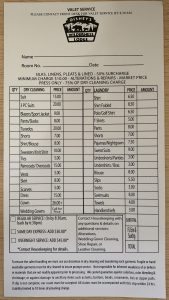 How do I tell Disney that I want something sent out for valet service?
At the moderate and deluxe resorts, you'll find a laundry bag and valet price list hanging in the closet of your room. Touch the housekeeping button on your room phone and someone will come to the room to collect your items for you. If you fill out the valet slip, you can just leave the items in bag on your bed and housekeeping will deal with it.
At the value resorts, if you'd like an item dry cleaned or pressed, you must bring it to the bell services desk near the main resort lobby.
Are there specific hours for the valet service?
Valet service is available seven days a week. Items sent for service before 8:30 a.m. will be returned to you the same day, usually by 6:00 p.m. There's also an express option, which costs $30.00 more, per order.
If you want valet laundry or dry cleaning overnight, that will cost you an extra $45.00 per order.
Any other tips?
Most of the WDW hotel gift shops sell Tide to Go pens, usually in the section with the over-the-counter medications. If you just have a small stain, rather than a stinky mess, a quick dab of Tide to Go might solve your problem.
Have you done laundry during your Disney vacation? To do plan to in the future? Let us know about your experiences.