Step by Step: How to Use the TouringPlans Room Finder
A great hotel room can really make your vacation sweeter. Even within the same resort and room type, some Disney World hotel rooms are better than others … and it can depend on what you personally are looking for! The TouringPlans Room Finder helps you get an idea of what a room will be like, before you visit.
Never tried it? Take a trip through our walkthrough below. There are never any guarantees that you'll get the room you request, of course. But I can say from experience that when it works out, it's a pretty awesome feeling. Still not convinced that room requests are the way to go? See more reasons here: Why Make A Disney World Hotel Room Request?
The Room Finder works by offering you a view of Disney World rooms at 4 different levels:
Disney-World-wide (this one is pretty boring as it only lists the resorts)
Resort-wide, which is helpful for letting you check out the overall layout of the resort
Building-wide, which lets you see how rooms are laid out in individual buildings
Room detail, which shows you everything you need to know about the room
Once you're familiar with each level of detail, there are filters you can use to zero in on the room you want even more quickly. Let's get started!
Disney World Level
Start your Room Finder browsing at the Room Finder page: Walt Disney World Hotel Room Finder (it will open in a new tab). One thing to know: the amount of detail means that the Room Finder is best used on desktop/laptop, or at least on a tablet. Unless you've got a really large phone, you might find it frustrating to scroll around the screen. This is not something unique to the Room Finder, maps are often a challenge for small screens.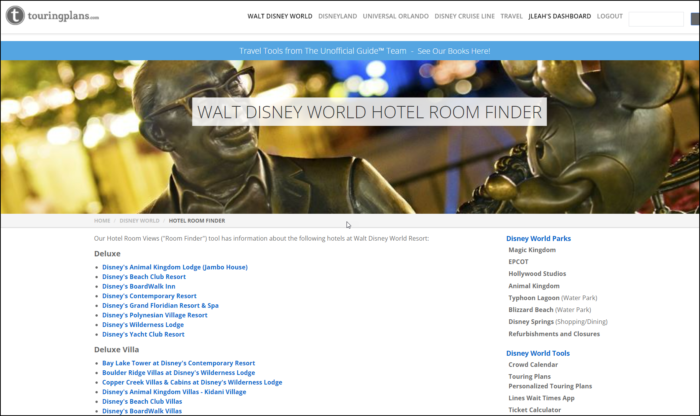 I promised you this level is pretty boring, didn't I? You can click any image in this article to enlarge it, but there's not a lot to see here. To see more interesting things, find the resort you want to look at in the list and select it. I'm going to choose Caribbean Beach.
Resort Level Map
After you've selected a resort, you'll see a high-level map of the hotel property like the one below. Resort areas will show their names; this helps you get oriented if you're comparing with another map. Bus stops and other transportation are marked. And of course pools. Can't forget those.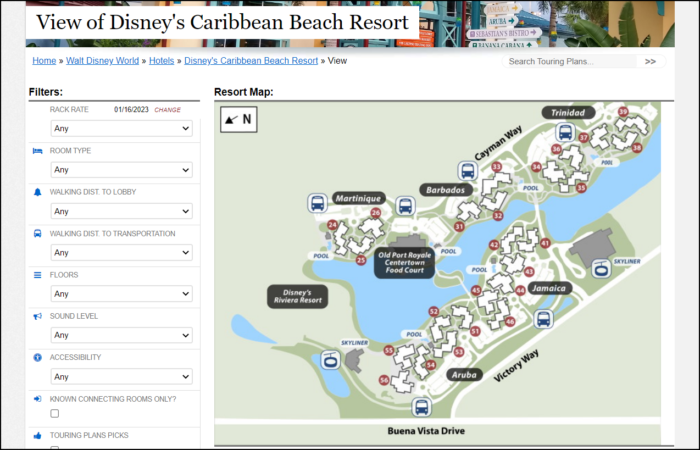 On the left side of the screen you'll see the filter panels; we'll talk about those later. As you mouse over the resort map, you'll see the buildings light up to show that they're active and you can click on them. I'm going to click on Building 41, shown below, to get more detail about that building.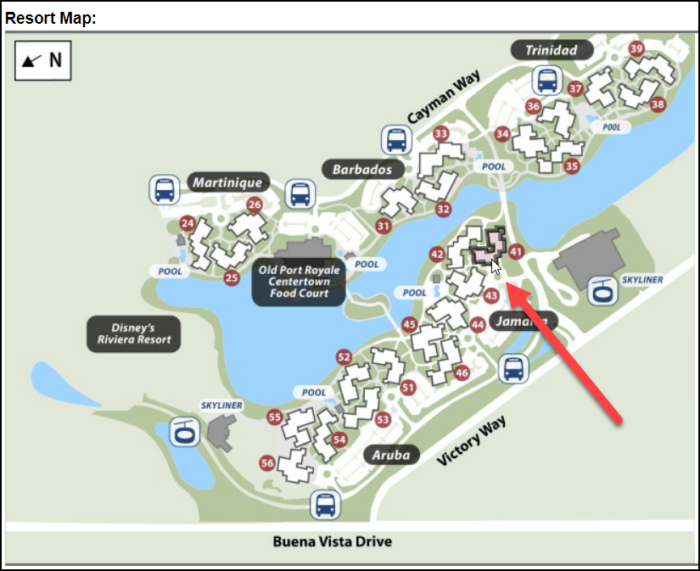 Building Level Map
Now we're zoomed all the way in to a single building. You can see stairways, entrances, and other features. Caribbean Beach has only exterior stairways, so there's not a lot of detail about elevator locations and the like. In a different resort where there were more building "areas" you would see those marked in addition to the rooms.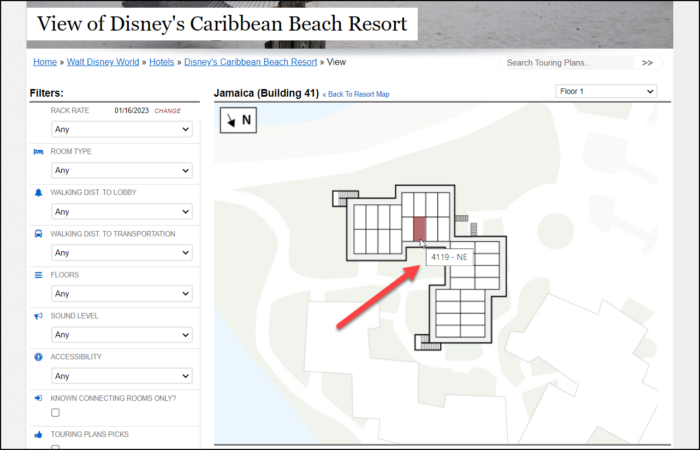 If you mouse over a single room you can see the room number and orientation. One thing to be a little careful of when you change zoom levels is that the directional arrow in the upper left of the map may point in a different direction. This is because the maps are laid out to give you the best view within the screen, and sometimes that means turning them a bit as you drill down.
You might wonder why we don't just put a zoom slider on the map like Google Maps does. One reason is that having these specific levels lets us put different tools on the page at each level. For instance, in the screenshot below, you can see that I've expanded the floor navigation tool (fancy name for a dropdown!) that is used to change floors.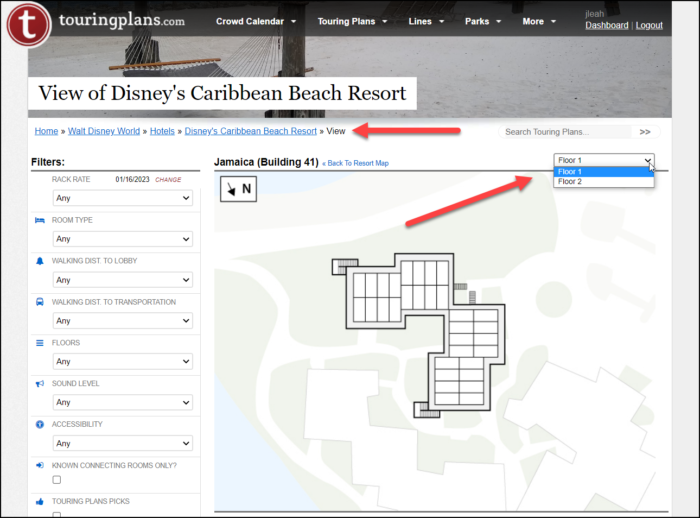 There's also a breadcrumb pointing to the website page for Caribbean Beach—pro tip: our hotel pages have a direct link to the Room Finder. Below that, next to the building label, is the link to go back up to the Resort Level map.
Room Level Detail
While you weren't looking, I quickly switched to Floor 2 and clicked into Room 4151.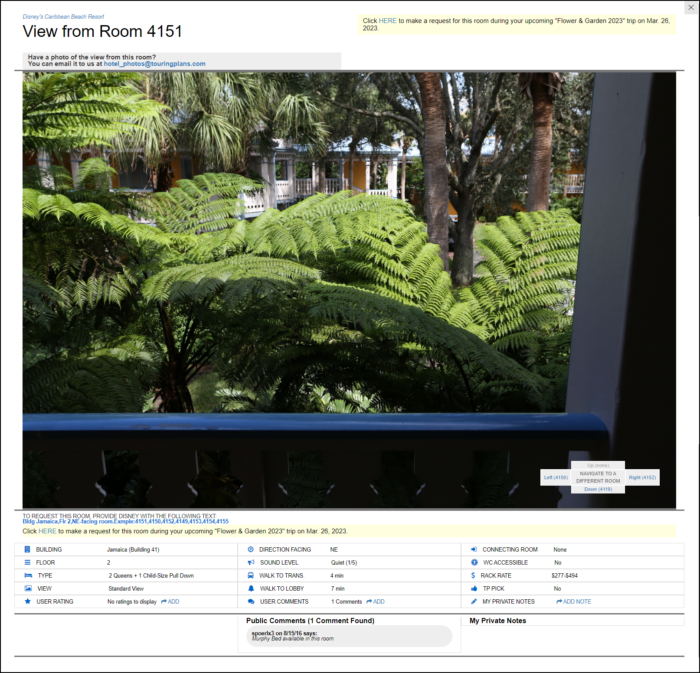 That view is … green. If I'm looking for a quiet room without a lot of noise from the other levels or the road, I'd probably be happy to see all that greenery blocking the noise. If I was looking for a scenic view of a pool, not so much. Sometimes we may not have a photo from the exact room, and you'll be shown a photo from a nearby room that should have a similar view. You'll see a notice if that happens.
There is quite a bit of detailed info on that screen that might be hard to make out even if you click to enlarge it, so let's zoom in on the top and bottom areas separately.

I mentioned that you might see a picture from a nearby room if we don't have one from the exact room you've clicked on. The A arrow shows where you can help with that. Every time you stay at a Disney World Resort, we'd love it if you take a moment to check if we have a picture of your room's view in the Room Finder. If not, you can mail us one and we'll put it in.
If you have a trip on your TouringPlans dashboard for the resort you're viewing, you'll see the yellow banner marked with the B arrow on the top right. Subscribers can click the link there to have their room request sent to the hotel automatically. We'll cover more details on how to make a room request in a separate post.
Use the top right X at C to close this room-level view and go back to the Building Level map. And if you're on a smaller screen, the scroll bar on the right at D might be necessary to see the information in the bottom panel below.

One feature to take note of is the Navigation tool at A. You can use this to scroll around to nearby rooms (including up and down floors!) without having to go back to the Building Level map and select a different room. Typically when I use the room finder, once I find a room I like I'll browse to the neighboring rooms and check them for comments. If someone left a note about noise from the road on an adjacent room, for instance, that probably applies to the room you're looking at too. Of course, you can also use it to browse around looking for a better view. 🙂
At B, we again have a link that you can click to set up an automatic Room Request, and there's also text that describes the room. You can use this if you're requesting a specific room yourself directly with Disney. (To do this, you can call (407)-939-1936.)
C, D, and E are individual sections that tell you more about the room. (If you're on a smaller screen you might only see a single section.)
C has the most critical info you want to see about the room – where it is, what type of beds it has, and what category ("view") of room it is.
D has "second tier" information like how far it is from the lobby and transportation, and how quiet it is. (As predicted all that greenery has made this one quiet!)
E has information that is critical to a smaller subset of guests, like accessibility and whether or not it is a connecting room.
In the middle section above, you see one of those comments that I mentioned. There are three types of interactive notes: a User Rating (stars), the Public Comment, and a space for a Private Note. Private Notes are visible only to you. These comments are crowdsourcing at its finest, but always make sure to take note of the date. Comments more than a few years old might not be accurate if they discuss the room furnishings or condition.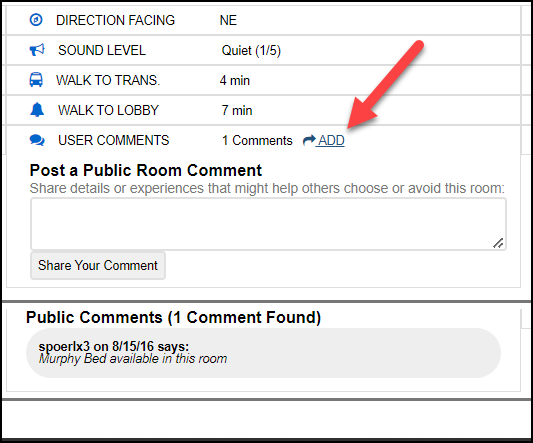 To add a comment, tap or click the link marked "ADD", and a panel will unfold with a space to enter your note or the rating. Click "ADD" again to fold the panel up when you're done.
Using Filters to Find A Great Room
Most Disney resorts have hundreds of rooms, and you might not want to find the one you like by just browsing around. It could take a while! Not to mention that if you've booked a specific room type, spending a lot of time paging through rooms that don't match it can be a big time-waster.
You might remember that I mentioned waaaay back in the beginning that there is a filter panel to the left of the map on the Resort Level view. You can use these filters to select a room that fits your specific criteria. Page through the gallery below to see what these filters look like, and remember that the options might vary a bit from resort to resort based on the hotel's specific setup.
One thing that you'll definitely want to take note of is the link to change the date on the Rack Rate filter, because those prices are date-dependent.
Once you've set up the filters the way you want them, tap "Show Matching Rooms" at the bottom and the matching rooms will light up in pink.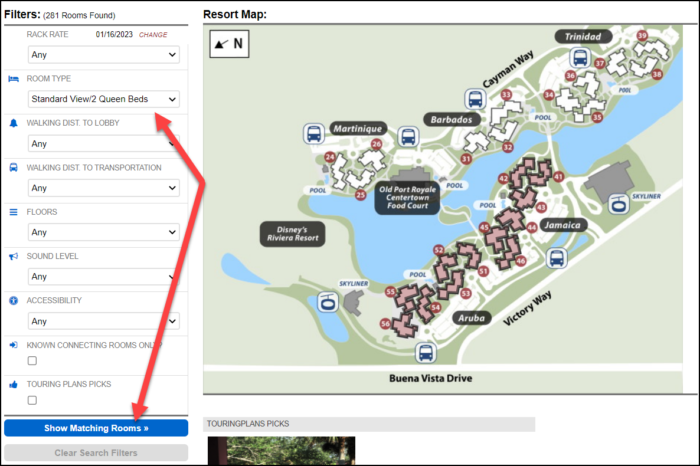 Take note! If you don't see anything in pink at all, it means there are no rooms that match all your criteria. For instance, if there are no Accessible rooms on the 2nd floor, you won't see any hits on the map if you ask for one. For your best success, choose only a couple of criteria that are especially important to you. But if you wash out, you can tap the gray button marked "Clear Search Filters" to quickly reset everything and try again.
Once you have your filters applied, you can again drill down to a building you might be interested in. The filter coloring will show at the level of the individual rooms.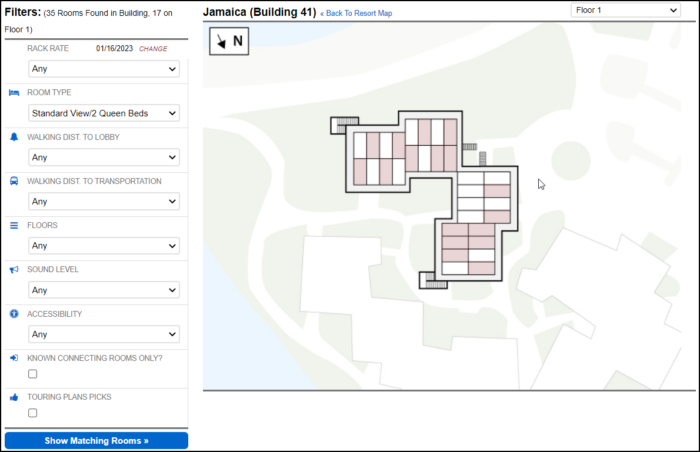 Although you still see the filters here, their role is to tell you what you're looking at. If you make or change selections and then click "Show Matching Rooms" to re-filter, you'll be brought back up to the Resort Level map when your new filter is applied.
Have you used the TouringPlans Room Finder? Did you get the room you wanted? Let us know in the comments!