10 Reasons DINKs Would Enjoy Disney Cruise Line
I know what some of you are thinking. "Are you sure DINKs would enjoy Disney Cruise Line?" Wait. That wasn't it? Oh, you're wondering what a DINK is! Well that's easy. A Dink is a Double Income No Kids family (and let me immediately apologize if there is another, inappropriate meaning that I am too old or naïve to know). It's obvious why the first two letters in that acronym would like a Disney cruise. They have more money! But the second two letters may throw you off a little. For many couples without kids, Disney isn't the first cruise line they would consider (or maybe even a cruise line they would consider at all!) when planning a cruise. Well they should! Because Disney cruises are fun for everyone, even adults with no kids. My disclaimer here is as follows: yes, I know there are lots of other great cruise lines and yes, I know there are good reasons to sail on those other cruise lines. What I am trying to say here is – don't rule Disney out just because you don't have kids. There are reasons people love it after all.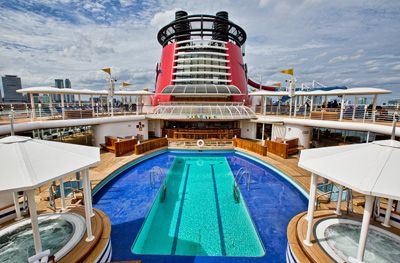 1. Adult-Only Pools – When you picture a pool on a family cruise line, you are probably picturing a pool full of screaming, playing, splashing children. Well, you will find those on every Disney ship! The good news is you will also find a pool that is blissfully free of children – the adult only pool. There are certain times of day when it can get crowded, but it's all adults. Many cruise lines do not have adult-only pools, but Disney recognized there would be times where the adults would want a calmer setting than swimming children afford. The Magic and Wonder have a long rectangular adult pool for swimming with wide shallow ledges on the side, perfect for lounging in water that's only a few inches deep. There are also two hot tubs adjacent to the pool for adults to enjoy. The Dream and Fantasy have a pool divided into three circular sections. One is rimmed with seats, one is deeper water, and one is only a few inches deep for sunning. There's a bar on one side of that last circle as well. Additionally, both ships have infinity hot tubs. The Fantasy also has Satellite Falls which is a small wading-type pool built with a waterfall feature. Trust me, even on a crowded day, they're 1000 times more peaceful than the kid's pool.
2. Adult-Only Café – All four ships have an adult-only café called Cove Café near the adult pools. It's a great place to relax and order your favorite specialty coffee and baked treats. The coffee and alcohol are an additional charge, but the snacks are not! There are magazine and books to enjoy while you relax as well. It's a great little spot!
3. Adult-Only Excursions – Disney doesn't forget about the adults when it comes to excursions. While there are excellent family excursions which adults are welcome on (and even some excursions with kid-focused activities), several ports also have excursions designed only for adults. Not only will there be activities on these excursions that children couldn't have participated in even if they were there, but many adults will also greatly appreciate that their fellow companions on these excursions are all adults, which may contribute to a sense of peacefulness on excursions involving long transport times, like bus rides. If you need a break from children, take an adult-only excursion!
4. Adult-Only Beach – Disney's amazing private island, Castaway Cay, is the highlight of many cruises. The family beach, kids' splash areas, game pavilion, snorkeling lagoon, all of it is great! But there's an adult-only haven on the other side of the island called Serenity Bay. It's a long walk or a quick set of tram rides from the ship. The beach is beautiful and there are chairs, umbrellas, cabanas, roaming bartenders, everything adults might enjoy. There's also a restaurant there so you don't have to make your way back to the family beaches when you get hungry or thirsty. As a bonus, there are often treats for the adults at lunch that the restaurants on the family beach don't have. Like steak!!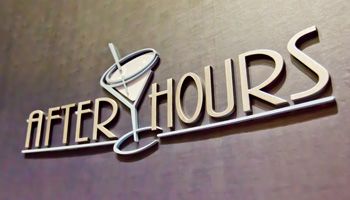 5. Adult-Only Nightclubs – The nightclubs onboard the ships are open to all guests much of the time, but at night, they are adult only! The late evenings are filled with great activities geared towards adults. The variety acts, while not usually over the top racy, are definitely adult themed once the kids are banned. Match Your Mate is a Newlywed Game-type show which is usually hilarious, and you wouldn't want your children anywhere near when the couples onstage start oversharing. After the nightly shows, stick around for themed dance parties, karaoke, and more fun!
6. Adult-Only Restaurants – For the most peaceful of meals, the adult-only restaurants are the place you want to be. That's not just because of the lack of children; they're excellent restaurants. Remy, on the Dream and Fantasy, is a first class dining experience some people will be shocked to find on a family cruise line. It's about as classy as high dining gets. Choose from one of two tasting menus developed by renowned chefs, or customize a combination of the two. It's course after course of amazing food. Palo on all four ships is one of our favorite restaurants anywhere. Brunch is divine, and I hear they're testing new additions to the menu on current sailings. The filet at dinner is one of the best I've ever had. Perhaps not surprisingly, one of the highlights of dinner is dessert! There are several great options but everyone needs to try the chocolate soufflé at least once in their life. Maybe 5 or 6 times.
7. Vacation With Friends and their Kids – Maybe you are DINKS who are surrounded by friends or family with children! Maybe you would enjoy vacationing with said friends, but they enjoy vacationing with their children! And hey, maybe you enjoy their kids too sometimes! A cruise where guests of all ages can have a great time may be the perfect answer. Odds are good that once the children get a glimpse of the kid's clubs they're going to want to spend at least a little bit of time there, probably a lot. That's the perfect time for the rest of you to enjoy some adult-only time. Or maybe the other family wants to spend the entire cruise with the children! That's understandable! The good news is, you can spend time with them too, and still have enough other activities to entertain yourself when you want to split up! We often travel with family grandparents who, while they love their grandkids and want to spend time with them, also enjoy some vacation time without little ones around. Disney cruises are perfect for us.
8. BYOB and Alcohol Tastings– Disney's bring your own alcohol policy certainly wasn't made for children! Adults who enjoy adult beverages and don't want to spend a decent percentage of their vacation budget on purchasing those beverages will appreciate being able to bring their own alcohol onboard. The only real rule on quantity is that it must be able to fit into your carry-on, and that carry-on cannot be a hard sided cooler. There are multiple alcohol tasting opportunities onboard as well. Even the shortest sailings tend to have Mixology classes, wine tastings, beer tastings, etc. They're an additional cost, but the price is actually pretty good considering what you get in return!
9. Adult Seminars – On most cruises, Disney has some fun activities onboard meant only for adults. The Art of Entertaining is a series of cooking, napkin folding, and other things to help with your at home entertaining. Or your at home eating. The Navigator Series sessions are hosted by bridge officers who demonstrate navigational techniques and customs. Bingo, Disney's version of onboard gambling which Kristi Fredericks wrote about recently, is great fun! Children are allowed but only adults can win, so even if they're there, at least they're not competition! We've seen lots of other fun adult-only activities pop up over the years so always check your Navigator for options!
10. Excellent Spa – All four ships have a beautiful Spa. On the Disney Wonder it's Vista Spa and Salon, and Senses Spa and Salon on the other three. Senses also includes a teen-only spa called Chill Spa. Lucky them! There are many of your typical salon services like massages, couples massages, aromatherapy, saunas, acupuncture, etc., as well as a full-service salon and fitness center. The state of the art fitness center gives you the chance to work out with a view. There are classes as well as most of the equipment you would find in any nice gym at home. The Rainforest Room in the spa is a popular adult haven on all four ships with a sauna, steam shower, and wonderful heated tile chairs. If you're looking to get away from just about anything, this is the place to be.
So are you a DINK? Or even a SINK? Are you an adult without kids that has tried a Disney Cruise? Do you agree? Are there any other reasons I missed?