10 Reasons to Visit Disneyland this Holiday Season
The holiday season is upon us! Yes, I know it's just November but if you've been in a Walmart anytime in the last two months, you know I'm not the first person to have Christmas on the brain. And Walmart isn't the only place with decorations out. Disneyland is decorating, too! You may have seen in Guy's recent photo update that the decorations are up and the parks are looking beautiful already. The holiday season is in full swing at Disneyland starting November 12, so it's not too early to plan your visit!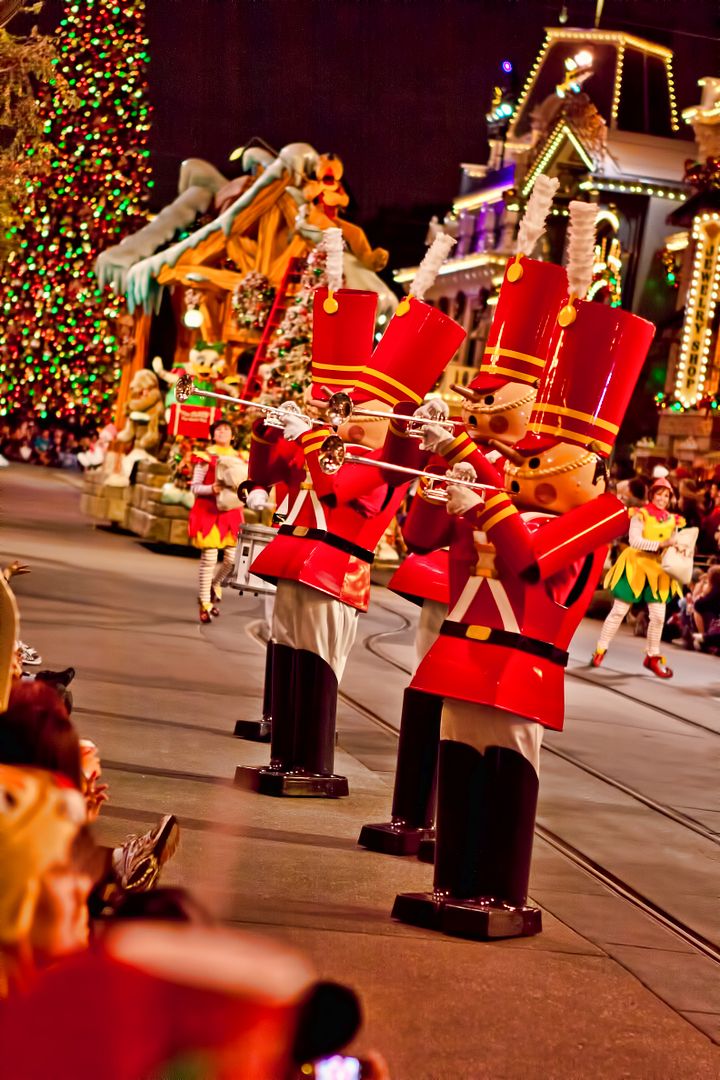 1. Thanksgiving Dinner – If you're debating visiting Disneyland on Thanksgiving Day, I've got good news! You don't have to cook a turkey. Disney will take care of it for you! No cooking. That, my friends, is music to my ears. There's a huge buffet set up at the Disneyland Hotel. There will be roast turkey, prime rib, pumpkin pies, a chocolate fountain, etc. The list is way too huge to list here. It's not cheap at $71.99 for adults and $20.99 for kids, but it is extravagant. Steakhouse 55 doesn't have as big a selection, but it's three courses for $46, and, knowing Steakhouse 55, it's going to be delicious. Napa Rose has a four-course Wine Country Feast for Thanksgiving for $90. You know that will be good! Storytellers Café, PCH Grill, Ariel's Grotto, Flo's V8 Café, Carthay Circle – there are tons of other choices and if you want a Thanksgiving meal at Disneyland, trust me, you won't go hungry.
2. Candlelight Processional – Okay this is a touchy one right now. More on that in a minute. The Candlelight Processional is a retelling of the Christmas story by a celebrity accompanied by an orchestra and choir. It's been held in Disneyland every year since 1958. This year it's being held on 20 different nights starting December 1. The announced celebrity narrators include Dick Van Dyke, Lou Diamond Phillips, Patricia Heaton and Kurt Russell. Pretty diverse group, huh? I'm hesitant to give any more specifics here since Disney seems to keep changing the plans. Back in August, Disney announced that there would be a lot more dates this year and even some new dining packages. The Disney Parks Blog just slipped in the news that there are no dining packages now, and it appears that the only reserved seats are going to be pretty hard to get, although there's a chance if you're an Annual Passholder that you can get selected by lottery. My advice is to watch the Disney Parks Blog and the Touring Plans Blog to see what other announcements are made.
3. Bell ringers on Buena Vista Street – If you're like me and can't wait to see what Disney has in store for the newly finished Disney California Adventure, Disney Parks Blog gave us a couple of spoilers. There will be a group of eight Buena Vista Street Community Bell Ringers that will welcome visitors to Buena Vista Street where they can sing along with familiar holiday music. Every evening the Bell Ringers will gather in Carthay Circle for the tree lighting.  If that doesn't sound festive, I don't know what does!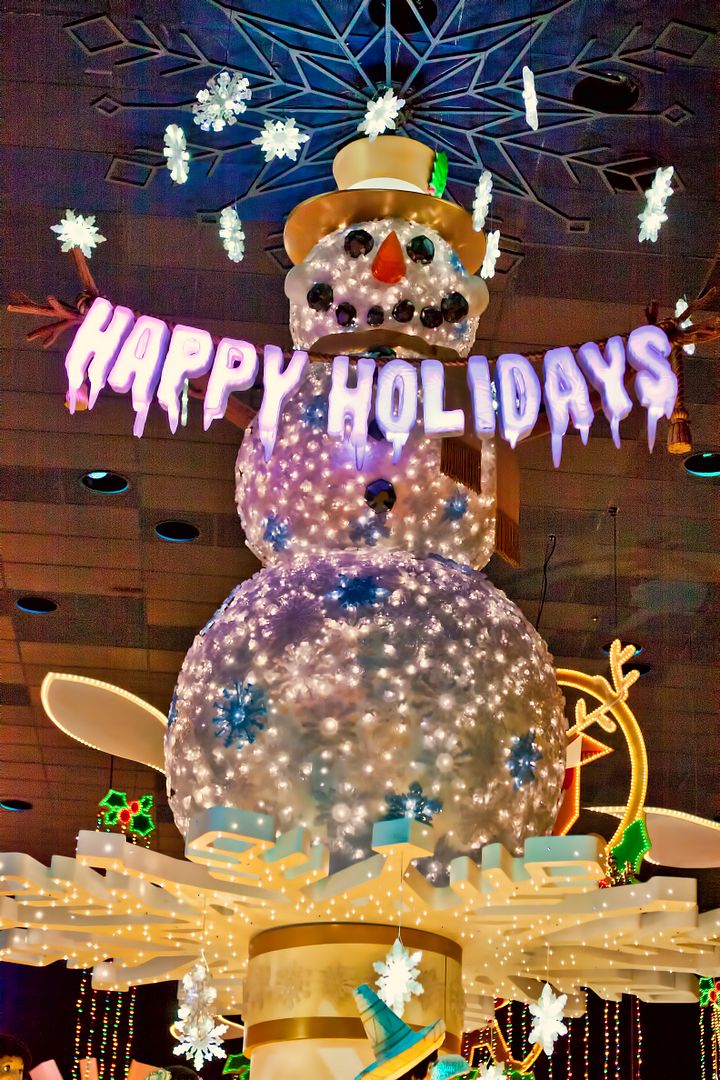 4. Santa in Elias & Co. Department Store – Santa himself will be making appearances in the Elias & Co. Department Store. I like seeing Santa out of his traditional meeting place, like in Big Thunder Ranch, Sunshine Plaza, Mickey's Toontown, etc., but the idea of seeing him in a "department store" on Buena Vista Street is really neat. It's so nostalgic to me. I just love that idea!
5. Three Kings Day – Disney just released details this week for the Three Kings Day celebration. Three Kings Day, also known as Día de los Reyes Magos or Epiphany, is celebrated in many Latin American countries. It's a celebration of the day the three kings, or wise men, brought their gifts of gold, frankincense and myrrh to Bethlehem. Disneyland has promised special character appearances, face painting, crown decorating, and special food at Rancho del Zocalo. Three Kings Day is going to be celebrated January 4, 5, and 6, 2013.
6. Holiday Time at Disneyland Park Guided Tour – Do you, like myself, have a special affinity for the holidays? Well, then this is the tour for you! On this guided tour, you will learn about holiday traditions around the world, and how those tie into Disneyland. You'll ride the two rides with amazing holiday overlays – "it's a small world" Holiday and Haunted Mansion Holiday. You'll also be treated to hot chocolate and a holiday snack! But best of all, you'll have reserved seating for the Christmas parade! And that's nothing to shake a stick at! No sitting down two hours before the parade to ensure a good seat! In other words, the Disney Holiday Tour not only entertains you, it gives you the gift of time. And a pin!! Don't forget the pin!
7. Holiday Desserts and Snacks – During the holiday season, Disneyland breaks out some special desserts, most of which you can't find at other times of the year. Restaurants will add special desserts to their menus and the bakeries will have special, seasonal only offerings. The Santa Mickey demitasse cup at the Plaza Inn and other locations is always a crowd pleaser. There should be some holiday beignets at Café Orleans, as well as the ever popular handmade candy canes. Tom Bricker wrote a mouth-watering description of holiday desserts last year. It may give you a preview of what's to come!
8. Holiday Entertainment – Disneyland also has some new holiday versions of shows and parties this year. There's a special holiday Mad T Party! According to Disney, the Mad T Party is getting much more "muchier". There are holiday songs, decorations "wondiferous" lighting and video effects, and more. There is snow too! I love snow effects!! And my favorites, Billy Hill and the Hillbillies, will have a special holiday show over in Big Thunder Ranch at the Jingle Jangle Jamboree. Love it!
9. Decorations – No post about Disneyland during the holiday season is complete without mentioning the decorations. Disneyland goes above and beyond when it comes to decorating. Hundreds of trees, flora, the parks, the Downtown Disney District, the three hotels, nothing is left out! The castle is absolutely stunning. You need to see it. Trust me. You do.
10. It's Not Over at Christmas! – Well you've got a few more days anyway. The holiday season doesn't end until January 6. That means you've got even more time to see the fireworks show – Believe…In Holiday Magic, A Christmas Fantasy Parade, snow on Main Street, U.S.A., and all the other things I covered in last year's holiday blog post! Go!!
So, how about you? What are your favorite things to do and see during Disneyland's holiday season?