10 Steps to Conserve Wi-Fi On Your Disney Cruise
Wi-Fi onboard a Disney cruise ship is not cheap!  Some might say it's downright expensive.  You start with 50 megabytes free (150 megabytes in concierge), then the price goes up fast.  100 MB is $19, 300 MB is $39, and 1000 MB is $89.  So we want those megabytes to stretch as far as they can!  And now that free iMessage is being introduced to all four ships, it should be even easier than ever before to save data.  Let me share what I've learned and what works for me.
My disclaimer is that I am an iPhone user, so some of my directions are iPhone specific.  The broad principles should still apply though.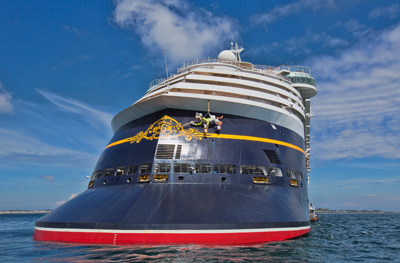 1. Use Airplane Mode Onboard – Once the ship leaves Port Canaveral, you will definitely want to be in airplane mode. Not being in airplane mode means you are risking using an unwanted (read – very expensive) cell service—like Cellular at Sea. If you have an international plan and want to turn off airplane mode in ports, then go for it.  I highly recommend using an International Day Pass while in ports.  Check with your provider for pricing and availability.  With AT&T, it's $10 for each 24-hour period, and you can use your phone just like you would at home.  If you have an unlimited data plan at home, you've got an unlimited data plan that day.  It's awesome!  While you are at sea, however, go back to airplane mode to avoid any unwanted charges.  Once in airplane mode, you can still turn on Wi-Fi and use the Disney Cruise Line app, iMessage, and data as desired (but remember, I'm trying to help you conserve your free Disney-provided data!).
2. Get Disney's Helpful Internet Sheet – Sometime during the first afternoon, stop by the internet help desk and pick up their sheet describing how to minimize data usage. They have a sheet for iPhones and Android devices. There may not be anyone at the desk the first day, but that's okay.  There's usually a brochure holder on the desk full of them.  Look towards the back of the pile if you don't see them.  Follow the steps.  Some of the steps are listed below.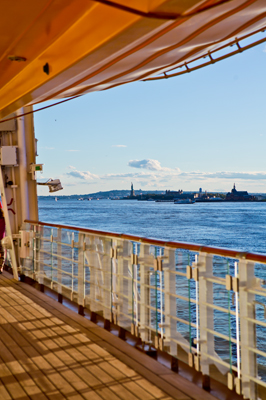 3. Turn Off Location Services – Location services is a data sucker! Turn that baby off! No one needs to find you while you're sailing!  Not apps, not friends that are stalking your phone, no one!  Turn it off.  On iPhones, you turn it off in "Settings" and then "Privacy".
4. Turn Off Anything That Fetches Data On its Own – There are several things on your smartphone that are looking for data even when you don't want them to. They'll use your Wi-Fi data to do it—and they will burn through your data fast. Turn them off.  One is email.  Make sure you turn every kind of email account that's on your phone to "Manual".  Under "Fetch New Data" turn "Push" to off.  Just to be safe, under that go to every account and change "Fetch" to "Manual".  That doesn't mean you can't get email, it just means it won't go get it (or look for it) without you telling it to do so.  On iPhones, iTunes also goes and looks for updates without you telling it to do so.  Turn that off!  It's in "Settings" and then "iTunes & App Store".  If you have iCloud set up, it's going to want to back up everything on your phone periodically.  Turn that baby off!
5. Turn off Background Refreshing – Some apps will refresh in the background of your phone, which means they are using data even when they aren't open. On iPhones you can stop that in "Settings" then "General". There's a "Background App Refresh" there.  Turn it off!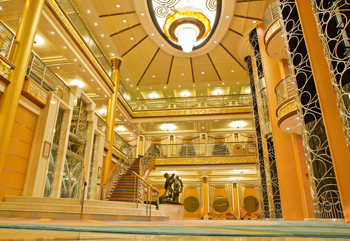 6. Close Everything – Close everything. Just because you can't see it, doesn't mean it's not open. On older iPhones, double click the home button (the circle on the bottom) and you'll see everything that's open. On newer iPhones, swipe up from the bottom to see the carousel of apps.  Slide every single thing up and away to close them.  The only thing that should be left is the home screen which you cannot close.  Next, open your internet browser.  Probably Safari.  Close every internet window you have open.  To do that, click on the double folders at the bottom right.  You'll see how many windows are open.  Whoa.  Take that in.  Is this the first time you've done this?  Well there may be a lot!  Click on the "X" on the top left corner of every single one.  You don't need any of them.  There is some debate on whether this step actually accomplishes anything, but I'm in the camp that it does!  And better safe than sorry.
7. Get Free Wi-Fi – On the day of boarding, all guests can get 50 MBs of data completely free. You just need to claim it before midnight on the day you board. Once onboard, you can get it right from a link in the Disney Cruise Line app.  Just follow the link to Connect@Sea, click the button for the free50 MB, and create an account.  That's it!  But wait!  Don't do it until you have followed all of the above steps.  In fact, I'd recommend waiting to do this until you have left port, and are in airplane mode.  I once made the mistake of getting it at lunch after boarding and forgot to log out of Wii.  All afternoon before we sailed away, I thought I was using my normal cell data, but no, I was on Disney Wi-Fi using my free data.  As you can imagine, I burned through it all before dinner even began.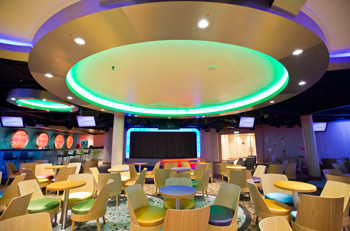 8. Log in and Out – This is soooo important – when you are not using the internet, log out! Even if you've got your data locked down, log out. I can't tell you how many times I've thought mine was locked down, only to wake up and find several megabytes have disappeared during the night because I didn't log out.  It's easy to log out, there's a "Sign Out" link on the top right of the data usage meter screen.  Use it!  Don't turn off your Wi-Fi, just sign out of Connect@Sea.  That way you can still use the Disney Cruise Line app and free iMessage, but you don't risk using any unwanted data.
9. Use Apps Selectively – Now that you're not using unwanted data, you can choose how to use the data you have! I don't recommend opening the Facebook app unless you have data to spare. Considering how many pictures and videos load in your newsfeed, it's going to use a lot of data.  Facebook Messenger, however, is another story.  It's great.  I use it to message people and send pictures.  I send a dozen or more pictures a day with no problems.  I suspect it's because Facebook Messenger is uber good at compressing photos.  Unless people are sending you huge data files, opening email every once in a while probably isn't going to use a lot of data, so don't worry about it.  A good rule of thumb is to avoid apps that load a ton of pictures and videos.  Use Twitter and Instagram sparingly.  YouTube? Don't even think about it.
10. Use Low Power Mode – This last tip is the best one. Place your phone into Low Power Mode every morning after you wake up, or recharge your phone. With iPhones, Low Power Mode will automatically turn itself off after it sufficiently recharges the battery.  So, why am I recommending you keep putting your phone on Low Power Mode?  Because Low Power Mode is a catchall for anything you forgot to turn off.  When you are in Low Power Mode, things like apps, mail, etc., are not going to go looking for updates on their own because they are saving the battery!  If you're in Low Power Mode, you probably aren't leaking data.
If you ever find you are leaking data, go talk to the internet help desk guy (or gal!).  They can look at your phone and account and tell you exactly which phone is using the data.  That's very helpful if you've got a few people using your account.  They can also take your phone and in a matter of seconds turn off things you never even knew you had.  They're pros, and they're there to help.  Don't be afraid to ask for it!
It's too bad they aren't there to turn everything back on after the cruise is over…
Did I miss anything?  Does anybody have any tips? Let us know in the comments.
Tammy Whiting is the owner of Storybook Destinations. Did you know Storybook Destinations offers a complimentary subscription to TouringPlans with qualified Disney and Universal bookings? Click here for a no-obligation quote on your next vacation!