10 Things I Can't Wait to do Again on a Disney Cruise
Yep.  I miss cruising!  How about you?   I completely understand the reasons we are staying home, and I am definitely not minimizing that need.  But boy it's hard!  While I miss the Disney parks, the resorts, and all that, I cannot WAIT to get back on a Disney Cruise ship.  There are many, many things I miss about a Disney Cruise, and there are a few things in particular that I want to whine about, I mean talk about!  Talk, not whine.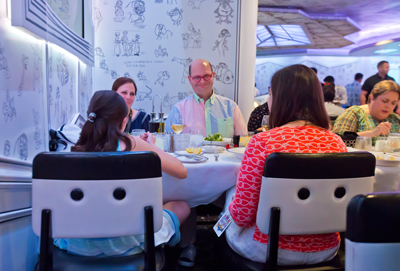 To be truthful, it hasn't actually been that long since my last cruise, but the combination of having a couple of cruises cancel in the meantime, and not knowing for sure when the next one is, makes me a little twitchy.  The uncertainty is the hard part, and I know I'm not alone.
So here are 10 of the things I'm missing, and can't wait to do once it's safe to cruise again!
1. Sit at a Table with Friends – I can't wait to sit at a dinner table with friends again. I subscribe to the theory that any food is better when someone else makes it. So, being able to sit down, eat food that someone else made, that someone else brings to me, while I talk with a whole group of my friends, family, and tablemates?  Not worrying about cooking, serving, or dishes?  Heavenly.  My goodness I didn't fully appreciate how much I would miss that.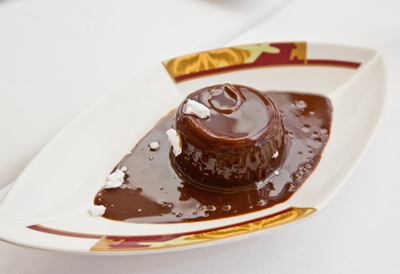 2. Palo Brunch – So much Palo brunch. I literally have dreams about Palo brunch. If I had of known that my last Palo brunch would have been my LAST Palo brunch for a very long time, I would have appreciated it so much more.  The chicken parmesan, lasagna, sticky buns, the chocolate lava cake, the giant table of bread, my mouth waters at the memories.  Is it possible we could have a couple of cruises where brunch is offered every day?  I'm fine if it means only sea days.  Throw me in that briar patch!
3. Crew Members – I am always impressed by the crew members on a Disney ship. They are so friendly and accommodating. Unfailingly so in my experience.  Some of our past servers are part of our favorite cruise memories, and I have never, ever had a stateroom host or hostess that didn't go above and beyond for us.  But to me, one of the best examples of how friendly the crew members are, are the non-tipped positions.  It's hard to pass a crew member working in the hallway, on deck 4, cleaning the stair rails, etc. without them giving you a friendly smile and hello.  There is no financial motivation for them to do that!  They are just that kind.  That says a lot to me.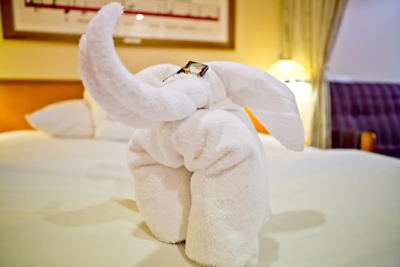 4. Being Pampered – Speaking of that amazing crew, I miss someone taking care of me. I miss someone else making my bed, turning down that same bed later, washing my towels, making me towel animals, wrapping up my messy cords into organized little bundles, making my food, leaving me chocolate, so many things! I miss that level of service.  My husband and unexpectedly-home-from-college daughter are not doing it for me!
5. The Best Night's Sleep – I have never slept better than I sleep on a Disney cruise. That mattress and those sheets are perfection to me. I've ordered the same pillows, and it's helped my sleep at home, but I need the whole shebang.  I'm not sure how big a part the gentle rocking plays in that deep sleep, but it certainly doesn't hurt!  If anyone knows how to replicate that in my house on base, please message me immediately.
6. Waking up to the Ocean – Some of my favorite moments of the day, are those first few moments after waking up. When we open the curtains and the daylight streams in, and the sun is reflecting off the ocean. It's just so beautiful and peaceful to me.  There is no better way to start the day.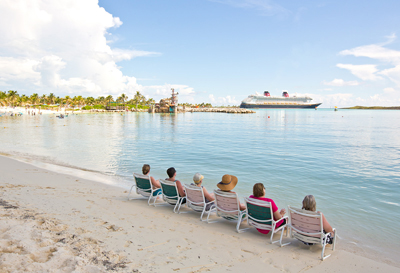 7. Island Relaxing – While I love a good sea day, I am also missing laying on a nice warm beach with nothing to do but read a good book, or take a good nap. All while applying copious amounts of sunscreen, of course. Castaway Cay would be my island of choice, of course, but I'd take some beach, somewhere, as the song goes!
8. Planned Activities – After several weeks of doing pretty much the exact same thing every day inside my exact same house, man I would love someone else to plan something fun for me to do. I miss scrolling through my Navigator and picking my next activity. I miss trivia of all kinds.  I miss silly games and free movies on the big screen. I miss Jack Jack's Diaper Dash, I miss the adult club hosts!  Someone please entertain me!
9. Nightly Shows – While I've seen all of the shows onboard several times, and I don't go to them every night on a cruise, I am still missing them right now. They're excellent. The performances always impress and entertain me.  I'm amazed at the quality of shows that Disney puts on, and you better believe that I'll be at the first one I can.  I'll try not to sing along and annoy everyone around me, but at this point, I make no promises.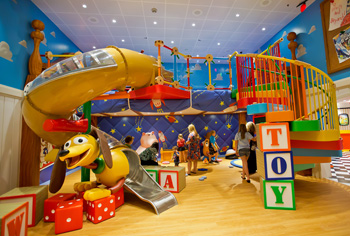 10. Kid's Clubs – Okay, I don't actually have small children at home anymore. But wow do I feel for you who do, right now! You're working hard right now!  I love my children, and I loved staying home with them when they were small, but I suspect several of us are suffering from a little tooooo much togetherness at this point.  Since I, a grown woman, enjoy visiting the kid's clubs during open houses to take pictures and yes, occasionally, play some games, I bet parents of young kids are missing them even more than I am!  #amiright?
How about you?  What are you looking forward to doing again onboard?
Tammy Whiting is the owner of Storybook Destinations. Did you know Storybook Destinations offers a complimentary subscription to TouringPlans with qualified Disney and Universal bookings? Click here for a no-obligation quote on your next vacation!