10 Ways to Save Money When Booking a Disney Cruise
So Disney Cruises are expensive! There's no two ways about it. I said in a recent blog post that it may not be as expensive as you think when you compare the cost of a similar vacation, but I realize that's still a lot of money sometimes. So let me give you some advice on keeping the costs as low as you can. Here are 10 ways to save money on your Disney Cruise!
1. Book Early – As a general rule, the day prices come out for a Disney cruise is the cheapest they will get. There are exceptions and I'll talk about those in #2 below, but this is still a good rule of thumb. If you are looking at peak times like summer, Thanksgiving, Christmas or Easter, I can almost guarantee you these prices aren't going down, and in fact will go up and up over time. As soon as a particular sailing starts filling up, the prices go up. I've seen prices jump hundreds of dollars overnight. I have a cruise booked at Thanksgiving that has gone up over $1700 since I booked on opening day. If you know what you want, book it as soon as you can. Book it, sit back and watch the prices soar. Pat yourself on the back.
2. Book Late – Here are the exceptions. Unlike years past, Disney does have specials from time to time. Those specials are usually offered much closer to sailing time. They are more likely to be offered on the classic ships (the Wonder and Magic) and they'll probably be during an off time like hurricane season or when school is in session. The last Kids Sail Free special was in the spring of 2013 and it applied to sailings on the Wonder out of Miami and the Magic out of Galveston. The Dream and Fantasy have never had a Kids Sail Free offer. One thing you can find, even on the Dream and Fantasy, however, are last-minute, highly restricted fares like IGT, OGT and VGT rates. An IGT means you are guaranteed an inside room or better, OGT means an ocean view room or better, and VGT means a verandah or better. Disney has started using these last minute rates to fill up any sailings that aren't sold out. These rates enable you to pick a general category but not a specific category or room. They are non-refundable, payable in full when booked, and no changes can be made. If you're flexible during the off season and will be okay not wedded to a particular sailing date or room location, wait until your timeframe gets close to book it.
3. Know What Discounts You Qualify For – Disney periodically offers discounts for Florida Residents, Military, and Canadians. Department of Defense civilian employees also qualify for military rates when they are available. Disney generally releases the Florida Resident and Military discounts on Monday mornings. Check the site every Monday morning to see what's there! Right now there's a special for Castaway Club Members (guests who have sailed with Disney before), and they've even had discounts for Disney Vacation Club members on occasion as well! Watch the specials or let your travel agent know what you qualify for so they can watch for you!
4. Book Two Rooms – This certainly sounds backwards! But it's true. Sometimes booking two rooms is less expensive than booking one. On the classic ships especially, it's almost always less for a family of five to book two inside rooms as opposed to one room for 5. On the Dream and Fantasy, Disney had the foresight to include some oceanview rooms that sleep 5, so they're a good option. Sometimes it's also cheaper for a family of four to get two inside rooms rather than a verandah. That's because sometimes the cost for the third and fourth person in a verandah room is more than the cost for two people in an inside room. Look into it! You may value a second bathroom more than a verandah!
5 Time it Carefully – Timing is everything on a Disney cruise. Summer cruises are expensive. Holiday cruises are the same. If you have the flexibility to go during the school year, you can save a fortune. September is historically the least expensive month because of both hurricane season and the start of school. If you are tied down during the school year, try the week before you start school or the week after you get out. Schools all over the country are on different schedules and sometimes you can snag a deal because yours ends early or starts late. We were able to sail to Alaska and enjoyed big savings for our family of four because we went the first week after school ended and Kids Sail Free was offered that week.
6. Don't Count Out the Classic Ships – The classic ships tend to have more specials, and, as I said in a previous blog post, they are still amazing! I wouldn't, and don't, hesitate to sail on either one. When the Magic comes out of its extensive overhaul in October, there are already some great prices. For what's essentially a new ship! New to all of us anyway!
7. Look for Onboard Credits – One way to help save you some money is onboard credits. Disney doesn't allow anyone to discount their cruises and now that they don't have group bookings (which allowed big travel companies to hold large blocks of rooms and lock in lower prices), there's really a level playing field for prices. To gain a competitive advantage, several travel agencies offer onboard credits as an incentive to book with them. (BTW, as a side note, if you see someone advertising a lower price than you can find elsewhere, look closer.) Onboard credits are applied to your account onboard and can generally be used for anything you spend money on once you get on the ship. Things like excursions, tips, alcohol, souvenirs. So with all prices being equal, onboard credits are a way to get a little extra spending money. On the other hand, Costco offers a cash card to use after you return from your cruise. Take my advice and don't sacrifice good service for the biggest onboard credit, though!
8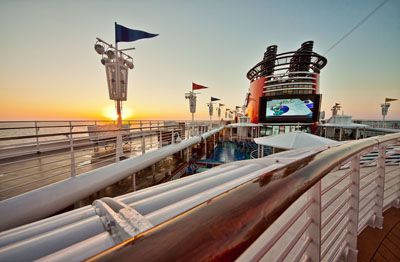 . Pay With a Disney Visa – No, I do not get a commission from Chase, and no, credit cards are not for everyone. But if you do have a Disney Visa, or were thinking about getting one, you may want to book your cruise with it. In addition to the 6 months free financing they offer for Disney cruises, they also offer a $50 onboard credit for anyone who uses their Disney Visa to pay for the entire cruise. You can throw some Disney gift cards in there too, if you have them, but otherwise, you must use your Disney Visa. 50 bucks is 50 bucks. And, the good news is that you can usually combine any travel agency onboard credits with the Disney Visa credit as well.
9. Book Your Next Cruise Onboard – Of course this one is hard to do if you're looking at your first cruise, but once you get on that cruise, book your next one! No, seriously! If you think there is any chance under heaven that you will EVER get on another cruise, book one onboard. You will only pay a 10% deposit as opposed to the normal 20%, you'll get an onboard credit on that future cruise and you will save 10%. Don't see anything you're interested in? No problem. Book a "dummy" cruise. Book the furthest, cheapest date out you can, and move it once the next year's itineraries come out. You can move it as many times as you like and as long as you're not booking concierge, that deposit is fully refundable if it never works out. It's a win-win! Do it!
10. Use a Travel Agent – I know you're shocked that I would recommend this, but using a travel agent on a cruise isn't just for convenience sake and possible onboard credits. In addition to all the knowledge they bring to the table, a travel agent can save you money. Good travel agents know all of the points above. They can guide you to the best prices. They can steer you towards things like "Secret Porthole Rooms" which are oceanview staterooms with an inside stateroom price. They can put something on hold for you the second a Kids Sale Free special is announced and before the staterooms disappear. You don't have to pay any more to use a travel agent, and odds are you may pay less or get more value for your money.
So do you have any other tips for saving money when booking a Disney cruise? Help us all out! Next time we'll talk about ways to save money once you're onboard!