10 Ways to Save Money at Disneyland
It's that time of year!  The most wonderful time of the year.  The season of giving, the season to be with family and friends, the season of holiday cheer and, unfortunately, the season to spend money.  So while we're all spending money, I thought it would be a good time to talk about saving money!  There are lots of ways to save money at the Disneyland Resort.  Here are just 10 of them.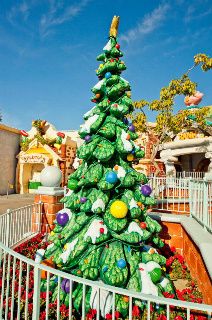 1. Stay Offsite – I've written a blog on this before.  I absolutely love staying onsite and if money were no object I'd be in Disney's Grand Californian Hotel and Spa every time.  But if you need to cut corners somewhere, Disneyland has a lot of great offsite options. You can often save quite a bit at the offsite hotels, many of which are right across the street from the Resort (within minutes by foot).  Often the rack rates at these hotels will save you money over the official Disneyland hotels, but you can find even bigger specials sometimes with special rates you can find in the Entertainment Book, government rates, AAA rates, etc.  Next time you think you can't afford a trip to Disney, check out the offsite hotels at Disneyland just in case!
2. Military Rates – If you are in the military or retired from the military, now is the time to visit Disneyland.  Through September 28, 2012 eligible service members can get huge discounts on tickets and hotel rooms.  Each eligible service member can get up to 12 tickets during the promotion but no more than 6 in one week.  These military tickets are only $99 each as compared to the gate price of $224.  Hotel discounts vary but usually seem to range from 30 to 40% off.  You can find more details on the tickets and who qualifies for them here and more information on the room discounts here.  As a military wife, I know I appreciate it when Disney remembers those who have served our nation!
3. Southern California Residents – There are often some great discounts for Southern California residents like 2 days for $99.  You qualify for a Southern California resident if you reside in zip codes 90000-93599 or are a Northern Baja California resident in zip codes 21000-22999.  These offers come and go, but you should definitely check into them before your trip.  Southern California residents also qualify for reduced annual passes with blackout dates.  If you don't usually visit on a day that's a blockout date, these annual passes are perfect!  At its current price of $199, the least expensive option is less than a 3-day park hopper pass.
4. Buy your ticket before hand –Disneyland often has discounts on tickets if you purchase them before your trip.  Right now, you'll save $15 per ticket on tickets of 3 days or more if you get them before your trip.  $15 a ticket adds up quick!  These promotional tickets expire on May 28, 2012 and are blacked out on March 30 through April 15, 2012.
5. Annual Pass– If you're planning more than one trip this year, an annual pass may save you some money.  Disneyland annual passes are very reasonably priced.  The great thing about them is they won't just save you money on tickets.  There are passholder discounts all over the parks.  Most restaurants offer a 10% discount on meals to annual passholders.  Premium and Premier passholders often get 15%.  Premium and Premier passholders also park for free.  All other passholders can purchase reduced cost parking passes.  Parking is normally $15 a day!  Many retail locations also offer 10% off for passholders and occasionally up that to 20% for Premium and Premier passholders.
6. Use Old WDW Tickets – Let me give you a precautionary warning, your mileage may vary.  I have heard rare stories of people having difficulty with this, but most of the time it's no problem.  If you've got a ticket from Walt Disney World with leftover days that have not expired you can use the rest of the days at Disneyland.  You must present your ticket at the front gate of one of the parks.  A cast member will take the WDW ticket, deduct a day from it, and bring you back a one day park hopper Disneyland ticket.  You must use it that day and can only exchange one day at a time.  This won't work for comp tickets like wedding annual passes.
7. Upgrade Your WDW Annual Pass– If you've got a Walt Disney World annual pass, it may be time to upgrade!  The Disney Premier Passport will cover Disneyland and Walt Disney World, and there's not a huge price difference.  If you have a premium annual pass from WDW you are probably looking at less than $100 to upgrade.  Sounds like a win-win situation to me!
8. Meal Vouchers – I've said before, I'm not a big fan of the Disneyland dining plan.  In most cases it will not save you any money, and it's even within the realm of possibility that you could actually lose a few dollars on the plan.  There is one exception to this and that is the character meal vouchers.  Unless you are traveling during a peak season when Disney raises the prices for some meals, the character vouchers can save you a few dollars.  There are two kinds of character vouchers, Premium or regular.  Which one you need will depend on when and where you are eating.  Call Disneyland Resort or your travel agent for details.  The vouchers appear to be about the same price as the meal until you take into account that the vouchers include tax and gratuity.
9. Avoid the Weekends – Hotel prices go up on Friday and Saturday nights at Disneyland.  Start your stay on a Sunday or Monday for the best rates.  Avoiding Friday and Saturday night stays also has an added benefit.  First of all, Disneyland is notoriously more crowded on the weekends.  The locals really take advantage of having a theme park in their backyard.  They come in throngs on Friday night and don't really leave until Sunday afternoon or evening.
10. Go in the Off Season – Like Walt Disney World, Disneyland is more expensive at more crowded times of the year.  The best prices and most specials are usually around January-February, the middle of October until before Thanksgiving, and the beginning of December.  The resorts will have lower rates during this time and are also much more likely to run specials.  FYI, the most expensive times of the year would be around Easter, July through the mid August, Thanksgiving, and Christmas-New Years.
These are just a few of the many ways to save money on your Disneyland trip!  How about you, how do you save money at Disneyland?