Save Money: Build Your Own Lightsaber at Tatooine Traders
When Batuu opened in Hollywood Studios back in the before-times of 2019, the lightsaber building experience at Savi's Workshop opened with it. But Disney World hadn't waited until 2019 to let guests build a lightsaber. With Savi's taking all of the lightsaber marketing and word-of-mouth, the original lightsaber building experience at Hollywood Studios has faded into the background. It's still there, and at $29.99, it's about ten times cheaper than Savi's. On our recent trip, we built lightsabers at Tatooine Traders and I want to make sure you know all about it.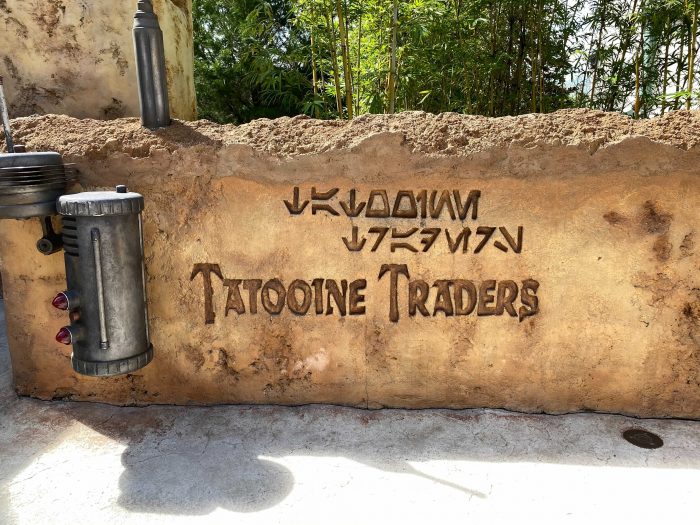 Savi's Workshop Alternative – Tatooine Traders
Tucked into Tatooine Traders, and potentially only seen by guests that have just exited from Star Tours, is the OG lightsaber building experience – Star Wars Build Your Own Lightsaber! For just $29.99, you can build your own single lightsaber. $44.99 will get you a double lightsaber instead. And in a rare turn of events, those prices (which do not include tax or discounts) haven't increased at all since the pandemic. So this experience clocks in at 12% of the cost of Savi's.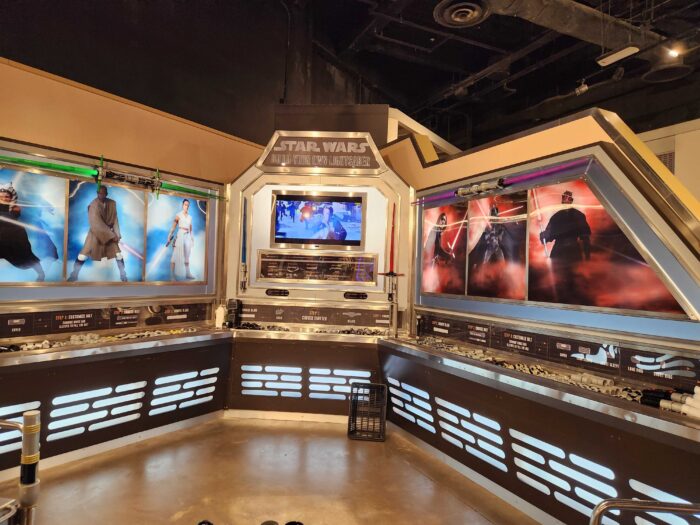 To get started, let a cast member at the experience know that you want to build a lightsaber. Once you indicate your desire to build a lightsaber, a cast member will assist you by assigning you to a building station. In the past, you could dig through bins for parts yourself. Now the cast member pre-loads each building station with a selection of the available parts and pieces.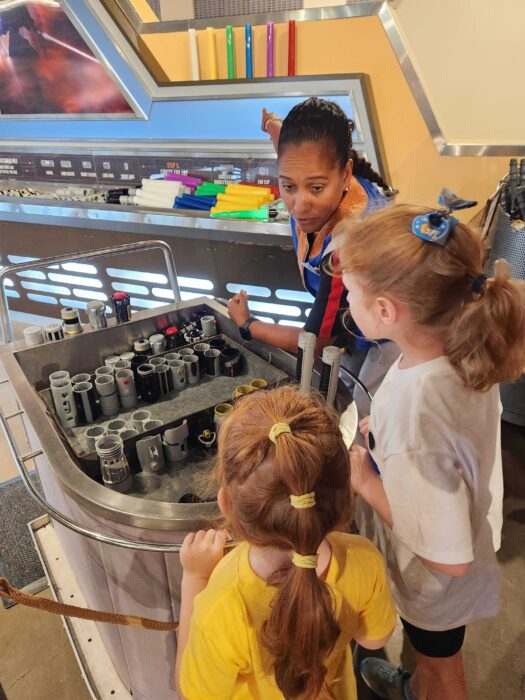 From there, you choose your own destiny (that is, your parts):
Emitter type (basic or deluxe – like Kylo Ren)
Blade color (white, yellow, green, blue, purple, and red)
Hilt (combination of short and long sleeves, covers, and rings)
End cap
The whole process took about 10 minutes. There is no real fancy show like you'll get at Savi's, but all of the customization helps participants really feel in control of the end product. You can mix dark side and light side components if you choose. And the cast members will help make sure that everything lines up and fits together for the best, most durable lightsaber.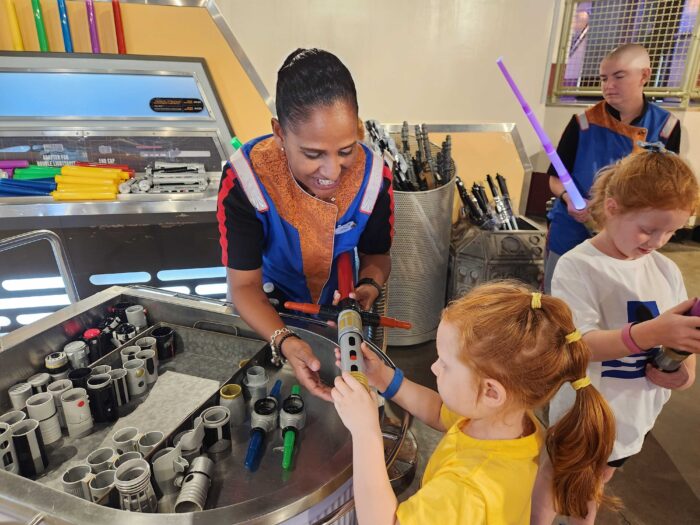 Our girls already had plastic lightsabers from Target or Walmart (like this). The ones we built at Tatooine Traders cost a bit more than the Walmart ones you can get for about $17.99, but they feel much sturdier and look cooler – that's my technical, objective evaluation. And Tatooine Traders sometimes offers Annual Passholder or DVC Member discounts that can lower the price even more. Our girls love their lightsabers and played with them regularly for the rest of the trip and once we got home. Since they're collapsible, they're relatively easy to take home on an airplane too – unlike the bulkier Savi version.
Wrapping Up
Savi's Workshop is an incredibly popular and incredibly expensive boutique experience that allows Jedi and Padawan of all ages to build their own lightsaber for the price of $249.99, plus tax, minus any applicable discounts. For the folks who are willing to put out that amount of money, they almost all rate the Savi's Workshop experience very highly. My husband even got to build one back in 2021 when I gifted him the experience as an anniversary present. So no one is hating on Savi's around here.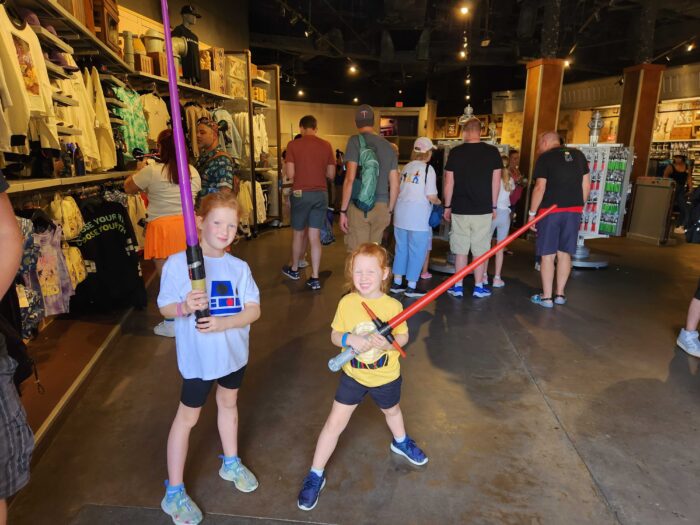 But there are plenty of people who don't want to pay that amount of money for a souvenir, no matter how fancy. If you're looking for a good quality budget lightsaber to remember your Disney trip and let your kids duel to their imagination's content, Tatooine Traders is a great place to go. If your plans won't be taking you to Hollywood Studios, a similar lightsaber building experience is usually available in Disney Springs at Once Upon a Toy.
Have you built your own lightsaber at Tatooine Traders? What did you think? Let us know in the comments!