10 Things About the Disney Fantasy that Reminded Me of Disneyland
Yep, I just got off Disney Cruise Line's newest ship, the Disney Fantasy.  I had the good fortune of getting invited on the Fantasy's Pre-Inaugural Cruise, and, let me assure you, I was completely and totally blown away by the ship!  A Disney cruise is an amazing vacation, and their ships are Disney magic at its finest.  As is typical of any Disney destination, there were several things that reminded me of my land-based home away from home – Disneyland.  Some things made me wistful for Disneyland, others made me wish Disneyland would take some notes!  Here are just a few of them.
1. Wishes – Wishes is a show created just for the Fantasy and will be shown once on every sailing.  Wishes is about three teenagers who are best friends and who grew up going to the happiest place on Earth together!  They meet at Disneyland on the night before graduation to share one last experience there.  Their wish is for the "Ride of Our Lives" and they get it.  As with all of the shows onboard, it's a full scale Broadway style show production and it's awesome.  Not only does it have wonderful references to Disneyland, it also blends musical scenes from Pinocchio, The Jungle Book, Tangled, Lilo and Stitch, Mulan, Hercules, and The Lion King.  As a teaser, the scene from Pinocchio has a dance routine that is both unexpected and simply awesome!  This is truly a show not to be missed.
2. Interactive Art Work – The interactive art work onboard the Fantasy and Dream, especially the Midship Detective Agency described below, remind me a bit of the Kim Possible World Showcase Adventure in Epcot and Sorcerers of the Magic Kingdom in the Magic Kingdom.   On deck 5 aft of the Fantasy, two paintings duel with each other ala Pirates of the Caribbean!  I am a big fan of this technology and I am impatiently waiting for it to make its way to Disneyland!  It's so fun to watch little kids' eyes light up in surprise when a seemingly inanimate object comes to life.  Why are the other Disney destinations getting all the love on this one?
3. The Muppets – The Muppets are all over the Fantasy!  Literally all over!  They are an integral part of the Midship Detective Agency that leads you to the interactive artwork on just about every deck while you try to figure out which Muppet committed the particular crime you are trying to solve.  The Muppets appear in seemingly ordinary artwork to help you along your way.  Pepe the King Prawn even has his own, suspiciously small, stateroom door.  I've heard some people say that the Muppets don't feel like Disney to them, but I compare every Muppet encounter with Muppet Vision 3-D at Disneyland.  They are excellent representations of the Disney brand to me.
4. Super Friendly Cast Members – The cast members on both the Disney cruise ships and Disneyland are top notch.  Even when I've heard a lot of complaining about service declining at Walt Disney World, which I don't really buy by the way, I've never heard that same level of complaints at Disneyland or on the cruise ships.  They are some of the friendliest cast members you'll ever meet.  People that will probably never see you again and are under no obligation to greet you will go out of their way to.  They make you feel like you are welcome and appreciated.  That's the Disney difference to me.
5. Animation Classes – Disney ships almost always have animation classes onboard.  I think a fun experience in an animation class onboard the Disney Magic years ago convinced us to take time out of our day for the Animation Academy at Disney's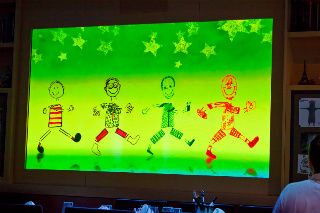 California Adventure.  We thought our kids were too young to be able to draw something that complex and we didn't really want to take time away from the rides at Disneyland until we tried it on a sea day on our cruise.  We realized that the animation instructors know what they're doing!  They are able to make people of all drawing capabilities feel like they've got some hidden talent somewhere.  Even a 5-year-old can walk out of there with a picture, at least vaguely, resembling a Disney character.  Let me put it into terms that more people can relate to.  Even a 29-year-old woman (yes, I may have a celebrated that particular birthday a few times!) with incredibly limited use of the right side of her brain can walk out of there with a picture that resembles a Disney character.  Combine the classes with the amazing Animator's Palate on the Fantasy where your drawings come to life and invade classic Disney movies, and it's animation heaven even for the incredibly artistically challenged.
6. Snacks – One great thing about being on a Disney cruise ship is unlimited Mickey Premium Bars (and they are served in a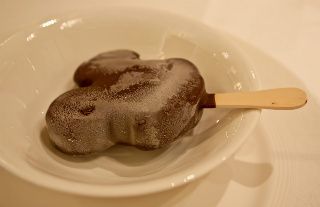 china bowl to boot)!  You can get them in the dining rooms and from room service for no extra charge.  That's right, you heard me.  No extra charge.  That's more value for your cruise dollar right there!  And the good thing about eating them onboard is that they aren't melting while you are desperately trying to eat every last bit of chocolate before it is sacrificed to the cement.  Of course, the bad thing about eating them onboard is that they aren't melting while you are desperately trying to eat every last bit of chocolate before it is sacrificed to the cement.  There's something not quite the same when you're eating them from a china bowl.
7. Ridley Pearson – Some of you may know him as the co-author of the Peter and the Starcatchers series (excellent books by the way!), others will remember him from his series of Kingdom Keeper books (also very good books!).  He was onboard the Fantasy with us last week and he gave us a little preview of what's in store for the Kingdom Keepers.  They're going to Disneyland!  And California Adventure!  In the 5th installment that was released this week the kingdom keepers are on a Disney ship bound for California.  The 6th installment will also take place on the ship and then the 7th and 8th are supposed to be reserved for the California parks.  Woo hoo!  It's always exciting when Disneyland gets a little attention in well known books!
8. Stacia Martin – Stacia Martin is a Disney artist and historian.  She was onboard the Fantasy and did a presentation on the history of Disney.  She even drew for us a little.  Her animation is amazing.  Stacia is based at Disneyland and has been with the company for over 30 years.  Some of her original pieces of artwork are on display at The Disney Gallery on Main Street, U.S.A.  We ran into her on deck 4 doing the same thing we were – taking pictures of the Disney Dream when that ship sailed past one evening.  Needless to say, Stacia was amazingly personable and friendly.
9. Cars Theming – The Disney Fantasy and Disney Dream both have some Cars theming.  The restaurants on deck 10 are all named and themed after Cars characters.  The whole section of quick service restaurants is called Flo's V8 Cafe and it's broken down into Luigi's Pizza, Tow Mater's Grill and Fillmore's Favorites.  Seeing the Cars restaurants got me really excited about the imminent opening of Cars Land.  Cars is such a rich landscape of ideas, and it looks like Cars Land is going to take full advantage of that.  Who's counting down the days with me?
10. Disney's Aladdin – A Musical Spectacular – Being a huge fan of Aladdin at Disney California Adventure, I was really excited when I heard that Disney was putting a new version of the show exclusively on the Fantasy.  Unfortunately, it didn't quite live up to the California Adventure version; but give it some time and I think it could.  Aladdin on the Fantasy did have some cool new technology.  Their answer to the flying carpet scene was super!  I won't spoil it for you, but I wouldn't be surprised if it eventually came to California Adventure if they keep having carpet problems there.  In all fairness to the Fantasy's version, it's not a dedicated theater like the Hyperion Theater in California and it was a brand new show when I saw it on the Pre-Inaugural Cruise.  The Genie, who is the highlight of the show for me in California Adventure, hadn't really hit his stride yet.  He was funny, just not as uproarious as I normally find his blue lookalike on the West coast.
How about you?  Have any of your recent vacations made you wistful for Disneyland?  Or made you wish that Disneyland would take notice?