October 2019 Walt Disney World Crowd Calendar Update
The October Crowd Calendar update is now live. We skipped September to give the models a chance to digest the data with Star Wars: Galaxy's Edge opening.
September 2019 Crowd Levels
Star Wars: Galaxy's Edge opened August 29, 2019, at Disney's Hollywood Studios. Crowds showed up on opening day but it did not last. Hurricane Dorian scared away many guests and Disney had historically low crowds for Labor Day weekend. Historically September has the lowest crowds of the year. This was true this year even with the highly anticipated land opening in Florida.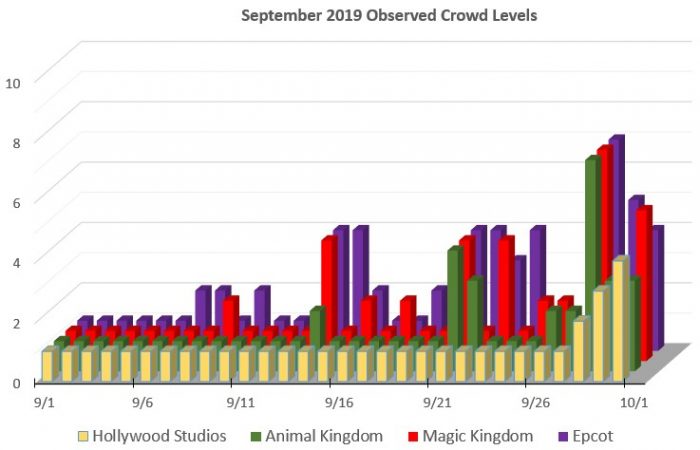 The Magic Kingdom, Animal Kingdom, and Hollywood Studios had Extra Magic Hours every day in September. This extends the number of hours the parks were open and helped spread out the crowds. When crowds are spread out across time and parks, the crowd levels are lower.
October 2019
The Extra, Extra Magic Hours continues through November 2, 2019. The extra park hours will keep crowd levels low. The increase factor that we added to the crowd level due to Star Wars: Galaxy's Edge opening has been removed. This update has the average crowd levels for Hollywood Studios decreasing by 3 points. The Animal Kingdom and the Magic Kingdom average crowd levels are reduced by 1 point.
November 2019
There are no signs that Disney is going to extend the Extra, Extra Magic Hours.  The shorter park hours will increase crowd levels compared to September and October. Crowds will be lower than we initially predicted. The new Star Wars land is not bring in the people that we or Disney expected. The busiest week of the month will be the week of Thanksgiving.
December 2019
The last two weeks of December are the busiest time at Walt Disney World. Early December is a bit of a wild card. There is typically a lull in crowds between Thanksgiving and Christmas.  Star Wars: Rise of the Resistance is scheduled to open December 5. We expect Rise of the Resistance will bring large crowds to Hollywood Studios on opening weekend. Beyond the super fans, most guests will not make a special trip to Florida. Kids are still in school and workers do not want to take extra time off before the holidays.
Rise of the Resistance is the headliner attraction for Star Wars: Galaxy's Edge. If this ride does not bring in the crowds, nothing will. There are rumors that the ride is behind schedule. Disney will do everything possible not to miss the opening on December 5.
2020
Disney has not announced any special park hours or other incentives to attract guests. With the current lagging attendance since the opening of Star Wars: Galaxy's Edge, Disney is going to do something to increase attendance. Expect to see some good deals for 2020. Crowds distribution will be like other years. President's Day and Mardi Gras fall on different weeks in 2020. This will help spread out holiday crowds in February.
How Crowd Levels are Calculated
At Touring Plans we like to take a scientific approach to our work. When we predict a crowd level, we want to be able to validate the prediction with what actually accrued. We would love to have daily attendance at the parks, but Disney does not release the data. What data are available, or available to collect are wait times.
We use statistical and machine learning algorithms to estimate wait times for all attractions. These predictions are used when building personal Touring Plans and the Crowd Calendar. We do not use all the attractions in the calculations for the Crowd Calendar.   We exclude minor attractions because they are not good indicators of overall crowds. We also exclude new attractions for two reasons.  New attractions will have high wait times regardless of attendance. Also, the models don't have enough data to make good predictions. When a new ride opens, we use opening data from other similar attractions to predict the wait times.