December 2020 – WDW Crowd Calendar Update
This Crowd Calendar update is an update through May 2021. The slight delay in publishing this month's update due to us wanting to review the crowds during Thanksgiving and allow the statistical models to learn from what a major holiday is like in 2020.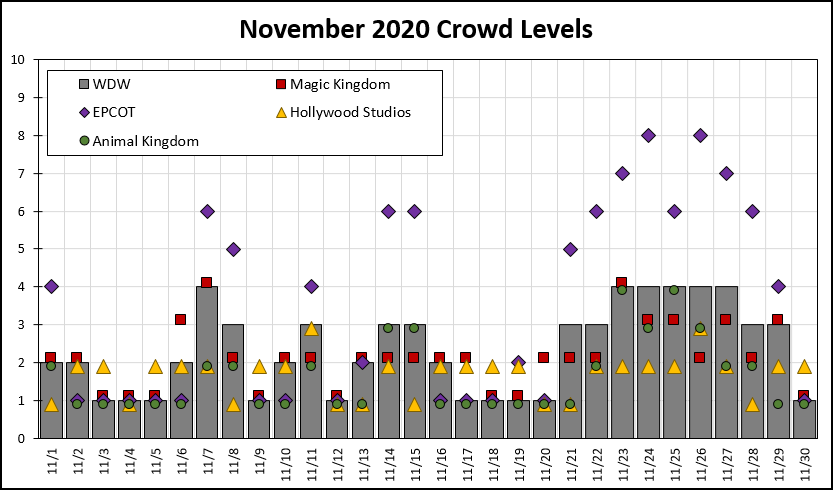 On November 16, Disney CEO Bob Chapek announced that Walt Disney World's capacity was raised from 25% to 35%. We do not expect another increase in attendance in 2020. We don't expect the crowds in December will be any higher than what we saw in November. With COVID cases still going up, it is unlikely that more people will be traveling to theme parks. Florida is unlikely to restrict travel, but other states and CDC may recommend not to travel.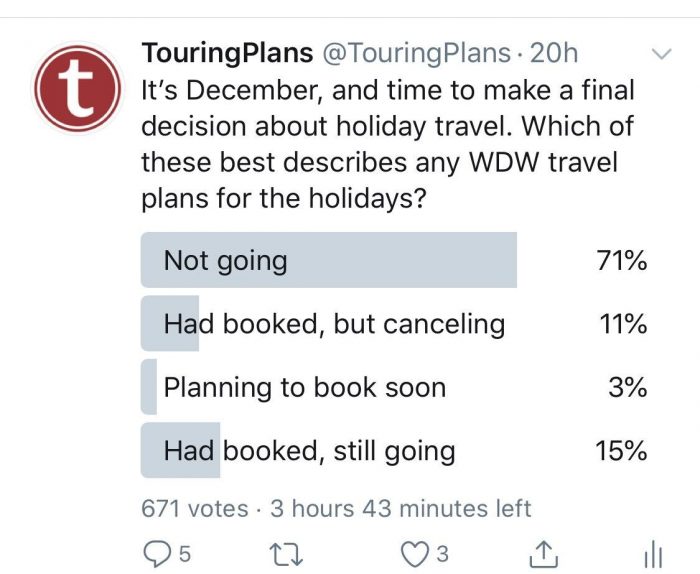 To handle the higher capacity Disney made some operational changes. Disney added Plexiglas between rows at Rise of the Resistance and Mickey's & Minnie's Runaway Railway. On other attractions, Disney started loading more ride vehicles. The Haunted Mansion and Mickey's & Minnie's Runaway Railway wait times show the biggest decrease in wait times. Rise of the Resistance is loading more boarding groups per day.
COVID-19 Vaccine
Disney crowd levels will not return to normal levels until a vaccine is widely available. The initial distribution of a vaccine is going to go to First Responders, the elderly, and other high-risk populations. Summer will be likely the earliest Disney will see the return to normal. This means that the first half of 2021 is going to look more like 2020 than 2019. Martin Luther King Jr. (January 18, 2021), Presidents Day (February 15, 2021), Mardi Gras (February 16, 2021), Easter (April 4, 2021), and spring break are going to have a muted effect on crowds in 2021.
As always, we will be keeping a close watch on what is going on at the parks and will update the crowd calendar as needed.
Have any questions about the Crowd Calendar update? Feel free to leave them in the comments.