25 Drinks of Christmas – Day Twenty Five: Nautilus at Trader Sam's Grog Grotto
We're back with everyone's favorite theme park advent calendar: a daily countdown of our favorite drinks at Walt Disney World, Universal Orlando, and SeaWorld building anticipation to the Big Day. 
Criteria: Drinks can be alcoholic or nonalcoholic. Drinks can come from any venue on property. Bonus points awarded for atmosphere where the drink is served. Any drink with glow cubes is immediately disqualified. Ready? Let's go!
DAY TWENTY FIVE: Nautilus at Trader Sam's Grog Grotto (Disney's Polynesian Village Resort)
Dive! Dive! Dive!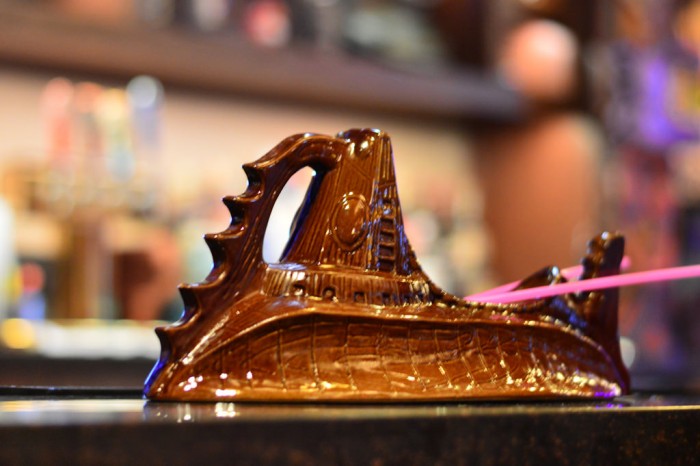 –
No, you are not suffering from deja vu. Yes, we have made several trips to Trader Sam's Grog Grotto during our countdown. We started off with a bang when we had a Polynesian Pearl pulled out of the shell. Then we battened down the hatches for a Tropical Dark & Stormy. We couldn't leave out the HippopotoMai-Tai, could we? We saved the best for last though as the #1 drink on our countdown this year is the legendary NAUTILUS.
Served in an amazing souvenir bowl with the form of the Nautilus from Disney's 20,000 Leagues Under the Sea, this is one drink meant to be shared, as you could possibly be seeing a giant squid in Seven Seas Lagoon if you tried to go it alone. The entire room transforms when a Nautilus is ordered and even the servers get in on the fun. Lighting effects make the room appear as if you are going under water, audio plays orders from the Nautilus captain, and there are several  physical effects happening across the Grotto (keep your head on a swivel).  The Nautilus is an E-Ticket drink in an E-Ticket bar and it is hands-down our favorite drink of Christmas 2015.
Ingredients: Barbancourt Pango Rhum, Appleton Estate Reserve Rum, Combier Creme de Peche de Vigne Liqueur, Tropical Juices, and Falernum. Served in a souvenir Nautilus.
–
How great is the Grog Grotto? Not only does it have all the awesome drinks we've already covered, but there are still MORE than we will surely get to next year including the incredible Uh-Oa, the Shrunken Zombie Head, and the Spikey Pineapple (which is only served out on the Tiki Terrace. Exclusivity always gets points in our book).
–
Previous Drinks of Christmas:
DAY ONE: Polynesian Pearl at Trader Sam's Grog Grotto
DAY TWO: Dufftoberfest at Duff Brewery
DAY THREE: Godiva Chocolate Martini at Mizner's Lounge
DAY FOUR: Blood Orange Side Car at Swizzle Lounge
DAY FIVE: Imperial Pilsner at Morimoto Asia
DAY SIX: Smoking Gun at Emeril's Orlando
DAY SEVEN: Mint Julep at BOATHOUSE
DAY EIGHT: Bees Knees at The Cowfish
DAY NINE: Cool-headed Monkey at Jock Lindsey's Hangar Bar
DAY TEN: 5 O'Clock Somewhere at Jimmy Buffett's Margaritaville
DAY ELEVEN: Key West Kiss at Shark's Underwater Grill
DAY TWELVE: LeFou's Brew at Gaston's Tavern
DAY THIRTEEN: Himalayan Ghost at Thirsty River Bar
DAY FOURTEEN: Schweitzer Slush at Skipper Canteen
DAY FIFTEEN: Dark & Tropical Stormy at Trader Sam's Grog Grotto
DAY SIXTEEN: Pear Cider with Firewhisky at Leaky Cauldron
DAY SEVENTEEN: Under the Florida Moon at The Wave… of American Flavors
DAY EIGHTEEN: Hog's Tea at the Hog's Head Pub
DAY NINETEEN: Swedish Fish at Todd English's bluezoo
DAY TWENTY:  Potion of the God's at Mythos
DAY TWENTY ONE: HippopotoMai-Tai at Trader Sam's Grog Grotto
DAY TWENTY TWO: Candy AppleCotton-tini at T-Rex Cafe
DAY TWENTY THREE: Backscratcher at Tambu Lounge
DAY TWENTY FOUR: Deathly Hallows at Hog's Head Pub
Interested in theme park drinks? Then do we have a eBook for you! The Walt Disney World Bars and Lounges eGuide by Brian McNichols. Over 250 pages and containing well over 400 photos, this eGuide takes you through EVERY bar and lounge on WDW property (trust me, Brian has the kidneys problems to prove it!) Also included? Recipes for some of your favorite WDW drinks. Ratings, descriptions, and photos for each of the 70+ bars and lounges. Talk about the perfect Christmas present!
Special thanks to crack staff photographer Brandon Glover and Fred Weasley's widow Megan Stump for their invaluable assistance with this article. Be sure to also check out Brandon on The Park Blogger podcast with co-hosts Aengus Mackenzie and Brian Carey.
You can always find Your Humble Author each week on the SATURDAY SIX, each month with the Disney Outlet Store Photo Report, and on Twitter (@derekburgan) producing original pieces of Burgan Fine Art™