SATURDAY SIX SPECIAL EDITION: Six Reasons We LOVE Christmas at the Orlando Theme Parks
This week's SATURDAY SIX takes a look at Six Reasons We LOVE Christmas at the Orlando Theme Parks. It's hard to beat Halloween in Orlando. Universal has its world class Halloween Horror Nights while Disney has their Mickey's Not So Scary Halloween Party, both of which are among the highlights of the theme park year. It is just an amazing time, but can there actually be a time that's better? Yes there is, and it's called Christmas season. Not only are the hotels decorated (in fact a day could be spent resort hopping at WDW just to see the Christmas decorations such as the giant tree at Wilderness Lodge or the huge gingerbread house at the Grand Floridian) but the parks have a whole bunch of new stuff. Plus IT'S CHRISTMAS! To paraphrase Frank Cross in Scrooged, it's the time of the year when we all act a little nicer, we give a little more, and we actually are the people that we always hoped we would be. So today we are going to look at some of our favorite reasons that Christmas in the Orlando Theme Parks is our favorite time of the year….
# 6 -Macy's Holiday Parade
For our family, watching the Macy's Thanksgiving Day Parade on TV every year is the official start of the Christmas season. Universal has it's own version of that parade starting in December with the Macy's Holiday Parade in Universal Studios Florida. Not only are there the large balloons (several from the actual parade in New York), but guests can sign up to be balloon handlers! There are also many floats and of course your favorite characters.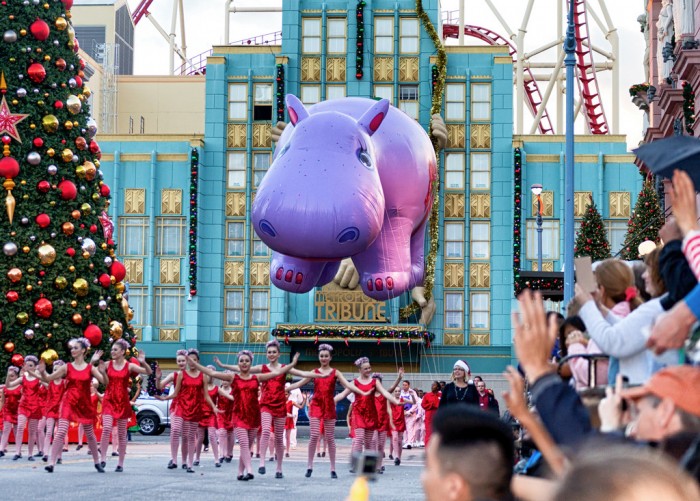 –
# 5 – Blues Brothers Holiday Show
The Blues Brothers Show at Universal Studios Florida makes our list for one of the Most Underrated Attractions at Universal, but the Blues Brothers Holiday Show taking place during December is even better. An absolute must do that combines our love of Christmas music with two great characters.
–
# 4 – Mickey's Very Merry Christmas Party
Free hot cocoa and cookies. An AMAZING parade featuring Santa himself. An awe-inspiring fireworks show. Exclusive character meet and greets. If you've never done Mickey's Very Merry Christmas Party, what are you waiting for?!
–
# 3 – Grinchmas
The Grinchmas Who-liday Spectacular at Universal's Islands of Adventure just may be the best live show at either park all year long. Just an incredible combination of the live action movie and the beloved cartoon classic. Meanwhile the already crazy Seuss Landing is completely decorated over the top (you may even run into more Whos putting out more decorations) and the Grinch meet and greet is incredible as you get to interact with the Grinch who has all the wit and sarcasm as the one from the movie. A total blast!
–
# 2 – SeaWorld Christmas
Wait, SeaWorld Orlando hanging with Walt Disney World and the Universal Orlando Resort when it comes to Christmas? You read that right, and not only does SeaWorld compete with Disney and Universal, in many ways it beats them. Decorations are everywhere. The Wild Arctic ride transforms into The Polar Express. We're talking just about every inch. Special food booths come out featuring apple pie on a stick, pulled pork mac & cheese, multiple flavors of hot cocoa, and our favorite, the Cranberry Hot Toddy. You'll also love the various Christmas musical acts playing around the park, an ice skating show, the O Wonderous Night live show, and a wonderful fire pit to relax by.
Did we mention you can play Plinko? Yes, YOU CAN PLAY PLINKO!
–
# 1 – The Osborne Family Spectacle of Dancing Lights
This is it. The Best. The Osborne Family Spectacle of Dancing Lights at Disney's Hollywood Studios. Five million lights, synchronized to your favorite Christmas music. If you've never done it, seeing the Osborne Lights is almost impossible to describe as there is nothing to compare it to. Our favorite part is spotting all the little details, such as Baby Sinclair from the television show Dinosaurs or "the lamp" from A Christmas Story. The Osborne Lights are Disney magic, period.
–
So there you have it: Six Reasons We LOVE Christmas at the Orlando Theme Parks. See you next weekend for the latest installment of the SATURDAY SIX, where we'll look at something fun from the world of Disney and Universal. If you enjoyed yourself, be sure to check out The Magic, The Memories, and Merch! articles, or, for your listening pleasure, check out the E-Ticket Report podcast. You can also follow Your Humble Author on Twitter (@derekburgan)
If you enjoyed this article, you will surely like the following:
In Memoriam – Six Things We Lost From the Theme Park World in 2015
Six Ways To Repurpose Your Extra MagicBands
Six Things WDW Can Take To the Dump With the Sorcerer's Hat
Six Ways To Get Your Disney Fix Outside of the Theme Parks
Special Thanks to crack staff photographer Brandon Glover, photo wunderkind Mike Sperduto, back from probation Brian Carey, and blogger to the stars Megan Stump for their invaluable assistance with this article. Be sure to also check out Brandon on The Park Blogger podcast with co-hosts Aengus Mackenzie and Brian Carey (who gets a special No Thanks this week after his week long trip to Disneyland resulted in a total of two pictures taken.)