28,000 Disney World & Disneyland Cast Members Laid Off and How You Can Help
You may have heard the news that Disney is in the process of laying off 28,000 cast members in California and Florida. This has caused a flood of social media posts of cast members saying they received "The Call" informing them of the bad news. The list of employees affected range from long time cast members (with some having over 30 years experience working for the company), to part timers, entertainers, Imagineers, and every other position in any part of the company you can think of. In some cases entire departments have been let go, including the Minnie Van and NBA Experience teams in Walt Disney World, and PhotoPass in Disneyland Resort. Here's the statement released by Josh D'Amaro, Chairman of Disney Parks, Experiences and Products: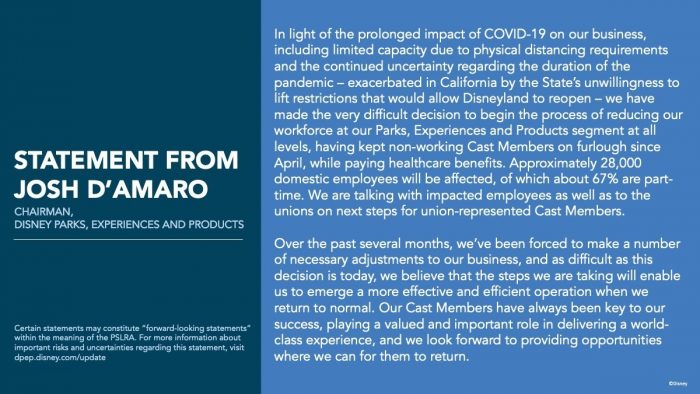 The reaction from the Disney fan community has been overwhelmingly supportive of the cast members that have been let go. Many fans are looking for ways to help so we've compiled of the ways we could find here. Please take a look and help out any way you can:
Florida:
Our friends at Disney Tourist Blog are running a virtual food drive at Second Harvest Food Bank of Central Florida. Tom writes: "This is a non-profit that collects, stores, and distributes millions of meals per year to relieve hunger in the local community. Second Harvest is an efficient and large-scale 501 (c)(3) nonprofit organization with a Four Star Charity rating (the highest score) on Charity Navigator."
Cast Member Pantry is run by cast members who collect and distribute food to others in need. Every month they distribute a bag full of food to feed 4 people. They can be found on Facebook, via email, or Amazon wishlist.
Unite Here 737 is a union representing Walt Disney World food service and resort hotel cast members. They hold food drives for anyone in need.
Disney stage technicians have set up a Link Tree with links to various nonprofit organizations, small shops, and streams set up by Disney cast members.
WDW Cast Member and Hospitality Pets in Need is a group that helps cast members in need of food and supplies for their pets. They have a Facebook page and Amazon wishlist.
California:
Second Harvest Food Bank also distributes food in Southern California, including hundreds of distribution sites around Orange County (where Disneyland Resort is located). For more information visit their Twitter account or website.
CAP OC (Community Action Partnership Orange County) is another food bank in Orange County. They partner with over 300 local charities to provide food to low-income families.
Cast Member Pantry will be available soon for Disneyland cast members as well. We'll update this post when that happens.
I can't speak for every TouringPlans employee or the other Disney bloggers out there, but I think most us will agree, what we do is not important in the grand scheme of things. We go to theme parks and then sit at our computers to review Disney's latest themed donut–it isn't earth-shattering work. Most of the time that is the escape our readers our looking for, but situations like this are impossible to ignore, and it would be irresponsible to pretend that everything is normal. So while we will continue to post on this blog and our social media platforms, we also can't and won't ignore what is happening and pretend everything is okay.
Our hearts go out to all the Disney cast members and their families affected by the layoffs. To the CMs out there: You create, cultivate, and preserve the magic and appeal of the Disney theme parks, resorts, shops, rides, shows, and everything else Disney does. The company is nothing without you, and whether you know it or not, something you contributed to Disney made a long lasting impact on someone, somewhere. Here's hoping for better days ahead for one and all.
Have any other resources that can help in these difficult times? Please share them in the comments.