5 Reasons I'm Thrilled for the Return of Happily Ever After
In just under a week, on April 3, Happily Ever After will return to the skies above the Magic Kingdom. I wrote about why I'd be thrilled to have it back when a teaser announcement was made in 2022 – at that time we knew something was coming back, but we didn't know whether it would be the whole show or favorite bits added on to Enchantment. Well, now we do know. So let's refresh our memories as to why this is such great news.
Just a note before we get started: on August 22, 2022, a new introductory section highlighting the park's history was added to Enchantment. I've seen the new version, and the new section feels like just that—an introduction that isn't really part of the "fireworks spectacular". When comparing the Happily Ever After and Enchantment, this article doesn't consider the new introductory portion.
1. We Just Didn't Get Enough Of It
Someone I work with once expressed annoyance that they would have to enter data by hand into a new software application we were using. When I asked what they had been doing until now they said: "Typing it into Microsoft Excel".
Change is hard, especially when you move away from something well-loved. We had 14 years of Wishes, and there was a lot of moaning and groaning when it was replaced. But Happily Ever After was a great show, and quickly became beloved … until we got the news of its untimely demise only four years after its debut. For those of us who only visit the World every few years, it felt kind of like it only just got here, and then it was gone.
2. The Music / The Mood
The first time I saw Enchantment, I was like "Wow, what's with all the minor key arrangements?" It's a myth that sad music is always in a minor key and happy music is always in a major one. But it's true that the emotional tone of a piece of music tends to be sensed the same way by a group of people.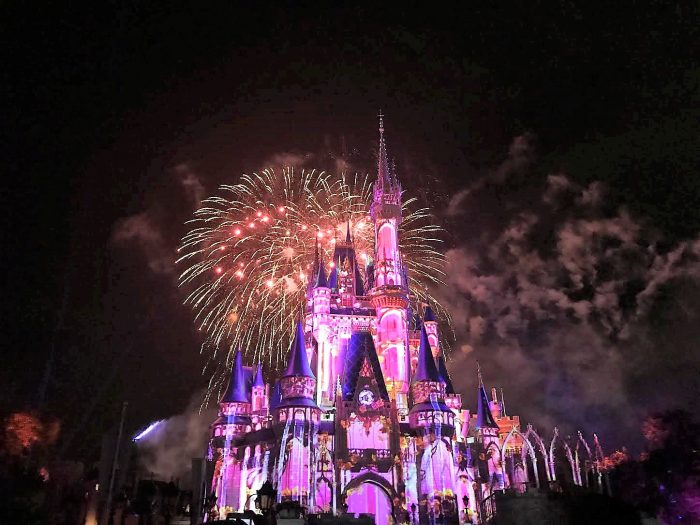 I don't actually know whether Enchantment has more minor key arrangements than Happily Ever After does. (It has at least one: Night on Bald Mountain is in D minor.)  But I'm not alone; in many forum chats and blog reviews I found views similar to mine: that the music is more somber or dramatic and less upbeat.
3. The Story
Another common theme in viewer commentary is that Happily Ever After has a story, and Enchantment is just kind of a random mishmosh. Let's try to break this down.
Happily Ever After's Story
Happily Ever After has six distinct sections leading up to the Finale.
Longing and dreaming, anchored by Tiana, Ariel, Remy, and Quasimodo at the points when we first meet them. Ariel longs to be Part of Your World. Quasimodo tells us how much he dreams of even one day spent Out There.
Empowerment and change opens with Merida telling us that we just have to be brave enough to seize the destiny that lies within us, followed by lyrics about how she is, personally, going to chase the winds and touch the sky. As she sings, Carl's house from Up lifts off from the castle, supported by a zillion balloons. We're going somewhere!
Exploration and friendship is kicked off by Aladdin: "Trust me, having a best friend by your side opens up a whole new world of possibilities."
Olaf fronts the Loooove section with "Some people are worth melting for," with a segue into Love is an Open Door. Flynn Rider and Rapunzel close it out singing about when ".. all at once, everything is different now that I see you."
"The flower that blooms in adversity is the most rare and beautiful of all." No Disney story would be complete without a villain, and the Adversity segment pays tribute to struggle. Ursula looms, Simba & Scar fight, and Maleficent cackles in the background. Even as we are reassured at the beginning that everything will be fine, these climactic tensions play out into tons of pyro that leave the castle destroyed and burning.
But we know how this turns out, right? The castle is rebuilt, better than ever, and projected upon it are our heroes in their moments of Triumph.
Enchantment's Story
Enchantment also has six distinct sections after the introductory song and before the finale.
We begin with a narrative from Angela Bassett about following our dreams, as she tells us that those who do will find what they seek – or even more.
Then we step straight into the Journey with Tiana singing that we're Almost There and Pocahontas looking ahead to what's Just Around the Riverbend. The chorus from Moana assures us that We Know the Way.
In the next section, it seems at first to be about Arrival, as the soundtrack and projections launch into Be Our Guest. What a lovely welcome … except that it segues into Under the Sea, followed by You've Got A Friend in Me, The Silly Song, and A Whole New World. It's difficult to find anything that ties these together and this section doesn't really seem to have a theme.
We move on to an entire segment set to Into the Unknown, featuring scenes of characters lost and alone. Merida searches for her mother. Alice falls down the rabbit hole.
What do we find in the unknown? As it turns out … Villains. This counterpart to the Adversity section of Happily Ever After is backed by the wonderful Night on Bald Mountain from Fantasia.
Finally, we have Triumph, with a very short montage of victorious moments projected on the castle, accompanied by the self-assured refrain from I Am Moana.
Side by Side
I'm not sure I buy the argument that Enchantment has no story. Although the meaning of the Arrival (or perhaps camaraderie) segment is a bit blurry, the rest of the sections have a clear focus. But I can certainly sign on to the idea that the progression in Enchantment feels muddier. And having two sections of Enchantment representing hard times and adversity means it spends more time on darker moments that don't have a feel-good vibe, which comes back to that bit about the mood.
4. It Would Be A Step Forward
Enchantment includes projections all along Main Street, and not just the focused projections on the castle. This might make you think that it's a technical step forward, but in fact, there is a lot of criticism about it being a technical step backward. The most frequent complaint is that Happily Ever After uses the castle structure as part of the art, whereas Enchantment simply uses it as a backdrop.
Take a look at the side-by-side of two shots from Enchantment below, followed by a shot from Happily Ever After. (You can click to enlarge the images.)
In the left-hand panel, the existing shapes of the castle are used to frame Merida's pose. On the right, Moana is projected onto the castle, and we can still see the castle structure through the image. Very few of the projections in Enchantment looked like Merida's; far more were like Moana.
In contrast, Happily Ever After shows us what's technically possible using the same spaces on the castle. Enchantment is the later show, and could have executed the beautiful projection on the right that makes the surface of the castle appear flat. It just … didn't.
If that didn't convince you, take a look at how the castle turrets are used during an Aladdin section from Happily Ever After below. There is absolutely nothing remotely like this in Enchantment.
Rumors are that projections on Main Street have been added to the version of Happily Ever After that's coming back next week, negating any technical advantage of Enchantment even further.
5. We Just Like It Better
Most arguments above have compared the two shows. Reality is that many people will see only one. Disney World is expensive, and plenty of families make a one-and-done trip when their kids are of the appropriate age. It's hard to go wrong with fireworks in the sky and beautiful projected light shows on a castle, and both shows score 4+ on our survey. But that survey data does show significant differences in audience rating. The charts below are broken out by age, and show the percentage of each group that gave a specific rating to each of the two shows.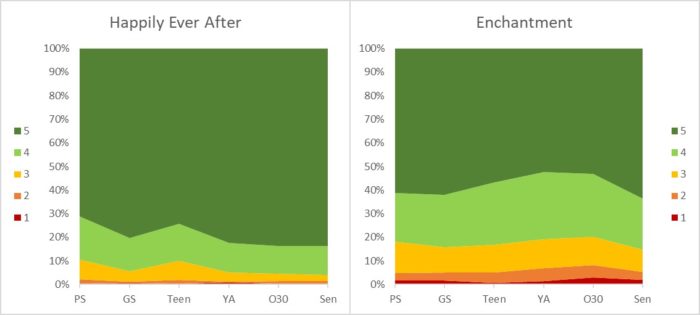 It's important to call out what these charts don't show – they don't show that, say, 10% of the people who gave a 5 to Happily Ever After only gave a 4 to Enchantment. They couldn't show that because it's not the same group of people in each chart, plus some people actually like Enchantment better. I have empirical evidence of this because some of them are in my own family.
What they do show is that over most age groups, 80% of viewers gave the highest possible rating to Happily Ever After, but only about 60% of viewers gave this mark to Enchantment. We can discuss subjective aspects like musical tone, story, and technical wow factor all day long, but that chart is cold, hard data and it's difficult to argue with it.
Have you seen Happily Ever After or Disney Enchantment? Are you looking forward to the return of HEA, or will you be sad to see Enchantment go? Let us know in the comments!
Originally published September 11, 2022. Updated March 28, 2023.