Fluctuation in Lightning Lane Return Times
It has been three weeks since the Disney Genie has been let out of its bottle. We have been collecting data since October 20. We will be using the data to give recommendations in the Lines app and incorporate Lightning Lanes into the optimized Touring Plans. With enough data, we will be able to evaluate plans and quantify the benefit, or lack of, using Genie+ and Lightning Lanes.
From Walt Disney World's Lightning Lane page:
[With the] Disney Genie+ service, you can select the next available arrival window for select Lightning Lane attractions and entertainment all day long.
With our experience with paper FastPass and verbiage from Disney, we were a bit surprised to see return times fluctuating for Slinky Dog Dash. In the first week, we did not know if this was a bug, but the fluctuation continues to this day. On the morning of November 4, I opened the My Disney Experience app and went to the Tip Board, and refreshed the Hollywood Studios page 124 times between 7:00 a.m. and 8:20 a.m. Below is a chart and table of each Lightning Time return time for Slinky Dog Dash.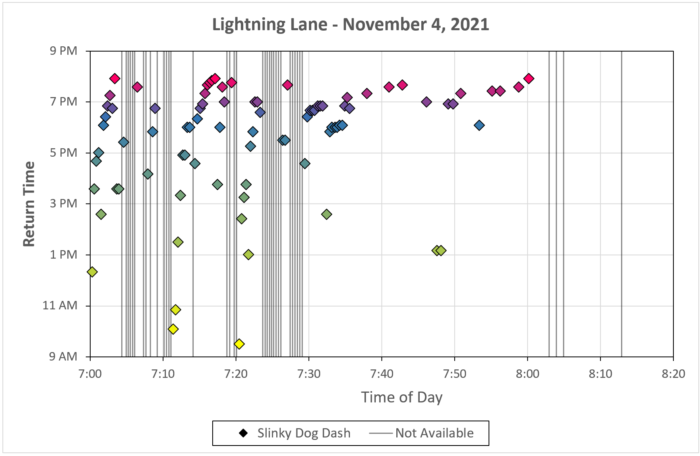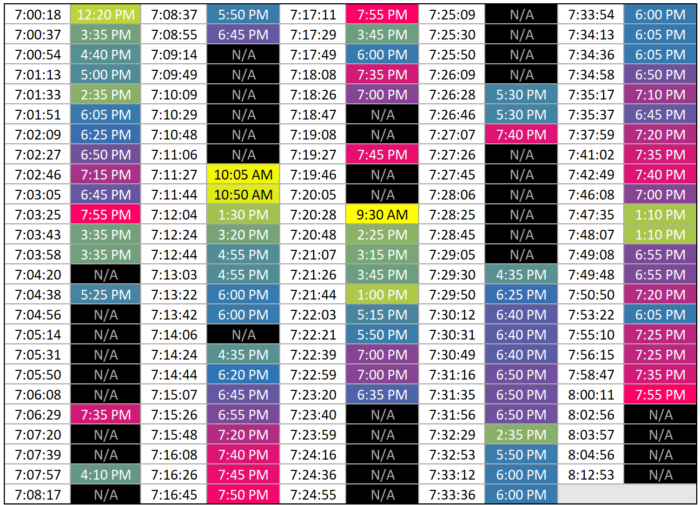 We expected that we would see a smooth line of Lightning Lane times increasing at 7:00 a.m. until all return times were claimed. The distribution is anything but a smooth line. At first glance, it looks like the available return times are presented randomly.  It might also look like Disney is withholding return times, and adding them as the morning moves on. I believe neither of these cases is true.  My hypothesis is that Disney is displaying the next available arrival window, but putting a hold on all return times that are displayed. With paper FastPass, a machine would spit out return times in sequential order. With Lightning Lane, all available attractions, and their Lightning Lane return times, are displayed in the Disney app. With a limited number of spots in each arrival window, a specific number of guests will see a specific return time. As thousands of people are hitting the Disney app, any return time that is displayed is reserved so if the user selects the attraction the return time is available. We also believe that if an arrival window is canceled, it is put back into the available arrival windows. My guess is the hold for Slinky Dog Dash is around 10 minutes. At 7:11, 7:20, and 7:29 we see more arrival windows show up.
After seeing the fluctuation at Slinky Dog Dash, and believing it was mostly due to "holds" we expected we would see fluctuations in return times at other attractions. Below are tables with return times for all Hollywood Studios attractions on November 4.
Poor Muppets. MuppetVision 3D is not a popular Lightning Lane attraction in the morning. For all other attractions, you can see fluctuation in return times; the only difference is the magnitude of the fluctuation.
Once the parks are open, we still see fluctuation in return times, but the linear distribution is more prevalent. Below are some sample return times from across Walt Disney World.
How to use this information?
The biggest takeaway is that if you do not see a "good" return time for the attraction you want, refresh the screen. After the park opens there is still fluctuation but it is less frequent.
More to come
Lightning Lanes has only been available for a few weeks, and only for low crowds. Once we get through Thanksgiving week, we will have a better idea of the impact of Lightning Lanes during more popular times. I will be writing more blog posts looking at the Lightning Lane data. If you have any questions that the data will answer put them in the comment section.