7 Disney Details at the Moderate Resorts
TouringPlans is pleased to welcome back guest author Douglas Ballard.
Walt Disney World has several amazing Moderate Resorts for you to stay at: Disney's Caribbean Beach, Disney's Coronado Springs, Disney's Port Orleans – French Quarter, Disney's Port Orleans – Riverside, and The Cabins at Disney's Fort Wilderness. The best part are the extra Disney touches that really make them super special. Here is a list of seven of Disney details that you might not know to help you plus-up your next Disney stay.
Note: Some accommodations or experiences may be reduced or unavailable due to COVID-19 closures.
Disney Detail #1 – Princess or Pirate Perks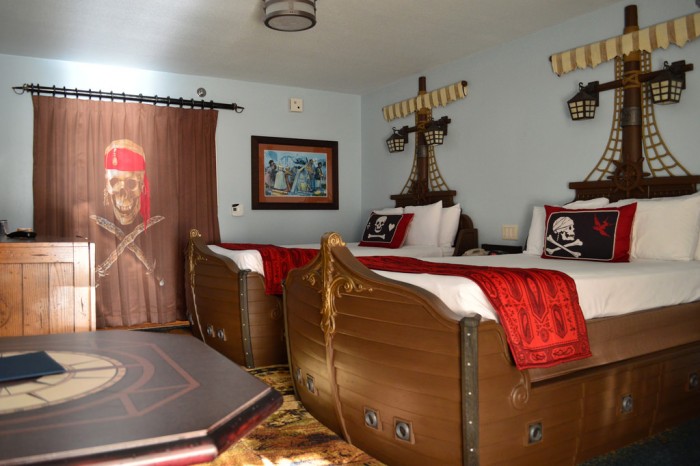 Did you know that Disney's Port Orleans Riverside hotel has rooms that are themed all about Disney Princesses?  Or that your little swashbuckler can find a great place to hide their treasure in a Pirate-themed room at Disney's Caribbean Beach Resort?  Both of these amazing moderate resorts have rooms themed to the *ahem* hilt (pun intended) that are sure to please even the grown princess or pirate fan.
Disney Detail #2 – Ultra-Themed Pools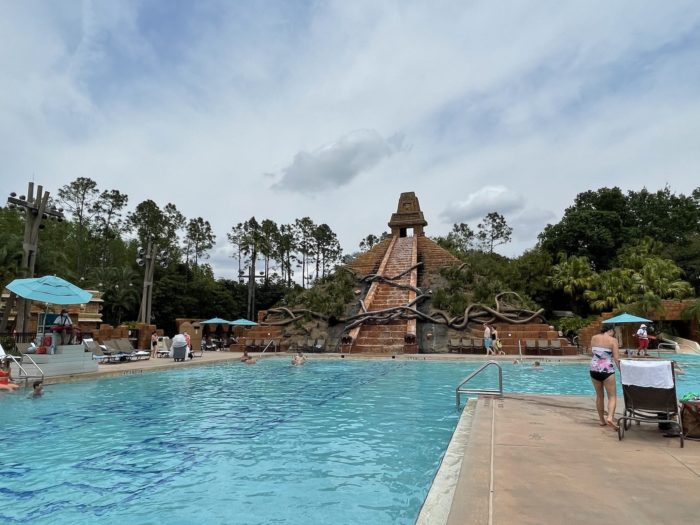 While you can always find a great pool at every Disney resort, the theming at the Moderate Resorts is just that much better. Disney spared no details when they designed the 50 foot Mayan Step Pyramid adorning the Lost City of Cibola Pool at Disney's Coronado Springs Resort and Convention Center.  In another part of the World, you can also find King Triton riding a sea serpent (which cleverly hides an amazing water slide) at Disney's Port Orleans French Quarter Resort.
Disney Detail  #3 – Restaurants with Flair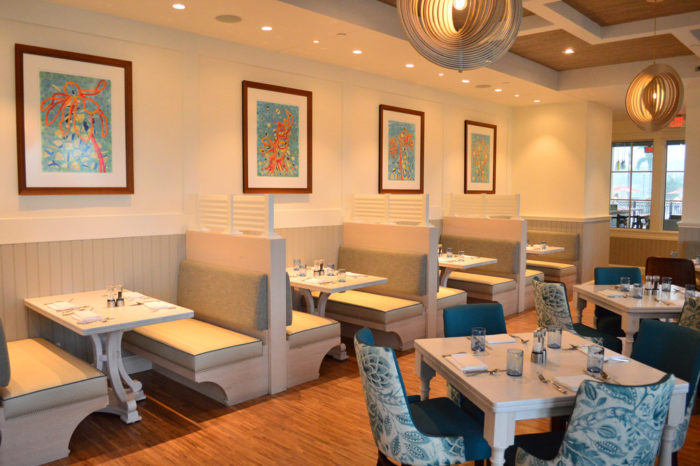 One other thing that Moderate resorts offer over Value resorts are their sit-down dining locations.  Disney's Caribbean Beach resort has a great example in Sebastian's Bistro.  Our favorite musical crab has opened his own restaurant in the middle of this bustling beach town, and the theming is very much what you want it to be with subtle Little Mermaid touches throughout the establishment.  Make sure to keep an eye out for a dinglehopper or snarfblatt while you dine!
Disney Detail #4 – Tri-Circle-D Ranch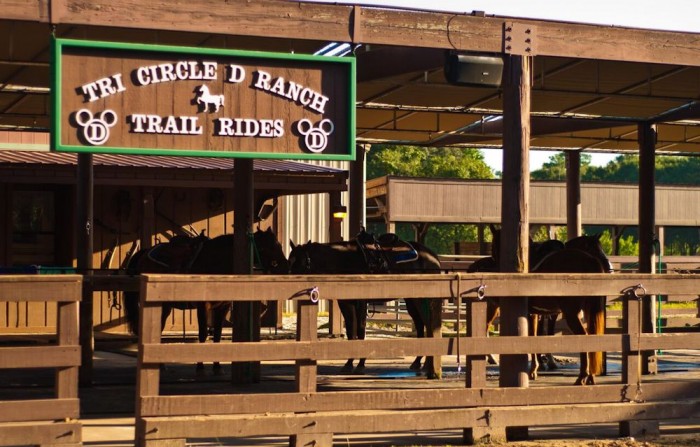 One very awesome Disney Detail is the Tri-Circle-D Ranch located at Disney's Fort Wilderness and Campground.  This amazing location is where the horses found all over Disney World call home.  This amazing building also houses the calliope organ horse drawn wagon "that Walt Disney purchased for the Mickey Mouse Club Circus Parade at Disneyland Park in the 1950s". Definitely a piece of Disney history that should not be missed!
Disney Detail #5 – Horse-Drawn Carriage Rides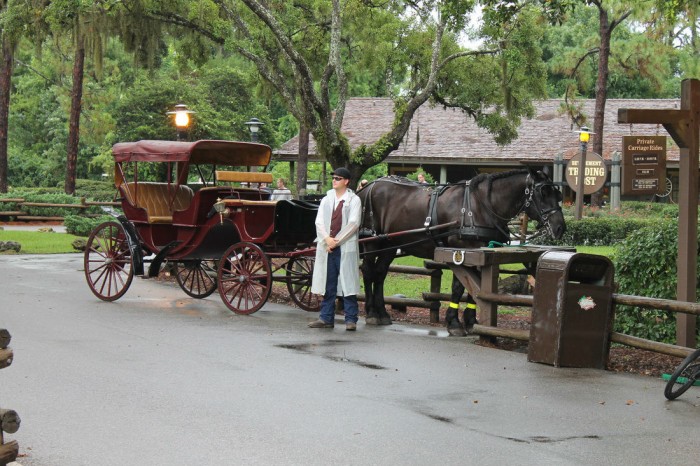 If you ever thought that you would love to tour a Disney Resort in style, look no further than the horse-drawn carriage rides at Disney's Port Orleans Riverside and Fort Wilderness Campground.  These 25 minute excursions for 4 Adults or 2 Adults and up to 3 children take you through the sprawling campuses of these beautiful hotels, led by beautiful draft horses that all come with their own unique name and story.  Definitely worth the extra $55 charge!
Disney Detail #6 – The New Highway in the Sky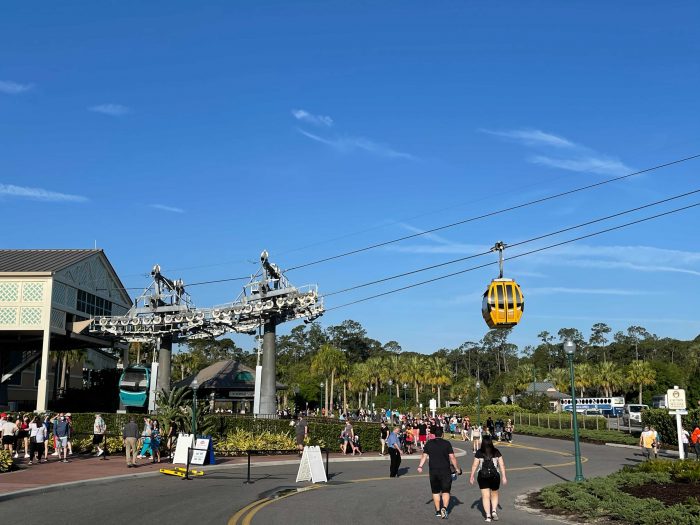 New to Disney World as of September 2019 is the Disney Skyliner.  This amazing mode of transportation takes you between multiple Disney resorts as well as EPCOT and Hollywood Studios.  The best part is that the major gondola hub station is located right at Disney's Caribbean Beach Resort.  It truly makes it easy to get all over Disney World with a bird's eye view!
Disney Detail #7 – Chip 'n' Dale's Campfire Sing-a-Long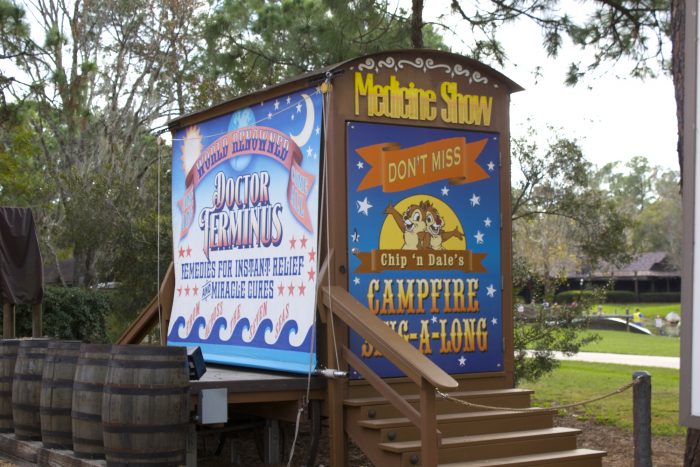 Heading back to Fort Wilderness Campground (the hidden gem of the Moderate Resorts) we have the Chip 'n' Dale's Campfire singalong.  A free offering available to any Walt Disney World Resort guests, you get to sing famous Disney songs while also making s'mores by the fire and visiting with those mischievous chipmunks, Chip and Dale! Disney will even sell you the kits for all your gooey snacking needs!
With all these great Disney Details in the moderate resorts, there is no wonder why these hotels are so massively popular with Disney guests.  Having upgraded amenities from the Value Resorts as well as these details (and more), these locations are sure to add that extra Disney magic to your stay!
Douglas Ballard of Philadelphia, PA has been a Disney Enthusiast ever since the first time he went in 1987.  A lifelong Disney Parks Fan, Douglas travels to both coasts regularly to visit the magic with his wonderful Disney-loving wife of 20 years, to whom he proposed at Cinderella's Royal Table.  Douglas loves planning Disney trips, and has even started a channel on YouTube dedicated to helping others have a great time in the parks.  "Carousel of Douglas" can be found on YouTube here:  https://www.youtube.com/c/DouglasBallard