Sail on In for a Gasparilla Island Grill Review
In addition to Disney's Grand Floridian Resort restaurants like the Grand Floridian Cafe and Victoria & Alberts, the resort also offers a fantastic food court – the Gasparilla Island Grill.
Located near the resort's marina, Gasparilla Island Grill offers a wide range of items from Mickey Waffles to specialty coffees to sandwiches and pizza. Plus, Gasparilla's bakery is often where you can find yummy, seasonal treats!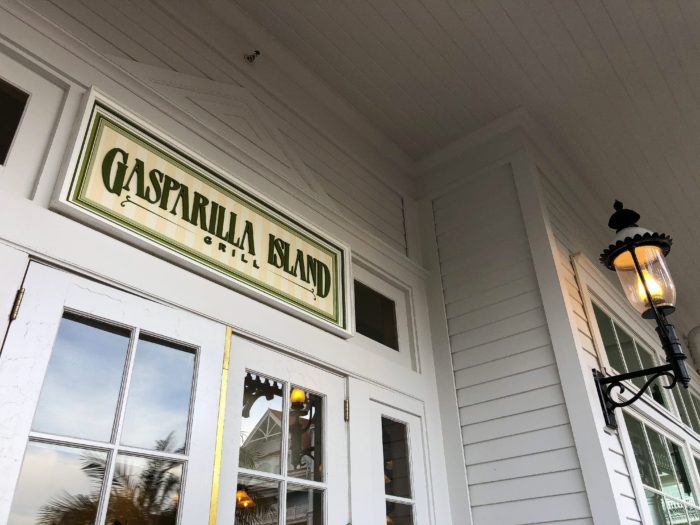 Before COVID-19, Gasparilla Island Grill was one of the few resort food courts to be open 24 hours; and while those hours haven't yet returned, Gasparilla is currently open from 6:00 a.m. – 11:00 p.m. for guest convenience.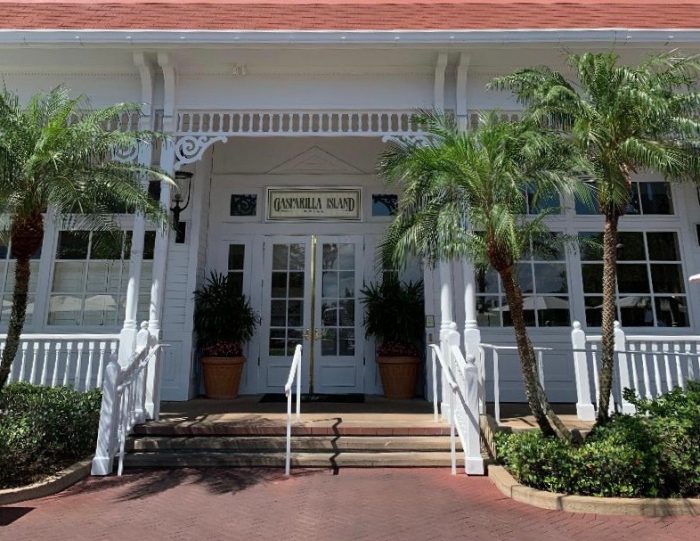 Gasparilla has undergone multiple refurbishments through the years and now has a bright, open interior with both indoor and outdoor seating–the latter facing the marina and the tip-top of Cinderella Castle! Even if you're not a Grand Floridian guest, you can still drop by this resort food court for a meal or snack and it's easily accessible from the Magic Kingdom via boat, Monorail, or the newly opened walking path between the park and resort.
During a visit to Disney's Grand Floridian Resort, our park reporter Ivonne visited Gasparilla Island Grill to see if it's just as impressive as the resort itself. Here's what she found out:
The Menu
On the My Disney Experience app, the Gasparilla Island Grill offers four menus: breakfast, lunch, dinner, and snacks. They're not as extensive as some of the Moderate or Value food court menus, but there's still a decent variety to satisfy just about everyone.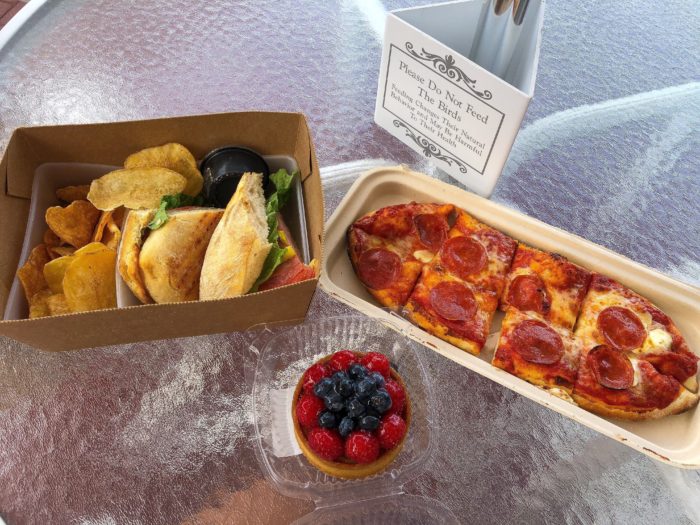 Ivonne visited Gasparilla Island Grill later in the day to sample Gasparilla's pizza and specialty sandwiches, as well as a sweet treat. It's also worth noting that all of the items she tried were available for both lunch and dinner with no change in price!
Pepperoni Pizza – $10.79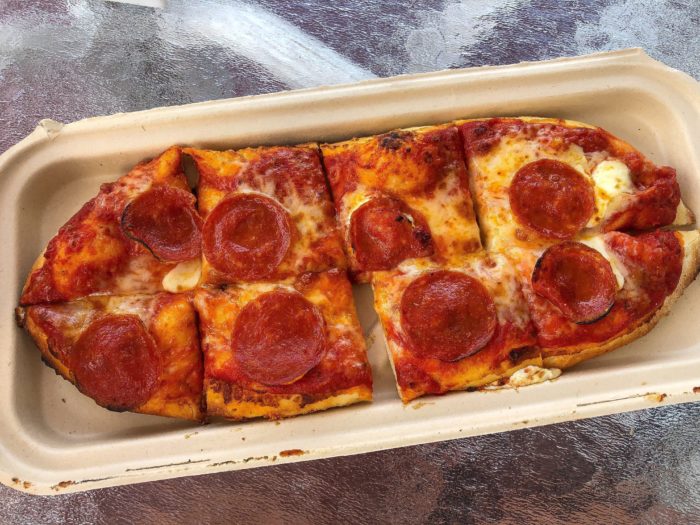 According to Ivonne, Gasparilla's pepperoni pizza was fine and right there with PizzeRizzo in terms of quality. The crust wasn't too thick so it had some nice crispiness which she liked. Basically, kids will love it and it's big enough that two kids could share it.
Hot Italian Sandwich – $10.49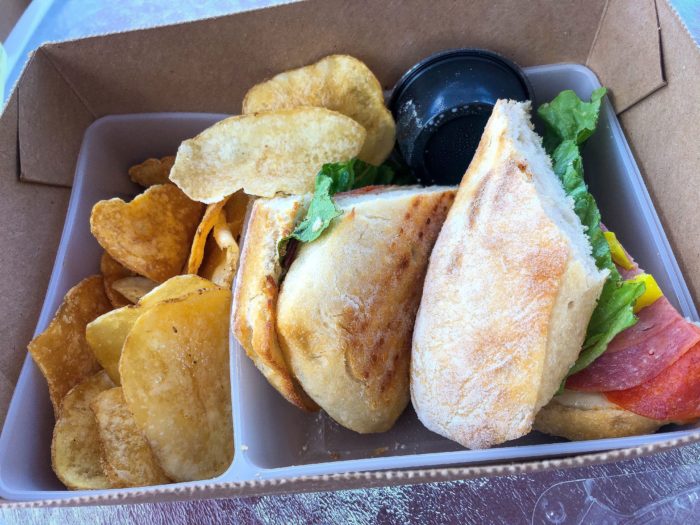 Ivonne liked this a lot more than she thought she would. It was huge and they don't skimp on the meat, which all tasted great by the way. She also enjoyed the bread it was served on, and it held up will to the sandwich fillings.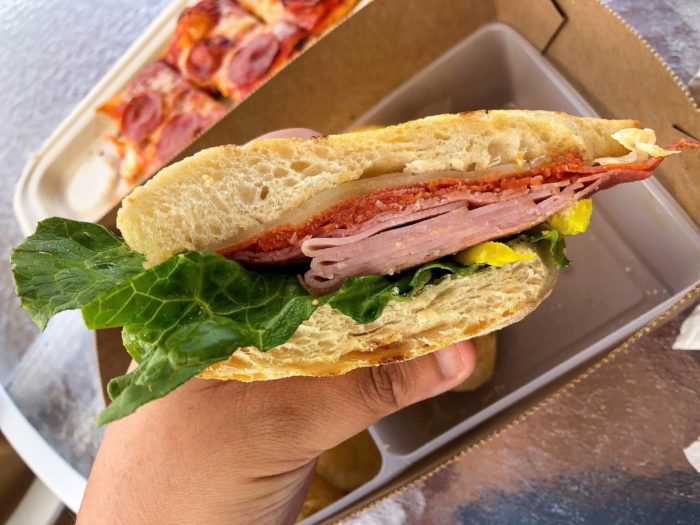 For those who may not love everything that comes on the sandwich, know that you can customize it. For example, Ivonne decided to forego the Banana Peppers. Also, like all of Gasparilla's sandwiches, this item came with house-made chips for the side.
Almond Fruit Tart – $5.49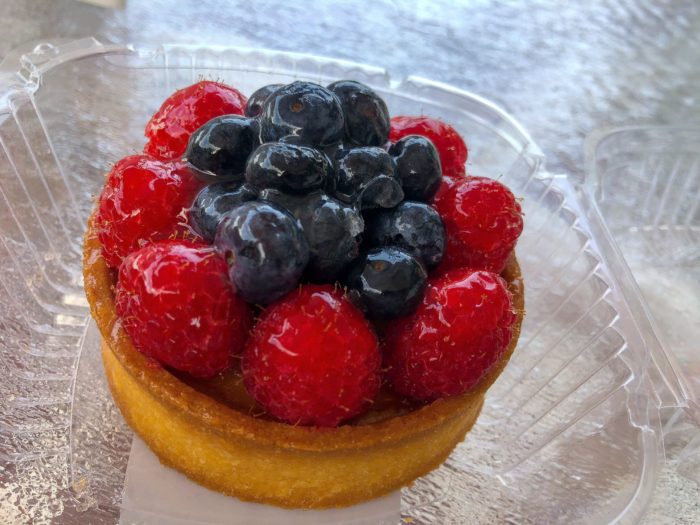 The menu describes this treat as baked almond frangipane in a sweet tart shell topped with fresh raspberries and blueberries; and according to Ivonne, it was perfect for summertime and a dessert she would order over and over again.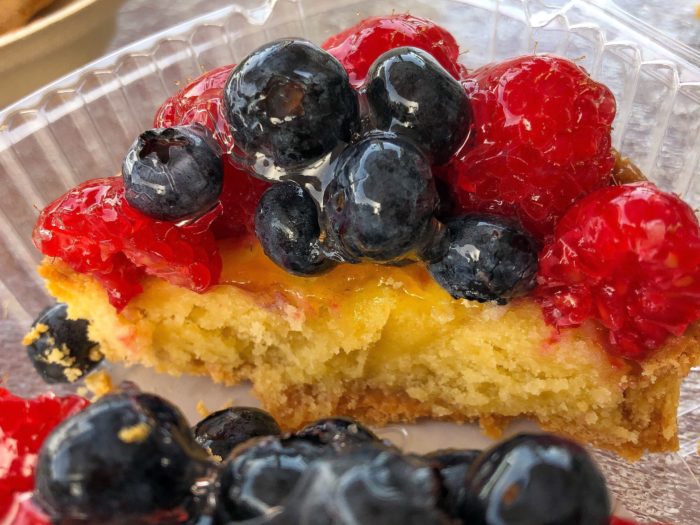 The raspberries and blueberries were delicious, tart, and fresh while the pastry itself was perfectly soft inside. If you love anything almond flavor, she said you will love this.
Our readers give Gasparilla Island Grill and 89% thumbs up rating.
Have you ever visited the Gasparilla Island Grill at Disney's Grand Floridian Resort? Let us know in the comments!