A Guide to Allergy Friendly Trick-or-Treating at Mickey's Not So Scary Halloween Party
If you are heading to this year's Mickey's Not So Scary Halloween Party and someone in your group has allergies, this is your guide to trick-or-treating throughout the entire night. Disney makes it very easy for everyone to participate in trick-or-treating, and we are here to give you our top tips. Plus, we are also sharing some of the minor issues we ran across during the party.
The Halloween party features allergy-friendly trick-or-treating as part of the Teal Pumpkin Project, which helps make trick-or-treating more inclusive for those with food allergies. Throughout the party, all the allergy-friendly trick-or-treating is marked by that teal color and is easy to spot.
Trick or Treating
Trick-or-treating occurs throughout the Halloween Party, and if you have an allergy, start by picking up an allergy-friendly teal trick-or-treat bag. You can collect your bag when you get your wristband and make sure you request the teal allergy-friendly bag. If you missed getting your bag at one of the wristband locations, don't worry, simply stop by the two allergy redemption centers to pick one up.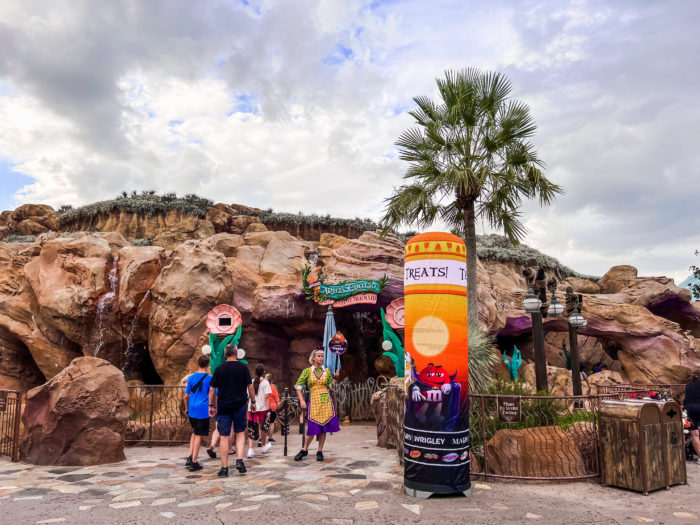 From there, you will trick-or-treat as normal, there are 14 locations marked on the party map and they are also marked in person by a glowing 'treats' pylon. Instead of the traditional candy, teal bag participants will receive a plastic teal token, which you redeem at one of the redemption center locations for goodies.
When you approach the location, inform the Cast Members you are trick-or-treating with a teal bag. Even though the bag colors are different, the handles are the same, and we did have a Cast Member mistakenly put candy in our bag as we shuffled through the line. Another thing to note, during the last party we attended, two of the trick-or-treat locations were out of teal coins when we arrived and we were informed to tell the redemption center that information. Overall, the allergy-friendly trick-or-treating pretty much flowed as normal, get in the regular line and alert the Cast Members.
Here are the trick-or-treat locations throughout the park:
Main Street, U.S.A
Market Street

 

(until 8 PM)
Adventureland
Enchanted Tiki Room
Tortuga Tavern
Fantasyland
Ariel's Grotto
Mickey's PhilharMagic
Pinocchio Village Haus
Railroad Station
Frontierland
Country Bear Jamboree
Splash Mountain
Tom Sawyer Island Dock
Liberty Square
Tomorrowland
Carousel of Progress
Cosmic Ray's Starlight Cafe
Monsters Inc. Laugh Floor
Allergy Redemption Center Locations
Once you have collected your coins, simply head over to the redemption centers in order to collect your allergy-friendly snacks. There are two locations at this year's party, one in Liberty Square and one on Main Street.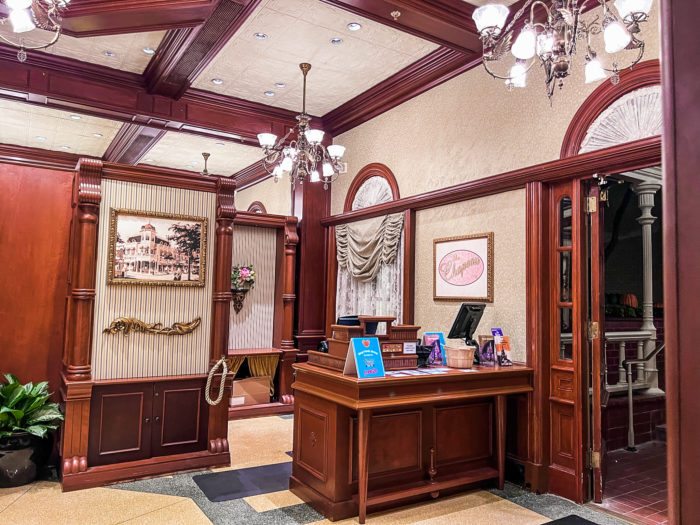 Chamber of Commerce
This location is right near the park entrance on Main Street and you can spot it because of the teal pumpkin outside.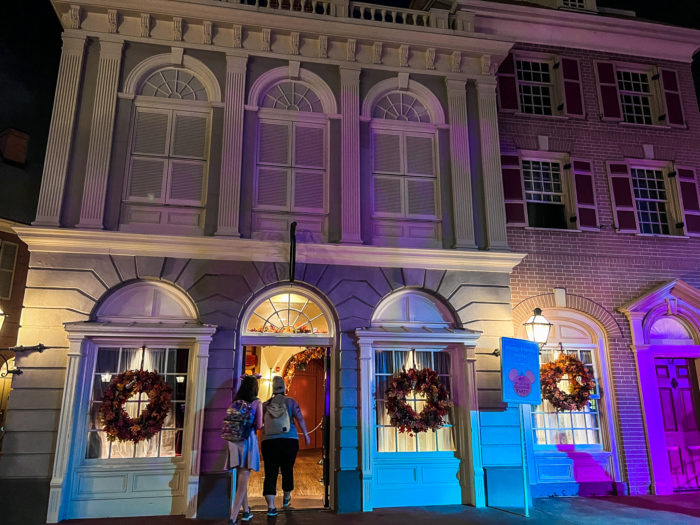 Liberty Square
In Liberty Square, you can find the treat redemption location right next to the Hall of Presidents, just follow the allergy signs.
When you arrive at either location you will simply turn in your tokens to a Cast Member and redeem them for allergy-friendly treats.
Allergy Friendly Treats
Once you turn in your tokens there are so many different treats you can choose from. Disney does a great job at providing a list with all the ingredients of every treat available, not only does it show a list of ingredients, it shows a list of what major allergens are NOT in every treat available.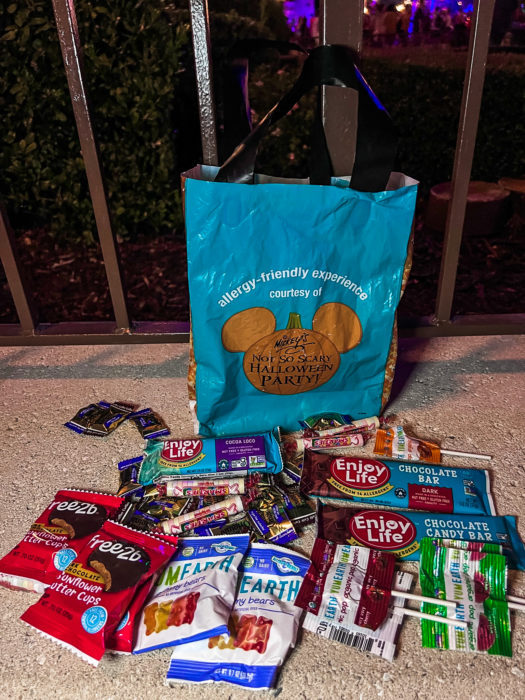 Here's the full list of what was available on the night we redeemed our tokens (August 30th):
Enjoy Life Cocoa Loco
Enjoy Life Chocolate Bar Dark
Enjoy Life Chocolate Candy Bar
free2be Dark Chocolate Sunflower Butter Cups
Smarties
Werthers Original Sugar-Free
YumEarth Gummy Bears
YumEarth Lollipops (Cherry, Peach, and Watermelon)
We inquired to see if they had any non-food items, and we were told crafts are normally available but they were all out when we redeemed our tokens. Just know that availability of specific treats is subject to change, but they have a large variety for various different allergies.
We personally found treats were not given on a 1-1 ratio, we asked for one of everything, the Cast Member didn't count our tokens and just gave us one of everything. It also should be noted we found the Cast Members being much more generous with what they were giving to kids, they were absolutely getting more than the adults redeeming tokens.
Mickey's Not So Scary Halloween Party
With the return of so many things during this year's Halloween Party, dates are selling out quickly. There are still parties later in the Halloween season that haven't sold out, but we recommend snagging your ticket soon in order to guarantee one of the remaining dates. Our travel agents can help you book a fall Disney trip with a night at Mickey's Not So Scary Halloween Party.
If you are looking for more details on what to expect at this year's Halloween Party, be sure to check out our First Look from this year's party.