Disney World Quick Service Locations With Allergy-Friendly Mobile Order
Ordering allergy-friendly food can be a mixed bag when it comes to Disney quick service dining locations. One challenge is that many locations have allergy-friendly foods through mobile ordering, but some don't.
In general, if a restaurant offers Allergy-Friendly foods on its menu, and it has Mobile Order, you will be able to mobile order allergy-friendly menu items. If there's no Mobile Order, or if you need to customize an allergy-friendly order due to multiple allergies, you'll need to speak with one of the chefs at the restaurant.
You should also know the limits of allergy-friendliness. Per the Mobile Order terms and conditions, Disney takes steps to avoid cross-contamination, but they don't have separate allergy-friendly kitchens. And they rely on supplier labeling to determine whether ingredients are allergy-friendly. For most people, this will be fine, but if you have a serious life-threatening allergy, you may want to inquire in person at the restaurant as to your level of risk.
When mobile ordering you'll want to look for the Allergy-friendly icon at the top of the menu screen after you've begun an order and selected a timeslot. If there are a lot of Categories, you may need to tap on "See All Categories" to see the Allergy-friendly icon.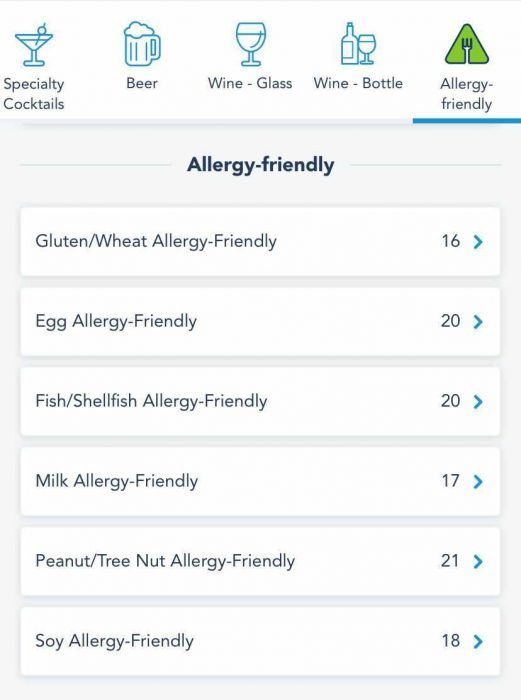 If you're not sure whether a location offers Allergy-friendly ordering, you can also tap "View Menu" from the restaurant's page in My Disney Experience. But many times it's easier to confirm what's truly available by starting the Mobile Order process and checking whether the Allergy-friendly menu is available.
Let's take a look at the Disney quick service dining locations that do have allergy friendly items through mobile ordering. Click any of the links below to jump straight to that location
Allergy-Friendly Mobile Order Locations in Magic Kingdom
Allergy-Friendly Mobile Order Locations in EPCOT
Allergy-Friendly Mobile Order Locations in Hollywood Studios
Allergy-Friendly Mobile Order Locations in Animal Kingdom
Allergy-Friendly Mobile Order Locations at Blizzard Beach
Allergy-Friendly Mobile Order Locations at Typhoon Lagoon
Allergy-Friendly Mobile Order Locations at Disney Springs
Allergy-Friendly Mobile Order Locations at Disney World Resorts
Magic Kingdom
Columbia Harbor House
Cosmic Ray's Starlight Cafe
Pecos Bill Tall Tale Inn and Cafe
The Pinocchio Village Haus
EPCOT
Connections Eatery
Regal Eagle Smokehouse
Hollywood Studios
ABC Commissary
Backlot Express
Catalina Eddie's
Docking Bay 7 Food and Cargo
Dockside Diner
Fairfax Fare
PizzeRizzo
Ronto Roasters
Rosie's All-American Café
Woody's Lunch Box
Animal Kingdom
Flame Tree Barbecue
Harambe Market
Pizzafari
Restaurantosaurus
Satu'li Canteen
Blizzard Beach
Typhoon Lagoon
Disney Springs
Disney World Resorts
Value Resorts
World Premiere Food Court at All Star Movies
Intermission Food Court at All Star Music
End Zone Food Court at All Star Sports
Everything POP at the Pop Century Resort
Landscape of Flavors at Art of Animation Resort
Moderate Resorts
Centertown Market at Caribbean Beach Resort
Spyglass Grill at Caribbean Beach Resort
Sassagoula Floatworks and Food Factory at Port Orleans Resort – French Quarter
Riverside Mill Food Court at Port Orleans Resort – Riverside
Note: El Mercado de Coronado does not offer either Mobile Order or Allergy-Friendly menu options.
Deluxe and Disney Vacation Club Resorts
Boardwalk Deli at Disney's Boardwalk
The Mara at Animal Kingdom Lodge
Beach Club Marketplace at Beach Club Resort
Contempo Cafe at the Contemporary Resort
Gasparilla Island Grill at the Grand Floridian Resort
Capt. Cook's at the Polynesian Resort
Primo Piatto at the Riviera Resort
The Artist's Palette at Saratoga Springs Resort
Roaring Fork at the Wilderness Resort
The Market at Ale and Compass at the Yacht Club Resort
P&J's Southern Takeout at the Fort Wilderness Resort
What do you think of Disney's mobile ordering for allergy-friendly foods? How would you improve it? Let us know in the comments!