A Tale of Two Arendelles – Different Experiences on the Disney Wish
Back in July, I sailed on the maiden voyage of Disney Cruise Line's newest ship, the Wish. My first dinner assignment was at Arendelle: A Frozen Dining Adventure, one of the three main dining rooms onboard. My companion for that trip was my 23-year-daughter Josie. Josie and I both love Scandinavian food (she spent a semester studying in Copenhagen) and both are fans of the Frozen franchise and Broadway musicals in general. In short, we were predisposed to adore Arendelle.
And, as luck would have it, we were randomly given a table directly next to the stage. AND the other family (strangers to us) that had been assigned to dine at our table had a complication and were moved to be with friends in a different part of the room. In short we, had perfect sightlines, plenty of room at the table, and were constitutionally predisposed to to enjoy the meal and the show.
And we did! I mean, check out our view.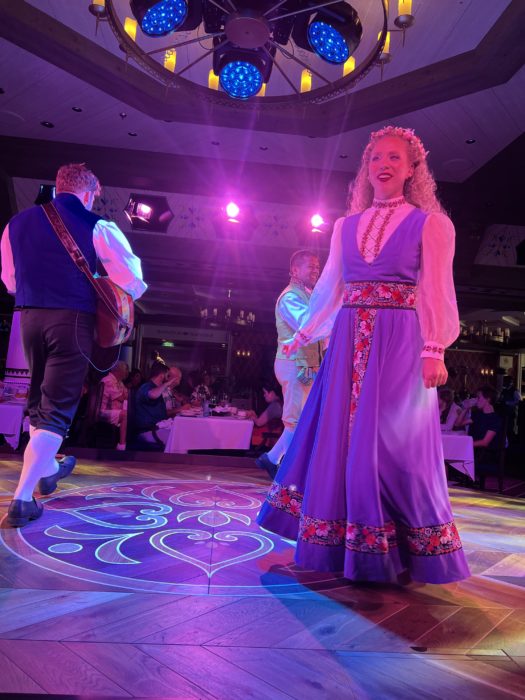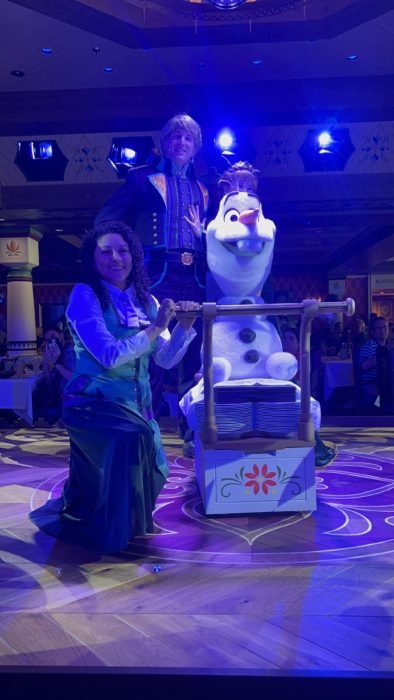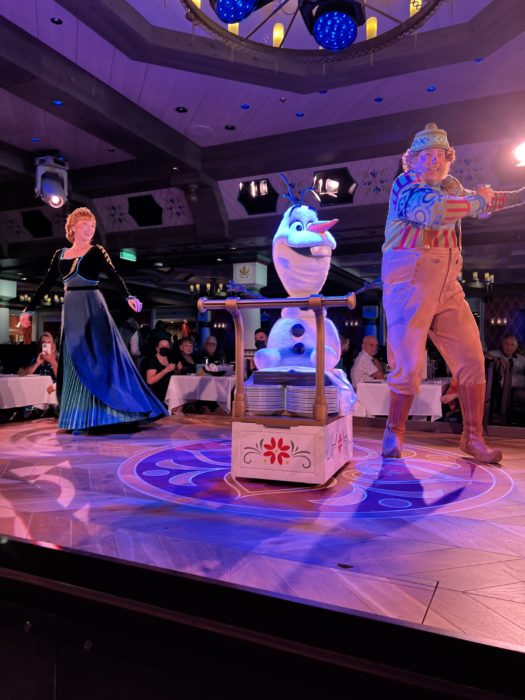 I came home and raved about our experience.
A few week later I was surprised when our Touring Plans parks reporter, Chrissy, returned from a sailing of the Wish and thoroughly panned her experience, saying the entertainment was annoying and the experience was subpar.
I thought, maybe she experienced a fluke, or maybe she was having an off night. Because how could she be right, I had an ah-mazing time.
Then I sailed on the Wish again in October and had an experience much more like Chrissy's. Instead of a table near the center of the dining room (approximately A), I was assigned to a table in the far corner of the room (approximately B).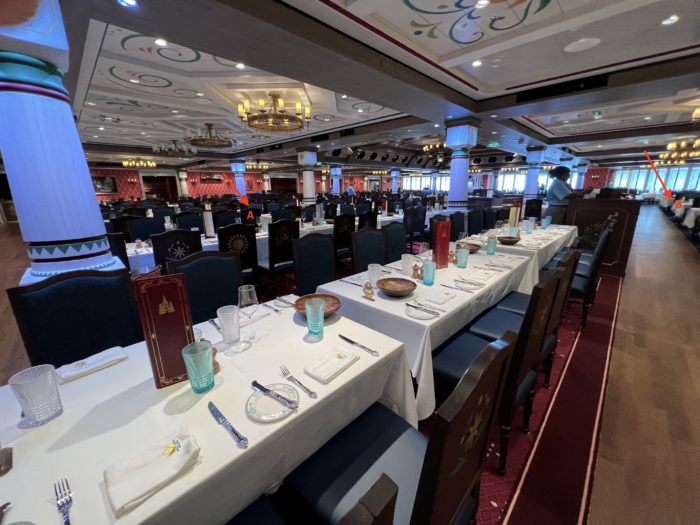 This was my view.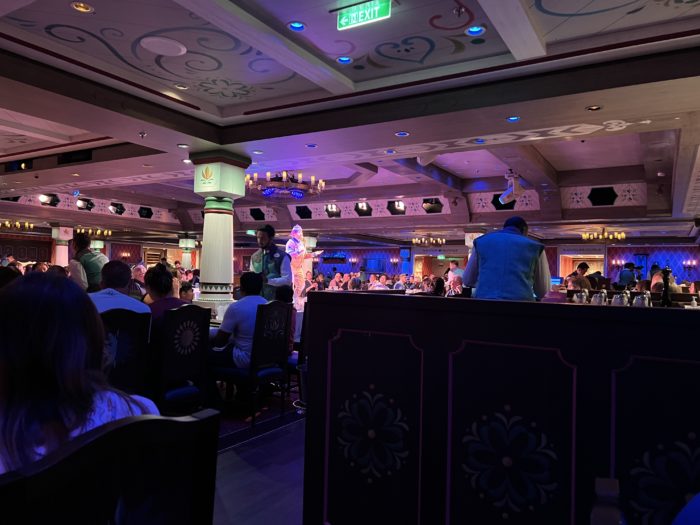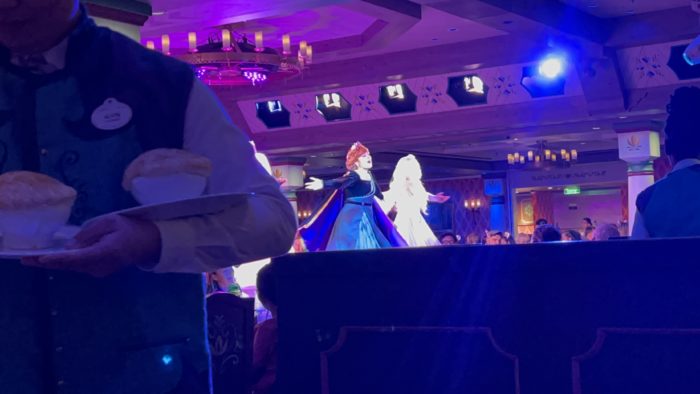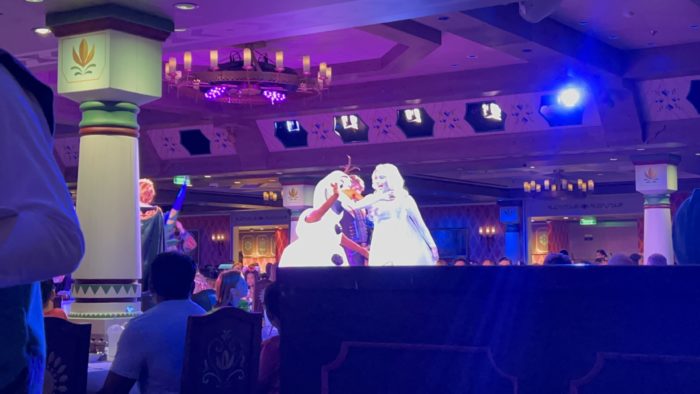 The stage itself was blocked by a structural column and a service station. And every few seconds a member of the serving team stood between my table and the stage prepping someone's meal or drink. (This was no fault of the servers; this was the setup they had to work with to do their jobs.)
Not only was my view obstructed, I couldn't clearly hear the performers because the servers were chatting with guests and clinking dishes. Additionally, my table directly abutted the neighboring table and we sometimes had to lean in as servers brought items to them. Again, the servers were just doing their jobs, but the space at the back of the room is fairly cramped.
Children with nearby parties had to stand on chairs or on their parents' laps to have any sort of view at all.
You'll also see that during my first Arendelle visit I got to see the planned mobile Olaf animatronic and the second time I had the decidedly average B-mode guy-in-a-suit Olaf. Cute, but not special or unique to this venue.
Chrissy had a point. (And, really, I should have known this because I have a long track record of respecting her opinion on Disney topics.)
My first experience at Arendelle was "OH WOW!" and my second experience was "ugh, why." Same restaurant about three months apart and totally different experiences. I even enjoyed my food less the second time, although I ordered several of the same items, not because they tasted any different, but rather because my stress level during the meal was so different that I couldn't relax and enjoy my meal.
So why bring this up? Well, two reasons.
First, this is a reminder that you should take any vacation planning advice with a grain of salt, even your best friend's, even mine, and especially a stranger on the Internet's, particularly if they have only one impression of a place or activity. With just one take at dining at Arendelle, neither Chrissy nor I had a full picture of the venue. Neither my initial rave nor her initial pan were entirely accurate. (And for what it's worth, some of my more negative initial impressions of Wish venues turned to largely positive impressions after a second trip.)
When looking for travel advice, try to get as many details about how they formed their opinion. Remember that there can be numerous factors that might make your opinion different from someone else's. While I was disappointed and frustrated with my back-of-the-room table, someone else might have found that location advantageous. For example, a family with child who is afraid of large characters might be happier at a table far away from the action. A party that doesn't care for musical performances much be indifferent to their dining room placement. Or a couple who want to have a quiet conversation during dinner might want to be as far away from the stage as possible.
If at all possible, ask your advisor(s) for a benchmark. If you're seeking DCL advice from someone you don't know personally, try to get their opinion on something you're both familiar with. If, say, you both like restaurants X and Y, then chances are better that you'll agree with their assessment of restaurant Z.
Second, if you do have a preference in any Disney vacation situation, be sure to make that preference known. This applies to things like room location, dietary restrictions or other special needs, or when you want your kids' food served.
Here, for example, if you know your child is afraid of Olaf, ask to be seated away from the stage. Or, if the entire reason you've booked the trip is so that your child can immerse herself in the Frozen story, then ask to be seated up front. As part of the online check-in process, Disney Cruise Line now includes an option to indicate your seating preference in an onboard dining room.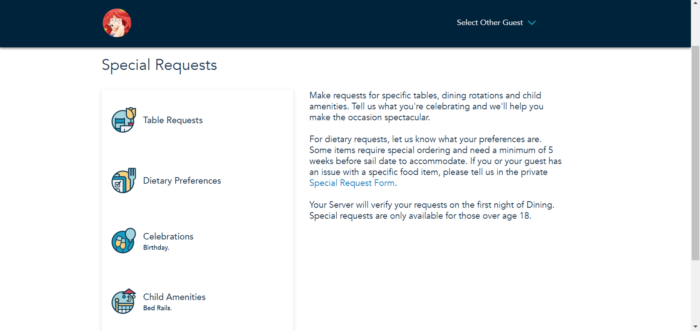 And, as always, the team of expert planners at Touring Plans can help you understand what all your options are and help guide you to the best possible vacation.