Seven Great Food Experiences Your Kids Can Have On A Disney Cruise
For many adult Disney Cruise Line cruisers, the most memorable moments onboard include food: indulging in mountains of peel-and-eat shrimp, finding a new favorite cocktail at a mixology class, or going gourmet at Remy. The same can be true for children in your group. Here are some ways that kids can make food-related memories on their Disney sailings.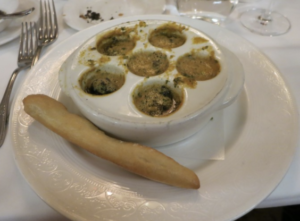 1. Trying new foods. All the food at the pool deck buffet (Cabanas) and in each of the ships' three main dining rooms is included in the price of your cruise. And when I say all, I mean ALL. Everyone, including kids, is welcome to order as much as they want from any part of the menu. In practice, this means that you can order something that you're not sure about with no repercussions if you end up not liking it. For example, have your child order dependable plain pasta AND the more adventurous rack of lamb. If they love the lamb, then there's a new food in their repertoire; if not, then they're not going hungry.
2. Practicing restaurant manners. For young kids, the DCL main dining rooms are a terrific place to practice proper table manners. At home, teach your children how to look waitstaff in the eye while speaking, how to order in a clear voice, and how to properly use napkins and utensils. The servers on Disney Cruise Line are adept at being patient and kind with kids of all ages. They will be unfazed by minor glitches as your kids try out their restaurant behavior skills. (Please tip your servers extra well at the end of the cruise if they've been particularly helpful with coaching your kids.)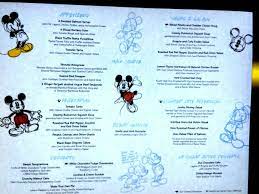 3. Learning new vocabulary. Restaurant menus are a terrific place to learn new vocabulary words. Satay, bisque, reduction, gravlax, strudel, confit, tamarind, poached, marjoram, fennel, harrisa, jerk-marinated, tzatziki, brioche, turbot, and chorizo, are all words that appear on DCL main dining room menus. Depending on your cultural background and at-home dining habits, some of these words will be new to your children. Clue them in on what they mean, or have them practice their manners by engaging in conversation with your server to find out the definitions.
4. Getting to know the staple foods of other countries. Every time I visit a new country with my kids, one of the first things we do is explore a local grocery store. Do they have different produce offerings? Do the same food items have different names? Are there rare things in the U.S. that have prominent shelf space in here? How do the prices compare to those at home? Even just looking at the candy or snack aisle can illuminate aspects of a different country. This is obviously not exclusively a Disney or cruising activity, but if you're on a cruise it can be a fun part of port calls.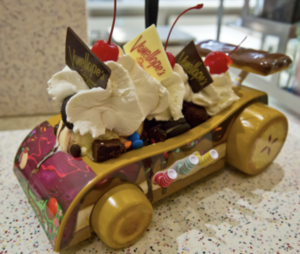 5. Dining alone. Learning to dine alone is a big step for many kids. If you have an older child that you think is ready (they've aced their manners prep), book a meal for the grown-ups at Remy or Palo and send the kids to your regular dining rotation alone. This is perhaps best done toward the end of your sailing, after your kids understand the ship's layout and procedures. Let your server know in advance what will be happening.
6. Learning the wonders of surprise room service. Order bedtime cookies and milk from room service as a bedtime surprise. You'll forever be a hero in your kids' eyes!
7. Break all the rules! You're all about the broccoli at home, but throw caution to the wind on vacation and grab sundaes at Vanellope's as your lunch. Order your growing tween a second steak as dessert. Stir some soft serve ice cream into your pool deck Coke. Have chicken nuggets three times during one afternoon.
Let us know what kinds of foodie fun you and your kids have had on Disney Cruise Line.
First published June 29, 2021. Updated October 16, 2021.