Around the Universe – Discounts and News for August 2022
Start off The Weeknd with some new ticket deals for Florida and Georgia residents, Halloween Horror Nights news, construction updates, and more in this month's Around the Universe!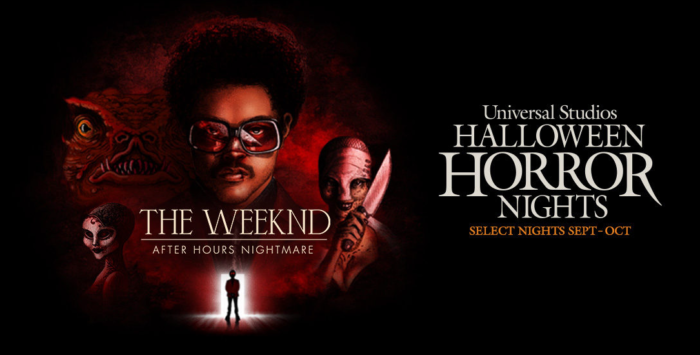 The Weeknd Comes to Halloween Horror Nights
Find out what lies inside The Weeknd's mind in After Hours Nightmare, a new haunted house coming to Universal's Halloween Horror Nights. Taking place inside The Weeknd's head, guests will encounter the creatures and terrifying visions depicted in the chart-topping album, After Hours.
Halloween Horror Nights Frequent Fear Passes are now available. These tickets are valid for multiple event days and are an excellent option for locals, guests who wish to spread their visit over multiple days, or horror super fans. Single-day tickets, multi-day tickets, Express Pass, and add-ons are available through Touring Plans Travel agents or on Universal's website. Book through Touring Plans and receive a one-year free subscription to Touring Plans' for wait times and personalized itineraries.
Rock the Universe 2023 Announced
Celebrate faith, fun, and fellowship as Rock the Universe returns on January 27 – 29, 2023. This three-day event kicks off with musical performances and ends with a Sunday worship. Musical acts have not yet been announced. Tickets and packages will go on sale later this year.
Construction Updates
Platforms have been set up in Central Park as scarezone prep continues in Universal Studios Florida for #HHN31 pic.twitter.com/cEw2HINItG

— Inside Universal (@insideuniversal) July 26, 2022
Halloween Horror Nights scare zone construction in pedestrian areas has begun. Lighting, staging, and platforms have popped up throughout Central Park, New York, and San Francisco areas of Universal Studios Florida. Large wall props are also in Hollywood for their ghosts and spirits scare zone.
Sahara Traders is getting ready to go back to being an exit shop for Revenge of the Mummy. A new counter and photo kiosks have been added. @UniversalORL pic.twitter.com/xt5COOZOJC

— Inside Universal (@insideuniversal) July 28, 2022
Work continues on Revenge of the Mummy as the popular attraction heads towards a much-anticipated reopening. The exterior area ramps and picture area have received upgrades. We are expecting reopening is imminent.
Moving quick with the demo work on Monsters Cafe. @UniversalORL pic.twitter.com/hnlrrcQ0Ig

— Inside Universal (@insideuniversal) July 27, 2022
Demolition of the old Monsters Cafe has sped up with sections of the restaurant's walls removed, theming dismantled, and the interior gutted. Universal has teased Minions replacing Shrek 4D and Monsters Cafe, they have not officially confirmed the new additions.
Aerial overview of Super Nintendo World in Universal's Epic Universe.
1 Park hub
2 Recently started project
3 Yoshi's Adventure, with track supports
4 Mario Kart, route seen in the bounding box
5 Donkey Kong, with some track

6 Restaurant fronting Classic Monsters land. pic.twitter.com/AxlB4qVYGc

— bioreconstruct (@bioreconstruct) July 22, 2022
Back at Epic Universe for an Epic Update! Work is progressing on all lands and the hub at the moment.
Almost straight-down aerial look at some of the work in Mario Kart. Including some of the routing.

In Super Nintendo World at Universal's Epic Universe. pic.twitter.com/2jvy9EdyK8

— bioreconstruct (@bioreconstruct) July 22, 2022
The first trackwork for Mario Kart has shown up, this concrete curve is part of the final Rainbow Road section of the upcoming ride.
Aerial look at Yoshi's Adventure. Track supports seen at top center.

In Super Nintendo World at Universal's Epic Universe. pic.twitter.com/PjYvoenqyb

— bioreconstruct (@bioreconstruct) July 22, 2022
Supports for the eventual Yoshi's Adventure attrition are now installed. This family ride will take guests on a ride through the land to find hidden Yoshi eggs.
Aerial photo of hub area of Epic Universe. Large circle is a fountain basin. Be sure to zoom in at arrow, attraction walls, etc…

1 High speed roller coaster turn
2 Super Nintendo World
3 Classic Monsters land
4 Recent concrete forms
5 In-park hotel's restaurant pic.twitter.com/OdXoUIWIby

— bioreconstruct (@bioreconstruct) July 22, 2022
An ariel overview of the center of the park taken from the direction the new Premier hotel faces. Note the restaurant location with prime seating for the fountain show.
Aerial look at what is believed to be site of an elaborately-themed carousel. Based on what's seen in concept art. Attraction positioned at left. Circular pond at right. In hub area of Universal's Epic Universe. pic.twitter.com/VKqAppGVry

— bioreconstruct (@bioreconstruct) July 22, 2022
One of the central hub attractions will be a family-friendly carousel themed to constellations that overlook a lake. Rumors suggest the new ride will offer accessibility options such as lowering seats.
At left in this aerial, the large circular fountain basin in the hub area of Epic Universe.
At right, construction of an attraction believed to be a carousel adjacent to a pond. Note the depth of the excavation by the slalom to reach the bottom.
At top, turn of a roller coaster. pic.twitter.com/5JDj8i2TVk

— bioreconstruct (@bioreconstruct) July 22, 2022
Next to the carousel will be a large manmade lagoon that will feature a supposed nighttime fountain show that will be visible from the hotel and surrounding dining areas.
Aerial look at construction of the featured attraction of Classic Monsters land in Universal's Epic Universe.

Likely a manor or mansion will be seen at left. Trees and tree murals will likely hide the show building at right. pic.twitter.com/PgF2PjCt2Y

— bioreconstruct (@bioreconstruct) July 22, 2022
The main show building in what is presumed to be the Universal Monsters land is quickly progressing. This huge show building will be for Frankenstein's laboratory, with the ride inside being similar to Harry Potter and the Forbidden Journey.
A nearly straight-down look at Classic Monsters land in Universal's Epic Universe. Outline of a mansion seen at the building, center of this aerial photo. Show building to left will be hidden from view.

Top left is a restaurant that will be in front of the in-park hotel. pic.twitter.com/zLgoAyt2rW

— bioreconstruct (@bioreconstruct) July 22, 2022
Next to the show building is a pleasant surprise: the area formerly designated for the indoor theater is now planned for a family spinning coaster. Concrete footers for the coaster have been sighted.
Multiple aerial photos of construction of Ministry of Magic in Universal's Epic Universe. pic.twitter.com/ghfHByNFUd

— bioreconstruct (@bioreconstruct) July 22, 2022
Finally in the Harry Potter land, the massive show building for the Ministry of Magic interior areas and attraction is going up. This building is massive as it will feature the iconic Ministry of Magic atrium from the movies.
Taking a closer look at the Atrium part with examples of the real one #epicuniverse pic.twitter.com/dAhitOiTif

— Tommy Hawkins (@tommyhawkins) July 29, 2022
Universal's Epic Universe is expected to open by summer 2025.
Discounts
Florida and Georgia's residents are able to receive a free 3rd park day when purchasing a 2-day, 2-park ticket from now till September 28, 2022. For $25 more guests are able to add on Volcano Bay to make it a 3-park ticket. Tickets must be used by December 15, 2022.
For more deals, including discounts on vacation packages, visit the Universal Orlando website or book your Universal vacation with the TouringPlans Travel Agency.
Refurbishments and Closures
The following attractions are closed for refurbishment:
For the most up-to-date listing of refurbishments refer to the Universal Orlando website.
Contact the travel agents at TouringPlans Travel Agency who can book you a Universal Orlando, Walt Disney World, Disneyland, or Disney Cruise Line vacation. All quotes are free, and if you decide to purchase through us, you will get a free year subscription to the TouringPlans Line app for Universal Orlando.