Around the Universe – Discounts and News for July 2022
This month we cover the latest Halloween Horror Nights announcements, UOAP days returns, Universal announces new attractions, plus updates on construction around the resort. So grill up a hot dog, open a cold beverage, and catch up on all the happenings at Universal Orlando.

Halloween Horror Nights Announcements
It will be double trouble as two new haunted houses were announced for this year's Halloween Horror Nights.
First up is Halloween, a totally new haunted house based on the 1978 classic horror movie. Step into the movie and cross into Haddonfield, Illinois where Michael Myers is out on his murder spree. Guests will be stalked by this massive killer throughout the house as we relive iconic moments from the movies.
Our double feature for the evening is The Horrors of Blumhouse, featuring two spine-tingling movies from the horror house. Freaky tells the tale of a switcheroo between a teenager and serial killer (get it, like Freaky Friday) and her quest to reclaim her body. Black Phone tells the tale of The Grabber, a serial killer who abducts kids and places them in his basement. Join his latest victim as we find our escape.
Halloween Horror Nights returns September 2 through October 31, 2022. Single-day tickets, Express Pass, and tours are now on sale.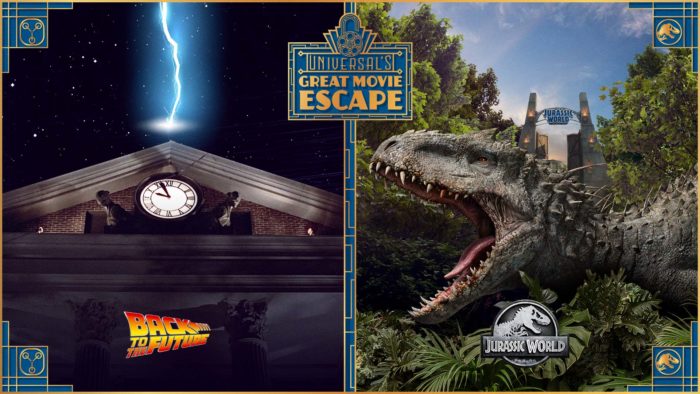 Universal's Great Movie Escape
Get ready to escape some classic films in Universal's Great Movie Escape. Located in CityWalk near Antojitos, these new escape room attraction features challenges based on the Back to the Future and Jurassic World films. While details have not been announced, we are expecting pricing around $40-60 per person with the experience lasting around an hour. Universal's Great Movie Escape opens this fall.
Wantilan Luau
Are you sad that Disney's Polynesian Luau has closed? Universal has your back, the Wantilan Luau at Loew's Royal Pacific Resort has reopened after the COVID-19 shutdowns. Offered every Saturday, tickets start at $89 per adult and $39 per child (plus tax) and include food and entertainment. Tickets are purchased online only. Registration opens at 5:30 pm and seating starts at 6:00 pm.
Epic Update
Construction is flying at the future site of Universal's Epic Universe. The new park will feature worlds based on Nintendo, Universal's classic film monsters, Harry Potter, and How to Train Your Dragon. Additionally, three hotels are planned around the new park – two value resorts and one premier resort.
In this aerial photo of Universal's Epic Universe
1: In-park hotel and circular fountain basin
2: Ministry of Magic
3: High-speed roller coaster
4: How to Train Your Dragon
5: parking
6: UEU entrance
7: Super Nintendo World
8: Classic Monsters pic.twitter.com/Vhdnudu6xe

— bioreconstruct (@bioreconstruct) June 24, 2022
In the center of the park is a celestial-themed hub. Here you will find several shops, restaurants, and attractions that lead to the other themed lands. The "outer space" theme is more in line with From the Earth to the Moon than Buck Rodgers or Star Trek.
Aerial look at the center of Universal's Epic Universe.
1: How to Train Your Dragon land
2: High speed dueling roller coaster
3: Fountain basin in front of in-park hotel
4: Possibly a carousel adjacent a pond
5: Yoshi's Adventure in Super Nintendo World pic.twitter.com/C210eR4QvC

— bioreconstruct (@bioreconstruct) June 24, 2022
There will be two attractions in the hub. The first is a family-friendly carousel, the second a high-intensity dueling roller coaster. At the back of the park is the premier hotel rumored to be named Grand Helios Hotel.
Aerial look at construction of an attraction that may be a carousel in Universal's Epic Universe. Pond at left, attraction at wall corner, where concrete forms extend near arrow. Bottom arrow at a yellow waterproof barrier; site prep for upcoming concrete pour. pic.twitter.com/moiXqTT1yr

— bioreconstruct (@bioreconstruct) June 24, 2022
The hotel in USB is called The Universal Studios Grand Hotel, Beijing's hotel design is roughly similar, but much more boxey. #EpicUniverse is thought to be called Universal's Grand Helios Hotel. Anyway enjoy this pre-construction breakdown, check out the pool, looks amazing: pic.twitter.com/zjiza03dSW

— Tommy Hawkins (@tommyhawkins) June 13, 2022
Super Nintendo World is the farthest along of the four lands, with foundations laid and major buildings going up. We also have our first signs of ride installation with the Donky Kong coaster track!
Aerial overview of construction of Super Nintendo World in Universal's Epic Universe.
Mario Kart at left.
Donkey Kong at right.
Yoshi's Adventure in foreground. pic.twitter.com/xupW4wCK8o

— bioreconstruct (@bioreconstruct) June 24, 2022
Aerial look at current track in Donkey Kong.

At Super Nintendo World in Universal's Epic Universe. pic.twitter.com/jVw00jfBFm

— bioreconstruct (@bioreconstruct) June 24, 2022
Across the park is Harry Potter, which is rumored to be themed to the Ministry of Magic. Two attractions are rumored in this area – a stage show about magical beasts and a dark ride about defending the Ministry from attack.
Arrow in this aerial at an interesting area of concrete in the Ministry of Magic show building. At Universal's Epic Universe. pic.twitter.com/s0vht8aoMS

— bioreconstruct (@bioreconstruct) June 24, 2022
Universal's Classic Monsters land's major E-Ticket is going up. Similar to Harry Potter and the Forbidden Journey, this dark ride will use Kuka robotic arms to take guests through Frankenstein's castle.
In foreground of this aerial is steel staged for an attraction in Classic Monsters land in Universal's Epic Universe.

Arrow at a pair of architectural features at a corner of the building. Features to be in guest view. pic.twitter.com/RTYKBzFJil

— bioreconstruct (@bioreconstruct) June 24, 2022
Backstage work continues too, with warehouses and offices going up. These facilities will support Epic Universe and the rest of Universal Orlando Resort.
Aerial photo of the likely primary support building of Team Members at Universal's Epic Universe.

All these concrete walls were cast flat nearby, then raised. Crane inside is raising steel for a building floor. pic.twitter.com/dkhC36CGtV

— bioreconstruct (@bioreconstruct) June 24, 2022
Universal's Epic Universe opens in summer of 2025.
Discounts
For more deals, including discounts on vacation packages, visit the Universal Orlando website or book your Universal vacation with the TouringPlans Travel Agency.
Refurbishments and Closures
The following attractions are closed for refurbishment:
For the most up-to-date listing of refurbishments refer to the Universal Orlando website.
Contact the travel agents at TouringPlans Travel Agency who can book you a Universal Orlando, Walt Disney World, Disneyland, or Disney Cruise Line vacation. All quotes are free, and if you decide to purchase through us, you will get a free year subscription to the TouringPlans Line app for Universal Orlando.