Celebration at the Top: 50th Flavors & Fireworks Review
Have you heard about our new favorite way to watch Enchantment at the Magic Kingdom? It's Celebration at the Top: 50th Flavors & Fireworks!
Get this. Unlike other reserved seating firework events and dessert parties, Celebration at the Top is a special, exclusive experience that serves up small bites from California Grill, in addition to desserts, drinks, a private outdoor balcony, and seating indoors with A/C!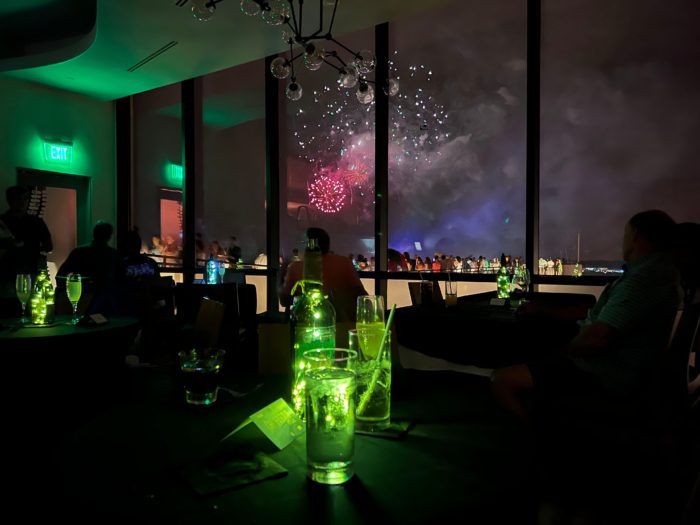 Location
Located in the Sonoma and Napa rooms at the Contemporary Resort's California Grill, Celebration at the Top is held on the 15th floor of the resort offering birds-eye views of the Magic Kingdom and Enchantment.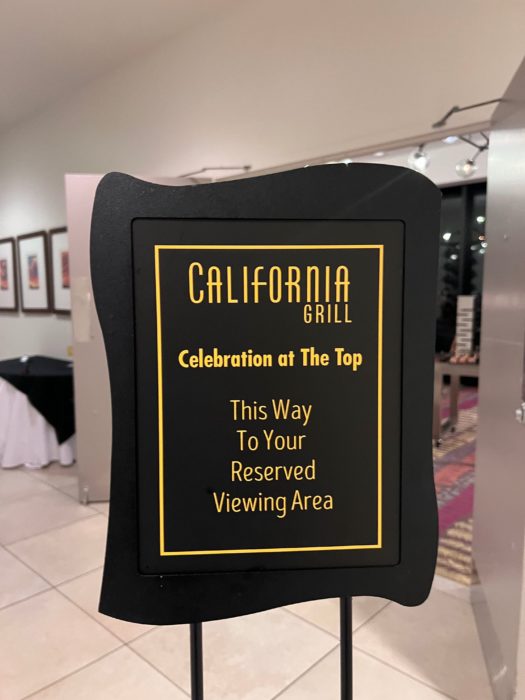 Attendees can access the event at the California Grill desk which can be found on the second floor of the resort.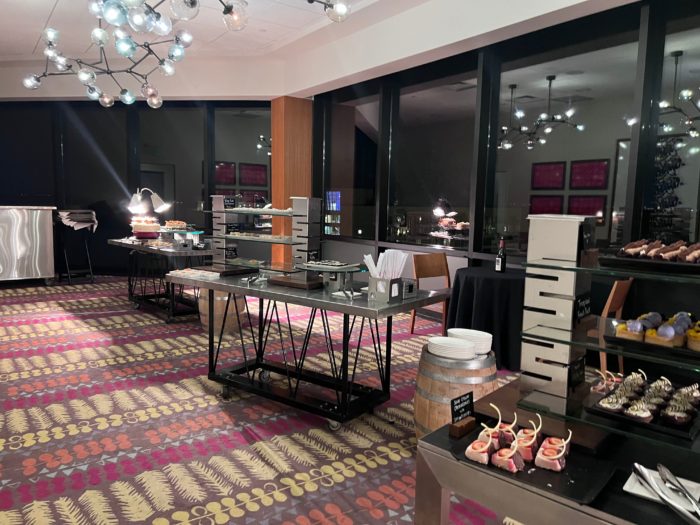 Our team found that guests can check in at 8:00 p.m. for an 8:20 p.m. reservation, and they absolutely should!
While all the tables at Celebration at the Top are lovely, there are a few prime spots along the windows that go fast so get there early if you can!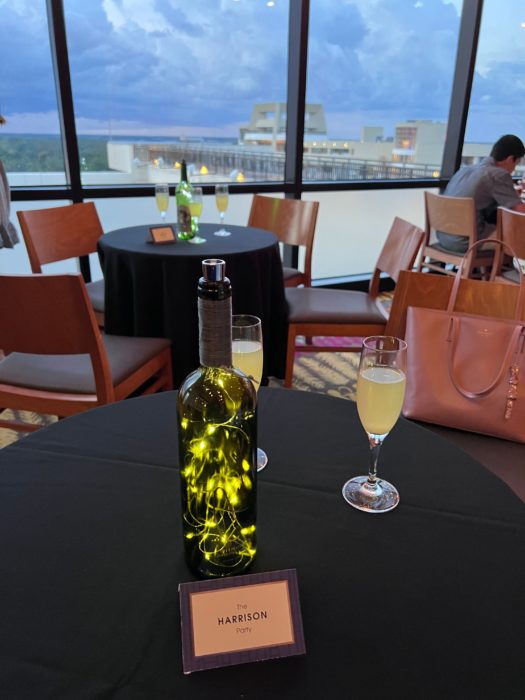 Savory Small Bites
When we entered the event, the hors d'oeuvres were already on display! We were big fans of the sliders and bao buns.
The sushi – a California Grill specialty – was lovely, and the goat cheese ravioli was particularly outstanding.
Picky Eaters/Allergies
Some of the little ones attending our team's Celebration at the Top asked if they could have pizza, and a short time later, pizza from California Grill appeared!
Cast Members are the best, and they will accommodate any allergies or intolerances you have. Just let them know when you check-in.
Drinks
This part shocked our team. Dessert and fireworks parties at the Magic Kingdom stock beer, wine, and sparkling wine; but Celebration at the Top offers a full bar and EVERYTHING is included.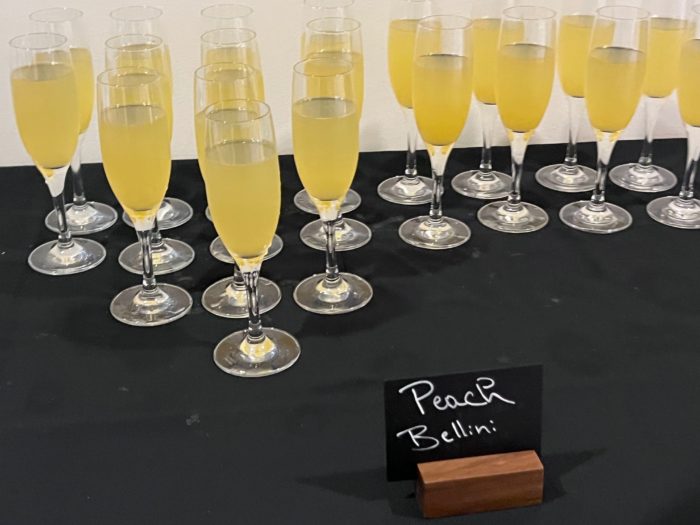 Name your cocktail – it's included. The bartenders are also creative and energetic and make a mean Espresso Martini.
Desserts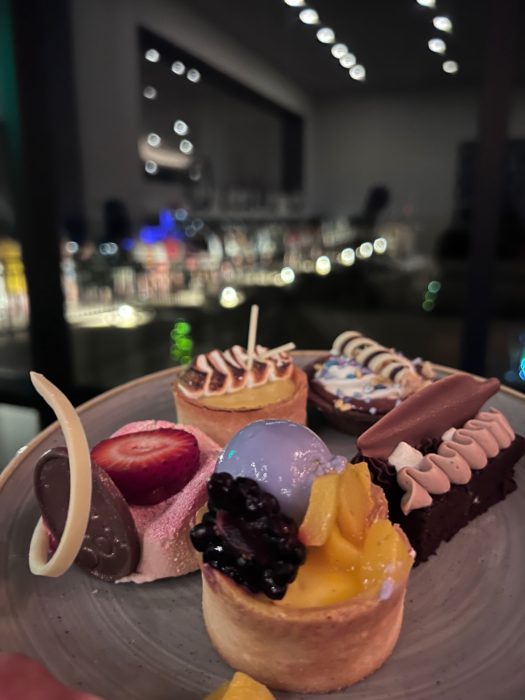 A wide array of gorgeous desserts will be laid out just before the fireworks begin. Don't worry if you find yourself in need of another slider – the savories are still out too.
Fireworks Viewing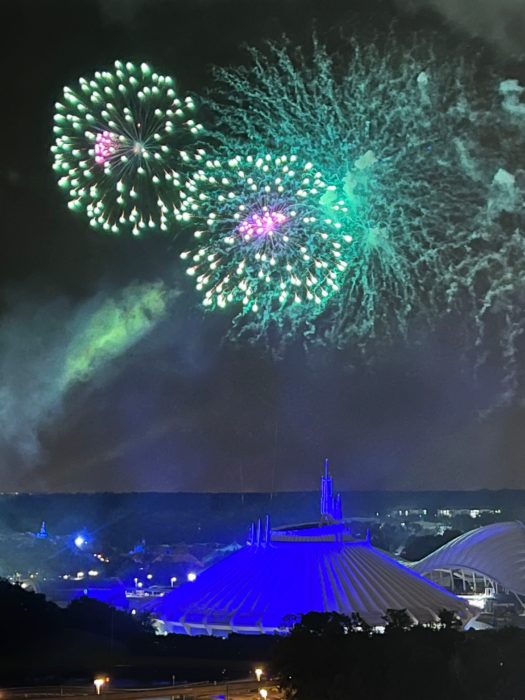 While music and audio are piped into the Napa room where attendees are snacking at their tables, guests can also watch from a private balcony.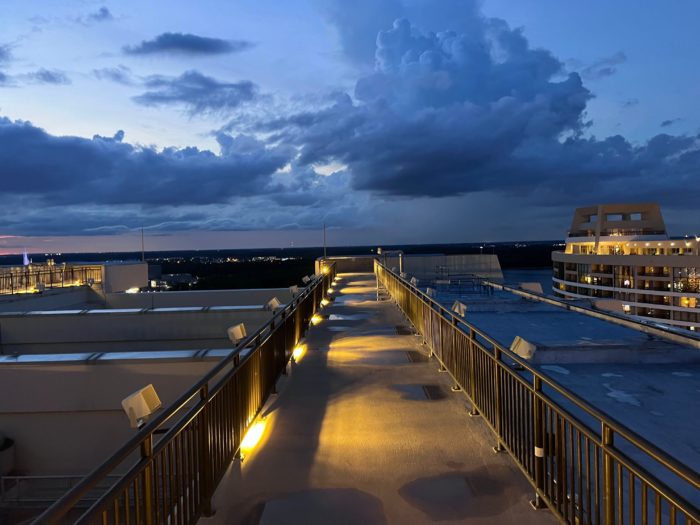 The last call for drinks and snacks was at 10:15 p.m. and the event officially shut down at 10:30 p.m.
The Cost
Celebration at the Top: 50th Flavors and Fireworks is $129 + tax and gratuity per person ages 3+. Tickets are available on My Disney Experience.
While same-day reservations may be available, advance reservations are strongly encouraged if this is an event you and yours are set on experiencing.
What's Included:
Valet Parking
Heavy, savory hors d'oeuvres
Desserts
A well-stocked bar (beer, wine, liquor)
Dress Code
Since Celebration at the Top is considered a Signature Dining experience, guests are encouraged to abide by a dress code.
Men must wear khakis, slacks, dress shorts, and collared shirts. Jeans are acceptable if in good condition. Sport coats are optional.
Women must wear capri pants, skirts, dresses, or dress shorts. Jeans are acceptable if in good condition.
Tank tops, flip-flops, swimsuits, swimsuit cover-ups, hats for gentlemen, cut-offs, torn clothing, and t-shirts with offensive language and/or graphics are NOT permitted.
Is it Worth It?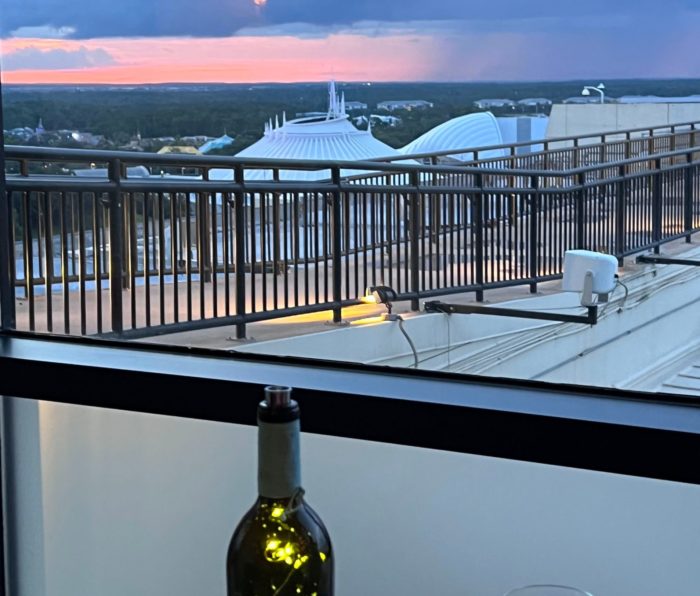 Our team feels this special event is a huge value. For about $15 to $30 more than the fireworks dessert parties held inside the Magic Kingdom, Celebration at the Top offers an intimate, air-conditioned, and signature dining experience.
Plus, it doesn't require park admission or park reservations, and the food coupled with the exceptional service make it a must-do. We will absolutely be going again!
Have you been to the Celebration at the Top? What did you think? Let us know in the comments!