Around the Universe – Discounts and News for February 2023
Mardi Gras takes the stage this coming month but the Minions are not far behind. This month I pull the best official Universal Orlando deals, we look at construction progress at Epic Universe, and prepare for the big easy to come to Orlando. Grab a beignet and a hurricane because it's Around the Universe time.
Mardi Gras 2023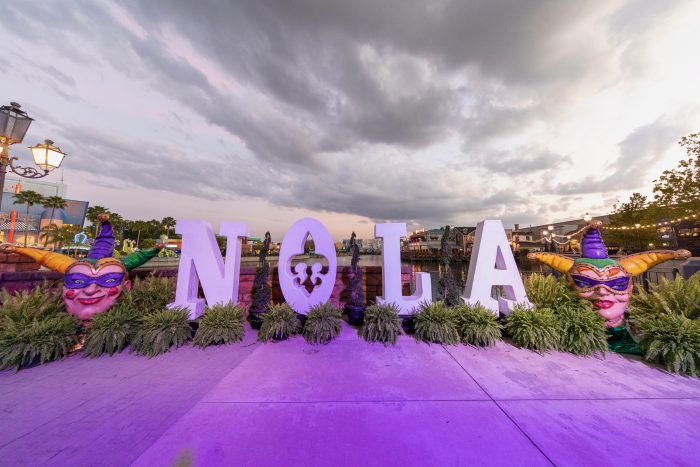 Feet don't fail us now! Universal's premier food festival, block party, and concert series returns from February 4 through April 16 at Universal Studios Florida. Sample small plates inspired by carnivals from around the world in Universal Studios Florida, Islands of Adventure, and the hotels. Watch the daily Universal Mardi Gras parade featuring new floats or explore the new Mardis Gras Tribute Store.
We will have a full article covering all there is at Mardi Gras 2023 next week here on Touring Plans!
Construction Updates & News
If you're looking for something to do for the Super Bowl, NBC Sports Grill & Brew is an option. @UniversalORL pic.twitter.com/B8Du8fj4aB

— Inside Universal (@insideuniversal) January 23, 2023
Are you ready for the Super big game? Universal's NBC Sports Grill & Brew will host the big game with food specials and the outside screen tuned to the game.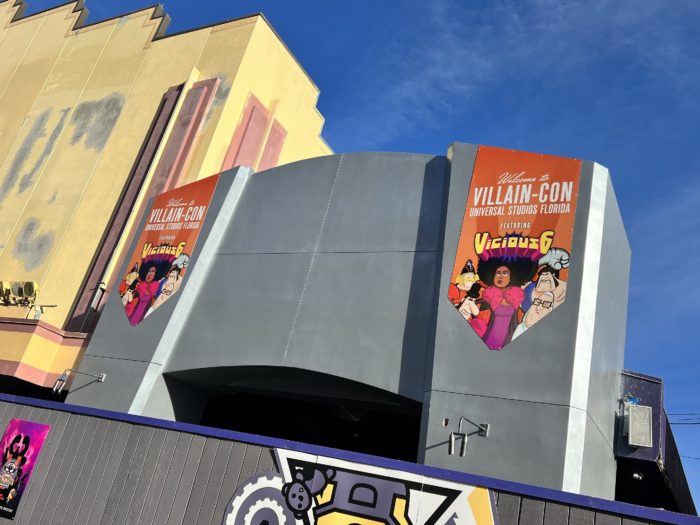 Villain-Con International is coming to Orlando! Yes, the biggest convention for criminals is here again and this time the Vicious 6 are looking for a replacement member. Compete against your friends, family, and fellow guests to earn that spot in this new interactive dark ride attraction. Construction continues with new banners going up at the entrance.
More framework has been added to the future Minion Cafe. @UniversalORL pic.twitter.com/vheekG7qeQ

— Inside Universal (@insideuniversal) January 20, 2023
Next door the new Minions Cafe is shaping up with new framing steel erected. Expect the city-themed exterior to fit into New York better than Monsters Cafe's large monster statues. Villain-Con Minion Blast and Minion Cafe open this summer.
An assortment of DreamWorks characters have been added to the KidZone construction walls. @UniversalORL pic.twitter.com/KVnfmlqMIJ

— Inside Universal (@insideuniversal) January 18, 2023
Finally, work walls have gone up around KidZone as they work on demolishing the play areas. Universal has not disclosed what will replace this area of the park, but all the characters featured on the walls are from DreamWorks Animation films and TV shows. Rumors point to themed areas based on Kung Fu Panda, Shrek, and Trolls will open here in the summer of 2024.
Epic Update
A quick Epic Update for y'all today!
Current construction on Universal's Helios Hotel at the back of #EpicUniverse. pic.twitter.com/9951JD92HZ

— Cygnus (@CygnusParkYT) January 23, 2023
Construction work has begun on the icon hotel, rumored to be named the Helios after the Greek personification of the Sun.
The Ministry of Magic land in #EpicUniverse. Keen eyes can spot track for the Monsters spinning roller coaster in the top left. pic.twitter.com/boSb0Ot9Ze

— Cygnus (@CygnusParkYT) January 23, 2023
The Paris section of the Wizarding World is shaping up nicely with the first bits of Parisian scenic elements installed. In fact, this is the first exterior theming installed in this park!
A look at the How To Train Your Dragon roller coaster load station and maintenance bay in #EpicUniverse. pic.twitter.com/vYikzJkFIH

— Cygnus (@CygnusParkYT) January 23, 2023
Coaster work in the How to Train Your Dragon-themed area is also being installed. Expect the Epic Universe coasters to be completed relatively soon as test adjust need to occur prior to scenic installation with the rest of the park.
Covering has been added around the Monsters rollercoaster load/unload station. Track supports have also been added leading out of the second launch of 'Scene 2'. #EpicUniverse pic.twitter.com/ZI8h0Bqr7d

— Cygnus (@CygnusParkYT) January 23, 2023
Universal Monsters land is also getting a roller coaster! This will be a family-launched coaster featuring spinning cars, like Cobra's Curse at Busch Gardens Tampa.
Views from the Hub of #EpicUniverse. pic.twitter.com/uR2PJwwvPp

— Cygnus (@CygnusParkYT) January 23, 2023
Finally, a park-wide overview. We have come a long way in a year, and I cannot wait to see what the progress will look like a year from now.
Universal's Epic Universe opens in the summer of 2025.
Discounts
FL Residents – Buy Two, Get Two Days Free Ticket starting at $194 per adult plus tax
FL Residents – 35% off hotels based on availability
All Guests – 20% off Sapphire Falls rooms from February 4 through April 16, 2023
All Guests – 20% off two-room suites at Endless Summer hotels
All Guests – 25% off five-day vacation packages with stays at Cabana Bay or Aventura
All Guests – Buy Two, Get Two Days Free Ticket starting at $292 per adult plus tax
For more deals, including discounts on vacation packages, visit the Universal Orlando website or book your Universal vacation with the TouringPlans Travel Agency.
Refurbishments
The following attractions are closed for refurbishment:
Jurassic Park River Adventure – January 9 through February 3, 2023
Poseidon's Fury – February 2 through February 10, 2023
Kopiko Wai Winding River – January 3 through February 14, 2023
Hagrid's Magical Creature Motorbike Adventure – February 21 through March 5, 2023
Popeye & Bluto's Bilge-Rat Barges – February 13 through March 10, 2023
For the most up-to-date listing of refurbishments refer to the Universal Orlando website.
Contact the travel agents at TouringPlans Travel Agency who can book you a Universal Orlando, Walt Disney World, Disneyland, or Disney Cruise Line vacation. All quotes are free, and if you decide to purchase through us, you will get a free year subscription to the TouringPlans Line app for Universal Orlando.