Around the Universe – Discounts and News for February 2021
Don't stop the carnival, Mardi Gras returns to Universal Orlando this week! Plus the latest VelociCoaster construction, new discounts for the military, a popular event moves to Universal, attraction changes, and project updates around the resort!
Mardi Gras 2021
Sure, there's no parade or concerts this year, but Mardi Gras 2021 is already shaping up to be a larger-than-life event! Let us check out the progress at Universal Studios Florida.
Some themed tents also being set up in San Francisco for Mardi Gras. @UniversalORL pic.twitter.com/Br6rLMidzD

— Inside Universal (@insideuniversal) January 27, 2021
Music Plaza Stage getting decked out for Mardi Gras @UniversalORL pic.twitter.com/9gVNre3dKn

— Inside Universal (@insideuniversal) January 29, 2021
A dozen food and drink tents sprung up around the park last week in New York, San Francisco, Production Central, World Expo, and KidZone. These booths will serve dishes from Puerto Rico, New Orleans, Spain, Germany, the Bahamas, Brazil, Cuba, and more. For a full menu visit Universal Orlando's Mardi Gras 2021 site.
Is it a Universal festival if there's no Tribute Store? Exterior construction has started on this year's store which will include a nautical cemetery, jazz parlor, and illicit waterfront warehouse.
Universal Orlando's Mardi Gras 2021 Taste of Carnival starts today, Saturday, February 6, and runs through March 28. It is included with park admission!
VelociCoaster Updates
The hype continues to build for Jurassic World VelociCoaster which opens this summer in Islands of Adventure. The Discover Universal Blog posted a fantastic interview with attraction art director Gregory Hall and show director Shelby Honea from Universal Creative. We highly recommend giving it a read, plus the article hints at an opening day announcement coming soon.
(Note: Footage includes filming for post-pandemic use with guests without face masks. Filming was a closed set with COVID-19 testing. Guests must wear face masks at all times on attractions.)
Daytime testing continues as Universal prepares the coaster for guests. Last week Universal filmed B-roll footage and commercials for the new attraction with guests… on the ride!
The ride signage for the Jurassic World VelociCoaster has been installed at the entrance. @UniversalORL pic.twitter.com/hvh6FkcY0f

— Inside Universal (@insideuniversal) January 29, 2021
Station entrance of Jurassic World VelociCoaster. pic.twitter.com/fCSLXqYR6T

— bioreconstruct (@bioreconstruct) February 3, 2021
Eyes in the sky Bioreconstruct is back with updates on construction. Statues appeared at the attraction's marquee and the waterfront area is receiving its finishing touches.
Jurassic World VelociCoaster opens in summer 2021.
Odds & Ends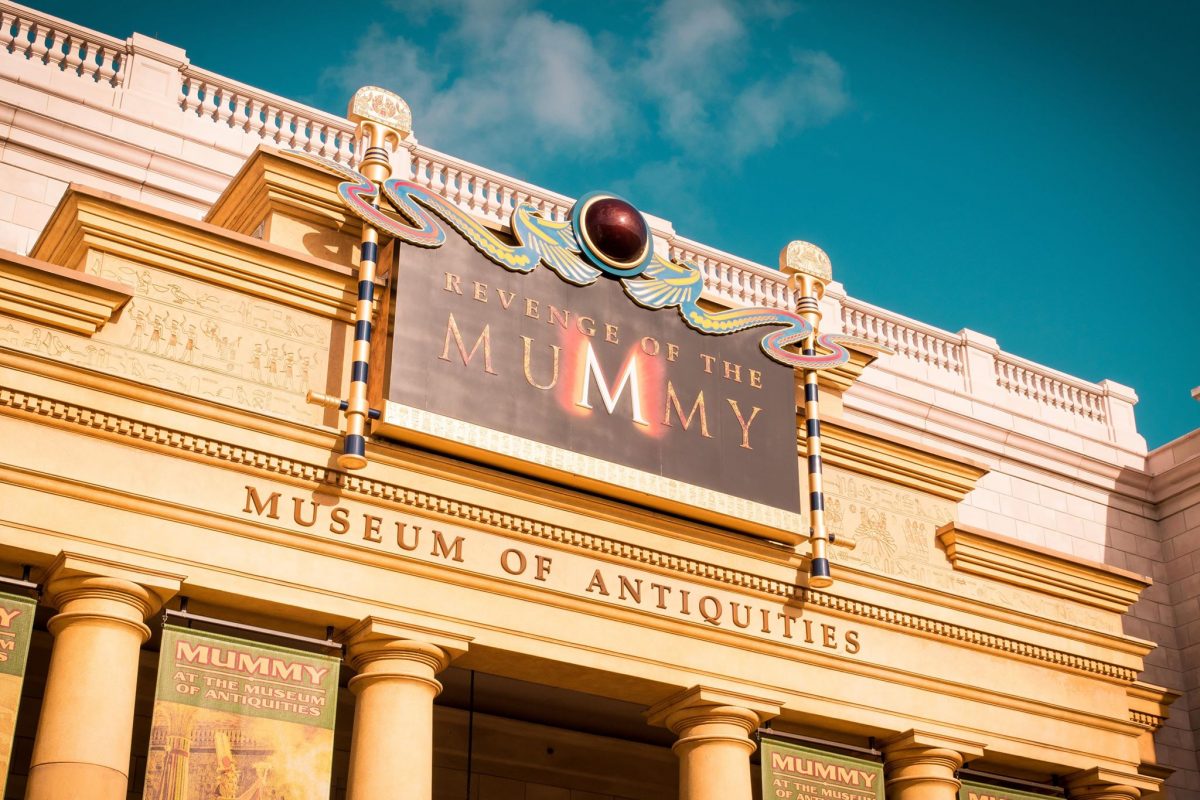 Last week, Revenge of the Mummy at Universal Studios Florida reopened after a brief refurbishment. Some of the updates include improved special effects, new CGI animations, and a refurbished ride system. The whole experience is refreshed and ready to wow again.
Looking forward to finding out more information on what's coming to the corner spot in CityWalk @UniversalORL pic.twitter.com/SEkF3zZeoO

— Inside Universal (@insideuniversal) January 29, 2021
Slow and steady progress is being made on the new CityWalk establishment. We are still waiting on an official announcement of the project but we expect this to be an expanded Universal Studios Store and open this summer.
Pop Warner is proud to be partnering with @FCSports to make Universal Orlando Resort & Camping World Stadium the new home to Pop Warner National Championship week starting this December! @UniversalORL @CWStadium #PopWarner #PopWarnerSB pic.twitter.com/loyyogSmJJ

— Official Pop Warner (@Pop_Warner) January 29, 2021
Starting in December 2021, Pop Warner National Championships will move from Walt Disney World to Camping World Stadium and Universal Orlando Resort. Every December high school footballers, cheerleaders, and their families come to Orlando to compete for one week. We expect the teams will take over the Cabana Bay and Endless Summer Dockside hotels in December, and that will also affect park attendance.
While this is the end of our run at Universal Orlando, we hope our fans will visit when we safely reopen in Las Vegas, New York, Chicago and Boston. 💙 pic.twitter.com/09Votg0zuu

— Blue Man Group (@bluemangroup) February 1, 2021
As covered on Monday, Blue Man Group has officially called curtains at Universal Orlando. The show closed due to COVID-19 and did not reopen with the resort in June 2020. At this time no replacement is announced or expected.
Finally, we have two attraction operation updates. Kang & Kodo's Twirl 'n' Hurl is now open for full-time operations – previously the attraction was closed on weekdays. A Day in the Park with Barney now appears to be permanently closed as all references to the attraction have been removed from the Universal Orlando website.
New Military Discounts
Active duty military, retired military, and Department of Defense civilians have new discounts and options when visiting Universal Orlando.
The new Military Freedom Pass grants unlimited visits to the parks until December 31, 2021, with no blockout dates. Prices start at $199.99 per adult for a two-park pass, $234.99 per adult for a three-park pass.
Universal is also setting aside blocks of rooms at Cabana Bay Beach Resort for 40% off plus additional discounted vacation packages.
The Military Freedom Pass, vacation packages, and Cabana Bay rooms are purchased at an authorized Military Ticket and Travel Office or by visiting Universal Orlando's military website.
Discounts
For more deals, including discounts on vacation packages, visit the Universal Orlando website or book your Universal vacation with the TouringPlans Travel Agency.
Refurbishments and Closures
The following attractions are closed due to COVID-19. At this time there are no dates for reopening unless otherwise listed.
Fievel's Playground
Curious George Goes to Town
Fear Factor Live
Camp Jurassic
If I Ran the Zoo
Jurassic Discovery Center
Me Ship, The Olive
Poseidon's Fury
Storm Force Acceleration
The following attractions are closed for refurbishment:
Volcano Bay – Reopening February 27, 2021
Popeye & Bluto's Bilge-Rat Barges – February 1 – 19, 2021
Dudley Do-Right Ripsaw Falls: February 22 – March 19, 2021
Leave your thoughts in the comments below!