Around the Universe – Discounts and News for February 2022
Start the crawfish boil and break out the punch, it is Mardi Gras season! In this month's Around the Universe, we have a new ticket discount for guests, covering the Mardi Gras happenings, the latest construction news, and more!
Mardi Gras 2022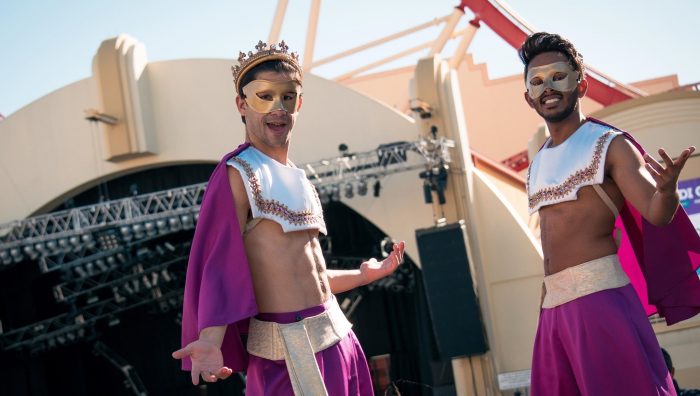 Sure it is January, it is snowing a foot in the northeast, but Mardi Gras is on the way! Universal Studios Florida is hosting the festivities with the New Orleans Mardi Gras parade with brand new celestial-themed floats for this year. The Mari Gras Tribute Store returns with a Float Factory Warehouse theme which will show guests the process of creating Mardi Gras parade floats. Plus roaming entertainment and bands will entertain guests of all ages (oh, plus lots of beads).
Last year's fan-favorite Mardi Gras food festival returns with an expanded menu. Expect to sample crawfish boils, beignets, arancini, muffulettas, and more throughout the park. A Food and Beverage Card is offered at a discount for frequent snackers, pre-loaded with $75 worth of food and beverage for $65 or a $150 card for $120.
What is Mardi Gras without music? The Mardi Gras concert series features over a dozen acts on select weekends through February and March. Concerts take place on the Music Plaza Stage next to Hollywood Rip Ride Rocket at 8:30 pm.
This is the current musical lineup, subject to change:
Universal Mardi Gras runs from February 5 through April 24, 2022, every day.
Refurbishments & Construction
Construction projects continue throughout the resort as small and large-scale improvements are made. Let us look at some of the new and notable projects in the past month.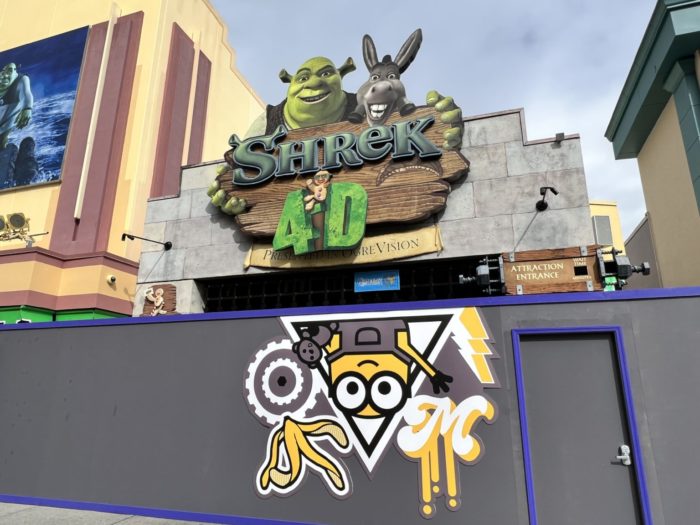 Shrek 4D closed forever in early January and Universal has wasted no time teasing what is coming to the spot. Minions work walls have sprung up around the building as demolition work starts inside the attraction. Several props, including the 3D glasses used in the attraction, have appeared in the Williams of Hollywood Prop Shop. While we await details on this new attraction rumors point to an interactive shooting gallery based on Villain-Con, a convention for evil scientists who want to show off their latest gadgets
Universal Monsters: A Tribute to the Creatures of the Night is now open at Universal Studios Florida. @UniversalORL pic.twitter.com/0AKZMogVvg

— Inside Universal (@insideuniversal) January 28, 2022
You should go to that old Mummy store at USF. Just sayin. pic.twitter.com/pXd0g4PGB3

— Skipper Hoss (@Skipper_Hoss) January 28, 2022
Revenge of the Mummy's refurbishment has begun that will last until late Summer 2022. Construction walls are up around the attraction and are hinting at something new – a Universal Monsters-themed shop where Sahara Traders is located. This new temporary shop will sell all things Universal Monsters, from the Mummy to Frankenstein's monster to the Creature from the Black Lagoon. Rumors state the store will remain open through late summer when it will close again only to reopen with the refurbished attraction as a new Sahara Traders.
Pathway maintenance work continues near the entrance to KidZone at Universal Studios Florida. The area remains open during this work. pic.twitter.com/x345n26vF8

— Alicia Stella (@AliciaStella) January 21, 2022
Small construction work is happening in front of the Animal Actors show repairing pavement and redeveloping the area. KidZone and the adorable show animal show (featuring Queso the Cat and Maple the Corgi) remain open during construction.
A little bit more off the top of a roof peak in the extensive refurbishment of Caro-Seuss-el. pic.twitter.com/0NdU8h44Cw

— bioreconstruct (@bioreconstruct) January 21, 2022
Meanwhile at Islands of Adventure, major demolition and reconstruction work is occurring at the Caro-Seuss-el. The ride has been removed and large parts of the themed canopy are being rebuilt. We do not have a reopening timeframe available yet but we can see Universal aiming to have this attraction open for the summer.
Current repainting of the exterior of Poseidon's Fury. pic.twitter.com/VqcVfEHV4Y

— bioreconstruct (@bioreconstruct) January 22, 2022
Over in Lost Continent, the refurbishment of Poseidon's Fury walk through attraction continues. Over the past several months Universal worked on extensive repainting of the exterior and repairs to the interior show equipment. Universal has not announced a reopening date but rumors point to several more months of construction before the attraction reopens.
Discounts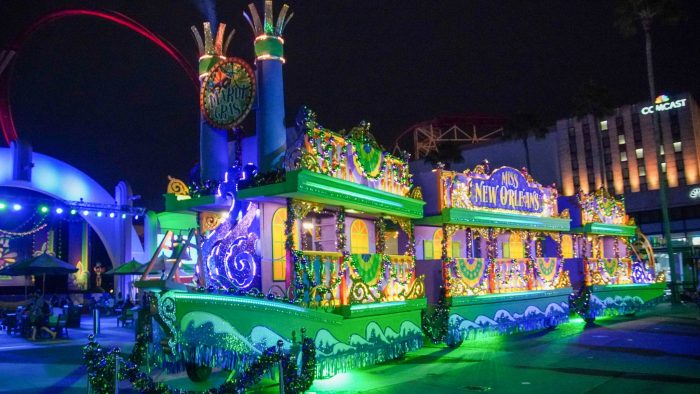 Guests can keep the good times rolling with a Mardi Gras timed ticket offer.
Florida residents can purchase a two-day, two-park ticket and get 2 additional days free! Prices start at $176.99 per person plus tax for the base ticket, $224.99 plus tax per person for the ticket park-to-park option. Tickets must be purchased before March 31 and used by June 30, 2022. No block-out dates apply and admission may be used on non-consecutive days.
Live outside of Florida? Pas de souci! All guests purchasing a three-day, two-park ticket will receive two additional days free. Prices start at $233.99 per person plus tax for the base ticket, $293.99 per person plus tax for the park-to-park ticket option. Tickets must be purchased before May 5 and used by December 15, 2022. Admission may be used on non-consecutive days, the advertised price is not available on all days.
For more deals, including discounts on vacation packages, visit the Universal Orlando website or book your Universal vacation with the TouringPlans Travel Agency.
Refurbishments and Closures
The following attractions are closed due to COVID-19. At this time there are no dates for reopening unless otherwise listed.
The following attractions are closed for refurbishment:
For the most up-to-date listing of refurbishments refer to the Universal Orlando website.
Snow? Cold? No problem! Contact the travel agents at Touring Plans Travel Agency to book a trip somewhere warm! They can book you on a vacation to Universal Orlando, Walt Disney World, Disneyland, Disney Cruise Line, and way way more. Receive your free quote today!