Theme Park Enjoyment Index for JANUARY 2023 (Splash Mountain Closing, Disney Signage Goes Bonkers, Crazy Merchandise)
The Theme Park Enjoyment Index (TPEI) is a monthly look at the events that have made an impact, both positive and negative, in this wild world of theme parks we all love so much. Each TPEI comes out on the last Saturday every month, and we assign each piece of news a positive or negative number, tally it all up at the end and chart it. The range goes from 0-100 with 0 being
Stitch's Supersonic Celebration
 while a perfect score of 100 would be 
Pandora: The World of Avatar
.
Remember, all links in TPEI open up in a new browser window. So feel free to check stuff out, we'll be here when you get back!
SO. MUCH. NEWS.
A lot has happened since our last TPEI in late October (regularly scheduled TPEIs for November and December are replaced by annual installments of The Theme Park Turkeys of the Year  and In Memoriam) but no more so than earlier this month when out of absolutely nowhere both Disney and Universal dropped a metric ton of news. So much news that we had to dust off the blue blazer and do an emergency edition of the  SATURDAY SIX News Desk in order to cover stories such as WDW ending self-parking fees at on-site resorts, Tron Lightcycle Run getting an official opening date, and Universal announcing a whole new theme park geared towards kids located – in all places – Frisco, Texas.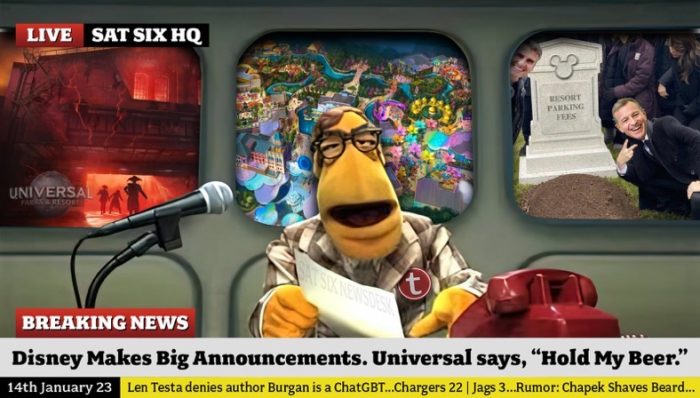 You'd think by covering all those big stories just a couple weeks ago, that this month's TPEI would be a little light in content, right? NAY NAY. It's as stuffed full of next level bonkers stories as always, and none more bigger than…
*Splash Mountain Closed in WDW
Almost three years ago Disney made the announcement that it would be transforming the mega-popular Splash Mountain attraction (at both Disneyland and Disney's Magic Kingdom in Florida) into an attraction based around the Princess & the Frog film. Not many details were given, and one of those "something is coming, but there's no chance it will actually be this" pieces of Disney Concept Artwork was shown. It wasn't until last year's D23 Event in September when we finally got some details on Splash Mountain's replacement. The new experience would be titled Tiana's Bayou Adventure and – as expected – the changes we were shown weren't all that different from the Splash Mountain we are used to now.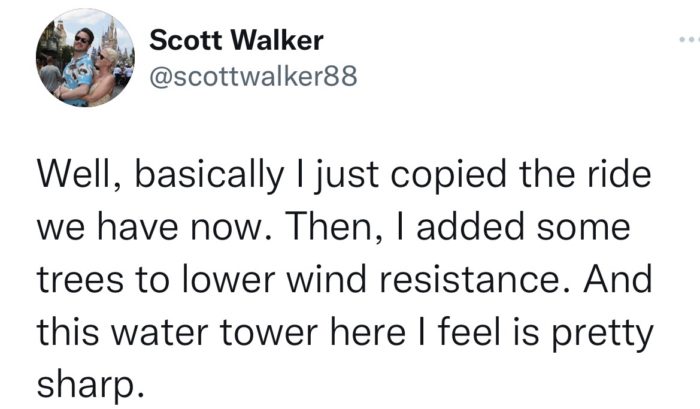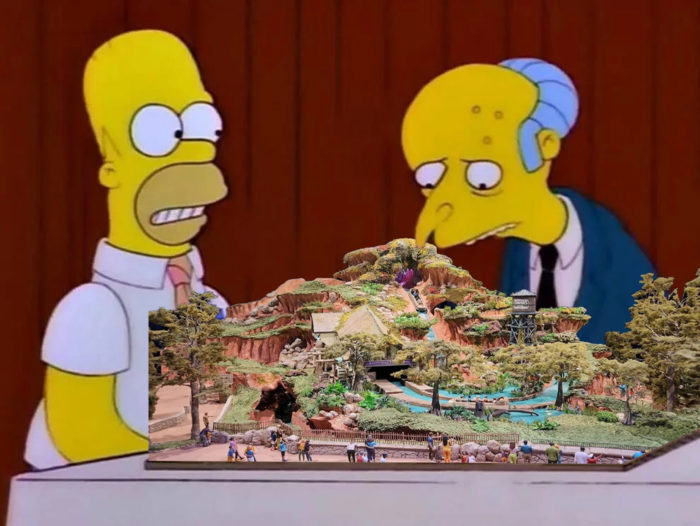 In December Disney announced the first Splash Mountain closure, as the Florida version of the ride would end on January 22, 2023. Well, time flies and we're already here…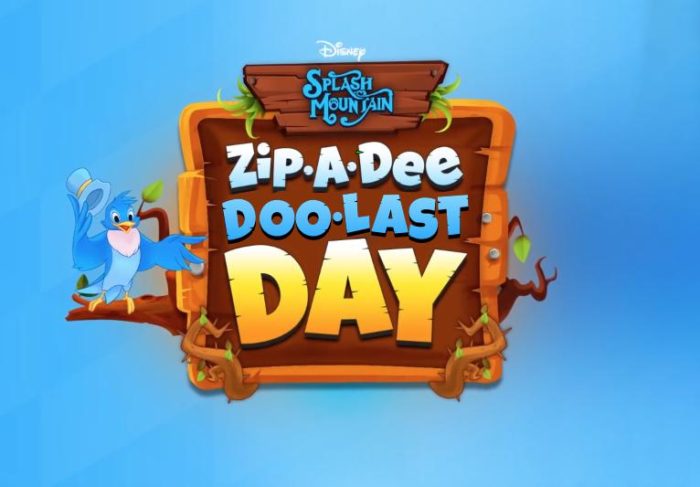 Our position on this ride at TPEI is this: we ALL like the Splash Mountain ride concept. It's a fun ride, it's a thrilling ride, it's a long ride, and it's filled with animatronics. That checks off pretty much every box on the Great Ride checklist. However, the movie that Splash Mountain is based off of – Song of the South – isn't a movie that just became problematic in the 21st century. It was always problematic and, for the most part, we just looked the other way. It is never too late to right the wrongs of the past, and the upcoming Tiana's Bayou Adventure will give us the same enjoyment factor of a Splash Mountain without the truly awful subtext running throughout.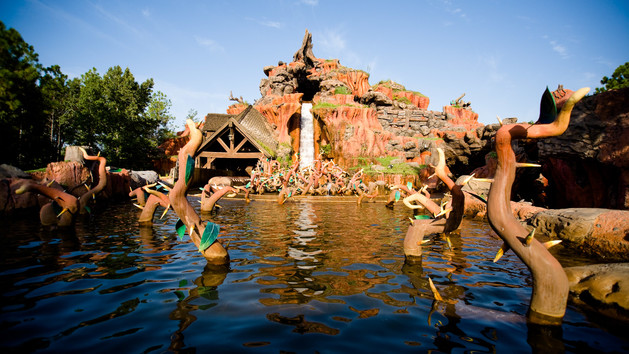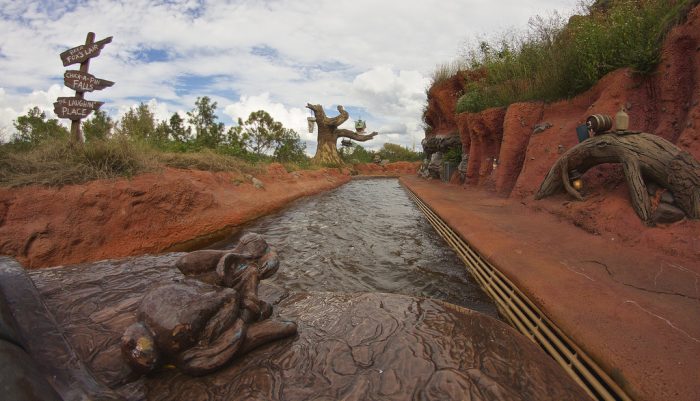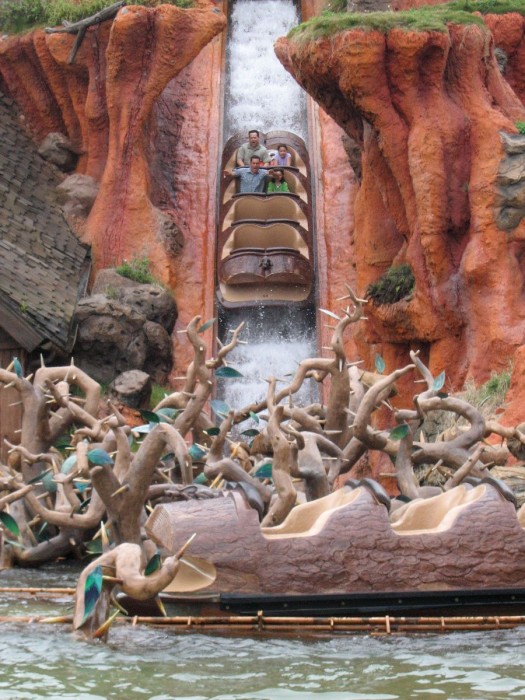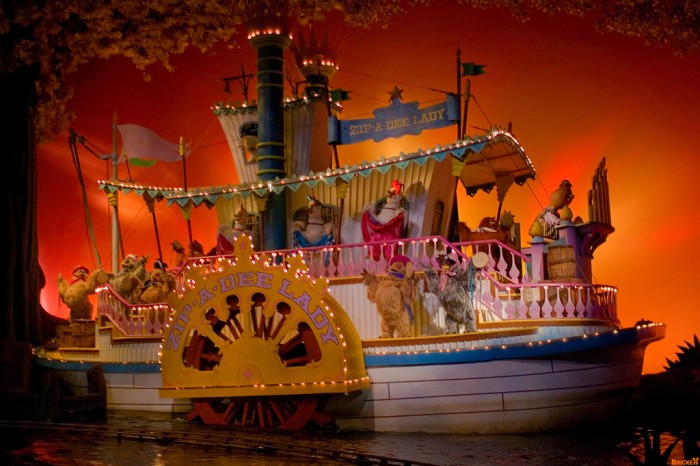 For the people who are vehemently upset that Splash Mountain is leaving, here's the good news: no one can take your memories of the ride away from you. If you and your family had wonderful memories on Splash Mountain, they still happened and aren't going anywhere. For me, I'll remember seeing Splash Mountain featured on television classics such as Hulk Hogan's Thunder in Paradise and TGIF's Boy Meets World.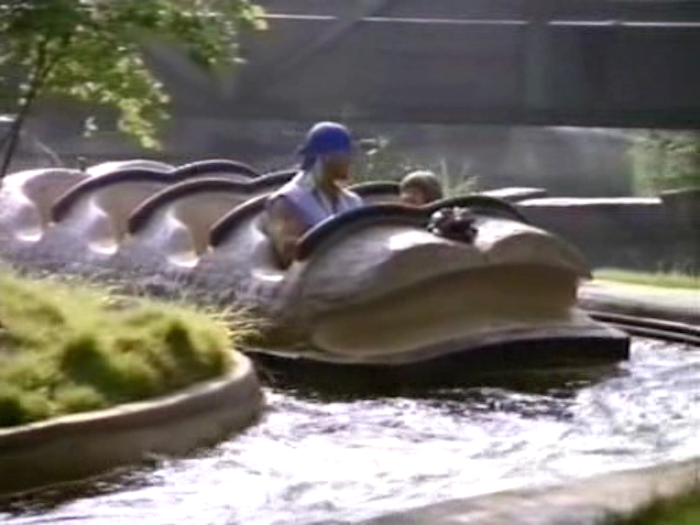 The actual last day of Splash Mountain brought with it some large lines, with waits going north of over 3 hours.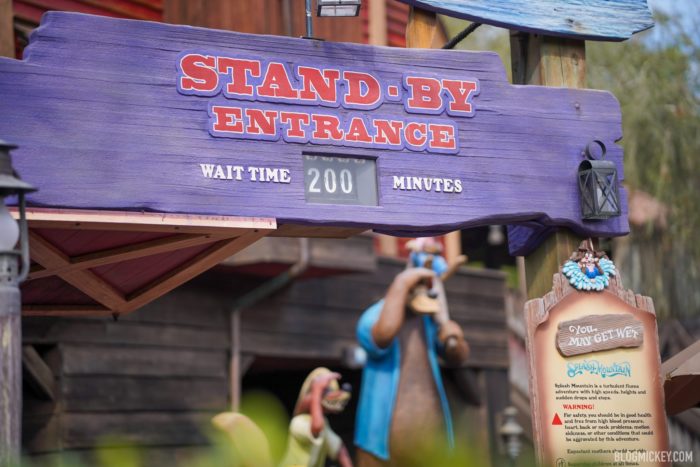 A crazy subplot to the "last day" story was the amount of people on eBay selling water from the attraction.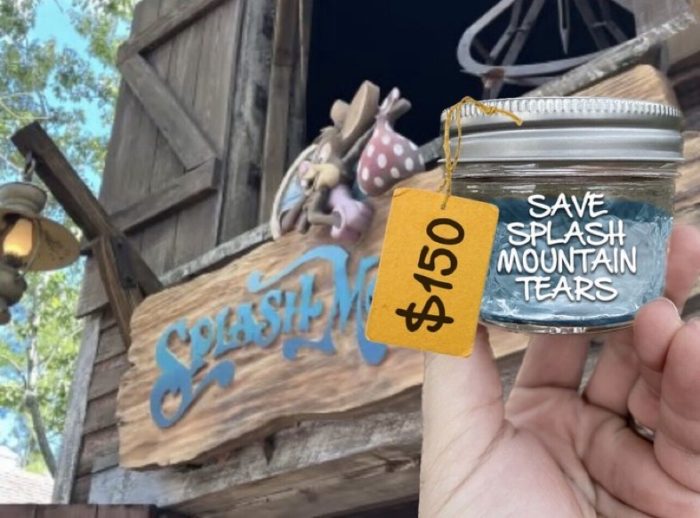 Keep in mind that there are still two other Splash Mountains currently in operation. One in Disneyland (which hasn't been given a closure date yet but is clearly on the clock) and another in Tokyo Disneyland. There are currently no plans to change Splash Mountain to Tiana's Bayou Adventure in Japan, but check out what recently happened over there…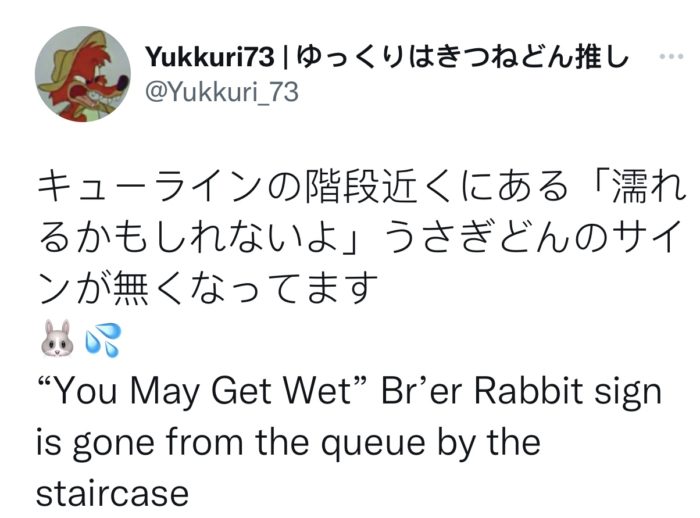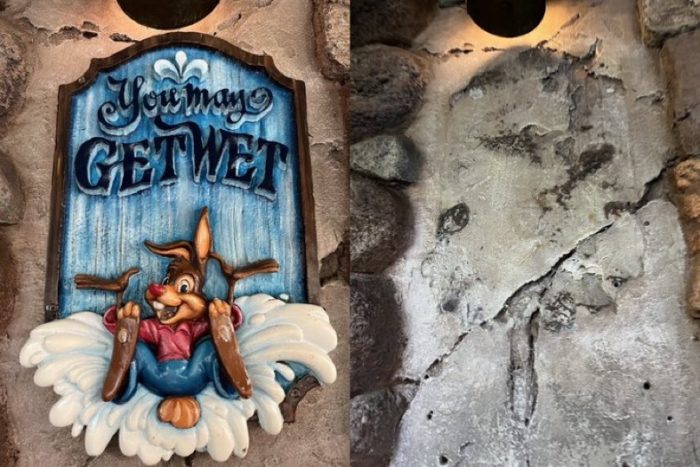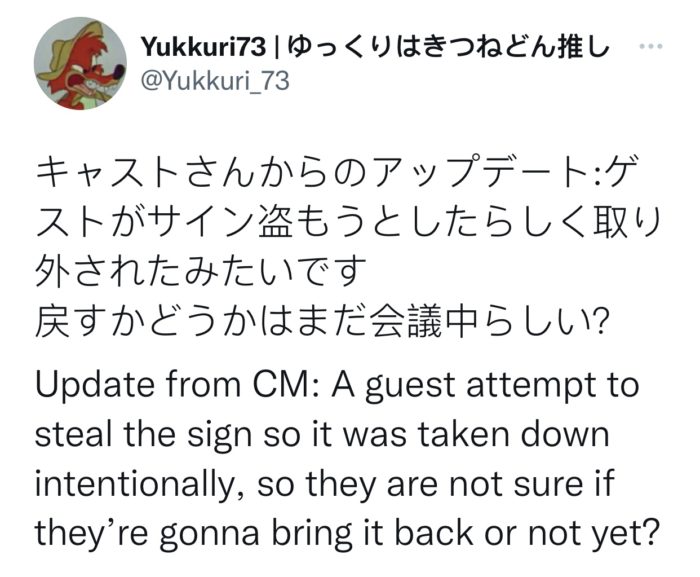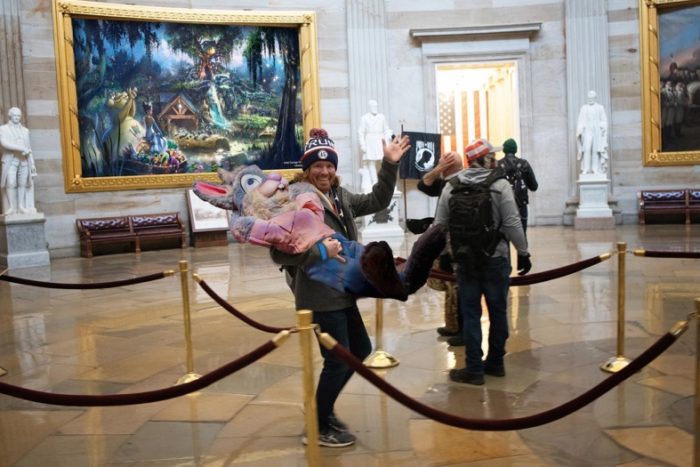 TPEI Score: + 8 My family and I had a lot of great experiences on Splash Mountain over the years, but it was time for that attraction to go. There's no reason for any segment of the theme park guests to feel "less than" when enjoying a day at the theme parks and the legacy of Song of the South puts a stink on Splash Mountain that you can't clean off. It's easy to say "what's the big deal" as someone who has never been marginalized and always had the world cater to them, but thankfully we are in a day and age where we use our hands to bring others up rather than use them to hold them down.
*The Legacy of "Flash" Mountain is Passed On…
Speaking of Splash Mountain, back in my day the controversy attached to the ride was it's moniker Flash Mountain. It got this nickname via women pulling up their shirts during the attraction's large drop (which also is home to the Splash Mountain's photo-op camera.) Most people reading this fine blog series know that Disney had Cast Members making sure these – and other inappropriate photos – never were actually shown to guests as they exited the ride. Although as Jurassic Park taught us, life finds a way, and some of these pictures have made their way outside of Disney. For the most part though, the only thing you're doing by trying to surprise Disney on a ride's photo-op is get yourself trespassed.
Disney's new Skyliner transportation system is straight up E-Ticket. Absolutely love it. There are no photo-op experiences, so it's almost impossible to get yourself in trouble right? Well, life finds a way…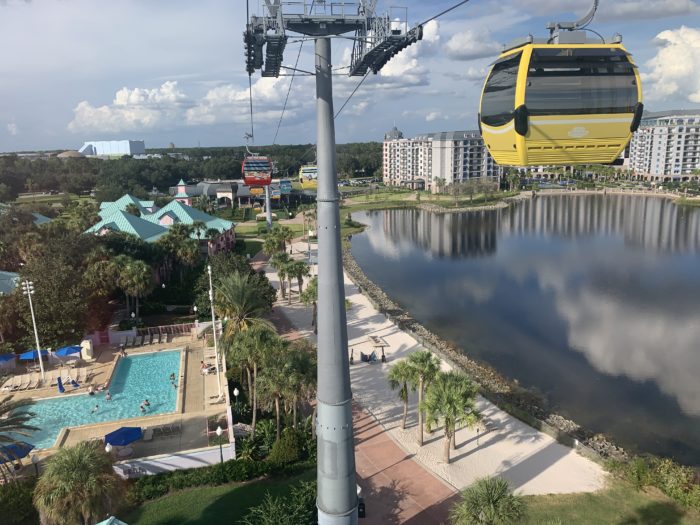 …or maybe we should say, TikTok finds a way. A TikTok user filmed themselves flashing a passing Skyliner cabin and posted the video on the popular social media site.  There's a saying "there's a time and place for everything" but there is no time or place at Walt Disney World for flashing. Not only do you have impressionable children, but different cultures and a thousand other reasons why you shouldn't do something like this for clout. We are in for some interesting times ahead though, as TikTok is almost singlehandedly creating a Fame Monster that needs to constantly be fed. We saw the TikTok Disney Water Fountain Guy back in 2021, and we'll surely see more brazen attempts to become "internet famous" at both Disney and Universal.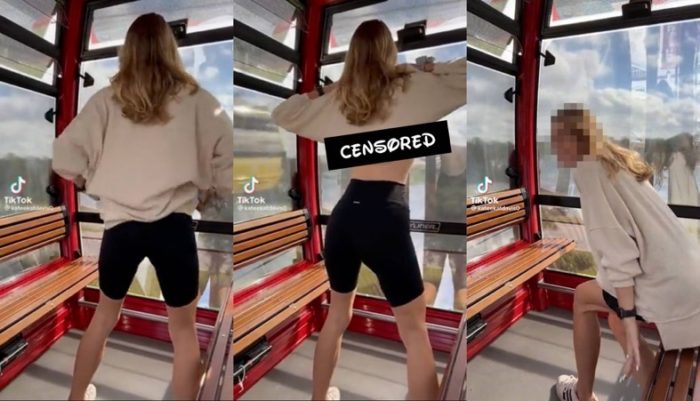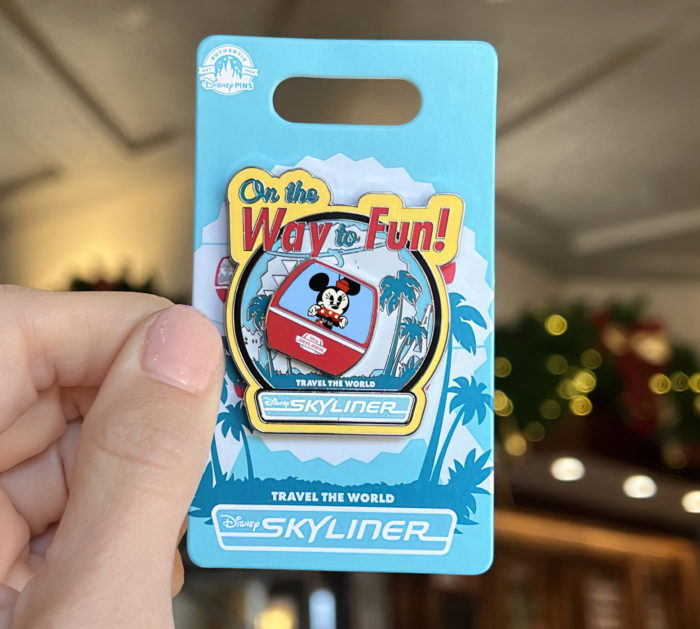 We always wanted to know what Mickey was taking a picture of…I guess now we know.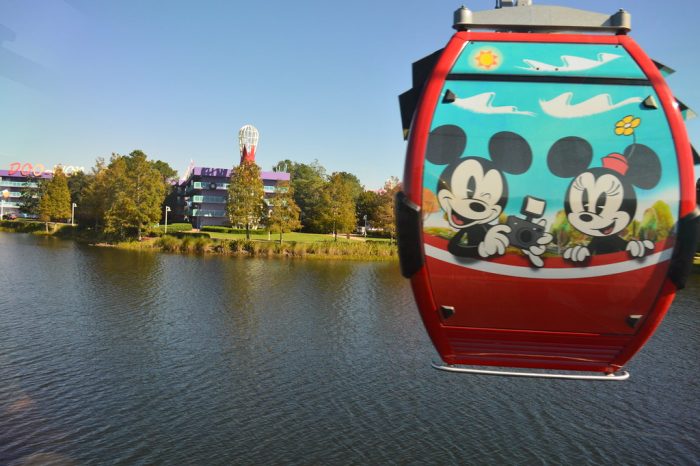 TPEI Score:  -10 Don't do this. Period.
*Runaway Railway Opens in Disneyland
Here in Florida at Walt Disney World we are used to getting cloned attractions and almost always a lesser version of other ones around the world. We get Disneyland's incredible Indiana Jones ride rethemed as a are-you-serious Dinosaur attraction. We got Disneyland Paris' Ratatouille ride without the amazing Chez Remy restaurant connected to it. Cars Land has Mater's Junkyard Jamboree, we get Alien Spinning Saucers. As they say, it is what it is.
Let me state up front, I really enjoy Mickey and Minnie's Runaway Railway at DHS. It's a really cute ride and I personally LOVE the new Mickey Mouse shorts the attraction is based on. Should it have replaced The Great Movie Ride? No. The Great Movie Ride was the heart and soul of Disney's Hollywood Studios. Over the years there has been a whole bunch of changes to DHS, to the point now where Disney has had to spend several years and hundreds of millions of dollars to fix the park. An opening day attraction back in 1989, The Great Movie Ride took guests through an audio animatronic filled history of film, including Raiders of the Lost Arc, Casablanca, and The Wizard of Oz. Because Disney used movies from outside its own library, the ride felt authentic in a way many others don't. Having Ridley Scott's Alien, for example, instead of a Disney film like Flubber, took the attraction to a whole new level. The Great Movie Ride was also one of the rare attractions, especially for its time, to offer different ride experiences. While it became rare to get the "Western" scene compared to the "Gangster" scene, the fact that the ride had multiple experiences is definitely a plus. Another plus was that The Great Movie Ride had in-ride spielers, a theme park "art" that is slowly but surely being removed from the parks. Say what you will about "consistency" from automated announcements, but I'll take a Cast Member any day of the week and twice on Sundays.
Despite our alleged blessing of size and DHS having only a handful of rides to begin with, our Runaway Railway replaced The Great Movie Ride. Out in Disneyland, they found a way to put Runaway Railway in without replacing any attractions, go figure. They also found a way to create an amazing queue experience. Our queue in Florida consists of "stand outside in the hot sun until you can go inside."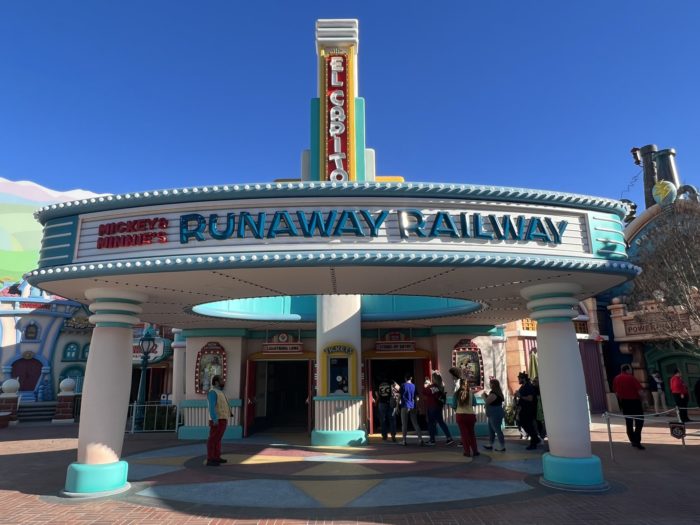 Disneyland's Runaway Railway has an AMAZING indoor queue that essentially has you walking through a movie studio as if the Disney cartoons that we love are being filmed there.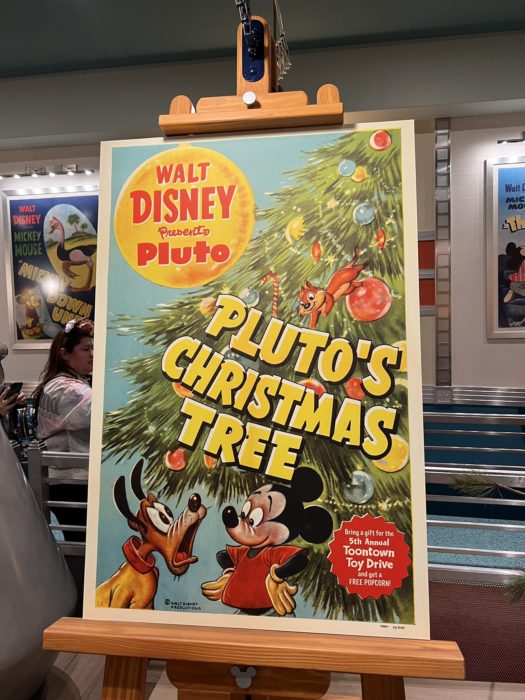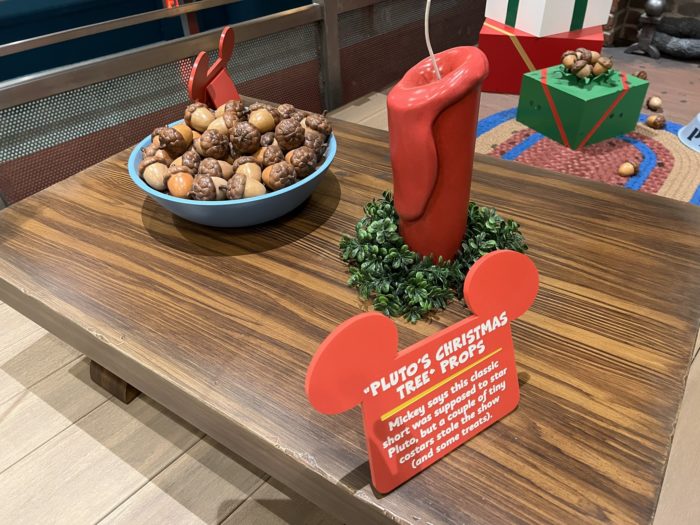 We'll have a more detailed look at the Runaway Railway queue in a future edition of the SATURDAY SIX, but check out these faux movie posters…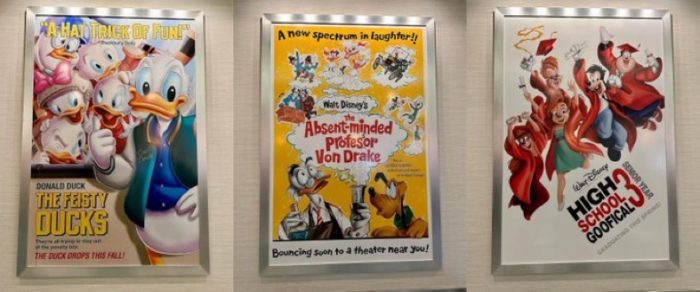 A Rocketeer reference? Pinch me, I'm dreaming!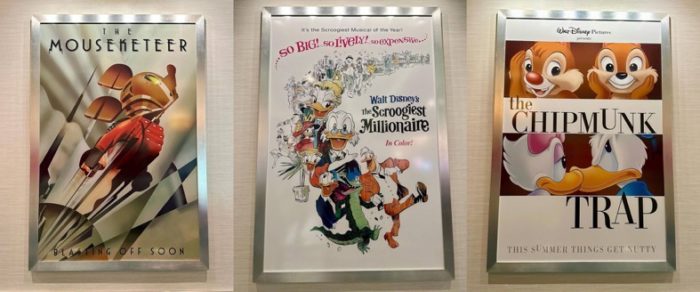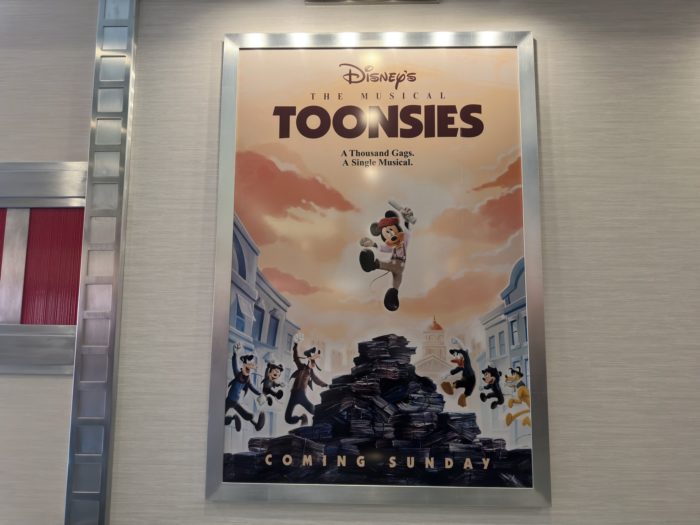 Always good to see Professor Ludwig Von Drake getting more love in the Disney parks.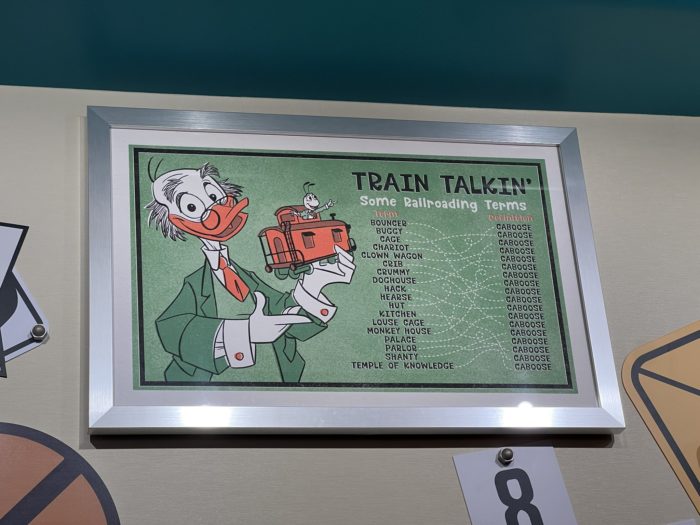 TPEI Score:  – 10. That's great. Disneyland gets another new ride to go with the 50 others they have in their park. BE FAIR TO FLORIDA!!!
*Bad Month For Disney Signage
The Disney Signage Hall of Shame got some new entrants this month, and were going to start off with one that was put out for the opening of Disneyland's Runaway Railway. This attraction opened with a fun typo for the "Lightening" Lane.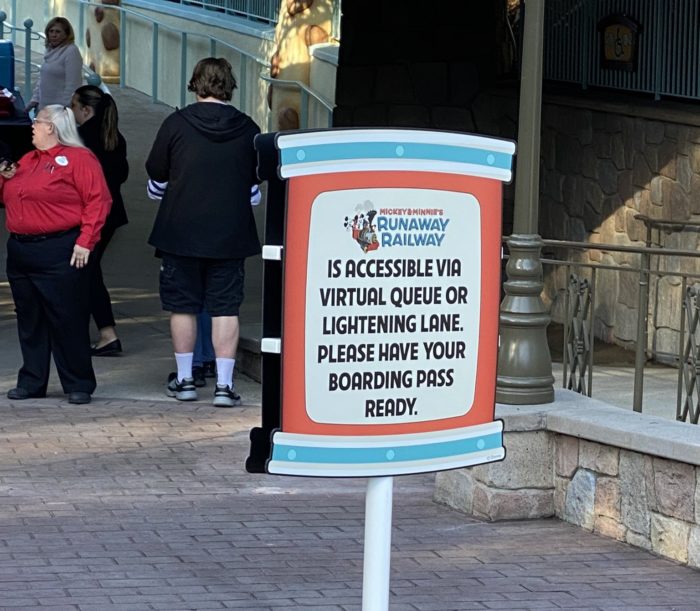 Not the first time we've seen a high profile misspelling of the word Lightning. Do you remember This Guy from the 2020 Theme Park Turkeys of the Year…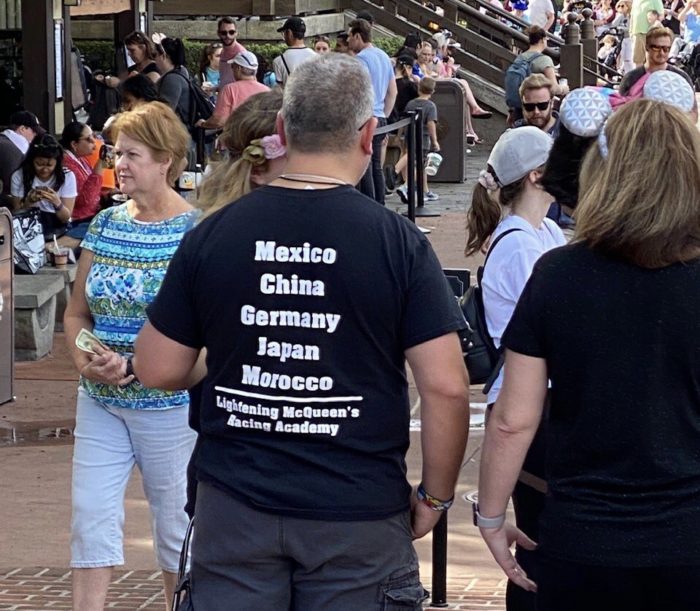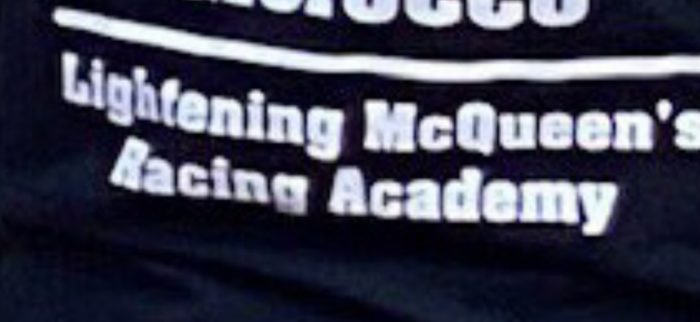 For the Disney 100 celebration, a new Mickey Mouse statue was put into Disneyland.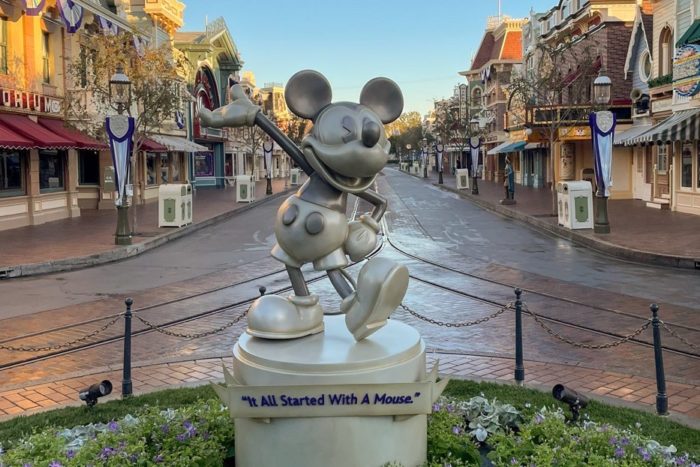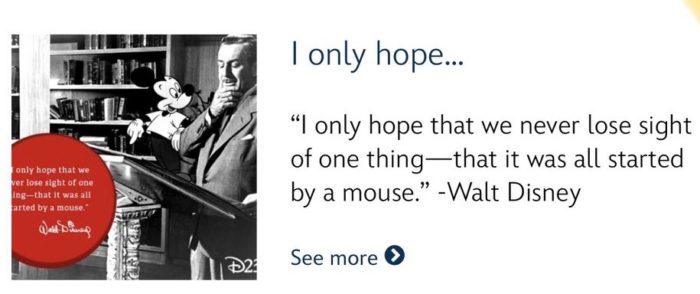 There is probably not a person in the known world who has been misquoted more times than The One Who Started It All, Walter Elias Disney. This is most likely because Walt himself has so many memorable quotes. "All our dreams can come true, if we have the courage to pursue them " "It's kind of fun to do the impossible," and "I only hope we never lose sight of one thing – that it was started by a mouse" are quotes that many Disney fans have memorized by heart.
However there is one quote that is constantly attributed to Walt Disney, but he didn't actually say it. "If you can dream it, you can do it" was coined by Disney Imagineer Tom Fitzgerald and it was written specifically for the fabled Horizons attraction in EPCOT. Disney archivist Dave Smith has debunked this "Walt quote" many times, both in his Disney Trivia From The Vault book and on the d23 website. Even the Disney Parks Blog mentioned this quote constantly being misattributed to Walt when it launched the Horizons retro t-shirt.
Now if your Aunt Heather makes this mistake on Facebook, you should probably let it slide as 99.44% of the non-Disney hardcore fans "know" Walt said this quote. However, when Disney World attributes this quote to Walt Disney on its paper plates back in 2016? Well, that's another story. Same goes with the Mickey statue in Disneyland.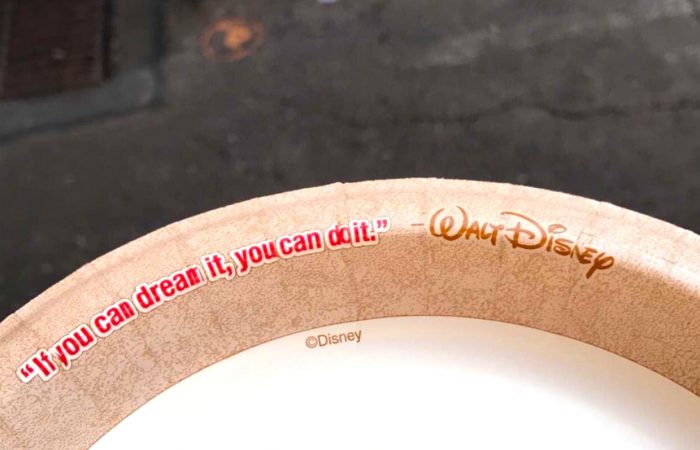 It gets better though, because Disney 100 banners were also put up. These banners highlight something memorable over the last 100 years of The Disney Company.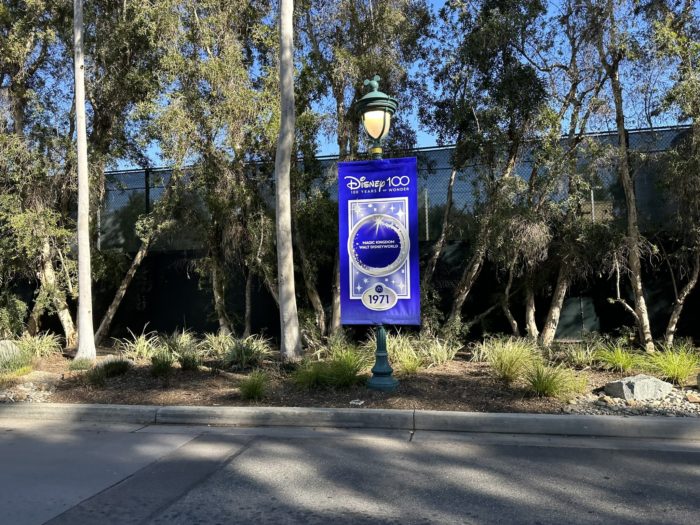 For 1971, we have the creation of Walt Disneyworld. When you think of the amount of people who must have signed off on this before it was installed outside Disneyland…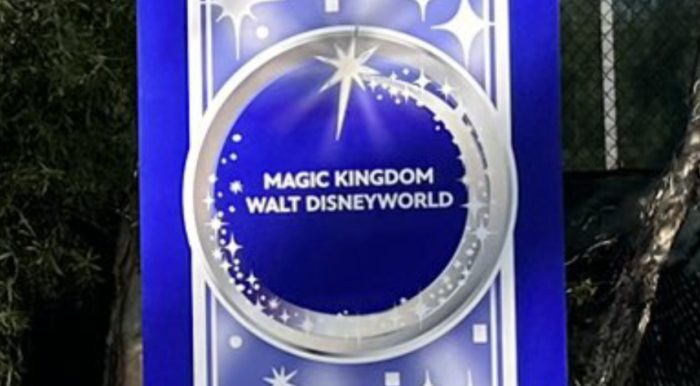 Meanwhile another banner had 1955 for Matterhorn Bobsleds, but that attraction didn't open until 1959. Aside from having a pretty comprehensive department that focuses solely on Disney History, you'd think the company could also just use a Google search for stuff like this.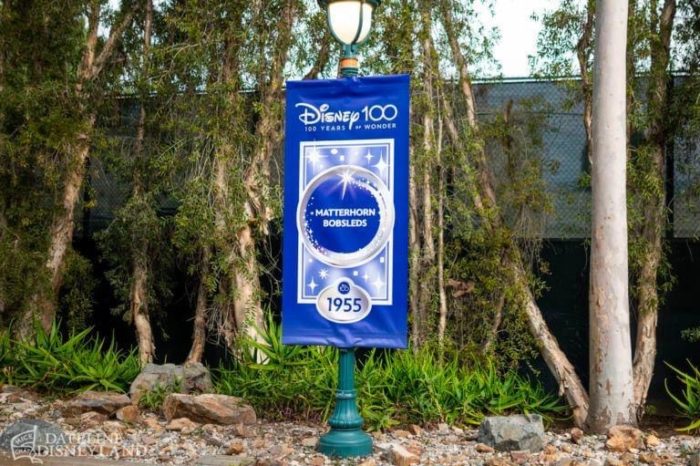 The animated classic Snow White and the Seven Dwarfs came out in 1937.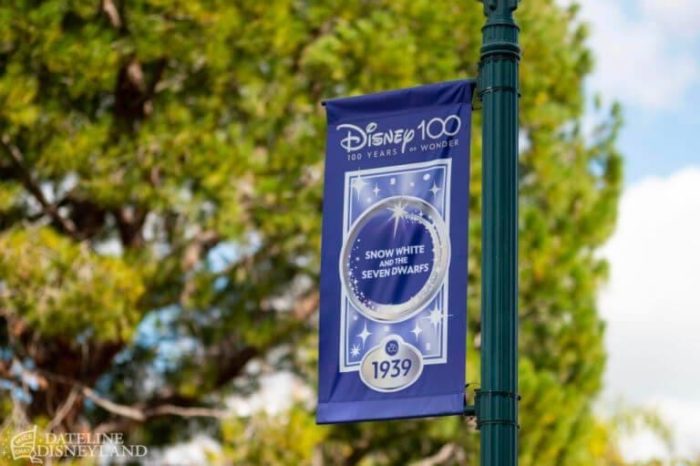 Meanwhile down here in Florida at Walt Disney World, we're reporting record Billion dollar profits while putting out signage like this at Fort Wilderness.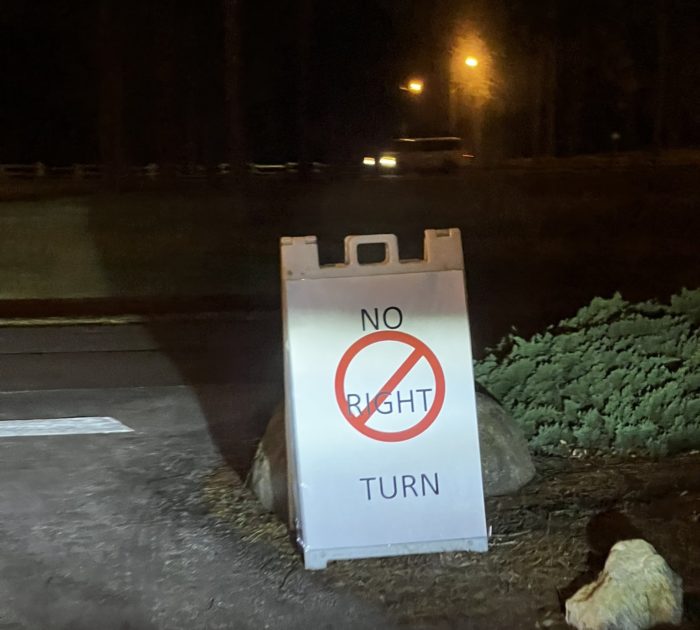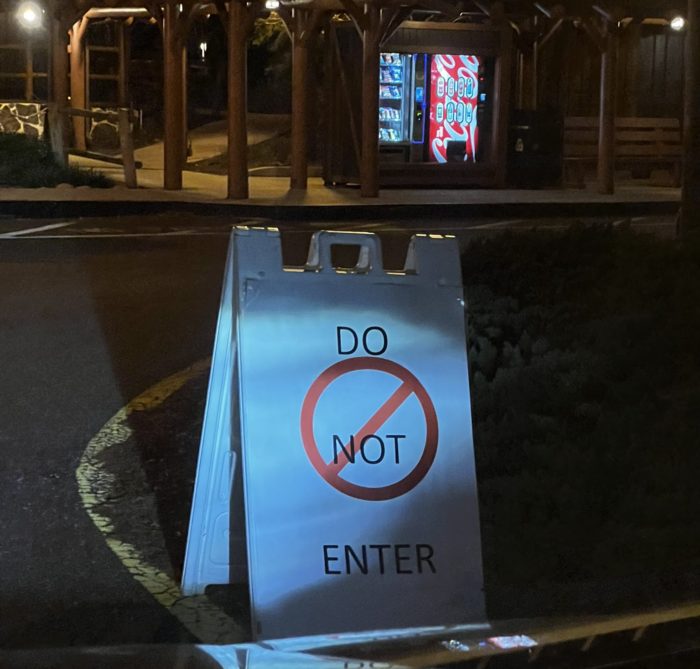 This logo at EPCOT was posted upside down.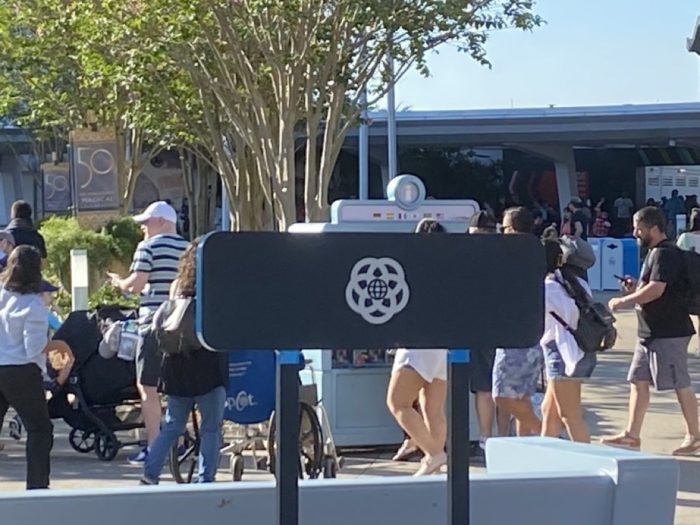 Now, not ALL the signage this month was bad. There was a new EPCOT sign at their parking plaza and it looks sharp.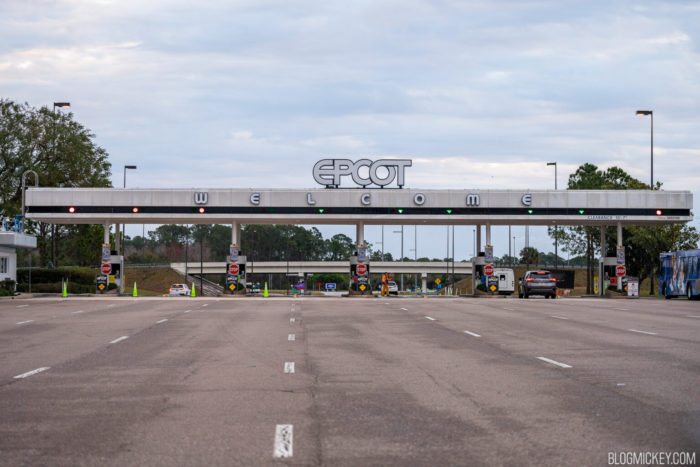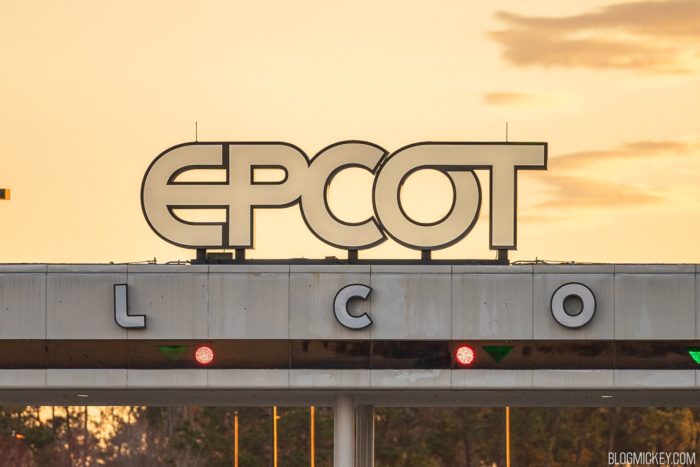 If you remember last year's In Memoriam article, one thing we lost in 2022 was Walt Disney World's most iconic parking row…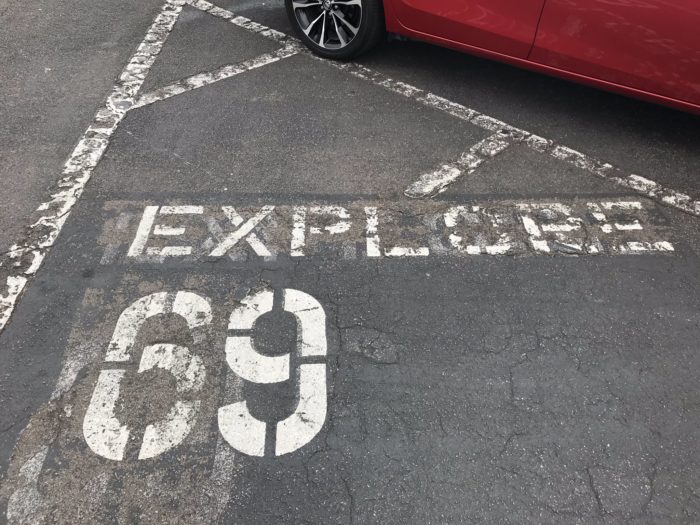 The old parking lot names and signage were destined for the Disney Dumpster…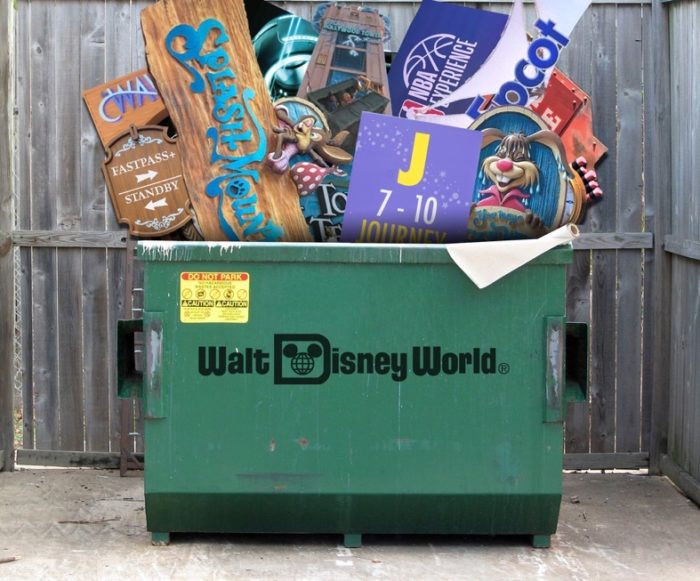 Well, this month Disney revealed the new parking icons at EPCOT.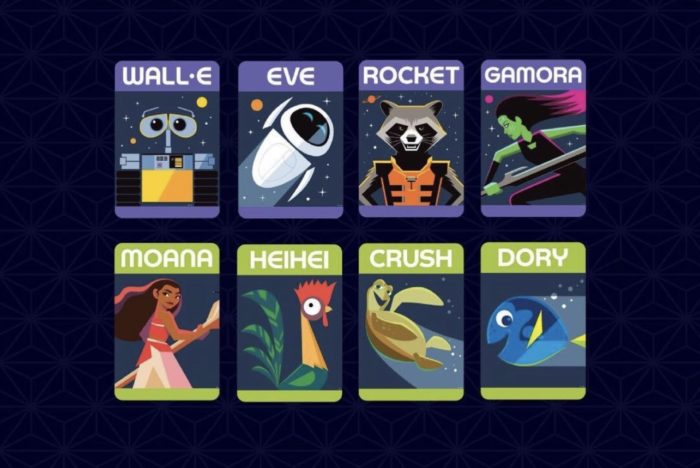 Be sure to check out this fantastic article by Blog Mickey that gives a comprehensive look at all the parking lot signage at EPCOT. Granted, I would have tried to find a way to use Figment and Remy from Rataouille, but the collection of characters Disney went with is perfectly fine and much easier for an average guest to remember than stuff like "CREATE" and "WONDER" or any of the other old names.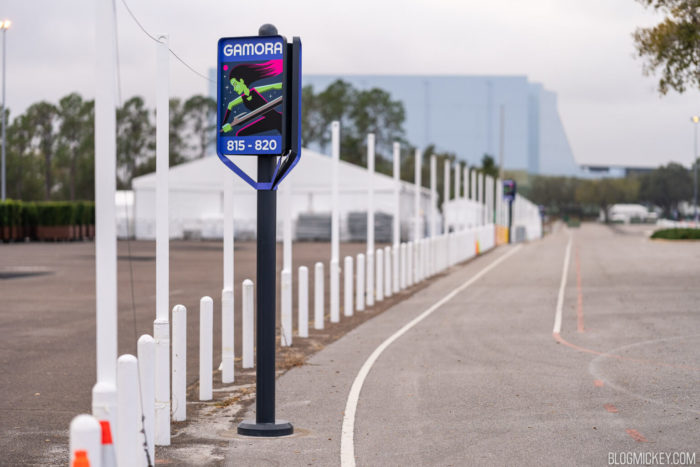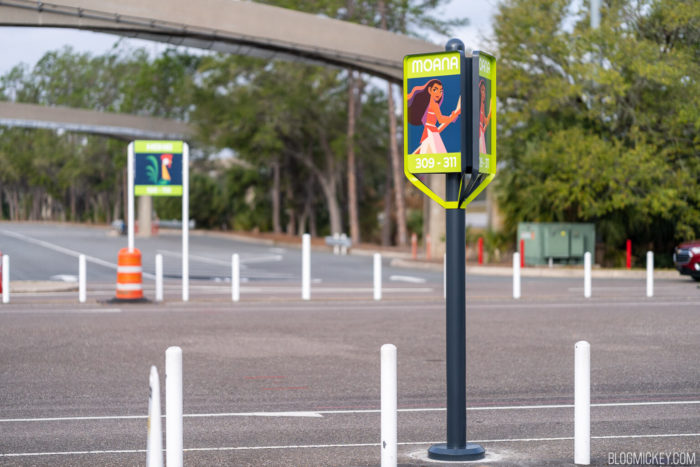 Absolutely love the idea of using a character like Dory, who is forgetful, as a marker for a parking lot. Also love that there is now additional signage within each row rather than having to walk all the way to the end of your row to figure out where you are at. All major wins in my book.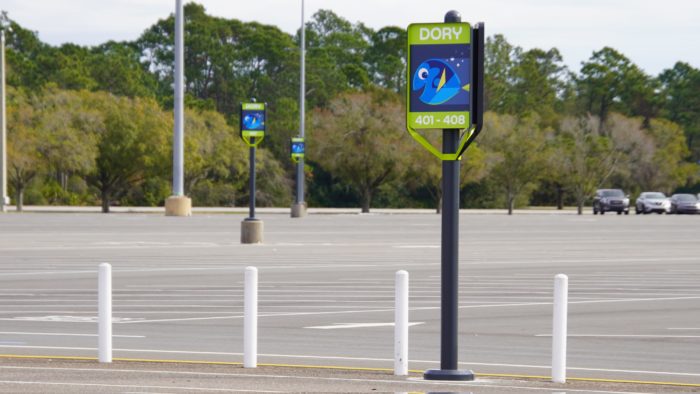 Artist Ava Buric – who had a SATURDAY SIX Artist Spotlight special back in 2022 – came up with her own grouping of characters to use that would definitely make an EPCOT fan boy's heart glow.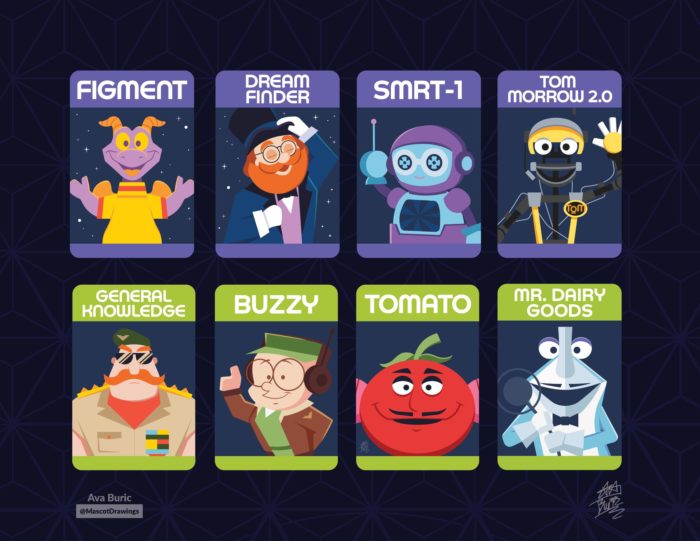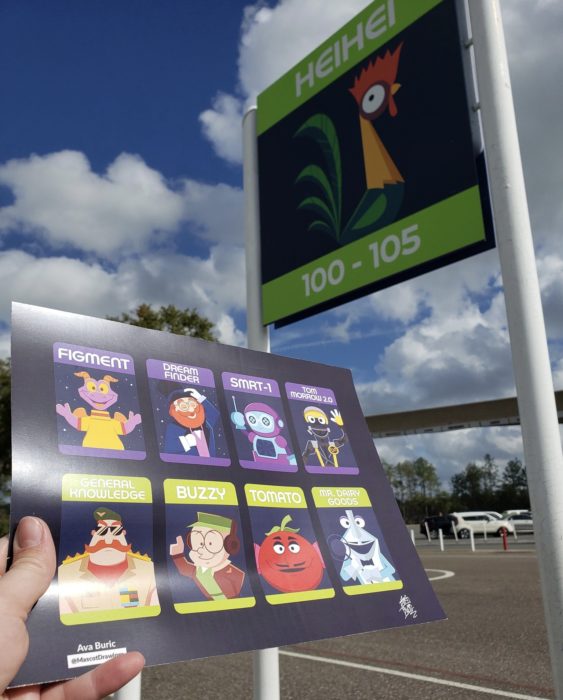 Love this meme featuring the possible next park for Disney parking lot changes…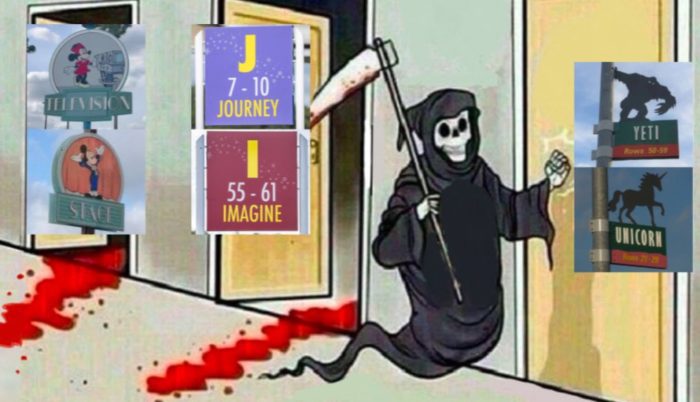 Over at the Universal Orlando Resort they also revealed some new signage. You may remember their big welcome sign has been missing for months.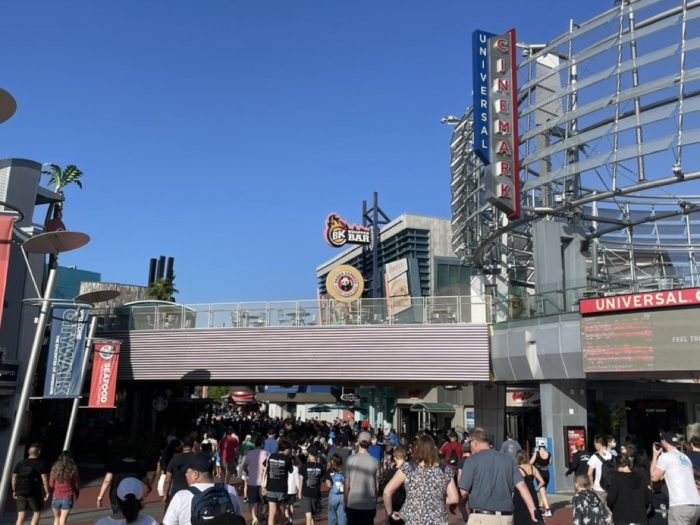 This past week, Universal finally installed the new signage and it looks great.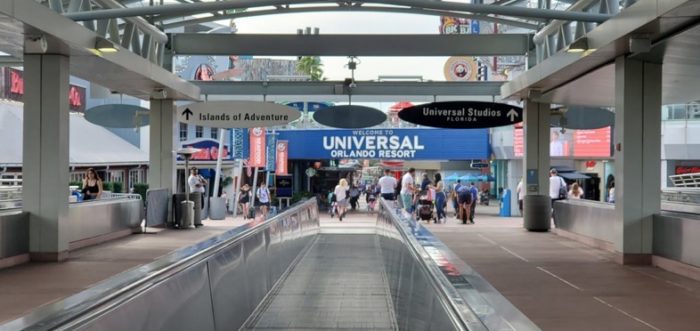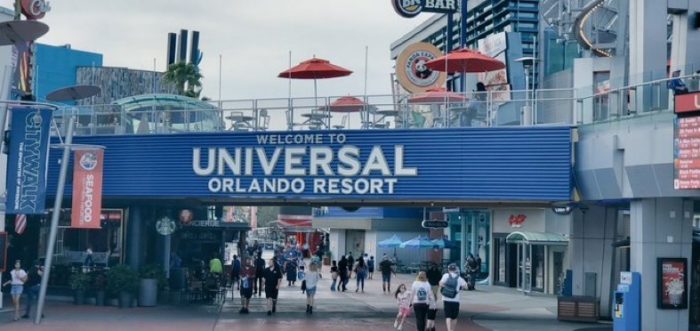 Before we go, the digital maestro Scott Walker and myself got to thinking about the BE FAIR TO FLORIDA movement and wondered why we don't have any of the Disney 100 celebration banners down here at Walt Disney World marking the big events we've gone through over the years. So we created our own…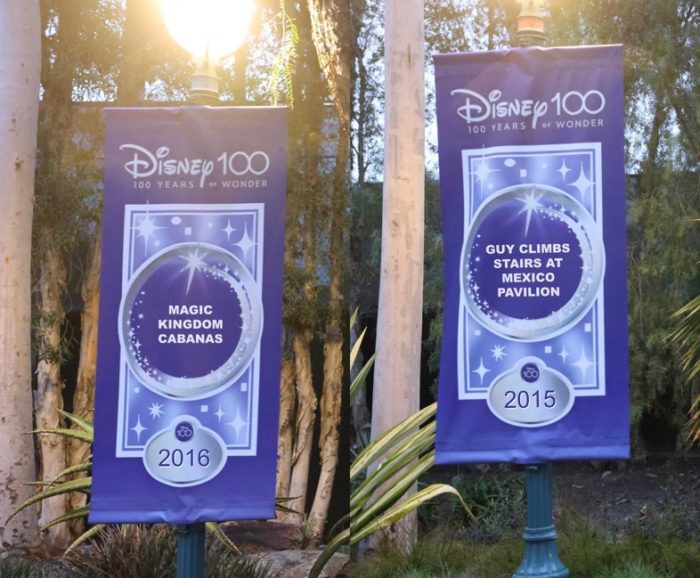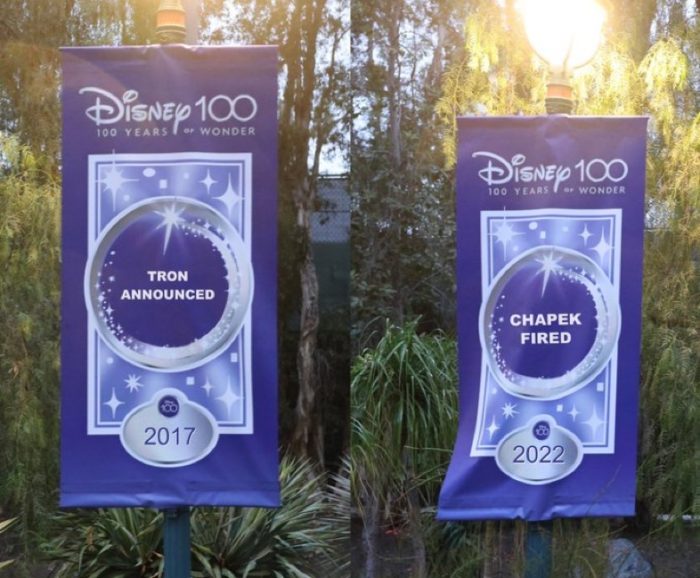 Disney, if you need any more ideas, call us.
TPEI Score: It's a wash. While the mistakes out in Disneyland are almost incomprehensible, the positive signage we got in Florida makes up for it.
***BREAKING NEWS***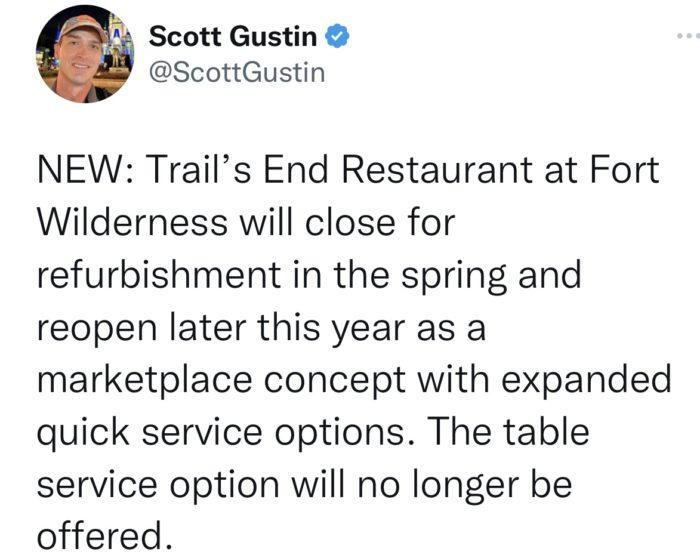 My immediate response?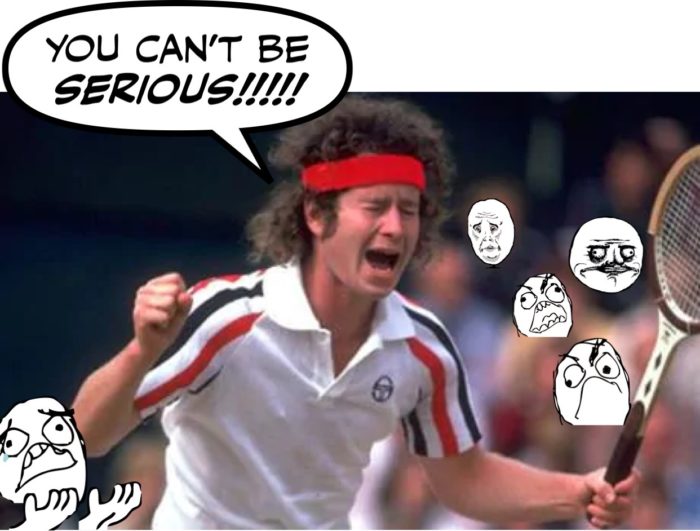 After calming down, my second response?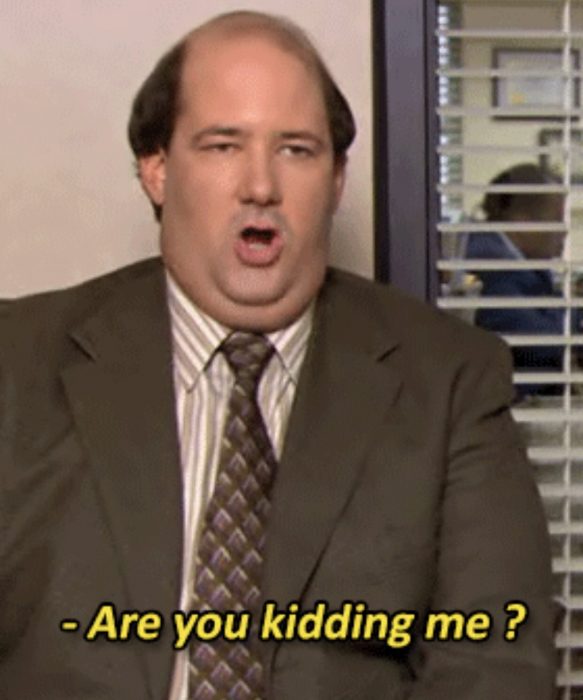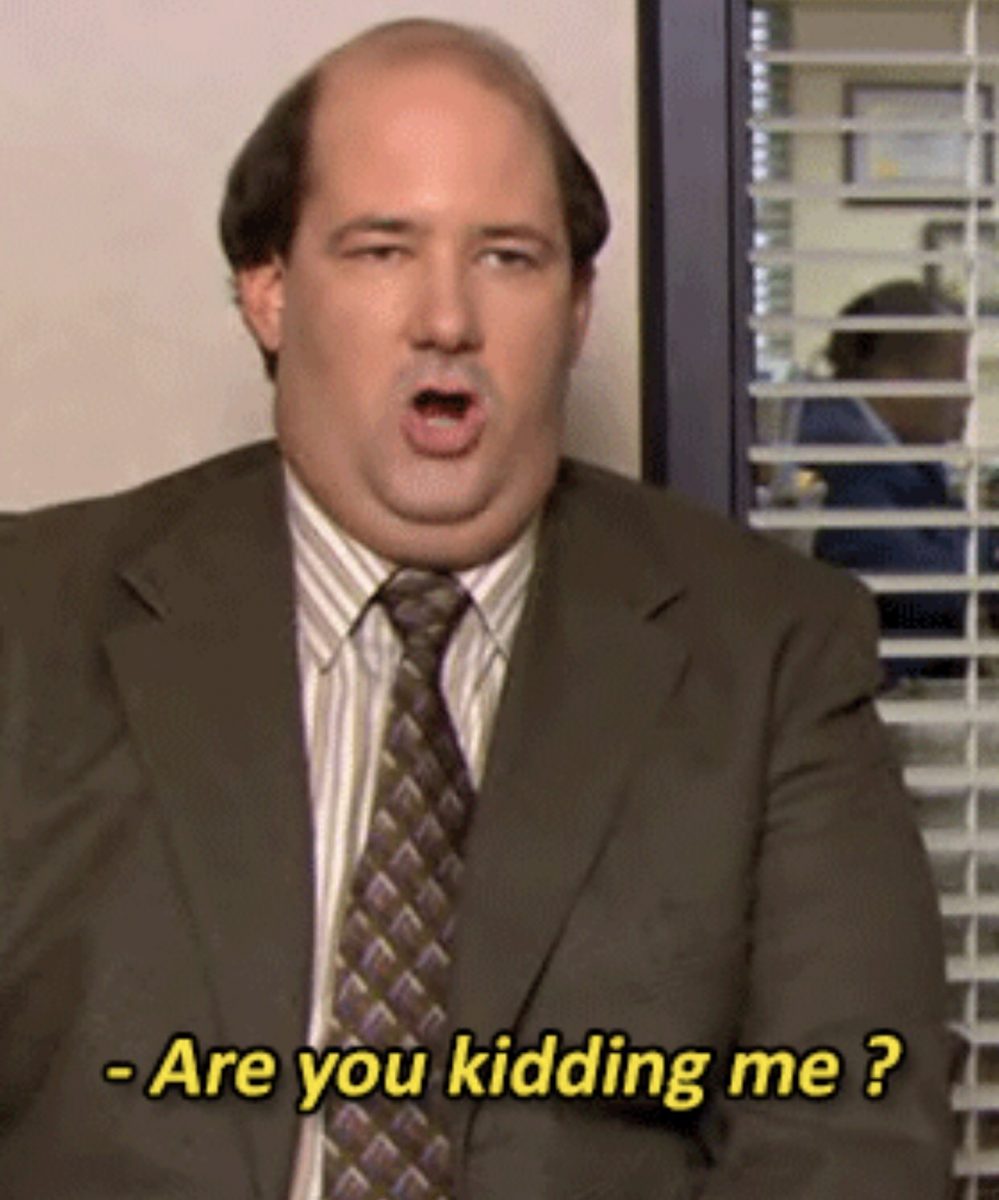 We'll go into more detail on our Trail's End love in this year's In Memoriam I guess, but the tl;dr version is this: Trail's End was one of my personal favorite restaurants in all of WDW.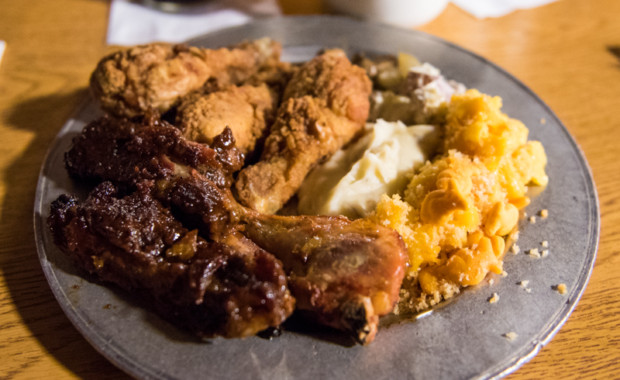 One of my favorite things about staying in a Fort Wilderness Cabin was the ability to get a Trail's End meal to-go and bring it back to the room to eat.
Bacini seeing Trail's End food in a Fort Wilderness Cabin.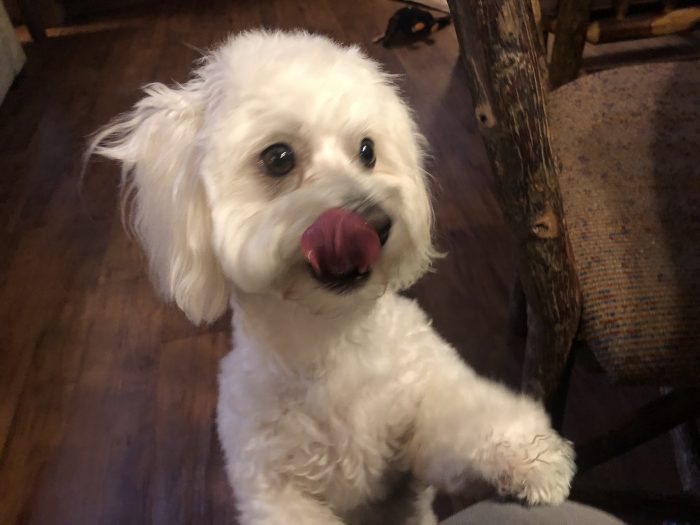 TPEI Score: – 22 I'm not in the mental state to even think about this news right now. Literally saw the tweet by Scott Gustin while writing this article and am going to need some time to process my thoughts on this one. After the recent openings of "marketplace" type venues in the Yacht Club/Boardwalk area at WDW, my hopes for the "new and improved" Trail's End experience is at about ZERO.
**QUICK HITS
*Menu for Roundup Rodeo BBQ Revealed
Despite the fact this table service restaurant should have opened up with Toy Story Land almost five years ago, the upcoming Roundup Rodeo BBQ is inching its way to completion. This past week we got a look at the menu and I have to say it looks dang good.
I'm not sure if this was known previously, but the meals will be served Family Style. I'm generally a big fan of that going by my experiences at places like 'Ohana and Hoop Dee Doo.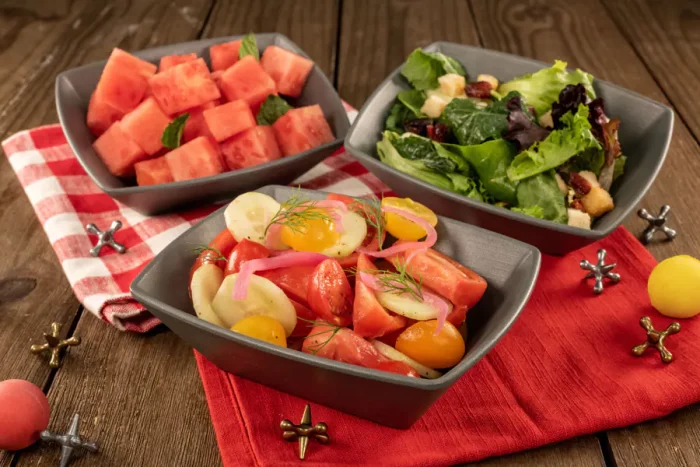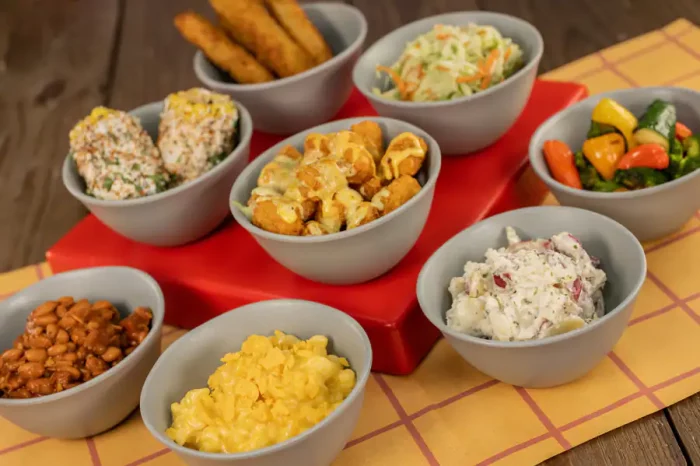 The plant based meat options look great. I'm a huge fan of the Impossible line of fake meat products, and this Impossible "Rib Chop" seems like it will be fantastic.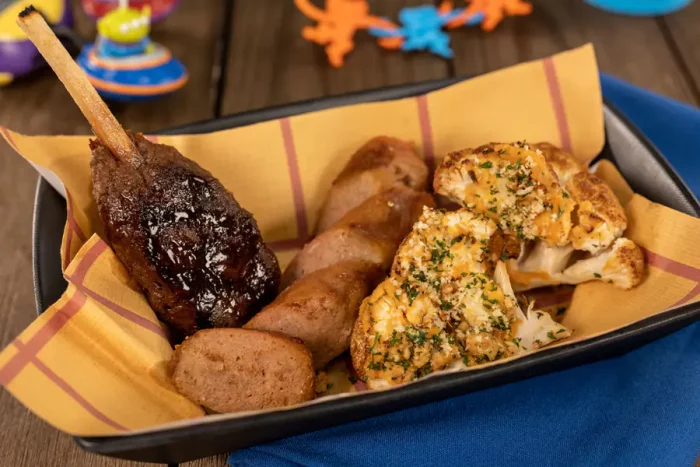 This is a BBQ restaurant, so of course regular meats are going to be the main draw.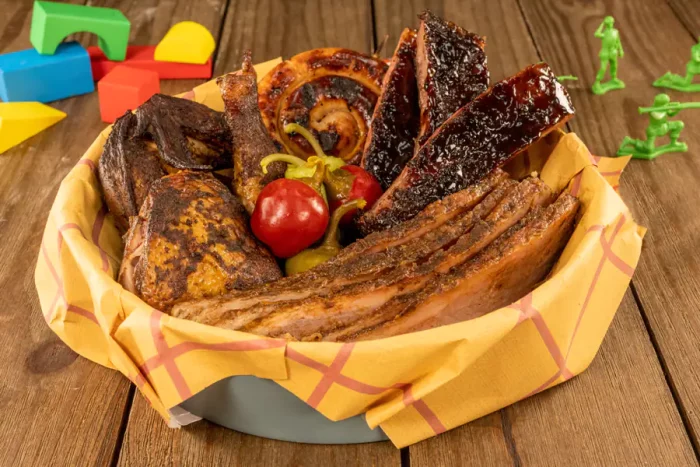 This is a restaurant themed for kids, so of course all the items have fun names like "the Prospector's Homemade Cheddar Biscuits" and "Buttercup's Beef Brisket," but Disney went next level with the description for the sausage…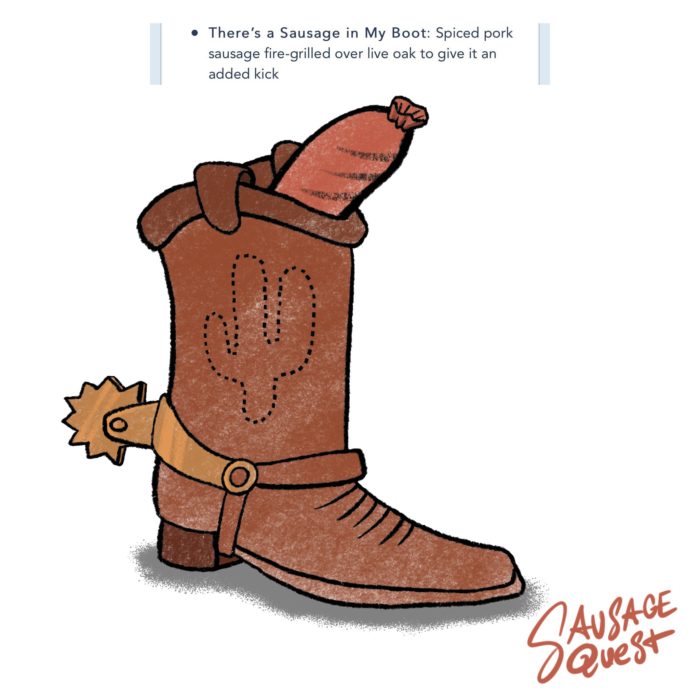 Always love drinks that are served in a mason jar, so I think I'm going to really enjoy Roundup Rodeo BBQ when it FINALLY OPENS at some point in 2023.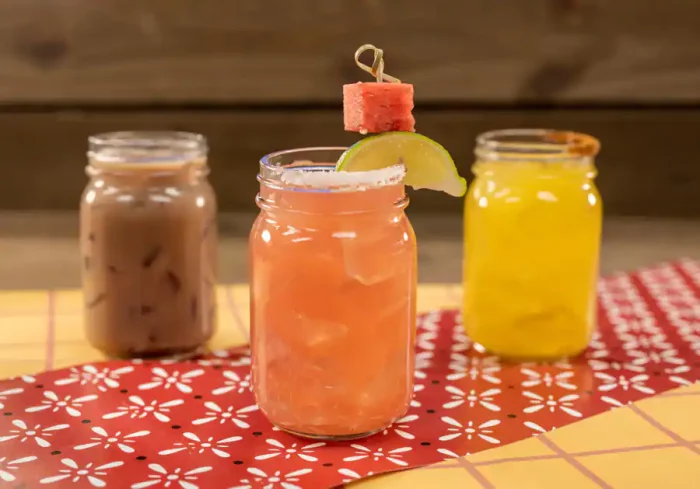 For the (seemingly rushed) Disney 100 celebration, the company released a bunch of Limited Time Magic food and drink items.  One of them stuck out to TouringPlans' own Guy Selga…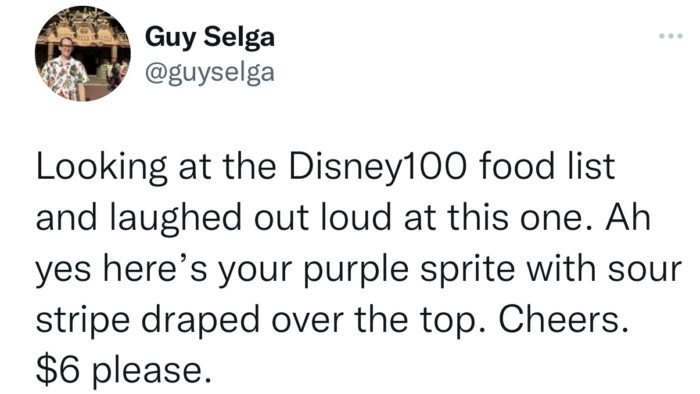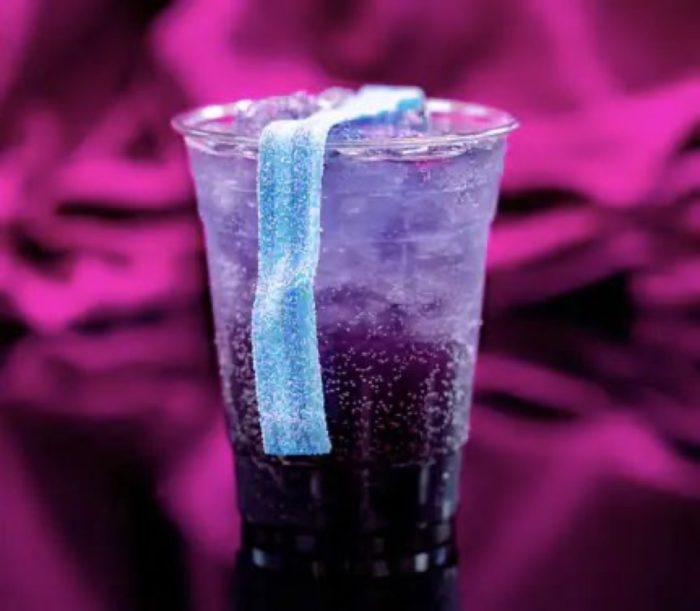 What's great about social media is you get some truly next level bananas replies from companies thanks to algorithms or search bots or who-knows-what searching for their product.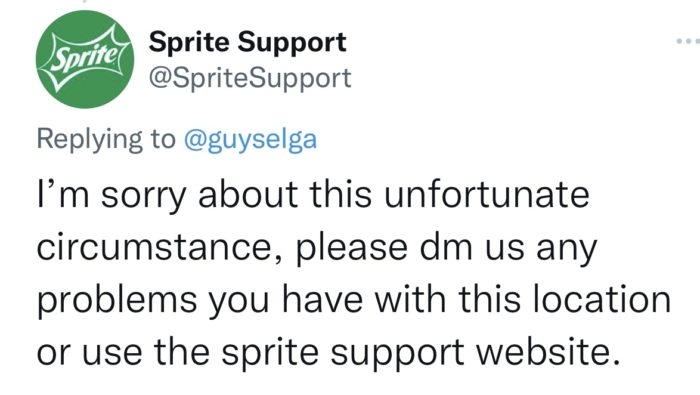 While the Disney 100 drink sounds awful, one theme park bringing their A-Game this year is SeaWorld with a line of "Adult Capri Suns" for their 2023 Seven Seas Food Festival. These are absolutely AWESOME and both Disney and Universal should be ripping off this concept immediately, if not sooner.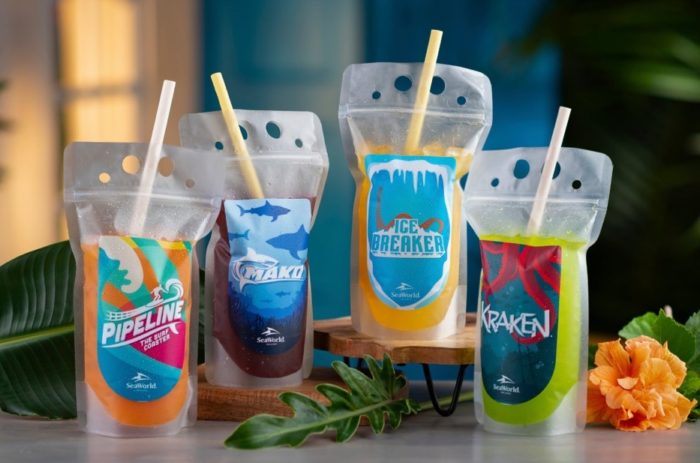 Disney put out two different breakfast cereals. One featuring "Confetti Cake Cereal" and features the Mickey Mouse Club logo.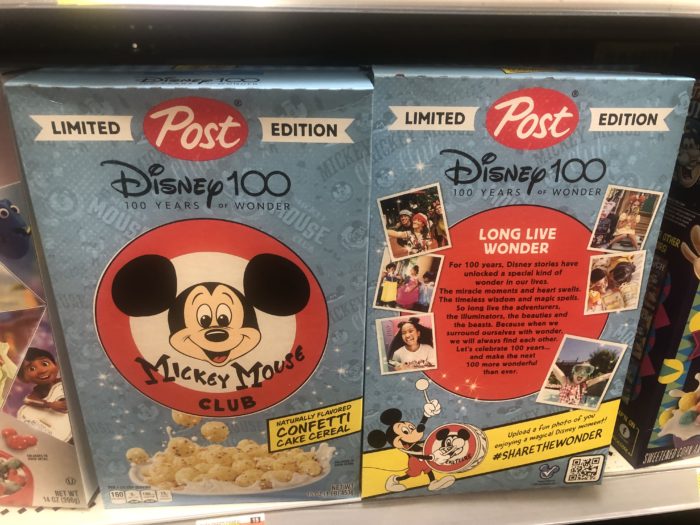 While the other actually has Mickey shaped pieces of cereal and is a much higher quality box (there's even some embossing, a sign of true class in the cereal box world.)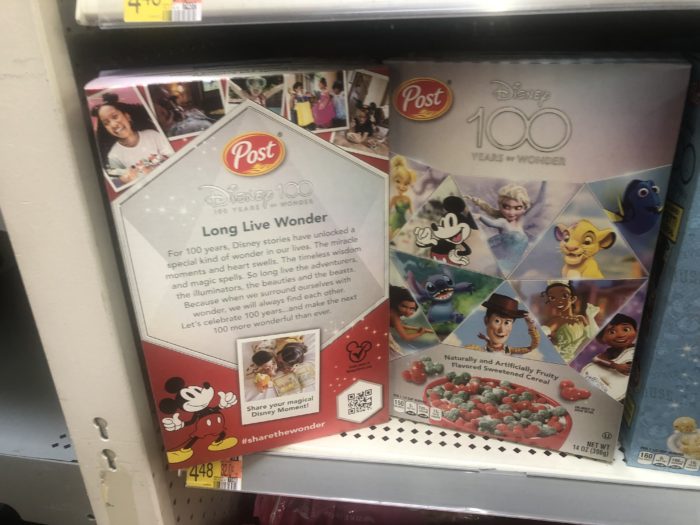 Meanwhile in Japan they just drop themed onion ring holders at their restaurants while we in America continue to eat our onion rings out of a basket like animals.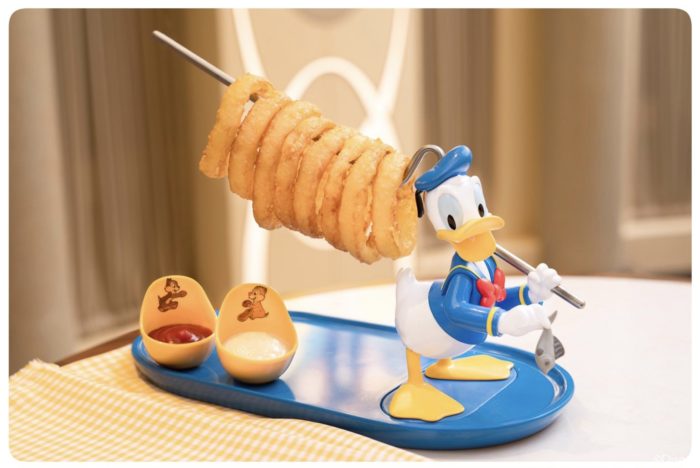 *Reason to love DisTwitter # 8,378
Every day there is someone on Twitter either posting great photos or giving some spectacular insight into theme park history. Here are some wonderful photos posted this month by @somewareatdiz.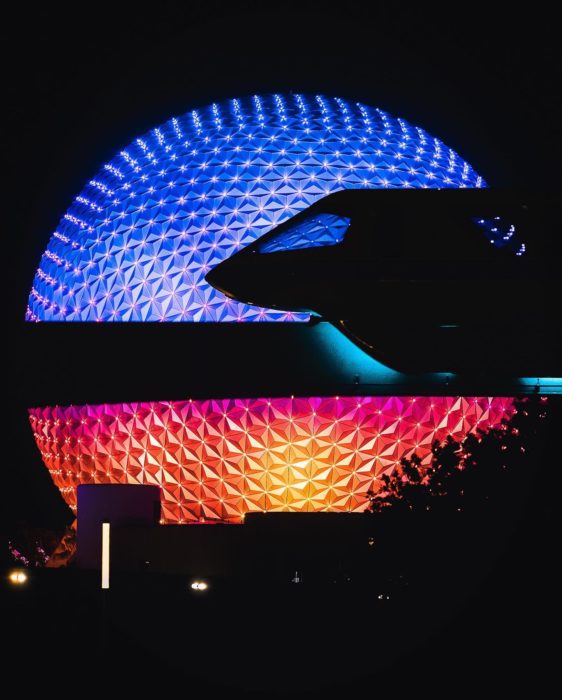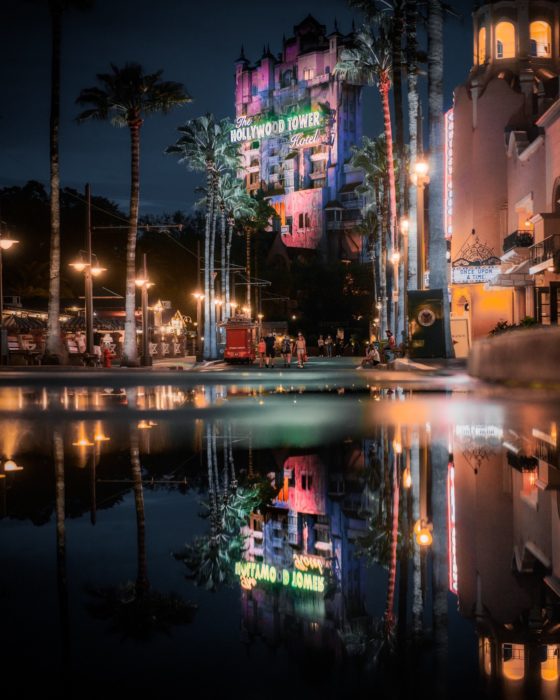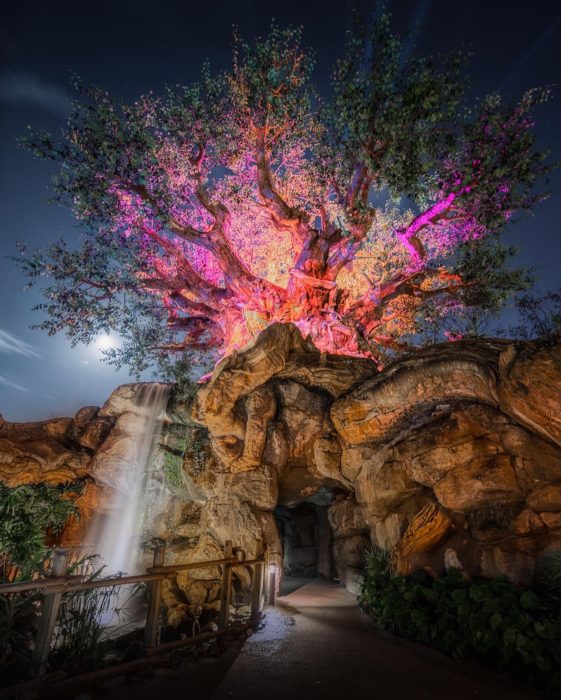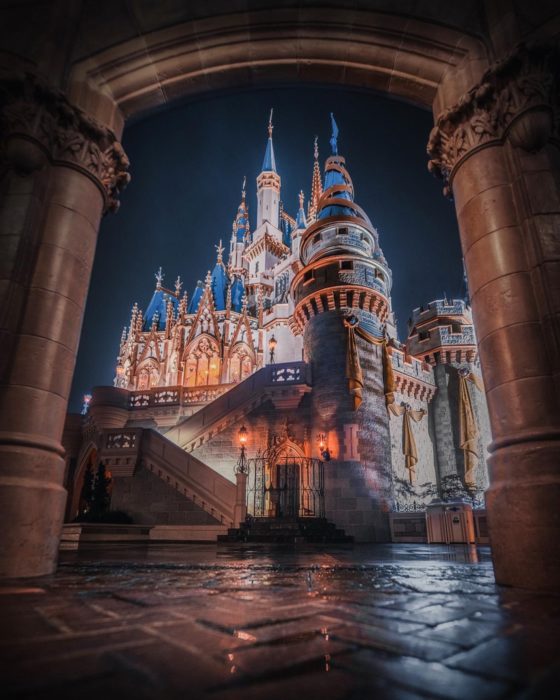 Another must follow on theme park social media for great in-park pics is @servoisnaked. She's always getting wonderful photos.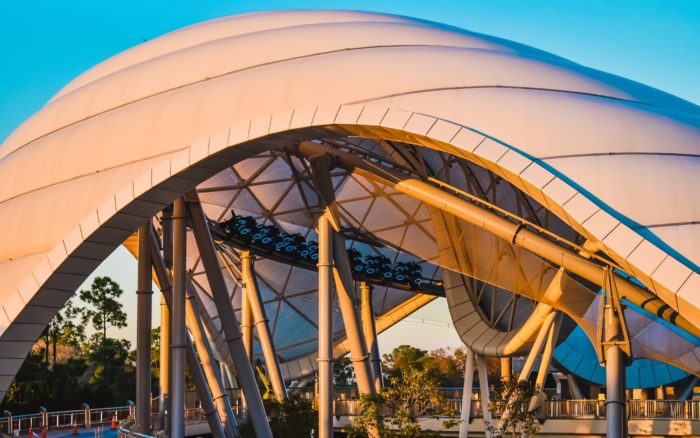 Another photo I loved from this month was a screencap from Kristin Legge which had Spaceship Earth peeking out from the fog like in a horror movie…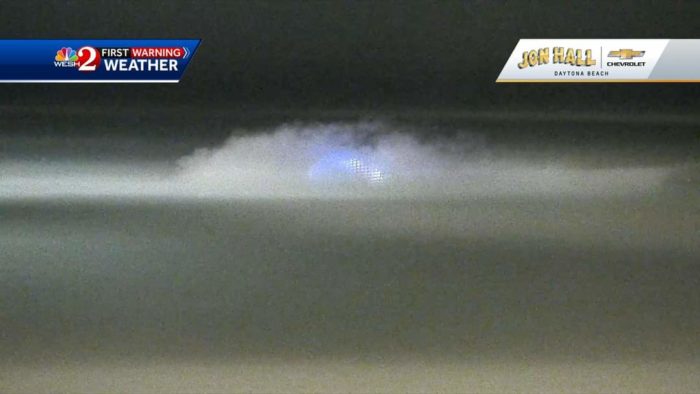 *Living with Working in The Land
It's rare, but sometimes you'll see actual Cast Members working in the Living with the Land labs and it is always cool.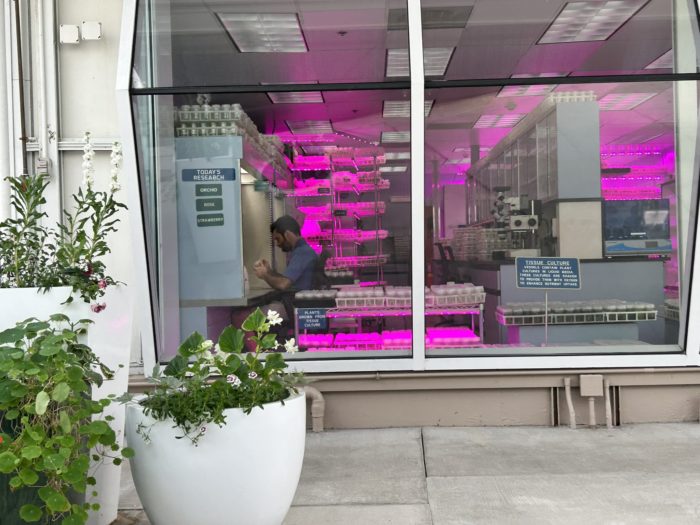 Over at Universal there is a similar situation in the queue for Men In Black: Alien Attack. Guests in line walk by the Immigration Room, which replicates a pretty memorable location in the MIB films. It is rarer than rare to see, but occasionally you just may catch an MIB Team Member "working" in the Immigration Room at one of the desks. It's something unique, and something I would argue Universal should have one Team Member do for five minutes every single day. One of those "did you see that?" type of moments which will stay with guests for years.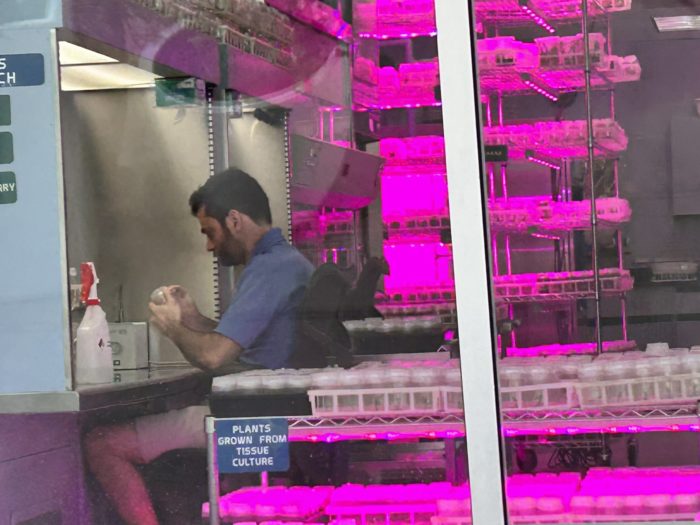 *The Day @bioreconstruct Went To The Hospital
On January 19th, the world stopped for us on DisTwitter when the shocking news came out that beloved blogger-in-the-sky @bioreconstruct had been admitted to the hospital just days after completing the full "Dopey Challenge" (participating in all events for a total of 48.6 miles) at this year's runDisney marathon weekend.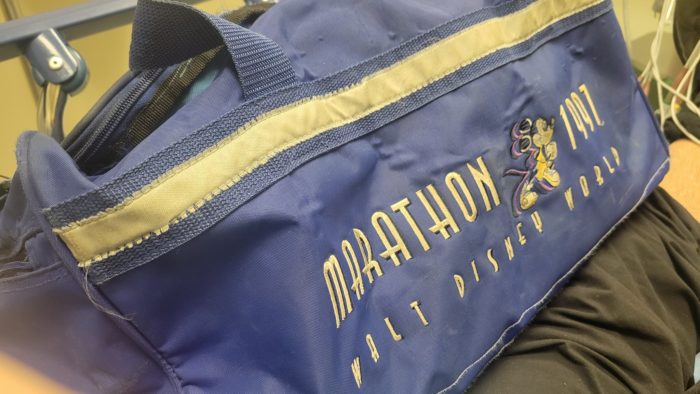 As you can imagine, the entire community was reeling. First the shocking revelation of an emergency immediately after we all saw Bio's amazing photographs throughout the previous runDisney events just days before, followed by the mystery of Bio being treated at a human hospital here on Earth. For those who saw the movie Elysium starring Matt Damon, I always assumed that was how Bio received his medical care and ability to defy the natural laws of aging… by taking a transport to some sort of high tech facility off planet.
Once the shock wore off, people on DisTwitter were immediately doing whatever they could to help.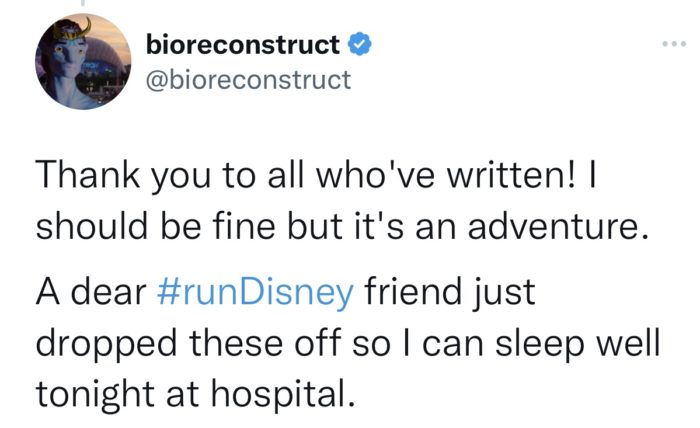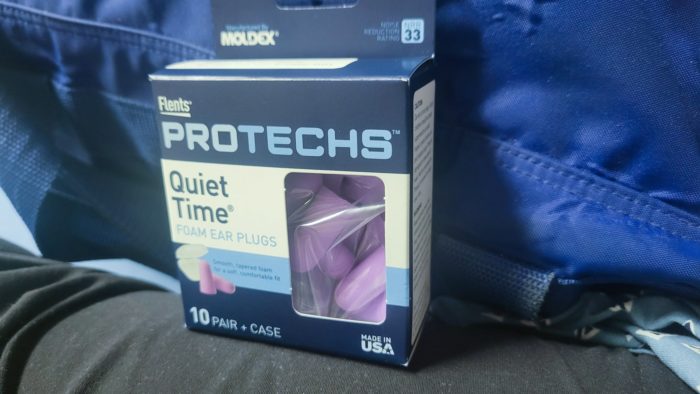 Many were sending supportive messages over social media along with "thoughts, prayers, and pixie dust." I know that may not sound like much, but for anyone who has gone through tragedy – or even something of an extremely serious nature in life – something small like words of support do help. Yes, it may be the very least all of  us can do to help each other, but the reality is it helps and that's all that matters. If there's one take away for all of you that comes from Bio's medical scare or the 10 years of theme park blogging that I've done, it's PLEASE take a couple moments each day of your life to let your friends, family, and loved ones know how much you care about them.
Anyhoo, back to Bio, who continued to get both moral support and people being generous with items to help his hospital stay.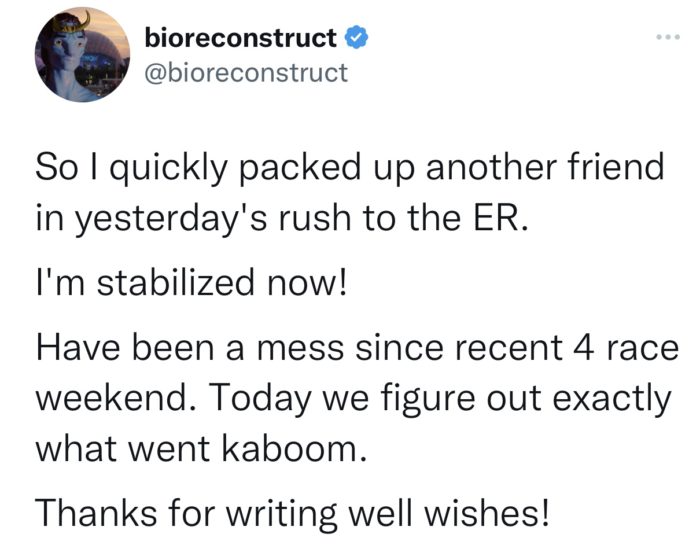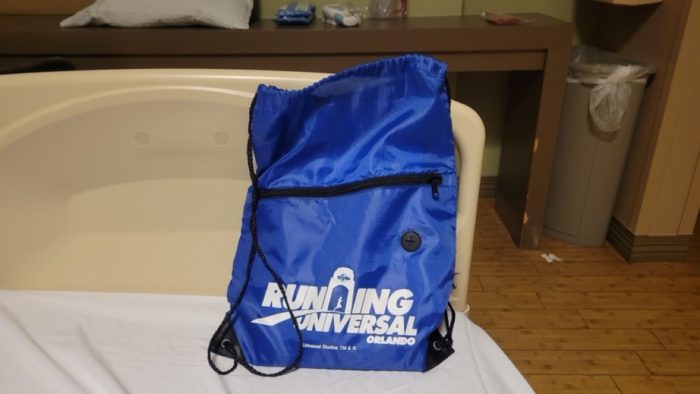 I personally was getting text messages from Bio showing me Theme Park Photography Approved pictures of his daily meals.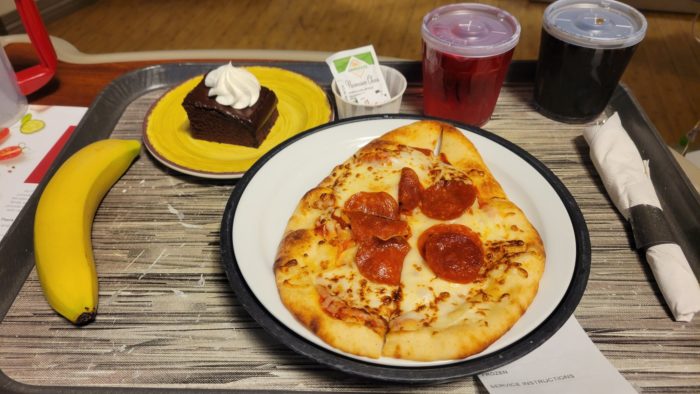 He would sometimes post his meals for all to see. I have to say with crinkle cut fries and decorative flowers, Bio's hospital cafeteria would beat 98% of theme park quick service restaurants. I bet he didn't even have to mobile order and they gave him an actual menu…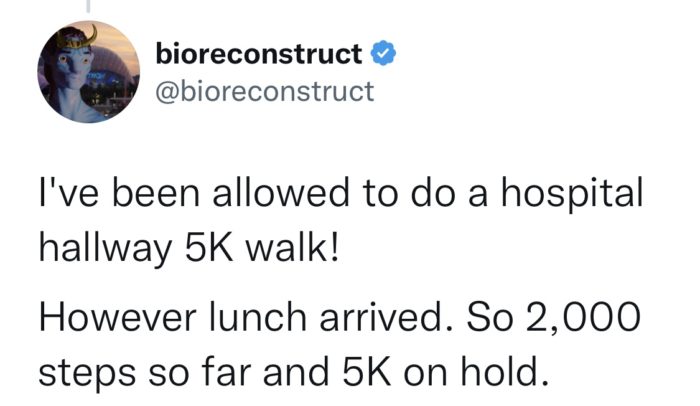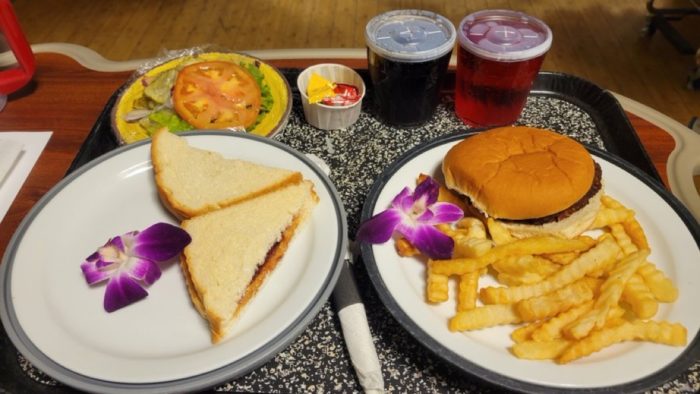 One of Bio's followers had a fun request…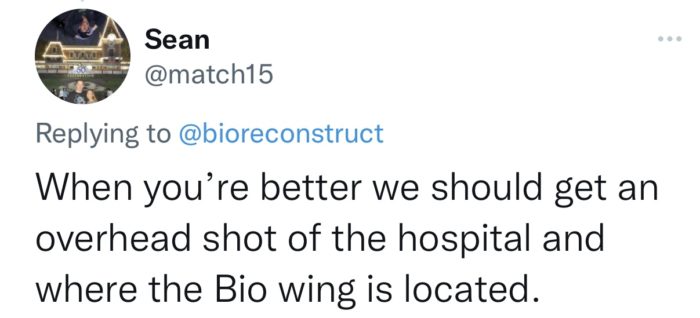 BUT, OF COURSE, BIO ALREADY HAD IT!!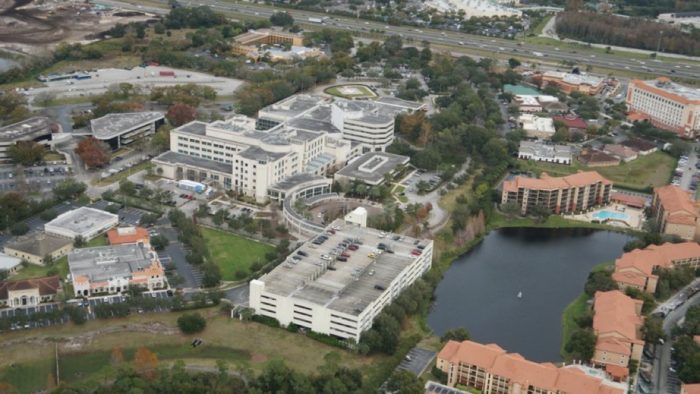 While not completely out of the woods, Bio has been released from the hospital and is well on the road to a full recovery. Below is an example of the article we had ready to roll out for today, but Len Testa himself said "you can't just have three sections on personal pizza and crinkle cut fries." So went did TPEI instead.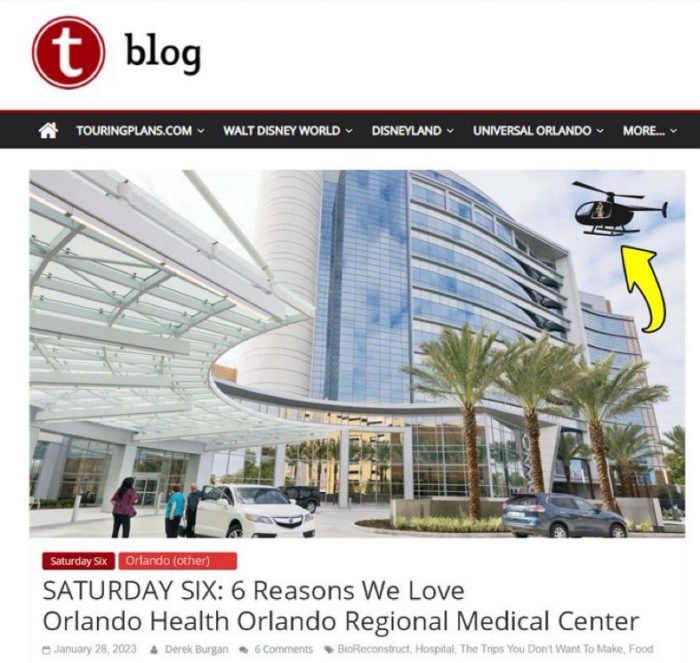 Our story is over right? NAY NAY. What did Bio do once released from the hospital? He had the medevac chopper do a flyover of EPIC Universe so he could let us know what changed since he went into the hospital…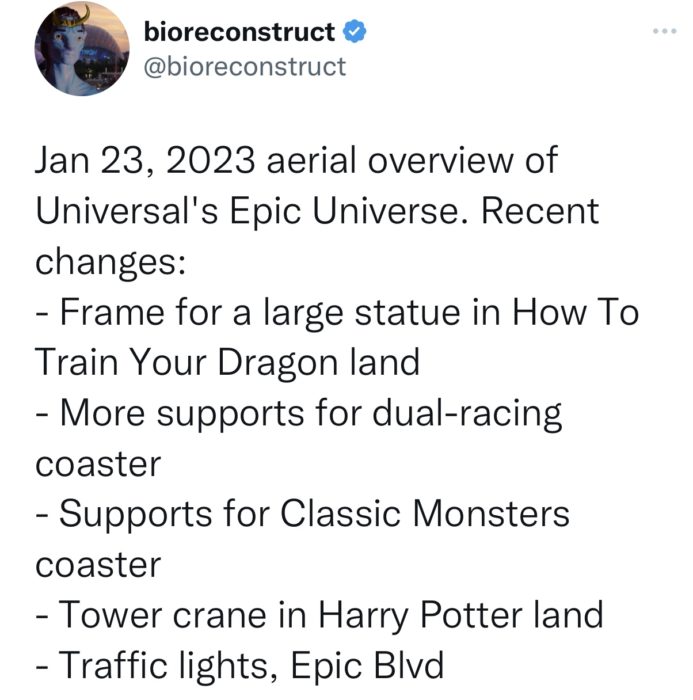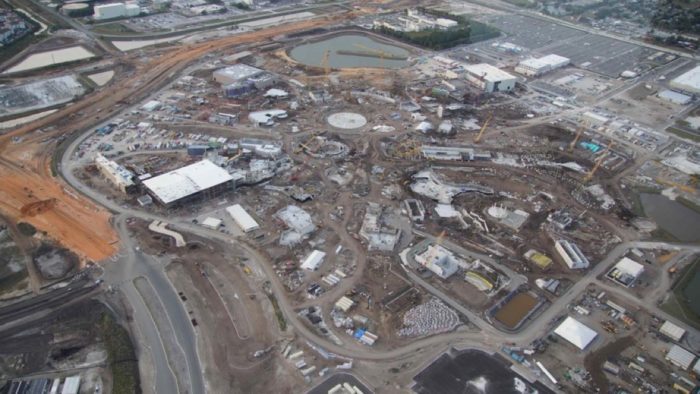 *Theme Park Merchandise update…
Social media maven Mark Diba posted his collection of Disney ornaments and I have to say, these pictures make me want to immediately collect Disney building ornaments.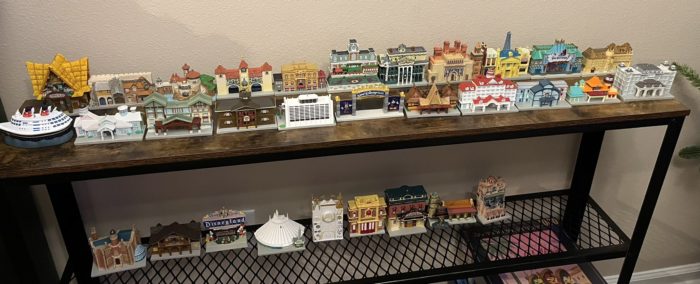 Mark also shared close ups of his favorites, including Pioneer Hall at Disney's Fort Wilderness…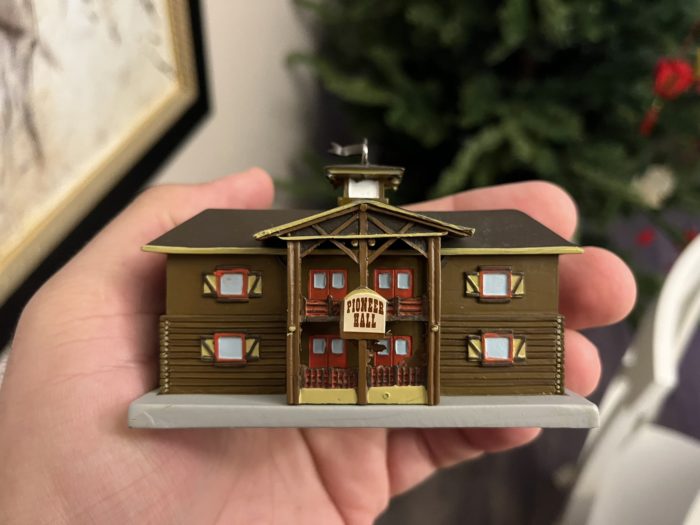 …home of the Hoop Dee Doo Musical Revue.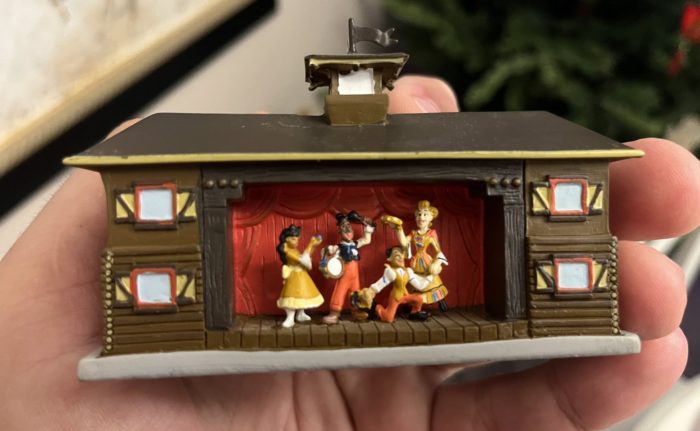 Morocco from EPCOT's World Showcase.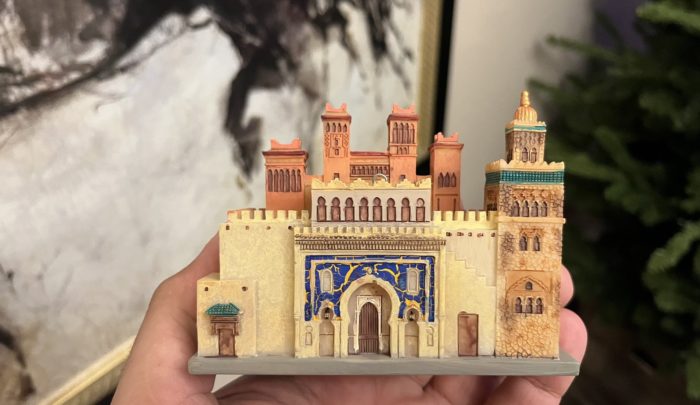 Main Street Train Station. Just incredible.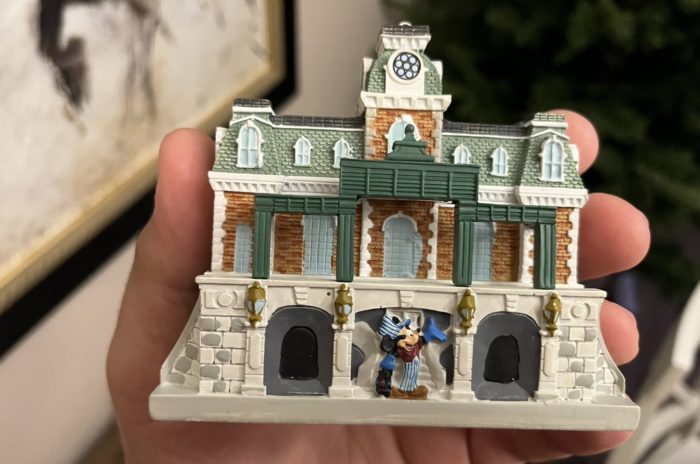 Absolutely love this La Cava Del Tequila shirt featuring some of their margaritas. This is available in the Mexico Pavilion at EPCOT.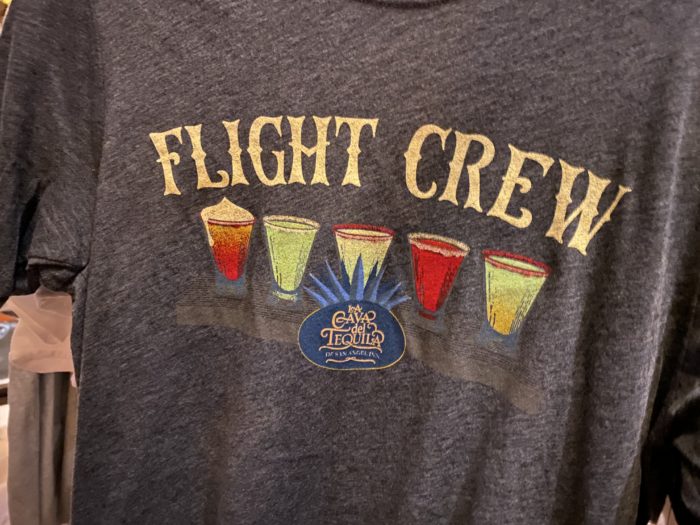 Over at DCA you'll see this Spider-Man polo shirt.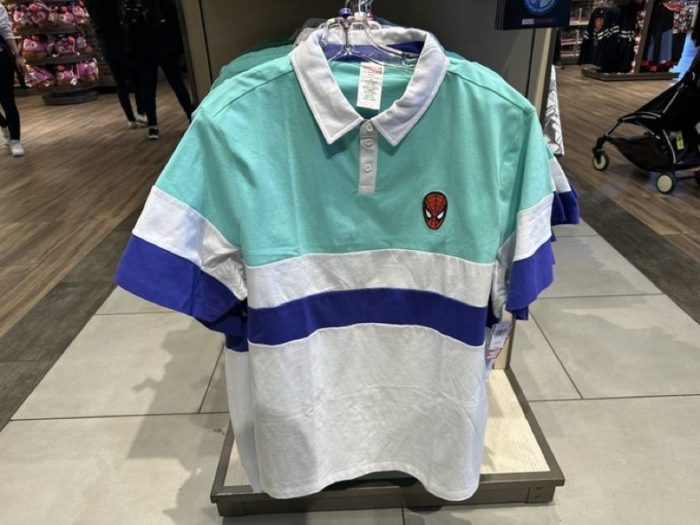 It may not seem like much, HOWEVER…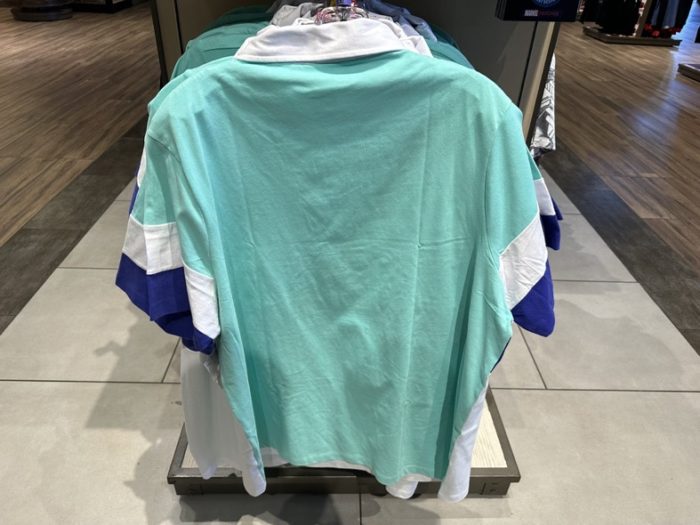 …it's a faithful recreation of the polo that Peter Parker wore during the animated Spider-Man cartoon in the 1990s! WOW!!!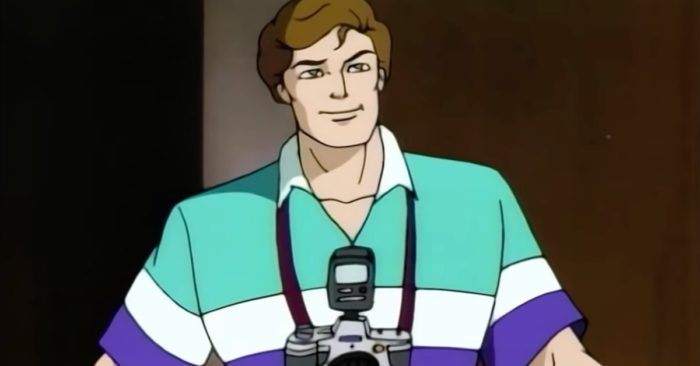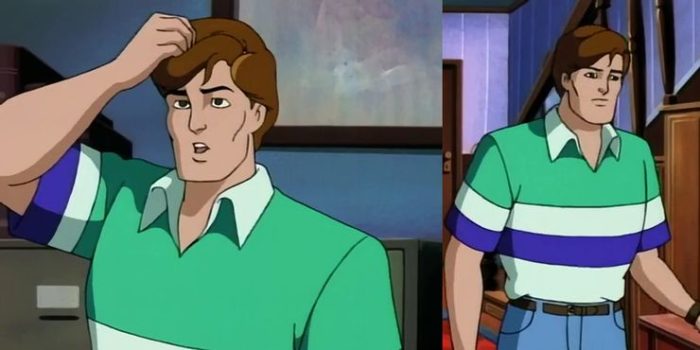 On the other end of the shirt spectrum was this runDisney shirt that came out during marathon weekend. Always weird seeing Mickey Mouse's actual feet, and even weirder to seem him pour what looks like a mustard bottle onto them.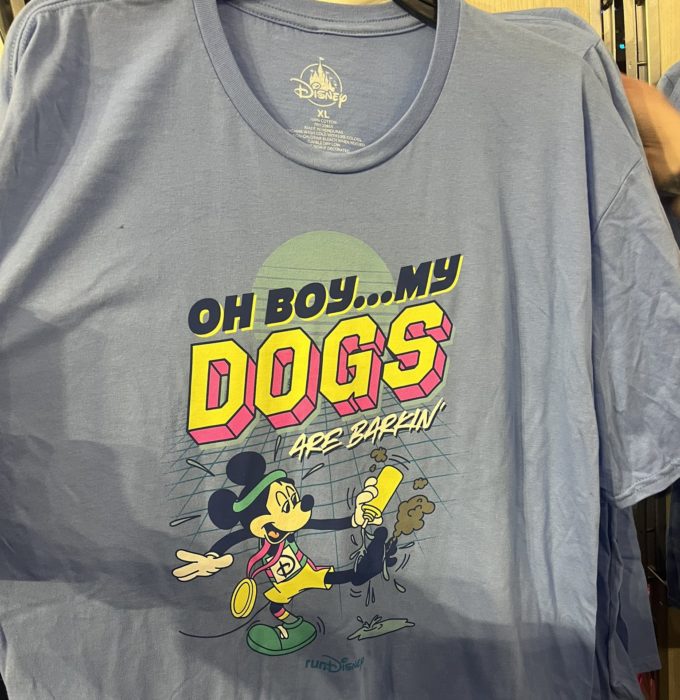 Speaking of runDisney shirts that are next level AWFUL, here's one for a fictitious "Star Wars" Marathon. So many weird things. First of all, what Star Wars fan – who wasn't a complete psycho – would want "roasted porg" on their shirt? Look at that weird trademark logo next to the "Nevarro Nummies." That's reference the one time in an episode of The Mandalorian when Grogu ate those blue looking macarons. Well, apparently a company licensed the name to make a limited batch of "Nevarro Nummies" and now we have to see that goofy trademark symbol. Power Converter? WHAAAAT?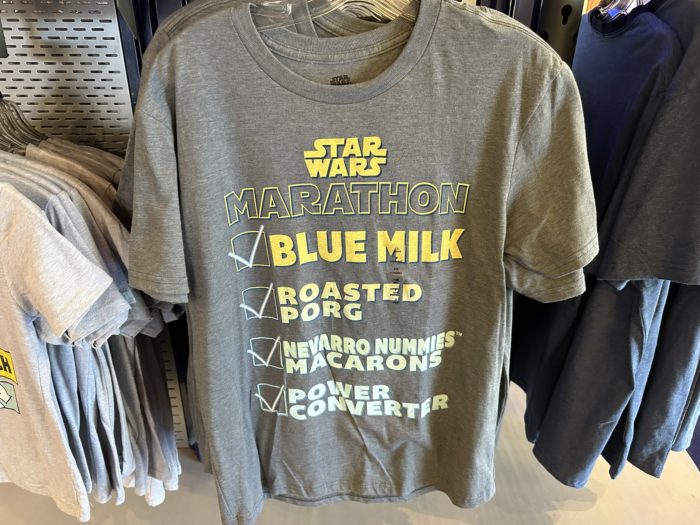 Just one question, who buys this shirt?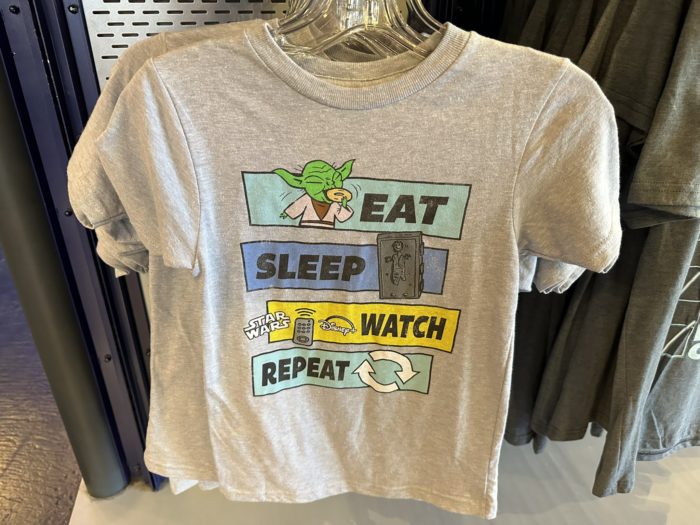 Ok, the "I love you. I know" shirts/hats/pins are weird enough in my book, but they make more sense than this Star Wars shirt.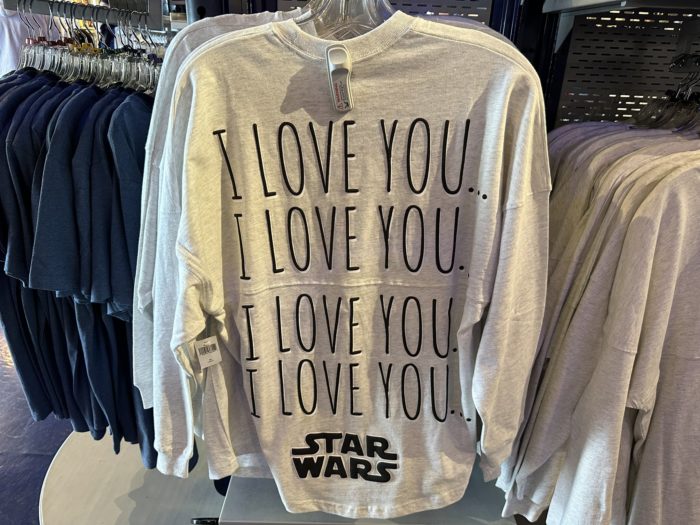 Get it? Boba Fett. Boba Tea. GET IT?!!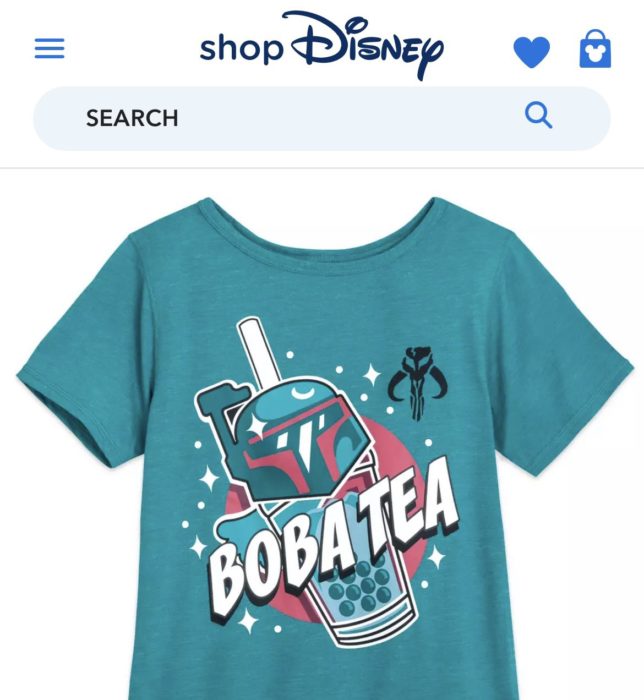 Okay, we need to take a break from the awfulness and get to some good products and for that we are going to have to leave actual Disney products and go to DISNEY FAN PRODUCTS. For a long time I've wanted to do an article on the industry which has popped up adjacent to the theme parks that is filled with incredible merchandise made by Disney and Universal fans like you and me. Earlier this month I saw a tweet from a company called The Lost Bros featuring this amazing shirt for The Wilderness Lodge. It's absolutely fantastic.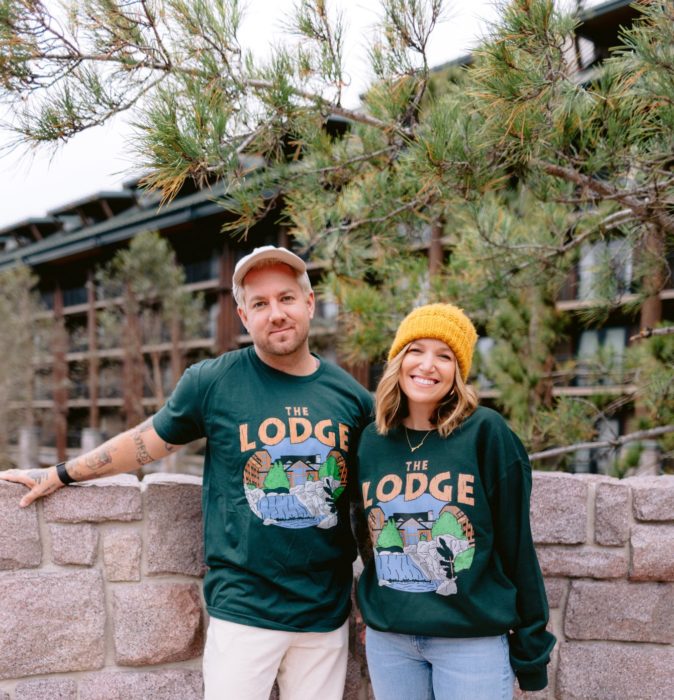 @TheLostBros reached out to me and asked if Bacini – the official dog of DisTwitter – would like a shirt. OH HELL YEAH HE WOULD.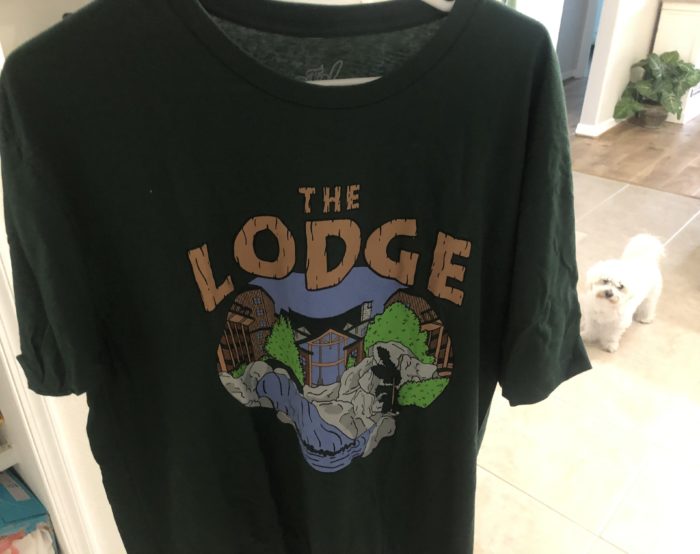 I've mentioned in previous merchandise articles that one little touch I like at Disney and Universal is when they make the effort to put logos on the inside of their shirts. This is generally reserved for premium brands such as The Wizarding World of Harry Potter, Star Wars: Galaxy's Edge, and Pandorda: The World of Avatar. Imagine my surprise when The Lost Bros had their own logo on the inside of their shirts. That's straight up E-Ticket in my book.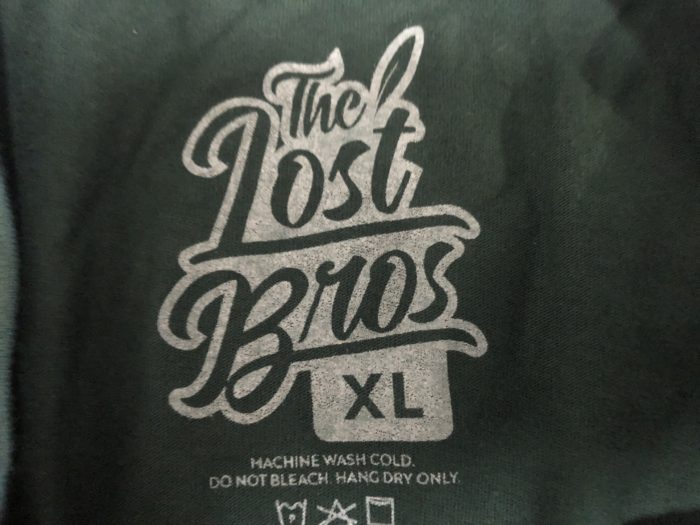 The Lost Bros produce a variety of fun products outside of incredible t-shirts, including a line of hot sauces that has their heat scale based around Summer in Florida. I tried "Florida in July" because we wanted to taste what it must be like to lick the surface of the Sun.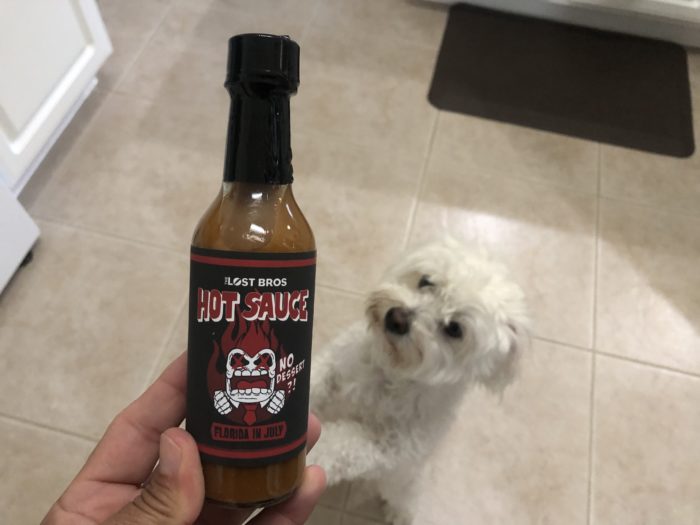 Look at this awesome Fort Wilderness-themed magnet.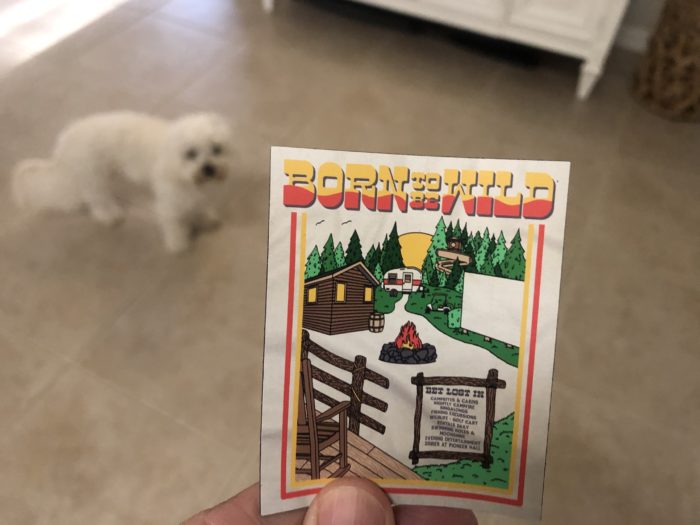 It immediately joined our magnet collection on the collectible fridge.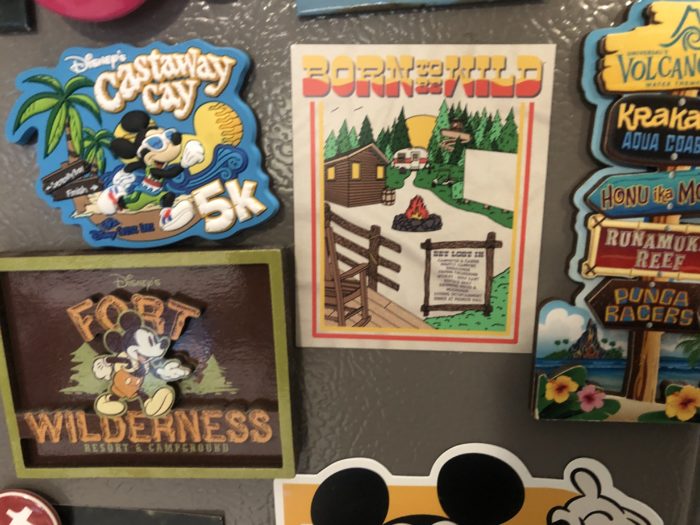 Overall review on merchandise from The Lost Bros? HIGHLY RECOMMEND. Check out The Lost Bros store by CLICKING HERE (Bacini and I have no financial relationship with The Lost Bros or any other company and receive nothing if you purchase anything. However, if you get this amazing 4 Park Friends Sweatshirt featuring cute versions of the WDW park icons, please send us a pic. It looks incredible!!)
Elsewhere on DisTwitter there was a poster who revealed his next level Carpet Wall sweater. Can  you imagine seeing this in person? WOW!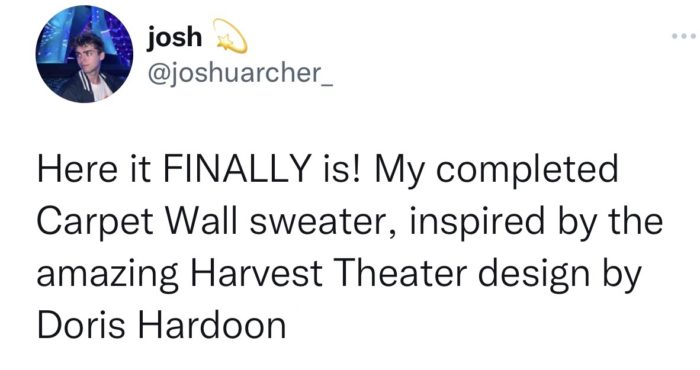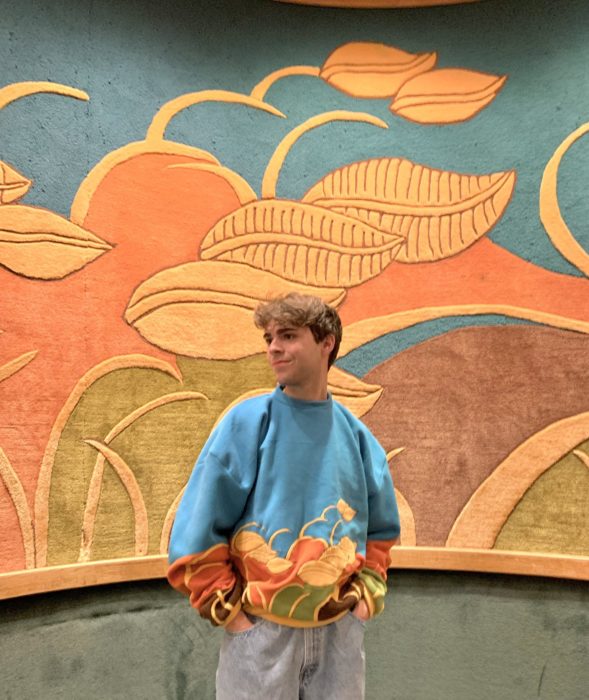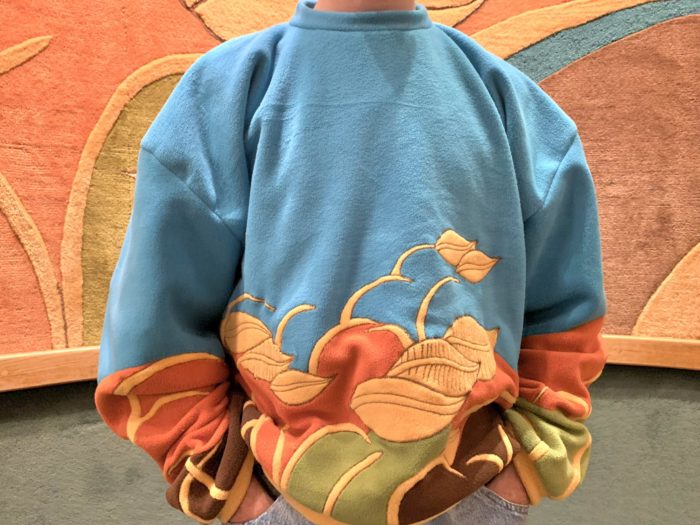 Over on the Universal side of fandom there was some cool stuff too, check this out…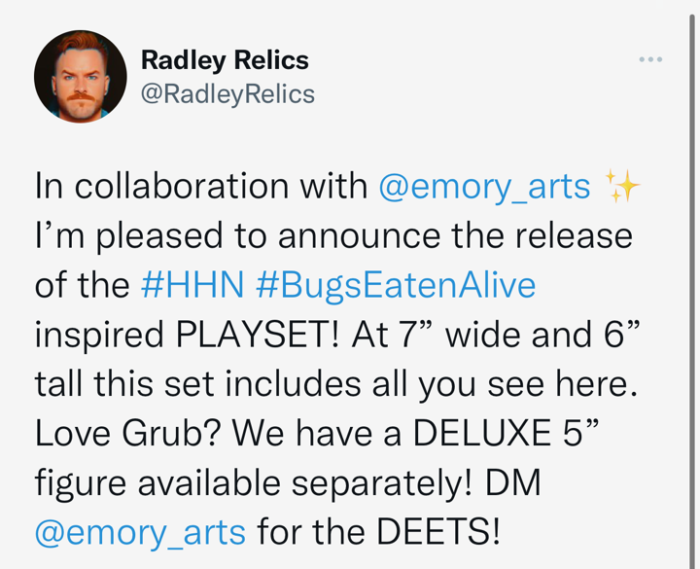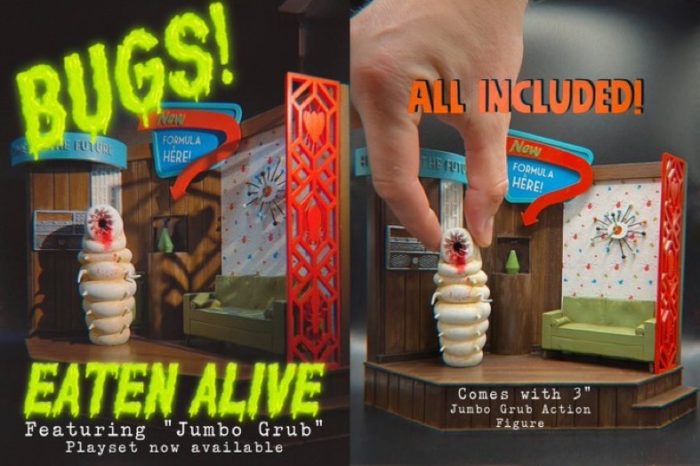 A playset featuring one of my personal all-time favorite HHN houses? ARE YOU KIDDING ME?!!!!! This is why the theme park fan community is so great. Not only are they talented, but they can deliver on products we would NEVER get from Disney or Universal.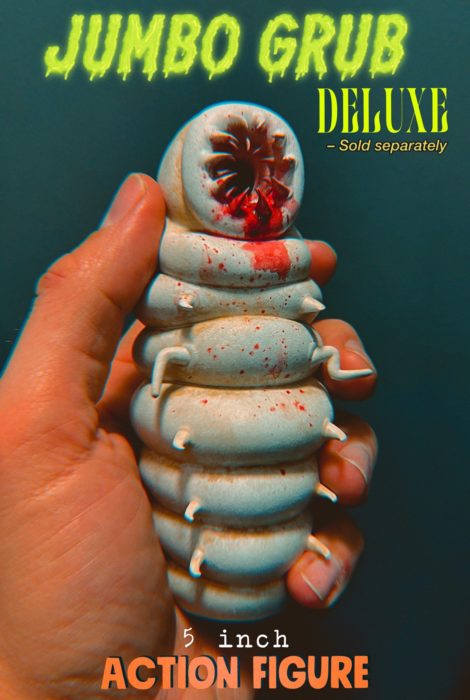 Last month's year's Theme Park Enjoyment Index: 32
This month's net change: -22
Current enjoyment level: 10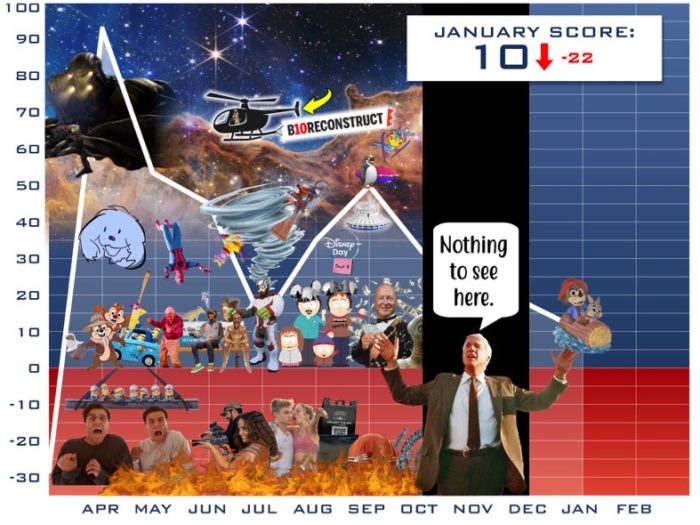 Writer Derek Burgan, when not cleaning Len Testa's pool, can be found reading comic books, watching professional wrestling, and taking his dog Bacini to Universal and Disney. organizing his various Tsum Tsums in alphabetical order. He will not, we repeat not, be found at a Disney Outlet Store. An official DisTwitter Influencer, you can interact with him @derekburgan
Digital Artist Scott Walker hails from Scotland and is the fifth most famous person from this country following Alexander Graham Bell, Ewan McGregor, Gerard Butler, and Groundskeeper Willie.