Around the Universe – Discounts and News for March 2023
Lets-a-go! Jump into Super Nintendo World, eat your way through carnival, catch up on construction around the resort, and discover the latest discounts in this month's Around the Universe. Grab a paczki and a hurricane, there is a lot to cover.
Mardi Gras 2023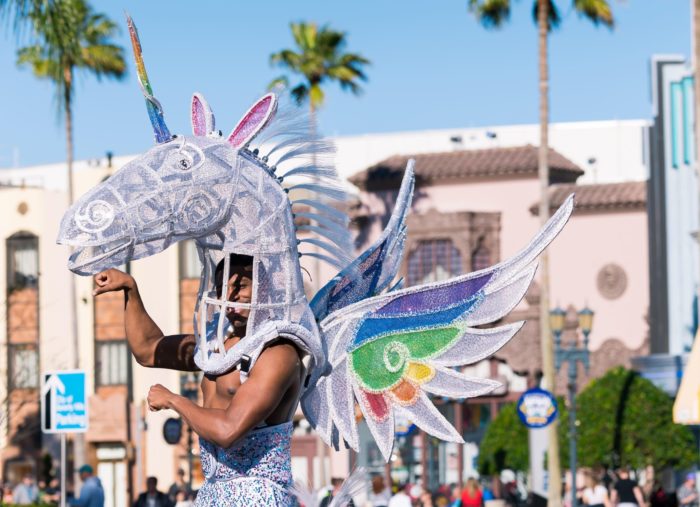 Feet don't fail us now! Universal's premier food festival, block party, and concert series return from February 4 through April 16 at Universal Studios Florida. Sample small plates inspired by carnivals worldwide in Universal Studios Florida, Islands of Adventure, and the hotels. Watch the daily Universal Mardi Gras parade featuring new floats or explore the new Mardis Gras Tribute Store.
Only two concerts remain in this season's series: Sean Paul on March 4 and Lauren Daigel on March 5. Concerts take place inside Universal Studios Florida on the Music Plaza Stage in front of Rip Ride Rocket. Shows start roughly at 8:30 pm.
For more information read up on our Mardi Gras 2023 guide (Blog: Universal Orlando Mardi Gras 2023 Guide) and food reviews (Blog: The Best Food at Universal's Mardi Gras 2023).
VelociCoaster Now Accepts Express Pass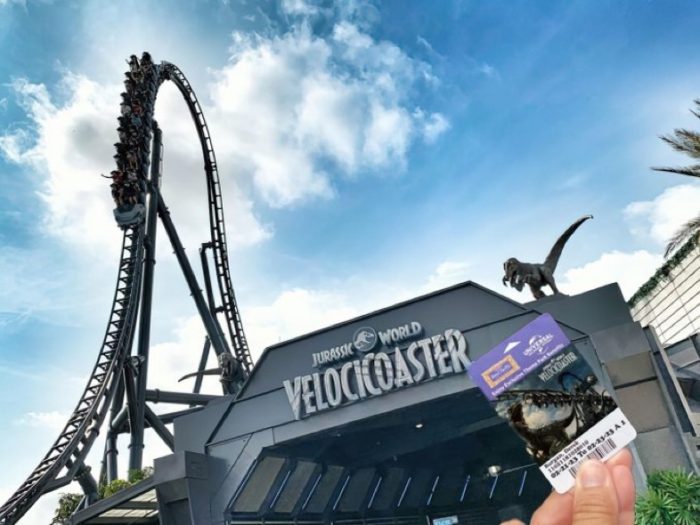 Premier resort lovers rejoice, Jurassic World VelociCoaster now accepts all levels Universal Express Pass! And just in time, we are noticing elevated wait times for VelociCoatser due to Hagrid's refurbishment and slower desipatch times. We hope Universal is working on improving the eficency of this guest favorite, capacity monster.
Minions Land & Villain-Con Construction
Aerial look at construction Minions Cafe. pic.twitter.com/OCtUa89Fa2

— bioreconstruct (@bioreconstruct) February 17, 2023
You cannot stop a despicable Minion as construction continues for the new Minion mini-land in USF. This new area of the park will combine Despicable Me: Minion Mayhem, the new Villain-Con: Minions Blast, and the new Minion Cafe into one themed area. Team Members are being informed that training on the new attraction starts in March which places the opening sometime in May or June 2023.
Villain-Con Minions Blast opens in the summer of 2023.
Super Nintendo World
Here we go! Across the country at USF's sister park, Universal Studios Hollywood, the brand new Super Nintendo World has officially opened to guests! Special guests Chris Pratt, Keegan-Michael Key, and Nintendo icon Shigeru Miyamoto joined the media on the red carpet extravaganza. This new interactive land stars Mario Kart Boweser's Challenge dark ride, Bower Jr Challenge where guests complete games to take on Bowser Jr, Toadstool Cafe, Mario characters, and more!
Contact Touring Plans Travel for Universal Studios Hollywood tickets and vacation planning!
Epic Update
Speaking of Nintendo, head of Universal Parks & Resorts Mark Woodbury confirmed the worst kept secret in the themed entertainment industry – Super Nintendo World is coming to Epic Universe.
Aerial overview of the front of Super Nintendo World in Universal's Epic Universe. pic.twitter.com/2elvcV8rAB

— bioreconstruct (@bioreconstruct) February 18, 2023
The east coast version will be modeled after the Japanese version with a two-story land, Yoshi attraction, and Donkey Kong coaster.
An over the tree line view of the dual-racing roller coaster in Epic Universe. The first hill with track. As seen from Universal Blvd. pic.twitter.com/BHhVLhZRA2

— bioreconstruct (@bioreconstruct) February 19, 2023
The dueling thrill coaster located in the hub of the park is rising, with the above dual top hat elements the most recently installed. This new coaster will take guests on a launched race and is rumored to be named Starfall Racers.
Aerial look at the roller coaster in Classic Monsters land. Likely a shuttling coaster, back and forth in the twisted sections. Then the train travels a full circuit back to the station. pic.twitter.com/HHOw4Zllns

— bioreconstruct (@bioreconstruct) February 18, 2023
A close up of the enclosed structure riders will pass under in the Monsters roller coaster. #EpicUniverse pic.twitter.com/okPUFSBSwW

— Cygnus (@CygnusParkYT) February 16, 2023
The family spinning coaster in the Universal Monsters land is coming together well. All the coaster track is now installed and construction is progressing on a themed hut building in the middle of the ride. This coaster is expected to offer several gimmicks, including a swing launch like Ice Breaker at SeaWorld Orlando.
The statues welcoming you to the HTTYD land. #EpicUniverse pic.twitter.com/vWSKOtDYC5

— Cygnus (@CygnusParkYT) February 16, 2023
Finally, we have some stonework starting in the  How to Train Your Dragon land. Two massive entryway statues are receiving their mesh and concrete layers which skilled artisans will turn into the figures from the movies. These two statues stand at the entrance to the Isle of Burk and will feature fire effects.
Universal's Epic Universe theme park opens in the summer of 2025.
Discounts
FL Residents – Buy Two, Get Two Days Free Ticket starting at $194 per adult plus tax
FL Residents – 35% off hotels based on availability
All Guests – 20% off Sapphire Falls rooms from February 4 through April 16, 2023
All Guests – 20% off two-room suites at Endless Summer hotels
All Guests – 25% off five-day vacation packages with stays at Cabana Bay or Aventura
All Guests – Buy Two, Get Two Days Free Ticket starting at $292 per adult plus tax
For more deals, including discounts on vacation packages, visit the Universal Orlando website or book your Universal vacation with the TouringPlans Travel Agency.
Refurbishments
The following attractions are closed for refurbishment:
Hagrid's Magical Creature Motorbike Adventure – February 21 through March 5, 2023
Me Ship, The Olive – February 3 through March 10, 2023
Popeye & Bluto's Bilge-Rat Barges – February 13 through March 10, 2023
For the most up-to-date listing of refurbishments refer to the Universal Orlando website.
Contact the travel agents at TouringPlans Travel Agency who can book you a Universal Orlando, Walt Disney World, Disneyland, or Disney Cruise Line vacation. All quotes are free, and if you decide to purchase through us, you will get a free year subscription to the TouringPlans Line app for Universal Orlando.