Universal Orlando Mardi Gras 2023 Guide
Laissez Les Bons Temps Rouler! Universal Orlando's Mardi Gras celebrates all things carnival from around the world with food, concerts, a themed parade, and much more. In this article, we will cover all there is at Universal's Mardi Gras including concert schedules, parade times, food options, and touring tips.
Universal's Mardi Gras 2023 runs from February 4 through April 16, 2023, and is included with park admission.
What is Universal's Mardi Gras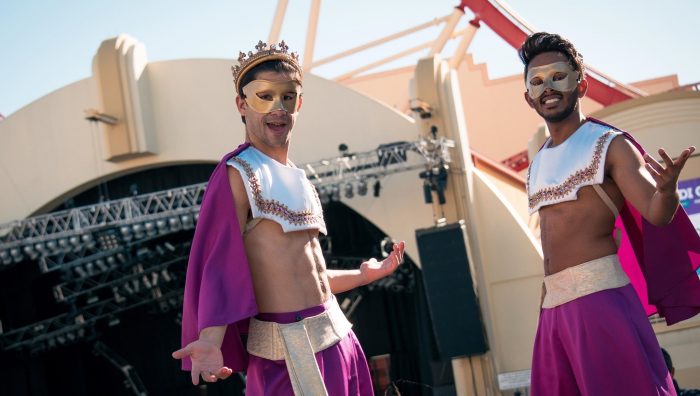 Universal's Mardi Gras celebrates carnivals celebrated all over the world, but mostly focuses on Mardi Gras in New Orleans, LA. The party started in 1996 with a parade furnished by the New Orleans fabrication firm Kern Studios. Designed to bring in the locals during a quiet period of the year, Mardi Gras kept expanding with bigger musical acts and a longer season. In 2018 the event went to daily operations with Universal stepping up its food festival offerings. Now guests can sample exclusive foods from around the world, ride on a New Orleans parade float, walk through the Tribute Store, or catch a headliner concert.
New for 2023 is an expanded focus on food with food booths in Islands of Adventure, CityWalk, and the resorts. Grab a cocktail at the new Cursed Coconut Club in CityWalk, a themed bar experience.
Mardi Gras Food Festival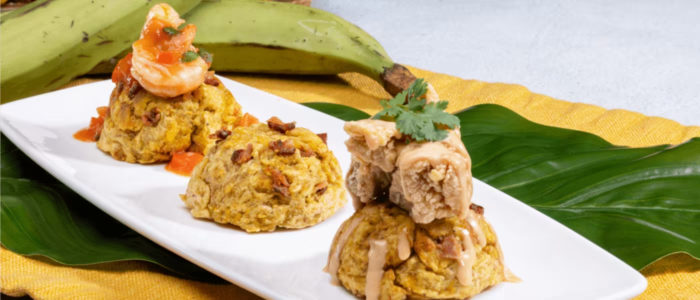 Mardi Gras is Universal's premier food festival and features over 50 dishes and dozens of cocktails from all over the world. Similar to Epcot's foot festival, temporary structures are placed throughout Universal Studios Florida, with booths featuring food and beverage options appropriate to the host country. This year the fun expands to Universal's Islands of Adventure Port of Entry, CityWalk, and the hotels with New Orleans and Medeterranian-themed options.
Booths open at 11:00 am and close half an hour before the park closes. Menu items range in price from $5 to over $15 with most dishes around $9-12.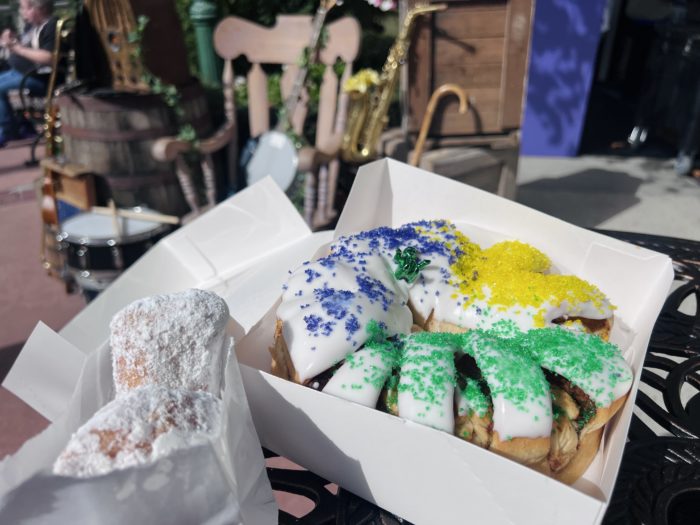 Below are the food menus for the 2023 Universal Mardi Gras.
Universal Studios Florida Menus

Belgium
Bridge between Simpsons and Men in Black

Brussels Fries
Orval Trappist beer
Rochefort Trappist beer

Brazil
Animal Actors/E.T.

Picanha Skewers (beef)
Linguiça Skewers (sausage)
Chicken Coxinha
Brigadeiros Trio
Mango Caipirinha cocktail (cachaça)

Guava Caipirinha cocktail (cachaça)

Canada
New York (across from The Mummy)

Canadian Snowshoe (Maple

Candied Maple Bacon

Slocum Maple Smash cocktail (vodka)

Collective Arts

NOLA Central City
Central Park

Crawfish, Shrimp, and Combo Boils

Beignets

Category 5 Punch cocktail (rum)

Abita Purple Haze

Oh Baby exclusive beer

Colombia

Colombian Empanadas

Arepas de Queso

Refajo shanty beer

Coco Loco cocktail (rum and tequila)

Choladas shaved ice

Denmark
Old Fear Factor Live theater

Rød Pølse

Frikadeller Meatballs with Danish Gravy

Mead options

Carlsberg pilsner beer

France
Central Park

Muffaletta Crepe
Wine selections

NOLA French Quarter

King Cake
Beignets
Oh Baby exclusive beer

Category 5 Punch cocktail (rum)

Abita Purple Haze

Goombay Smash cocktail (rum)

Germany
Bridge between Simpsons and Men in Black

Chicken Schnitzel with Käsespätzle

Potato Pancakes
Reissdorf beer
Warsteiner Pilsener beer

Weihenstephaner Helles

Tucher Helles Hefe Weizen beer

Gaffel Kolsch beer

Ayinger Celebrator

India
San Francisco (across from Fast & Furious exit)

Pav Bhaji

Onion Bhaji

Gulab Jamun with Rose Water Syrup

Nimbu Pani

Aam Panna

Indonesia

Indonesian Style Chili Crab with Fried Mantou

Nasi Goreng

Bubur Ketan Hitam

Bali Punch cocktail (rum)

Java Cooler cocktail (rum)

Italy

Tour of Italy Arancini Flight

Gelato Stuffed Pressed Brioche (aka fancy ice cream sandwich)

Wines

Japan
New York (next to Haagen Dazs ice cream store)

Ube Ice Cream Sesame Bubble Waffle Cone
Nikuman Bun Sampler (stuffed buns)
Okonomiyaki (savory cabbage pancakes with fillings)
Japanese Highball cocktail (whiskey)
Sake selections
Sapporo Silver and Kirin Ichiban beers

Mexico

Al Pastor tacos
Baja Shrimp Ceviche Tostada

Vegan Churros

Elote

Grapefruit Paloma

Modelo beer and beer cocktails

Puerto Rico
New York (across from The Mummy)

Mofongo Trio

Alcapurrias (beef and vegan options)

Classic Piña Colada cocktail (rum)

Shaved ice

Spain
San Francisco (across from Fast & Furious entrance)

Paella Mixto

Spanish Bocadillo

Leche Frita

Sangria options

Trinidad and Tobago

Crab & Dumplings

Chickpea Doubles

Pholourie

Carib beer and beer cocktails

Islands of Adventure Menus

Mardi Gras Hits
Port of Entry

Jambalaya

Shrimp Gumbo

Oh Baby exclusive beer

Category 5 Punch cocktail (rum)

New Orleans Desserts
Port of Entry

Beignets
King Cake
Oh Baby exclusive beer

Category 5 Punch cocktail (rum)

CityWalk Menus

New Orleans

Shrimp and Smoked Cheddar Cheese Rice Grits

Yakamein (cajun beef stew with noodles)
Cauliflower Dirty Rice
Crawfish Etouffee
Oh Baby exclusive beer

Category 5 Punch cocktail (rum)

Abita Purple Haze wheat beer

Taste of the Mediterranean

Crepe Suzette
Grilled Octopus with Potatoes
Wine selections

Hotel Menus

Portofino Bay

Trattoria del Porto – Canjun Jambalaya Pasta and Masquerade Cannoli
The Thirsty Fish – Boulevardier cocktail (bourbon)
Splendido Bar & Grill – Mojito Lampone cocktail (vodka)

Hard Rock

The Kitchen – Bourbon Street Beignets, French 75 cocktail (gin)
Velvet Bar – N'Awlins P0' Boy Sliders, French 75 cocktail (gin)
beachclub – Hurricane cocktail (rum)

Royal Pacific

Islands Dining Room – King Cake Pancakes
Orchid Court Lounge & Sushi Bar – Orchid cocktail (gin)
Tuk Tuk Market – Chocolate Bomb

Sapphire Falls

Amatista Cookhouse – Shrimp & Andouille Sausage Gumbo Pot Pie
Strong Water Tavern – Cucumber Hurricane Twist cocktail (rum)
New Dutch Trading Co. – Traditional King Cake

Cabana Bay

Galaxy Bowl Restaurant – Shrimp Po' Boy With Zapps Chips and Laissez Les Bons Temps Rouler Hurricane cocktail (rum)

Aventura

Bar 17 Bistro – Crawfish Etouffee and Muffuletta Sandwich
Bar 17 Bistro and Bar Ventura – Hurricane cocktail (rum) and Sazerac cocktail (whiskey)

Endless Summer – Surfside

Beach Break Café – New Orleans BBQ Shrimp & Dirty Rice
Sand Bar – The Endless Carnival cocktail (rum)

Endless Summer – Dockside

Pier 8 – New Orleans Cajun Roasted Chicken & Dirty Rice
Sunset Lounge and Pool Bars -The Endless Carnival cocktail (rum)
The Universal Orlando Food & Beverage Card is a prepaid food gift card accepted at all food booths and restaurants. Cards cost $65 and include $75 worth of dining credit, a $10 savings. Cards have no expiration date and prior years' card balances are still valid at this year's Mardi Gras food booths. Since the card works at all restaurants in the parks and CityWalk you can save some serious money on meals. For example, guests can purchase $525 in dining credit for $455.
Touring Tips: Long queues form quickly at some booths, such as the France booth at Central Park Crepes. Booth waits fluctuate, with afternoons on weekdays being the least crowded and evenings on the weekend is the most crowded. We suggest picking up a tasting card and planning your route to start at 11:00 am sharp.
Mardis Gras Parade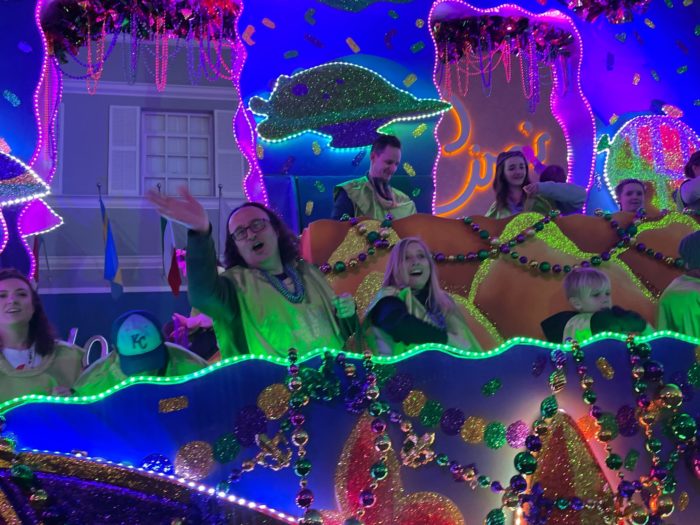 Straight from New Orleans is Universal's Mardi Gras parade, featuring floats designed by the world-renowned Kern Studios of NOLA. This ain't no Disney parade, this one starts with a full police motorcycle escort followed by dozens of dancers, stilt walkers, and decked-out floats full of guests. Did I mention guests can ride the floats? Yup, guests can ride the floats, and as is New Orleans tradition, toss beads to the crowd. Don't get any funny ideas, this is a PG parade where the most risque thing is some bare midriffs.
This year's theme is the "Mythical Realms of Mardi Gras" and features fantastical creatures from around the world. New floats with this theme will join the perennial classics like the King Gator and Riverboat floats. The parade runs daily in the evenings:
6:15 pm:
• February 5 – 9, 12 – 16, February 26 – March 2
7:30 pm:
• February 17, 20 – 24; March 3, March 6 – April 16
7:45 pm:
• February 4, 10 – 11, 18 – 19; March 4 – 5
Float riding is available for Universal Orlando Annual Passholders online, regular day guests can book a reservation using the Universal Orlando app on the day of. If you want a guaranteed spot then consider purchasing the Float Riding Ride & Dine Experience starting at $84.99 per person. Your float riding spot is guaranteed plus you get an appetizer, entree, dessert, and soft drink at one of several USF and CityWalk restaurants. Be warned, dining spots are in the late afternoon, around 3:30 to 4:30 depending on the parade time.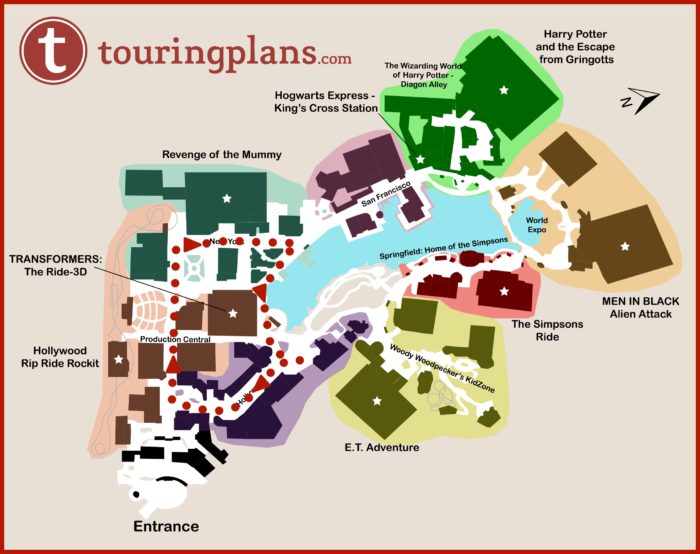 Touring Tips: Universal's Mardi Gras parade lasts for 15 minutes and takes 45 minutes to make its way through the park. The parade starts at the Horror Makeup Show and then moves clockwise through the park. We suggest picking a spot between Transformers at the lagoon for the most elbow room. If you know someone on the floats pick a spot in Hollywood for photos then head over to Mel's Drive-in and Transformers for a second chance at photos and beads.
Concert Series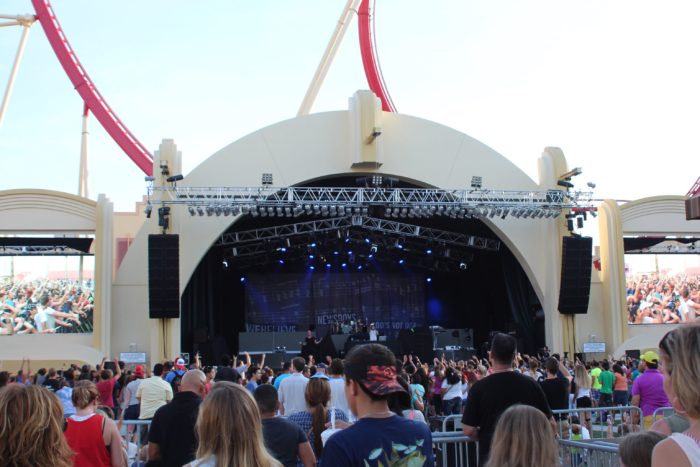 What is a party without some music? This year Universal features big-name acts to smaller jazz bands. Jazz Bands perform in the New York section of the park daily, afternoon through evening. Larger musical acts perform on weekends at the Music Plaza stage located next to Race Through New York starring Jimmy Fallon.
February 4: Patti LaBelle – Come on it's Patti LaBelle. 'Nuff said.
February 10: JVKE – Singer-songwriter famous for his viral music hits on Tik-Tok and YouTube.
February 11: Goo Goo Dolls – 90s hits factory including their most famous Iris (trust me you know this song)
February 17: Marren Morris – a singer-songwriter who blends their country roots with pop, hip-hop, and R&B
February 18: Willow – SNL musical artist, raved by NYT and Rolling Stone, what more do you want?
February 25: Three Doors Down – Multi-platinum artists who are best remembered for their hit, Kryptonite
March 4: Sean Paul – Nominated for 9 Grammys and is one of dance music's most prolific artists
March 5: Lauren Daigle – Closing out Mardi Gras concert series is a NOLA native and two-time Grammy winner
The concerts start at 8:30 pm and run for approximately 80 to 90 minutes.
Touring Tips: Concerts vary in popularity from fun diversions to crowds so large they shut down the park. If you are planning on attending a concert we suggest showing up at least two hours early to Universal and staking out your spot 30 to 45 minutes prior to showtime. If you are not interested in attending the concert we suggest avoiding the Production Central and New York areas of the park and staying towards San Francisco, London, World Expo, and Hollywood.
Mardi Gras Misc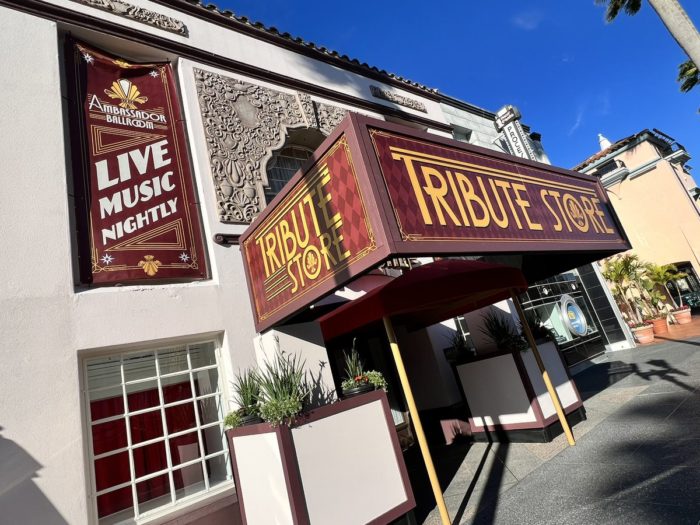 Universal's Tribute Store combines intricately themed spaces with exclusive merchandise and snacks. Each Tribute Store features a new theme, with this year's store pulling inspiration from New Orleans jazz clubs and speakeasies. Inside guests walk through several decorated rooms filled with Mardi Gras apparel, home goods, souvenirs, snacks, and photo opportunities. Tribute Stores are free to experience and open with the park, tour at any time.
Cursed Coconut Club, located in CityWalk by Bob Marley – A Tribute to Freedom, is a themed bar that embraces the spooky side of New Orleans. Universal has remained tight-lipped about this experience, we will update this post with more information once the bar opens for guests. The Cursed Coconut Club is open on select event days from 5:00 pm till CityWalk closes.
What is your favorite part of Universal Marid Gras? Have a dish you have your eyes set on? Leave your thoughts in the comments below!