The Best Dessert and Breakfast at Universal Orlando
We've already taken a look at the best full-service and counter-service restaurants at Universal Orlando Resort. Now it's time to take a step back from the bigger picture and dive into the scrumptious details, considering some of the best individual meals instead of a holistic dining establishment.
And it just so happens that these best of the best dishes at the ever-expanding resort are probably ones that you'd normally – and tragically – pass by, making this spotlight all the more necessary.
Let's tuck in.
Dessert: Cinnamon Berries
If you would normally eschew NBA City during your rounds at Universal CityWalk, we could hardly blame you. The first location of a proposed chain that never really managed to take off, the restaurant features bland décor and, should current scuttlebutt prove true, an incredibly short lease on life (Universal is currently in the midst of booting all older or under-performing venues from CityWalk and replacing them with more original – and more intriguing – fare).
Still, the tastiest treat to be had in nearly all of Orlando calls NBA City home, which makes the occasional pilgrimage to the restaurant absolutely necessary – even if the visit takes only five minutes and consists solely of eating the Cinnamon Berries ($7.99) at the bar.
What makes the dish so delectably memorable? Whole strawberries are fried in a tempura batter, rolled in cinnamon sugar, placed in a cinnamon tortilla basket, and covered with crème anglaise and strawberry sauce. Oh – there's also a scoop of vanilla cream, serving as both the perfect finishing touch and balance to the rest of the dessert. As delicious as the description sounds, words can't do it justice – the combination of strawberries and cinnamon is divine, and the addition of ice cream and tempura is light but wonderfully filling. It's just the right alignment of tastes and densities of food, and it's just different enough to distance itself from all the other dessert options at Universal Orlando, placing it in a league of its own (no pun intended).
Do yourself a favor and try the Cinnamon Berries before NBA City is lost to the ages – it'll easily become the highlight of your gastronomical adventures at the resort, if not the entire city.
Breakfast: Cinnamon French Toast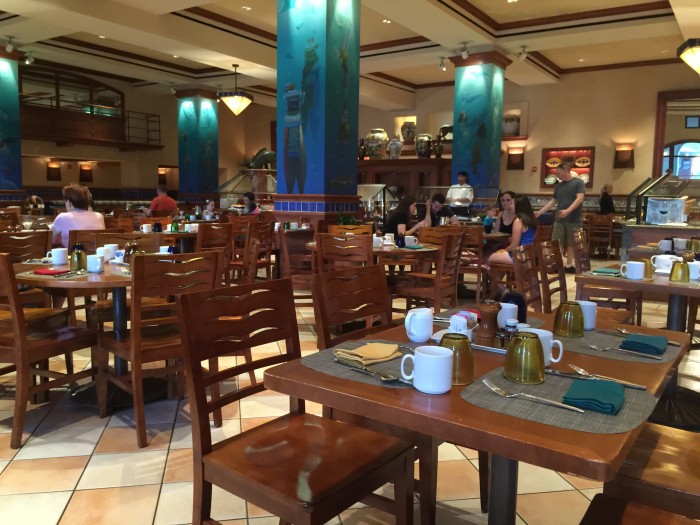 No, cinnamon french toast ($12.00) may not have either the exoticness or the inventiveness of the Cinnamon Berries, but it certainly has the scrumptiousness – and something of a secret weapon that NBA City is, unfortunately, unable to compete with.
Imagine this: it's a pleasant (and somewhat sleepy) Sunday morning. You're sitting outside of Trattoria del Porto, next to Portofino Bay Hotel's harbor. The shade from your umbrella and the pleasant breeze from the water keep you cool while you sip on your orange juice and enjoy your heavenly stack of french toast, with Portofino's unique architecture serving as the perfect backdrop to the experience.
It's hard to think of a better environment in which to enjoy your morning meal, and it's nearly impossible to find a better way to start your day at Universal Orlando. In this way, Trattoria – which, like NBA City, is otherwise one of the more pedestrian dining venues at the resort – becomes much more than the sum of all its parts, transforming an otherwise ordinary breakfast option into a classic.
All of which isn't to say that the Cinnamon French Toast is in any way subpar; from its quality to its presentation, the dish has, like much else at Portofino Bay, a certain elegance. French toast it may be, but it'll certain be some of the best french toast you'll ever have.
Especially if you partake outside, next to the water, on a pleasant Sunday morning.
For more on our top picks, be sure to check out their full menus – NBA City's is located here and Trattoria del Porto's, here.