How Much Should You Budget for EPCOT's Festival of the Holidays 2022?
EPCOT Festivals are a lot of fun, but you'll stick to your budget better if you're properly prepared. We'll cover how to estimate your spending, and a few other things you should know to make your Festival time a great time.
Our approach won't be as precise as making a spreadsheet and lining up everything you want to eat, but it may be quicker and simpler. And in the end, it may be more accurate as well, as I always find that when I get to the Festival I'm seduced by what I see others walking around with.
Festival at a Glance
Before we start talking about the Holiday Kitchens, let's take a quick overview of a couple of other Festival activities. This year's Festival runs from November 25 to December 30.
Points of Interest
Even if you're not planning to make a meal at the Festival, you might be interested in the Cookie Stroll. Pick up a Festival Passport from the front of the park, and you'll find that there are spaces for cookie stamps. Get a stamp for each of five "qualifying cookies" and then bring your Passport to Holiday Sweets & Treats to collect a special "redemption cookie". Buy 5, get one free!
The cookies below are eligible for the stamp, and all are $3 except for the Sugar Cookie from Connections Cafe which is $3.49. A bit of nuance: you don't need to get five different cookies for your five stamps – you can eat 5 Black & White cookies, or 5 Linzers, and it will still count.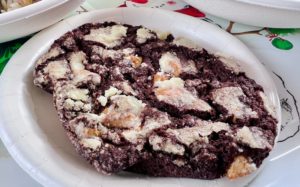 Nochebuena Cocina: Alfajores – Vanilla Shortbread Cookie with Dulce de Leche and Coconut
Yukon Holiday Kitchen: SNICKERS-Doodle Cookie made with SNICKERS bar pieces
L'Chaim! Holiday Kitchen: Black and White Cookie (plant-based)
American Holiday Table: Chocolate Crinkle Cookie
Bavaria Holiday Kitchen: Linzer Cookie
Holiday Hearth Desserts: Gingerbread Cookie
Sunshine Seasons: Jingle Sugar Cookie made with M&M'S chocolate candies
Connections Café: Sugar Cookie
Olaf's Holiday Tradition Scavenger Hunt is also back this year. Buy your scavenger hunt map & stickers for $9.99 at select Festival Merchandise locations, then go searching for Olaf's "traditions" across the countries of World Showcase as you take in the food and entertainment. Bring your completed (or uncompleted) map to Creations or World Traveler at International Gateway to redeem it for a special souvenir.
For more information on entertainment such as the Holiday Storytellers and Candlelight Processional, as well as merch other activities, see our EPCOT International Festival of the Holidays 2022 Preview, The rest of this article will mostly focus on budgeting for the kitchens.
Holiday Kitchens By The Numbers
Every EPCOT Festival features food booths with a festival-appropriate name, in this case Holiday Kitchens. (EPCOT International Festival of the Holidays Menus for 2022) Before we get to the down-and-dirty cost estimation, let's take a look at a high-level overview.
This year's Festival has either 18 or 20 different booths, depending on whether you count the two locations that are only serving cookies. If you go for broke and eat one of everything, it will be about $370 plus tax. The numbers below should give you a pretty good idea of how this breaks down by booth – both the total over the whole booth (food only) and the average per dish.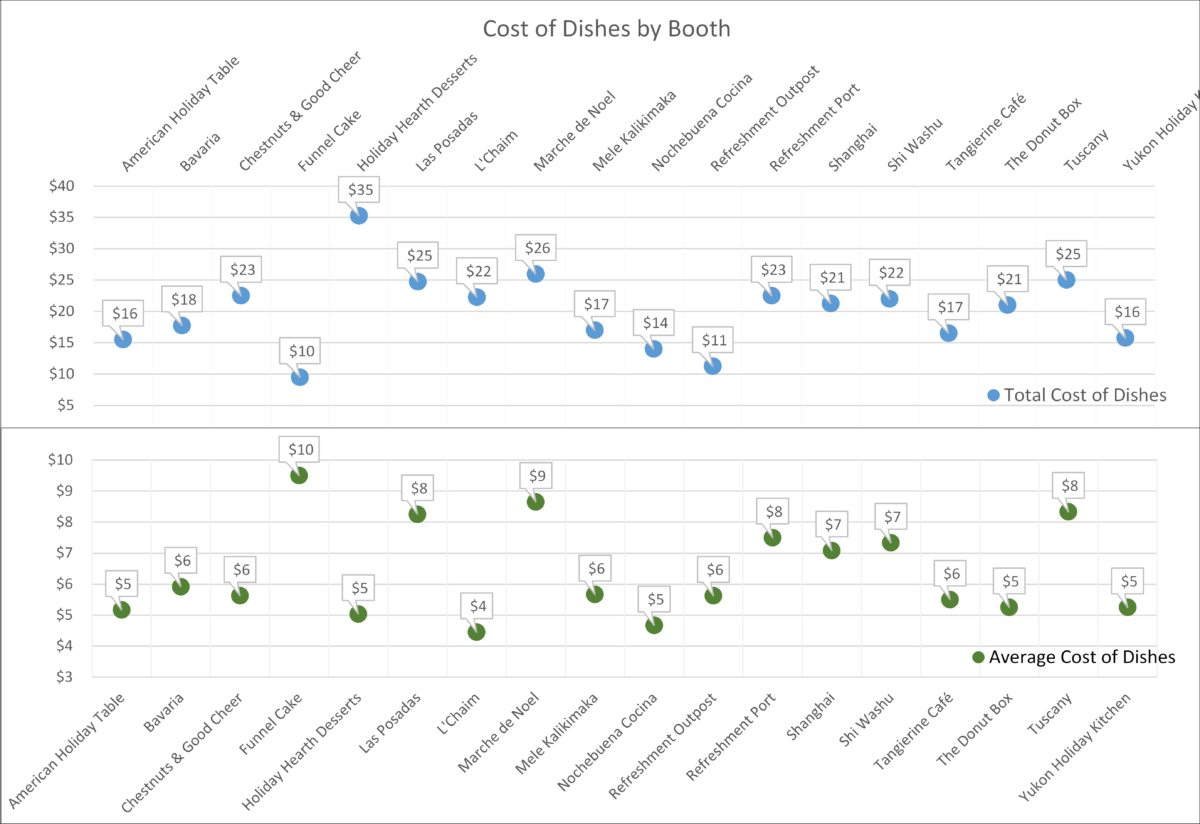 Most booths total somewhere between $18 and $25 (blue dots), but you can see that there's some bounciness here because some booths have more dishes. When you look at the per-dish cost (green dots), it varies less – most booths are about $5-7 per dish, with a few edging up into the $8+ range.
One thing to really take note of here is Tuscany Holiday Kitchen at the Italy Pavilion. Italy is usually the laughingstock of every Festival because its dishes are so far above the average price. Italy's dishes are sometimes as much as $13 on average! Here, Italy is a pretty normal $8 per dish and France has taken over as the most expensive, riding on the back of its $9.25 dessert. (I'm ignoring Funnel Cake because it only has one dish.) That said, the Salmon alla Siciliana was on our "do not eat even if starving" list, so Italy isn't out of hot water yet.
I also like to break out the dishes and look at them by type. When we estimate the cost for a certain number of dishes, we'll get a range that's about $10 wide. Knowing something about what makes dishes more or less expensive can help you narrow that down a bit based on your personal taste.

Looking at this chart, we can see that there are 61 dishes total and the average price is $6. There are only a tiny number of gluten-friendly dishes compared to the Flower & Garden or Food & Wine Festivals, but that might be because almost half the dishes (27) are desserts. (And I didn't even count the glazed nuts as a dessert!) Seafood and meat are expensive, which matches what we might expect from our own grocery bills.
What's Your Festival of the Holidays Game Plan?
Knowing what you plan to see and do at the Festival will be a strong influence on when you go and how much time you plan to spend … and therefore, how much money you plan to spend. As a general rule, our Crowd Calendar isn't good at predicting the "feels like" crowd at a Festival, since it's based on measuring waits at attractions and the waits you'll encounter at the Festival are all for food. But that doesn't mean we know nothing.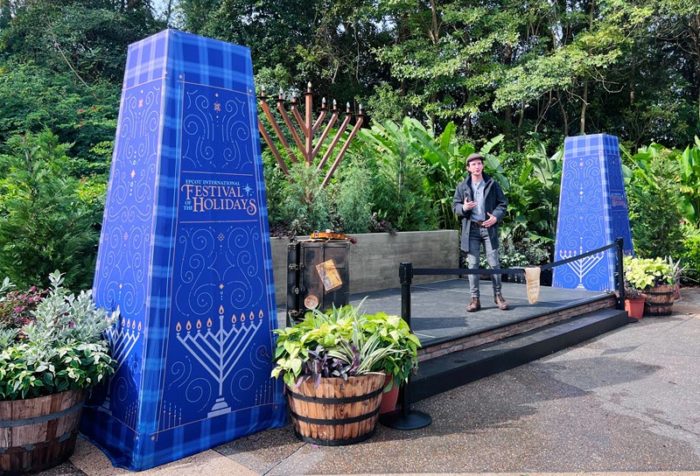 If you arrive at a crowded time, you may find yourself limiting the number of booths you sample from due to the length of the lines. The Holiday Kitchens open at 11 a.m. daily and some of the performances begin even earlier. In the early part of the month, crowds will tend to be lighter until the early evening on weekdays, but on weekends – especially if the weather is nice – they'll grow quickly in the mid-afternoon. I was at the Festival in 2021, and we had beautiful weather on a Saturday. The Crowd Level at EPCOT was only a 4 for the whole day, but we left the World Showcase at about 2:30 because it was really feeling packed.
As at all EPCOT Festivals, on weekend evenings you will be likely to notice that some guests are of particularly good cheer (read: drunk). That said, perspectives on this vary widely. Some visitors report that such guests are everywhere and so ill-behaved that it is impossible to enjoy the Festival. Others there on the same nights attest that they didn't see any boorish behavior or really anyone who was overly intoxicated, and they quite enjoy the generally festive atmosphere of people having a good time. This is definitely a Your Mileage May Vary situation.
Grazing vs. Chowing & Estimating Cost
There aren't as many Holiday Kitchens as there are booths at some of the Festivals, and depending on how many people are in your group, you could easily hit up most of them in an extended day if you choose. If you're looking for recommendations, we have some articles for you:
The Best Way to Spend $50 at EPCOT's 2022 Festival of the Holidays
Best Bets at EPCOT's Festival of the Holidays 2023
If you want to read (or not) our advice and then make a plan that's totally your own, here's a good general approach to budgeting.
Snacking
If you'll only graze on a single afternoon (or two) and try a few dishes here or there, don't worry about setting aside a specific budget for the Festival. Many dishes are priced the same as an average Disney World snack; assume this is where you'll be spending your snack budget for the day.
What Makes a Meal?
If you're not just snacking and you're planning to use Festival food as a meal, then you'll want to think about how many dishes make up that meal. Sharing might be the name of your game — my family loves having a big group so that we can each try some of everything — but we still end up ordering the same number of dishes "on average" as we would if we were just keeping them to ourselves.
Appetites and Festival portions vary, but many people find that 2 or 3 dishes and a dessert are enough to leave them feeling satisfied. Conveniently, many booths offer 2-3 dishes and a dessert.
The two "mains" and a dessert above are $17.75; that's pretty much dead on the average Festival price for 2 dishes and a dessert which is $17.50. Add in a third entree and the price flies up to $23.75.
Even with the price increases in October, the average meal from a Quick Service is only about $12-16, so this will definitely be on the more expensive side for a meal that isn't Table Service. If you tend towards three entrees here, that may influence whether (and how often) you decide to make a meal from the Holiday Kitchens.
Cost Estimation
Focus on Individual Dishes
If you've got picky eaters, assume you'll visit booths and order individual dishes, choosing the ones that suit your tastes. Since lines are longer in the evening, you may want to plan your eating for the afternoon.
To get an estimate of how much it would cost to pick and choose dishes, I ran 100,000 simulations where I randomly chose dishes to make a specific target number and then looked at the cost. Based on the results, if you multiply the number of dishes you plan to eat by $6.50 and then add and subtract $5, you'll get an estimate that's $10 wide and it will be pretty accurate.
So for instance, if you're going with 2 people and you'll eat 4 dishes each then 8*$6.50 = $52 — adding $5 padding on either side gives you an estimate of $47-$57 for those 8 dishes. If you're planning to eat a lot of meat and seafood, then based on what we saw above you can expect to be close to the higher end of the range; in this case $57. More plant-based dishes and desserts will put you towards the lower end.
The Whole Booth Approach
If you'll be visiting in the evening, or if it just appeals to you, you may visit a few booths and order all the menu items from each. Like what I did with the dishes, I ran a large number of simulations to get estimates for the cost to eat at a specific number of booths.
You can estimate the cost of eating everything from a specific number of booths by multiplying your target number of booths by $19, then adding and subtracting $10 on either end to give you a window that's $20 wide. If you planned to try everything from 4 different booths, that's 4*$19 = $76, and you'd expect your total to be between $66 and $86.
Drinks
The drinks can add up as quickly as the food; if you're not bringing water with you then remember to add something into your budget for beverages. In most cases, drink prices depend on what you're looking for. Non-alcoholic drinks will range from about $3.50 to $6. Beer and cider are almost uniformly $5.50, or $10 if you're ordering a flight. And cocktails are the most expensive, ranging from $11 to $14 or so.
What to Take Away
EPCOT Festivals are fun, but can be expensive. At the 2022 Festival of the Holidays, a "meal" consisting of 2 dishes and a dessert averages $17.50 and adding a third dish brings that up to $23.75.
Planning whether you'll be snacking your way through or trying to do meals at the Festival is the first step to estimating your cost. But keep in mind that you're likely to spring for things you didn't plan on based on what you see other people eating.
Choosing the day and time of your visit (or visits) is another key component. Stick to afternoons and weekdays if you're looking for lower crowds or to see the entertainment, but evenings and weekends can feel more festive even though they are more crowded.
What's your Festival game plan? Let us know in the comments!