Disney Gift Cards are a hot topic in Disney trip planning. Here's everything you need to know.
What is a Disney Gift Card?
Disney Gift Cards are stored payment cards. You load them with money and then you can use the card as a means of paying for good or services. They are neither debit nor credit cards.
Where can I use Disney Gift Cards?
Disney Gift Cards may be used at select locations at Walt Disney World, Disneyland, Disney's Aulani Resort, Disney Vacation Club properties at Hilton Head and Vero Beach, Disney Cruise Line, Adventures by Disney, shopDisney.com, Disney on Broadway, and at Disney Store locations in the United States, Puerto Rico, and Canada.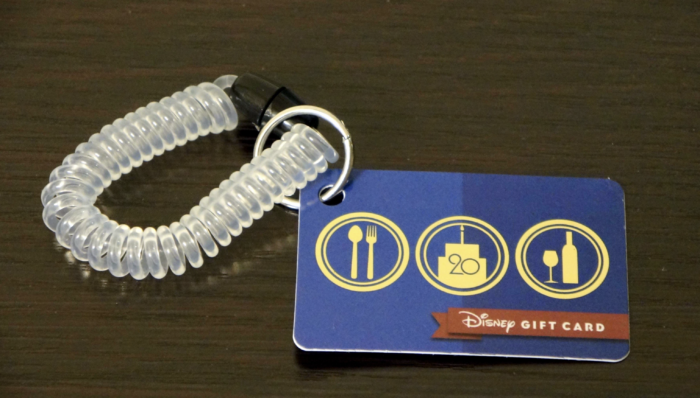 What does the word "select" mean in the above question?
"Select" means that there are exceptions.
For example, you may use a Disney Gift Card at most locations at Disneyland, but there are some retailers and restaurants at the adjacent Downtown Disney shopping area that may not accept the Gift Cards. The general rule of thumb is that if Disney owns the entity (theme park, restaurant, hotel, store, etc.), then you can use a Disney Gift Card there. If Disney doesn't own the entity, it might accept the gift cards, but it might not.
In another example, at Walt Disney World, the Swan, Dolphin, and Swan Reserve hotels (which are not owned by Disney) do not accept Disney Gift Cards as payment for their rooms or in their restaurants. However, there may be Disney-operated shops within those hotels that do accept the gift card.
It's somewhat convoluted but, with the exception of a few tiny merchandise carts, you can feel safe that locations inside the Walt Disney World and Disneyland theme parks will accept Disney Gift Cards.
Where can I buy a Disney Gift Card?
Disney Gift Cards are available for purchase at most gift shops in the Disney World and Disneyland theme parks and Disney-owned hotels. You can also buy them at physical Disney Stores, shopDisney.com, DisneyGiftCard.com, and at authorized third-party distributors.
The list of third-party distributors is loooooong and includes major retailers such as Target, Walmart, CVS, Walgreens, regional grocery chains, Best Buy, Staples, and so on.
Why would I want to use a Disney Gift Card rather than a credit/debit card or cash?
Some advantages of using a gift card include:
Gift cards are great as, well, gifts.
They can be a safer substitute for cash if you don't have or don't want to use a credit or debit card.
They can help you stick to a budget. For example, you can decide that you're done spending when the amount you've loaded onto the card has been spent.
They can be a tool to help children manage their spending.
Depending on how/where you buy a gift card, they can be a means of getting a small discount on your vacation or other purchase.
They can be a tool to help you fund a Disney trip over time. (See below for more info.)
They can convenient to use.
Are there reasons why I wouldn't want to use a Disney Gift Card?
Some possible challenges with a Disney Gift Card are:
You can only use Disney Gift Cards at Disney-related locations/situations. If, for example, you end up cancelling a vacation purchased with gift cards, you might be stuck with significant funds that you can't use for an alternate purpose.
After you've made your gift card purchases, there may be a small amount of funds left on the card which can end up as waste if you're not diligent.
Some people don't like having to manage an additional card or payment method.
Losing a gift card is a financial loss, unless you've registered the card (see below). Credit or debit cards may have more consumer protections.
Are there different forms of Disney Gift Card?
Most Disney Gift Cards are standard credit-card-sized plastic cards. Depending on where you buy them, you may have a choice of what image you'd like to have on the card. For example, if you purchase through shopDisney.com you'll have a choice of several dozen pictures, including Disney characters, Marvel characters, Star Wars characters, winter holiday images, birthday images, and so on. Physical stores at the theme parks may have a handful of choices. Non-Disney purchase locations like Target may only have one option.
Disney may offer special sizes or unique shapes of gift cards for certain events. One common example of this is the mini-sized gift cards attached to a bracelet that are often sold at Epcot festivals (Food & Wine, Flower & Garden, Festival of the Arts, Festival of the Holidays). There were uniquely-shaped metal gift cards available when Galaxy's Edge opened at Disney's Hollywood Studios.
You may also buy electronic gift cards via DisneyGiftCard.com. This is a good option if you're looking for a last minute gift. Recipients will receive their gift via email within 24 hours of purchase.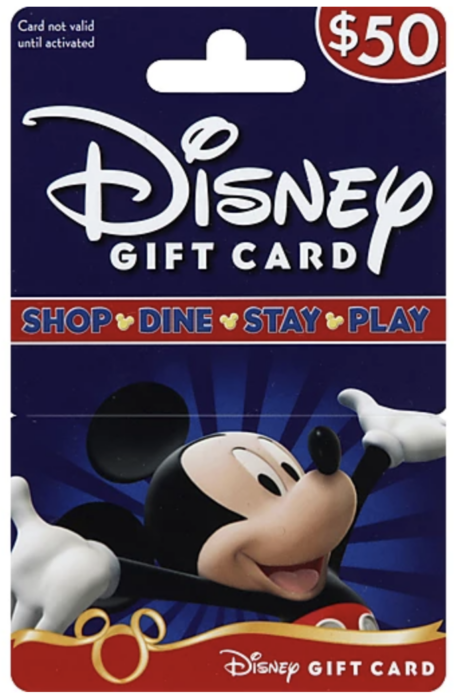 Is there a way to keep track of how much money is left on my gift card?
Yes. Any time you have a Disney Gift Card you can, and should, register it at DisneyGiftCard.com. Up to six cards can be registered there at one time, per account. You will be able to check your balance, reload cards, view recent transaction history, and transfer balances between eligible cards.
You can also call the phone number on the back of a physical gift card to check your balance.
Are there value limits to Disney Gift Cards?
The maximum amount that may be held on any Disney Gift Card is $1,000. You may reload a card with any amount from $5 to $1,000.
The initial value loaded onto a card is determined by your place of purchase. For example, cards purchased at shopDisney.com start at $25. Many cards initially purchased at non-Disney locations are sold in fixed amounts like $50 or $100.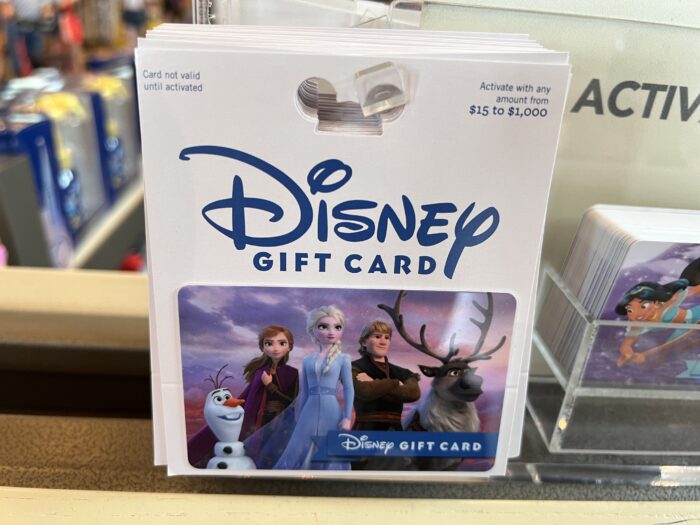 Are there fees associated with using a Disney Gift Card?
There are no fees to use a Disney Gift Card.
Do Disney Gift Cards expire?
No. There is no time limit in which to use a Disney Gift Card.
How can I make gift cards part of my vacation budgeting process?
Some guests use this strategy:
Let's say your Disney vacation will cost $2,500. Rather than paying that in a lump, you can buy, say, a $50 Disney gift card each week when you do your regular grocery shopping. After 50 weeks you'll have enough in gift cards to fund your trip.
Basically, you're spreading your vacation payments out over a year rather than making one large payment.
Are there any discounts available on the purchase of Disney Gift Cards?
Maybe. Possibilities include:
Some warehouse stores like Sam's Club, BJ's, or Costco may sell Disney Gift Cards at a reduced price. For example, they'll sell a $100 gift card for $95.
Some regional grocery stores may also offer discounts on gift cards.
If you have a cash-back credit card, you may be able to get cash back for gift card purchases.
Target RedCards may offer a discount on gift card purchases.
Some AAA offices may offer a Disney Gift Card discount.
Clearinghouses like CashCard.com or Raise.com may offer discounts on Disney Gift Cards.
Offers and availability change frequently. ALWAYS double check before making a purchase.
I get that I can buy food or merchandise in the parks with a gift card, can you give example of some other ways people use them?
To buy park tickets
To pay off onsite resort charges when you check in or before you check out of your Disney-owned hotel
To buy Disney resort reservations
To buy Disney Cruise Line reservations
To buy all or part of your Adventures by Disney trip

If I buy something with a Disney Gift Card, can I return it?
If the vendor allows returns, then typically yes.
In nearly all cases your refund will come back to you in the same form of payment as the purchase. So, if you've paid with a Disney gift card, your refund will be applied to the same card. To access those funds again, BE SURE TO KNOW THE CARD INFORMATION. If you don't know the card number, you could run into an unfortunate situation where money will be applied to card that you've discarded because you thought it was fully depleted. This is a great reason to be sure that you've registered your cards with DisneyGiftCard.com and have a record of your card numbers and their balances.
Any tips for using Disney Gift Cards to buy a vacation?
If you're buying Disney vacation components online, you can only apply one Disney Gift Card to a transaction, up to $1,000. If you have multiple smaller value gift cards, you should first consolidate them onto one card at DisneyGiftCard.com. If want to pay for more than $1,000 of a Disney vacation, you'll need to do this via phone or in multiple transactions.
Remember, KEEP YOUR GIFT CARDS. If your vacation is cancelled, any refunds will be returned to you on the same gift card you've paid with.
If you use lots of gift cards you can save a bit of sanity by keeping track of which card you've used for which purpose, that way you'll know which cards are safe to get rid of after your vacation. You might write on gift card with a Sharpie, "Used for X date vacation." Or put the card in an envelope marked, "OK to discard after X trip has been completed."
Are there places at Disney World or Disneyland where I can't use a Disney Gift Card?
As mentioned above, you may find non-Disney-owned stores or restaurants at Disney World or Disneyland that don't accept the Disney Gift Card. Most of these places will be at Disney Springs (WDW) or Downtown Disney (DL). Some non-Disney-owned retailers on Disney property may accept the gift card, but you should be prepared with other payment methods just in case.
I have not been able to find a comprehensive list of exact locations at Disney Springs and Downtown Disney that do/don't accept the Disney Gift Card. If you know of one, please let us know.
Any tips for using a Disney Gift Card for a Broadway Show?
You can easily buy tickets to The Lion King or Aladdin on Broadway via Ticketmaster using a standard credit or debit card. With a few clicks, you'll be able to select the exact date and seat location you want – easy peasy.
If you want to use a Disney Gift Card to buy tickets to The Lion King or Aladdin you have to fill out a form that basically puts you into an email chain with someone at Disney where you're typing out your requests in a back and forth conversation. Depending on what you want, it could take days of conversation to accomplish what would take three minutes on Ticketmaster.
The Disney Gift Card may be used at the box office at the New Amsterdam Theater in Manhattan, NY (owned by Disney, current home of Aladdin) to buy tickets for The Lion King or Aladdin. They may not be used at the box office for the Minskoff (not owned by Disney, current home of The Lion King). Disney Gift Cards may not be used to buy merchandise or concessions at either theater, nor may they be used to purchase tickets for Disney on Broadway national on international tours.

Can I use a Disney Gift Card to pay for a Disney+ subscription?
No. You can give someone the gift of a one-year Disney+ subscription, but you can't do this with a Disney Gift Card.
Can I use a Disney Gift Card to buy Disney on Ice tickets?
Sorry, no.
Are Disney Gift Cards related to Disney Visa Rewards?
Nope. These are entirely separate things.
Chase offers a Disney-branded Visa card that includes rewards points redeemable at many of the same locations as Disney Gift Cards, but the two programs do not overlap.
Can I use Disney Gift Cards at the International Disney theme parks?
The international parks have their own gift cards, but you can't use the U.S. cards there. Gift cards are issued in a specific currency and you can't use a dollar-based gift card at a Euro-based park, for example.
I lost my Disney Gift Card. What can I do?
As a first step, you should take a photo of the back of any Disney Gift Card purchase as soon as you make it. You won't be able to start any remediation process without the card number. Additionally, as mentioned above, you should register your card online.
If you've registered your card or have a photo of the back of the card, and you have an another gift card on hand (either an "empty" or one with a small amount of funds on it), you can step into action as soon as you realize your gift card is missing. Go to DisneyGiftCard.com and transfer funds from the missing card onto a different card. This effectively makes the lost card useless.
If you don't have a spare card, call 1-877-650-4327 to report the card that's been lost or stolen. You will need to provide the first 12 digits of the Disney Gift Card account number to the agent. Your Disney Gift Card will be "frozen." Funds remaining on the card (at the time of the call) may be transferred onto a new card. An original proof of purchase receipt is required to transfer the funds onto a new Disney Gift Card.