Captain Cook's at the Polynesian Village Resort – A "Shore" Good Meal
Disney's Polynesian Village Resort is one of the best resorts at Walt Disney World for dining, and that also extends to its food court – Captain Cook's.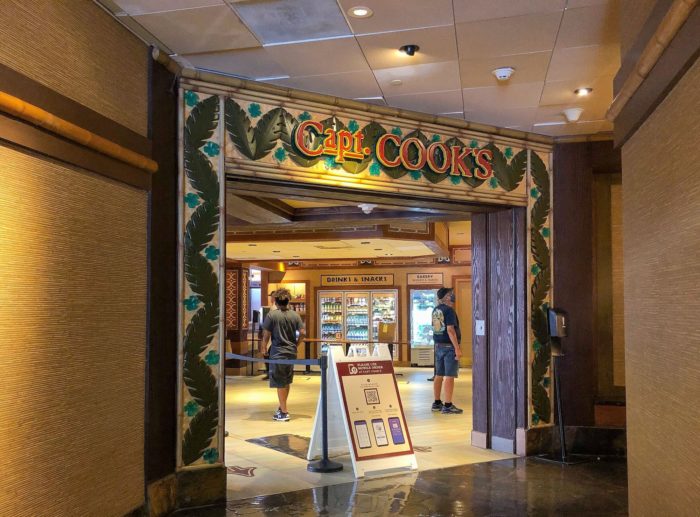 Located on the ground floor of the resort towards the rear of the Great Ceremonial House, Captain Cook's offers unique, Polynesian-inspired fare and a few fan-favorite specialties!
What You Need to Know
Captain Cook's is currently open from 7:00 a.m. – 10:00 p.m and serves breakfast, lunch, and dinner. All three menus are priced at about $14.99 and under per adult.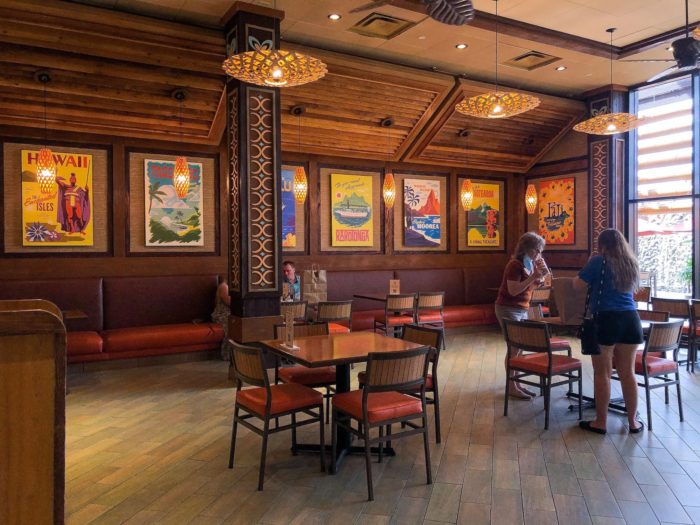 This particular establishment's most famous dish has to be the banana-stuffed, deep-fried Tonga Toast – a Kona Cafe staple that's available here for a cheaper price and without a reservation!
The seating area is a little tight in comparison to other resort food courts but absolutely charming with its bamboo accents and vintage travel posters. However, if it's a little too cramped, there is ample outdoor seating as well.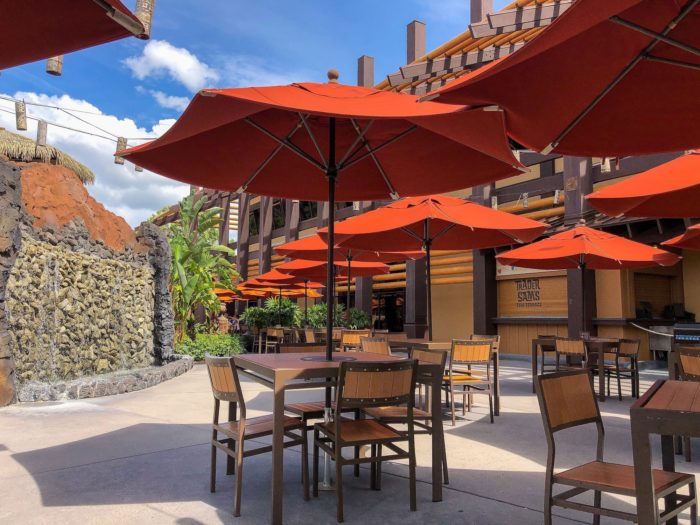 While Captain Cook's is a renowned breakfast location, one of our park reporters, Ivonne, visited this Polynesian Village Resort locale to "sea" if it's also worth a visit for lunch and dinner.
The Menu
To keep with the Poly-vibe but still offer something for everyone, Captain Cook's offers a menu of  Polynesian Favorites and American Entrees, as well a selection for kids, those with dietary restrictions, and the like.
Expect items like Thai Coconut Meatballs, Pulled Pork Nachos, a variety of burgers, chicken wings, and mac n' cheese. And, of course, Captain Cook's also offers your obligatory Mickey waffles and breakfast platters for adequate rope drop fuel.
In addition, like most Disney Resort food courts, Captain Cook's also has a small bakery and a refrigerated section for grab and go drinks and snacks.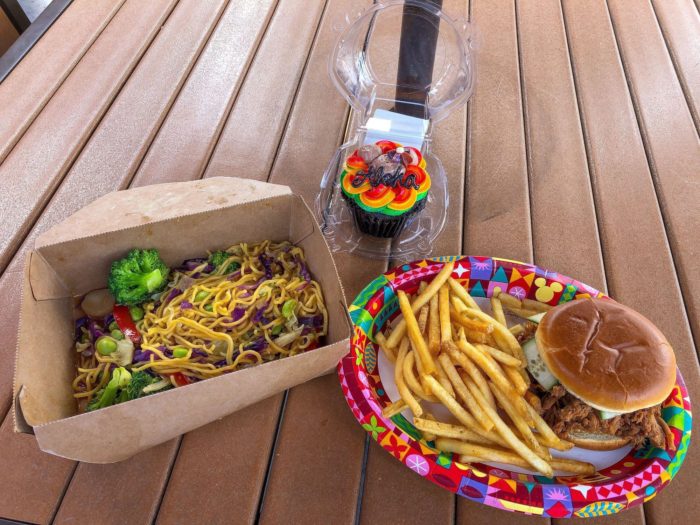 Pan Asian Noodles and Vegetables – $8.49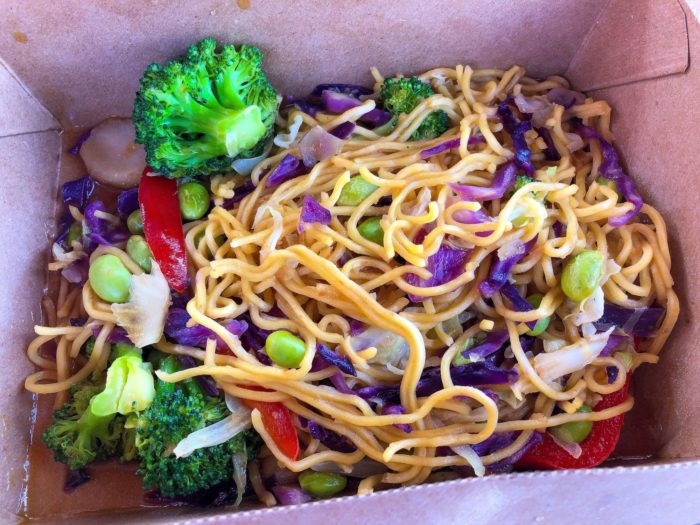 So Ivonne loved this particular dish. She says it's a great option for vegetarians and those who want something healthy but not a salad. It's very filling with a good mix of veggies; although, Ivonne says she usually ends up adding a bit of soy sauce for a little punch of flavor.
But if you're looking for something more with this dish, you can add a protein of your choice for an extra charge.
Aloha Pork Sandwich – $10.99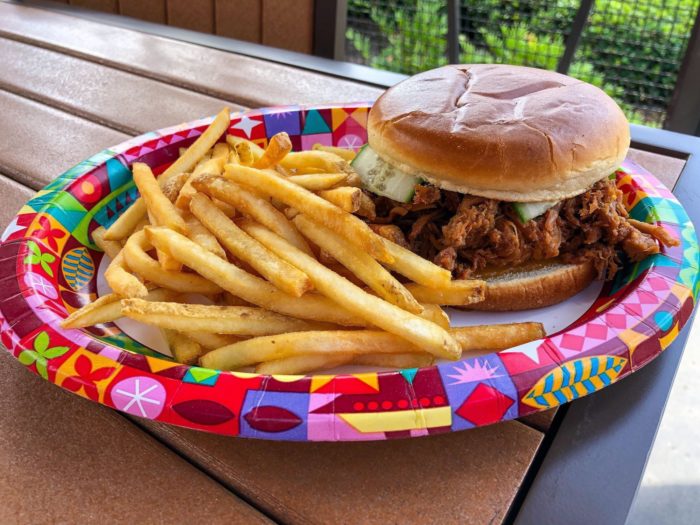 Captain Cook's describes this sandwich as pulled pork with Cheddar, Asian slaw, cucumbers, and tomatoes on a Brioche bun and served with French fries. Fortunately, this item proved to be a worthy contender too.
Ivonne loved the saltiness of the pork mixed with the Asian slaw, and the cucumbers added a nice crunch. Also, Captain Cook's packed plenty of pork on the sandwich making for a satisfying meal and a nice change from your standard burger.
Aloha Cupcake – $5.99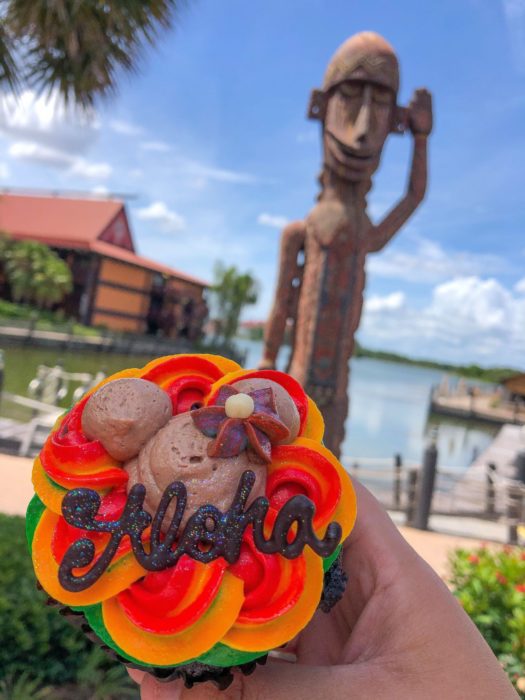 Listed as a chocolate cupcake with raspberry filling, aside from being pretty there's not much else to say about this one. Not bad, but there are definitely better desserts out there.
Have you ever visited Captain Cook's at Disney's Polynesian Village Resort? Let us know in the comments!