Cheese, Chicken, and Cocktails: The Best of Art Smith's Homecomin' in Disney Springs
We've already done a full review of Art Smith's new Homecomin' restaurant at Disney Springs, but I had the chance to stop by last night. And since the current "feels like" temperature in Orlando is about 100F, I figured I'd take a minute to write up some notes in air-conditioned comfort. Here's the dinner menu I'll be referencing.
The Fried Chicken is as good as the hype says. The skin is crispy and salty, while the meat is flavorful, tender, and juicy.  I've been testing different fried chicken recipes at home for a couple of years, and this is up there with the best results I've got. (My secret ingredients: powdered mustard, a Dutch oven, and love.) The Fried Chicken and Doughnuts plate gets extra points for originality.
I'd definitely order the pimento cheese "Bunch of Puppies" hushpuppies again. They're light, crispy, and the smooth cheese flavor is cut by the jalapeño jelly that comes on the side.  I'd also recommend the Shrimp Jubilee, a bowl-sized cup of shrimp, served in a salsa-like mix of mango, onion, avocado, and tomato. Lots of flavors there, with the sweet onion and tart tomato balanced well. That's served with a side of cracker-thin bread.
We also tried the BBQ Chicken Wings – good, but unremarkable – and the Jasper Board, a charcuterie board with shaved ham, smoked sausage, pimento cheese spread, bread and butter pickles, and candied pecans. I'd try the Fried Green Tomatoes instead.
So far, so good. But we were just getting started…
–
Another main course I'd suggest is the Fried Catfish. I almost never order catfish, because I can't get past that it's a bottom-feeder. (Sure, so are lobsters, but the lobsters are stuck there. The catfish have tails and free will.) But this catfish was delicious, with crispy breading and a peppery flavor that contrasted with the meat. I'm not sure I'd eat an entire plate of it, but I'd order it for the table to share as an appetizer.
I also tried the Chopped Pork Barbecue Plate. To be fair to Art, I used to work across the street from a Stamey's Barbecue in North Carolina. North Carolina has the best pork barbecue in the country (I will brook no dissent here), and Stamey's is a local legend. In that context, Homecomin's pork barbecue is competent, but it's not in the same league as a good, regional barbecue place.
As far as sides go, we liked the mac and cheese, the cheddar cheese drop biscuits, and the southern slaw. The KC greens and mashed potatoes seemed average. The options for our vegan diner were limited, with only the sweet potatoes and KC greens side available on the menu. A chef came to the table and offered to convert one of the salads on the menu into a vegan friendly one.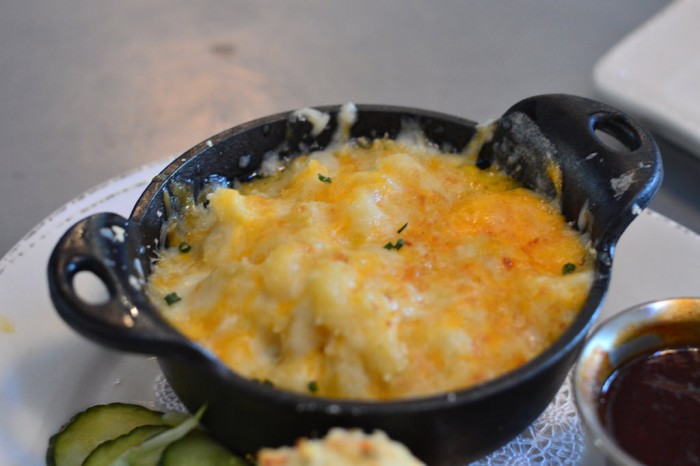 The cocktail menu is pretty fantastic. I tried the Fig and Berries, a vodka drink, and it was delicious. The Basil Smash has a distinct basil, summer-y flavor, along with bourbon, and sour mix. The Cucumber Cooler and Moonshine Mash were terrific, with the latter really packing a punch. The souvenir cup for Homecomin' is a fun one, themed on a red solo cup (it is also available in other colors.)
–
The two desserts I tried were slap-your-grandma good: the Hummingbird Cake is a white spice cake with banana and pineapple, covered in a cream cheese frosting. The Moonshine Cake is a yellow Bundt cake soaked in spirits and served with a vanilla, sugar-based frosting.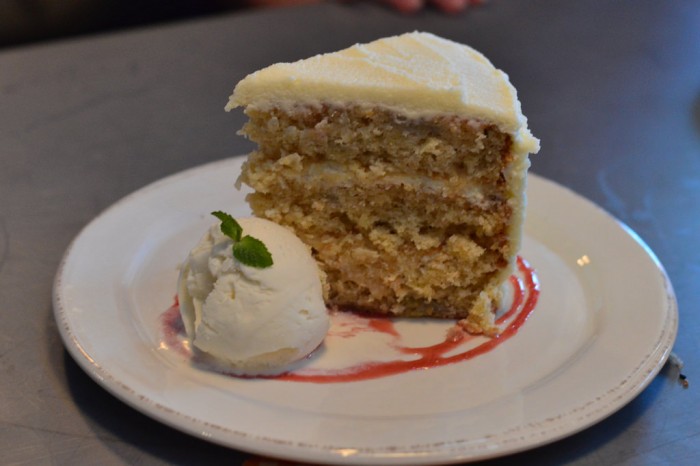 Service was good. We were seated within minutes of arriving, and our service team checked back at the right times to make sure we were still doing well. Would I eat here again? Yes, definitely.
One last note: the number of menu items is relatively small compared to others at Disney Springs. There are only 7 items listed under "main plates", and two of those are the fried chicken. Most of the mains do double duty as sandwiches or salads, too: catfish is served as a sandwich and as a main course; chopped barbecue can be had on a salad, sandwich, or plate; and the fish of the day is available between bread or not.