Corn Dog Castle at Disney California Adventure — Better Know A Restaurant
Next in our "Better Know A…" series is a trip to the Corn Dog Castle at Disney California Adventure. As you may or may not recall, I am a big fan of the Disneyland corn dog, so this felt like a natural way to kick off the dining portion of the series. So, without further ado, let's jump right in.
What is Corn Dog Castle?
Corn Dog Castle is a quick service restaurant specializing in, you guessed it, corn dogs.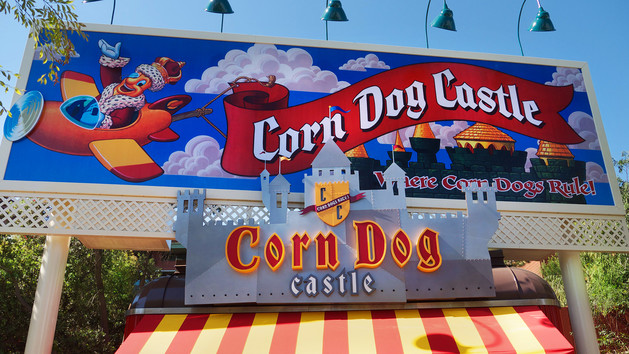 Where is Corn Dog Castle?
Corn Dog Castle is located in the Paradise Gardens Park area of Disney California Adventure. It's past the Golden Zephyr as you're walking from the park entrance, and will be on your right just before the entrance to Goofy's Sky School.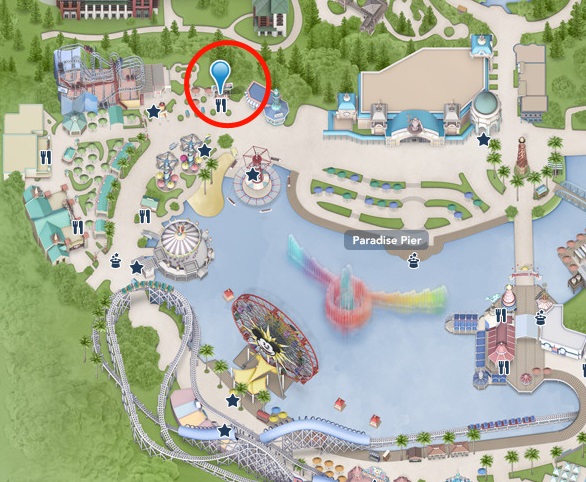 What You Need to Know About the Menu at Corn Dog Castle
The menu is pretty limited, offering regular and spicy corn dogs, and a fried cheese stick. Corn dogs are served with a bag of chips or apple slices.  While not really highlighted, you can also order menu items a la carte. Standard drinks available at most quick service locations, like water, soda, and coffee are available at Corn Dog Castle as well. Entrees range between $9 and $10.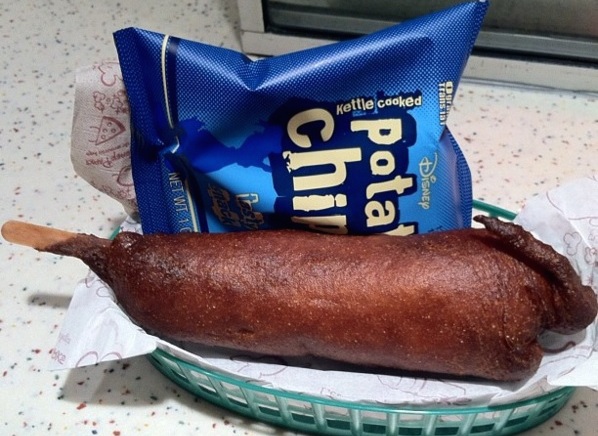 What the Dining Experience is Like for Corn Dog Castle?
Like most quick service locations, the dining experience is not complicated or fancy. You'll order your food at a counter and receive your food at the counter as well, and self-serve condiments are available. They hand-dip each corn dog and make them fresh when ordered, so you'll need to wait, but one benefit of having a limited menu is that service tends to be fairly quick and the food is portable if you so choose, making it an ideal location to get a quick bite and move on. A shaded seating area is nearby.
What are Some Items to Target at Corn Dog Castle?
You should get the corn dogs. To be frank (pardon the pun), if you aren't getting a corn dog, you should probably target somewhere else entirely.
Is the Food at Corn Dog Castle Any Good?
Disneyland corn dogs are the stuff of legend, and the corn dogs here are every bit as good as the ones you'll find at the Little Red Wagon at the end of Main Street U.S.A. I am a fan of spicy things and personally prefer the spicy version, but they are both delicious.  It receives a 94% favorable rating from our readers, which puts is squarely in the middle of the pack in terms of Disneyland food options (33 of 66).  With that said, it's a one trick pony, which may deflate its rating a bit, but it does that one thing — making hand-dipped corn dogs — very well. If you like corn dogs, you're going to love it. If not, it's unlikely to change your mind.
Does Corn Dog Castle Accept Mobile Orders?
Yes, you can use Mobile Ordering at Corn Dog Castle.
What You Need to Know About Accessibility for Corn Dog Castle
Corn Dog Castle is fully accessible for wheelchairs.
Does Weather Affect Corn Dog Castle?
Corn Dog Castle, and its seating area, are outdoors.  The area where you order is covered by an awning, and there are umbrellas over the tables, but you're still ultimately outdoors.
What's the Best Time of Day to Eat at Corn Dog Castle?
As with any restaurant, the busiest times will be normal meal times, so minimize your wait by avoiding those times. Also, be aware that Corn Dog Castle is located on the parade route, and you could find yourself trapped there if you try to eat near parade time. The flip side of that, however, is that it can be a great option to grab a quick bite while watching the parade.
Are There Any Discounts at Corn Dog Castle?
Premium Annual Passholders receive a 15% discount at Corn Dog Castle. All other Passholders and DVC Members receive a 10% discount.
So, do you enjoy Corn Dog Castle? How does it compare to Little Red Wagon for you? Let us know in the comments!