Daytime Training for Halloween Horror Nights
Orlando theme park visitors see the Halloween season different than most people. Orlando theme park fans are used to Halloween celebrations starting the first weekend of September (and in some cases mid-August). The Orlando theme park evenings are filled with after-hours events throughout the area. At Universal Orlando, Halloween Horror Nights is marketed as the "World's Premier Halloween Event."
Halloween Horror Nights (HHN) is an after-hours event that displays the skill of Universal's creative teams for all to come and see. Perhaps you are a parent of a minor and/or you are like the author of this article having never attended a real HHN. Now, standard advice regarding HHN attendance is people aged 13 and under should not go. Parents should use discretion for their children under 18. As always, every child is different, but these guidelines should not be dismissed casually because HHN will enjoy scaring you in every way possible.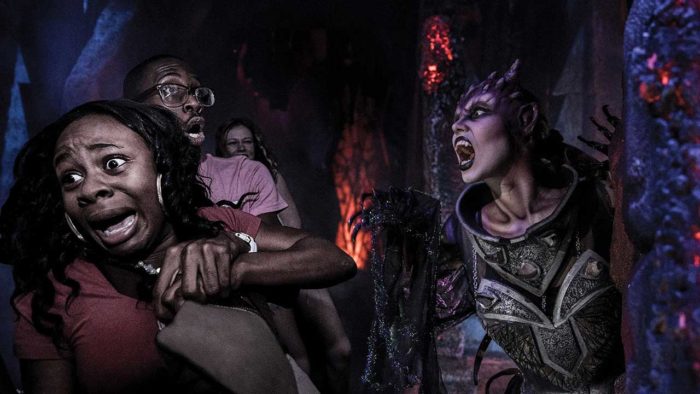 If you are trying to decide whether you want to pay actual money to be scared or whether your child can handle HHN, then there are numerous ways you can test the "scares" out. In some theme parks, the scariest places are the gift shops. Theme parks love to get you to buy merchandise. Universal Orlando is no exception. To start experiencing HHN without the intense scares, you should visit the Film Vault store to look at merchandise from Ghostbusters and Beetlejuice movies since they have been (or will be) properties used for HHN. Even if you are not going to this store for HHN theme, there are usually some excellent merchandise items here.
After that, visit Hollywood area for the 5 and Dime store, which is also the exit gift shop for Bourne Stuntacular. This shop contains year-round classic Universal monsters merchandise. There will also be large statues of several classic monsters. For example, currently there is a "Creature from Black Lagoon" one which you can buy for $25,000. This shop also currently has HHN preview merchandise ranging from shirts, socks, popcorn, and wall art.
One HHN "attraction" that will be fully open during the daytime hours during HHN season is the HHN tribute store. This store is usually four rooms themed to the level of a major attraction giving you the feel of some of the HHN houses without the scares. Traditionally in addition to well-themed merchandise, there is a section with HHN themed food that may brighten your daytime HHN experience.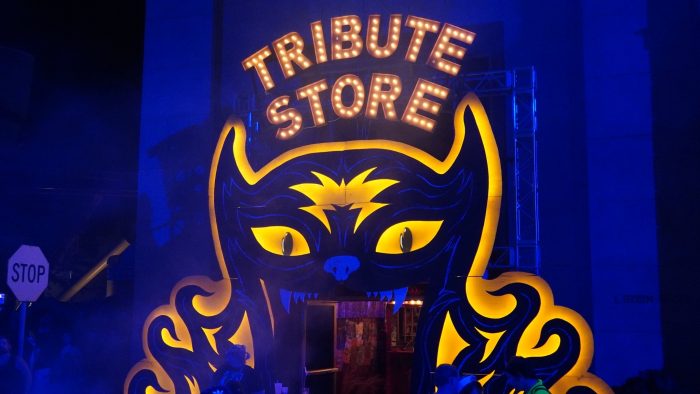 Speaking of food, if you want a daytime HHH experience, then you need to dine at Universal Studios' Classic Monsters Café. With recent improvements, this has become a well-themed and above average quick service dining location. Your main reason for visiting is to take in all the areas of classic monsters theming. Every area is filled with memorabilia, monster movies being played, monster decorations, and of course themed food. This restaurant will be great preparation if you decide to do HHN for the "Bride Of Frankenstein" house.  When you enter or exit the café, you should check out "Bone Chillin", a food/beverage kiosk location nearby. You will see a twirling display featuring classic monsters.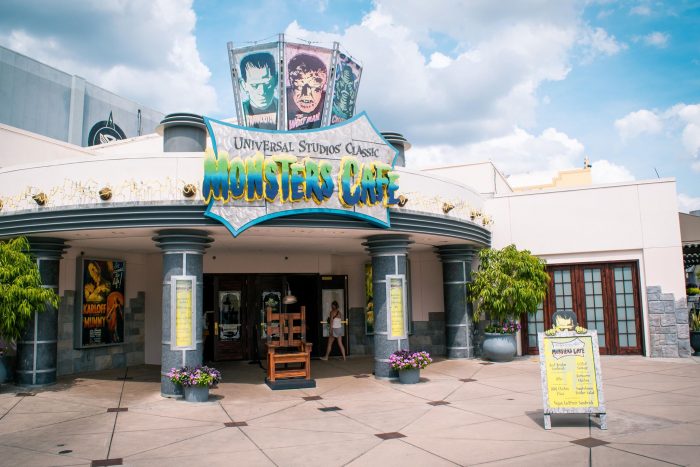 While in Universal Studios Florida you should take in two monster-themed attractions. First up, take a ride on Revenge of the Mummy. You should then follow that up with an original attraction, Universal Orlando's Horror Make Up Show. Please do not let the title scare you since this is mostly a well-acted comedy show. This show is a behind-the-scenes comedy show that reveals the tricks and methods used to create Hollywood monsters. You may also be lucky enough to have Beetlejuice do the pre-show for this attraction.
If visiting during HHN season, you should take some time to check out the props in the five scare zones. Scare zones are well themed areas to interact with "scareactors" and sometimes enjoy excellent photo opportunities. During the HHN events, these areas are filled with horror elements but during daytime hours you can check out the props in relative safety from being scared. The same is true for the exterior areas of the various houses.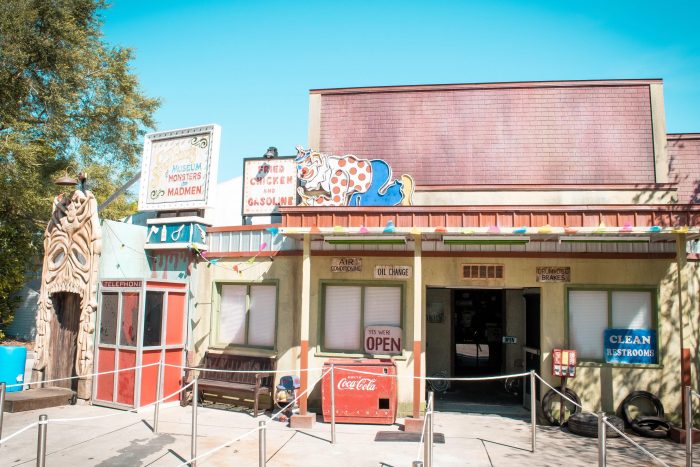 If you have access to Islands of Adventure, you could potentially enjoy a few scare elements to test your senses on a small scale in preparation for considering HHN. You can experience Skull Island: Reign of Kong for a small amount of Universal type horror. After this you can walk to Jurassic Park area to enjoy the Raptor Encounter. This is a character meet and greet where you meet a raptor. I will not spoil the attraction, but I have many videos and pictures of people being totally scared at this attraction even though you know it is not a real raptor.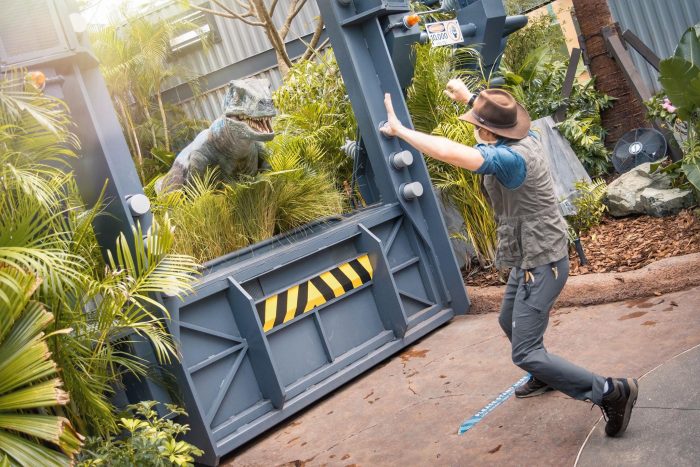 While at Islands of Adventure at night, you might be lucky enough to experience the return of the Dark Arts at Hogwarts Castle. In 2019, this nighttime light show in Hogsmeade was introduced around HHN season. Due to pandemic conditions, this show did not return in 2020 and we do not have an official confirmation of this show returning but we can hope. It was excellent with "DeathEaters" roaming Hogsmeade even interacting with guests. If this show returns, this projection show focuses on the dark arts.  Death Eaters, Dementors, and Voldemort are featured in this light show. Children may not enjoy seeing giant spiders or the enormous face of the "Dark Lord", but this is the Wizarding World theme park version of Halloween.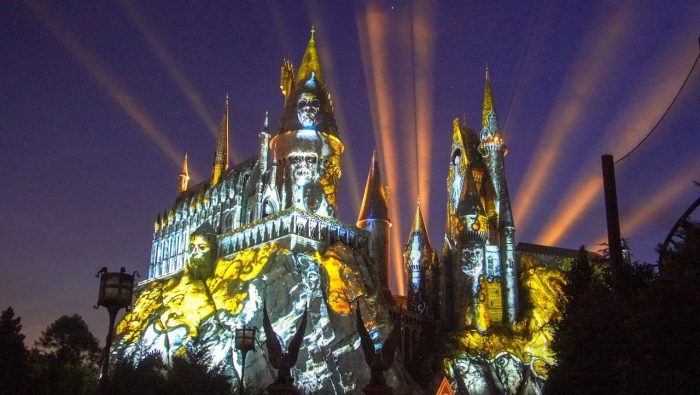 If you are still not sure about HHN, Universal Orlando offers daytime paid "Behind the Scenes: Unmasking the Horror Tour". These are tours of either 3 or 6 HHN houses in which timid "scaredy cats" can be introduced to the HHN events. I have a dozen guest reports of parents taking children between 13-16 through these tours and in every case, the child wants to do more HHN.
As someone who has never done a nighttime HHN, I will be using many of these tricks to get myself ready for my first HHN this year. I hope it help you also.
Have any tricks that you use to get yourself ready for Halloween Horror Nights? Let us know in the comments.