Disney Data Dump November 15 2023
Hello to all of you wise folks who, unlike me, avoided the parks last week, knowing the large crowds who were about to descend upon the parks. In reality, things weren't that bad – in fact, the parks were statistically slightly less crowded than they were during this same week last year. But given how the low-crowd weeks this fall have been so low-crowd, it's interesting to see how off-school times are even more crowded than expected. Strap in for a bit of a roller coaster through the end of the year based on these trends!
Observed Crowd Levels November 7 – 13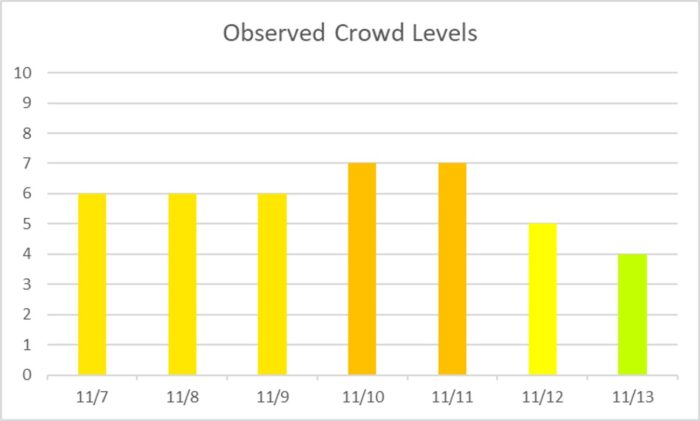 And here we see the impact of Jersey Week and Veterans Day on the parks! Things picked up steadily two weeks ago, and then stayed "decently crowded" (but still technically middling crowd levels) throughout the week, before starting to empty back out as we headed into this more boring week.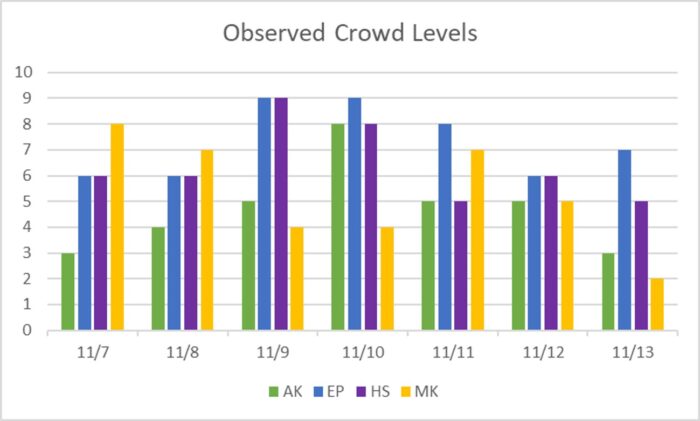 And here we get an even more clear picture of the Jersey week behavior! November 9th and 10th and 13th were all party days at the Magic Kingdom, and on those days crowds disproportionately headed to Hollywood Studios and EPCOT instead. As predicted, the same behavior wasn't seen on the first day of Jollywood Nights, which was November 11th. Hollywood Studios dipped by maybe … a bit. But the park is still open for some evening hours before the party, and day guests can still see Fantasmic before the park closes for the party, so the park won't empty out as much as Magic Kingdom does on its party days.
Performance of Crowd Level Predictions
Each week, I'm giving you a very transparent look into how our crowd level predictions performed. Each day at each park is one data point, so this week we have 28 different crowd level predictions to evaluate each week. Any time a prediction is within one or two crowd levels, things won't really "feel" much different than what we predicted. Being off by 3 or more crowd levels is where we'd like to be more accurate because you might feel that difference in wait times throughout the day.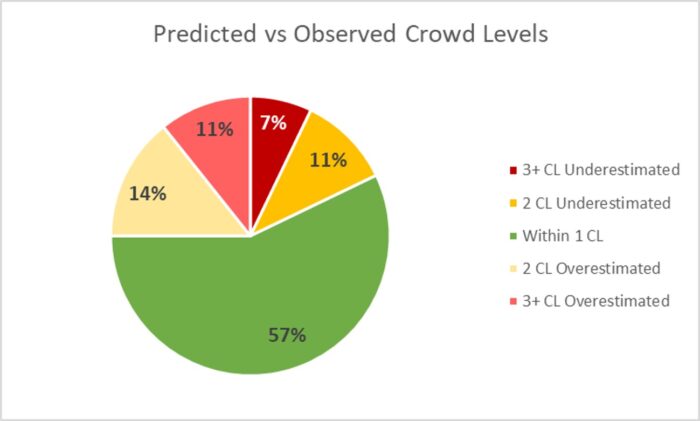 In the past week, Touring Plans predictions were either spot-on or within 1 crowd level 57% of the time. This is a mostly the same as last week, but slightly lower than our historical average. 82% of the time Touring Plans predictions were within 2 crowd levels, and that means we earn a B- for our predictions the past week. Most of the underestimates came near the middle of the week as crowds flooded in slightly more than expected, and then most overestimates were over the weekend and on Monday of this week and crowds ebbed back out very quickly. The biggest misses of the week all were off by four crowd levels – Hollywood Studios and Animal Kingdom were both much less crowded than expected on the 13th, and Magic Kingdom was much more crowded than expected on the 7th.
Attraction Downtime November 7 – 13
If we average all of the capacity lost due to unexpected downtime over the past week, it comes out to 3.7% of attractions unexpectedly being down. Even better than the last three weeks! Magic Kingdom was the easy downtime loser this week – it had 5% of its capacity lost due to unexpected downtime, and all of the other parks were less than 3.7%.
The worst day for attraction downtime in the past week was on November 10th. On that day, 6% of all capacity at WDW was lost due to unexpected downtime. The worst park-day of the week was at Magic Kingdom on November 10th. On that park day, 10% of the capacity was lost at the park due to unexpected downtime. Magic Kingdom was open for 10 hours on the 10th, so 10% downtime (wow, what a trifecta of tens) is the equivalent of the whole park being down for an hour on an already-short operational day.
Attraction Downtime Worst Offenders
The worst offender of the past week was Space Mountain, which was unexpectedly down for 20% of the past week. Most of the attraction's struggles weren't a result of having a hard time waking up in the morning, but rather midday breakdowns that took a while to recover. The worst day for Space Mountain was November 10th, when the ride was down for 35% of the day – sporadically between 11:45 am and 4:30 pm, but it was also down at least 24% of the day 5 out of the past 7 days.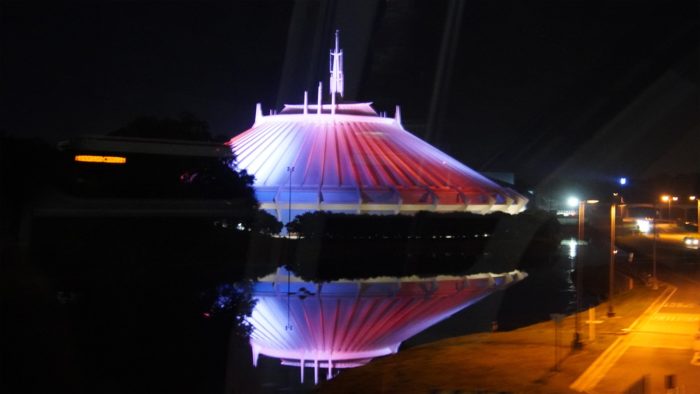 Rope Drop Downtime
Here are this week's problematic offenders:
Magic Kingdom: Haunted Mansion (unavailable for 41% of its first hour of the day), Seven Dwarfs Mine Train (unavailable for 31% of its first hour of the day), it's a small world (unavailable for 17% of its first hour of the day)
EPCOT: The Seas with Nemo & Friends (unavailable for 25% of its first hour of the day), Test Track (unavailable for 23% of its first hour of the day), Spaceship Earth (unavailable for 21% of its first hour of the day), Journey Into Imagination (unavailable for 16% of its first hour of the day), Gran Fiesta Tour (unavailable for 14% of its first hour of the day
Hollywood Studios: Runaway Railway (unavailable for 16% of its first hour of the day)
Animal Kingdom: No rope drop downtime issues!
What a week for EPCOT! Yikes. Almost everything other than Remy and Frozen had downtime issues. Hopefully you stuck with the big headliners if you were rope dropping EPCOT. And Seven Dwarfs having struggles at Magic Kingdom spells big rope drop problems for that park too.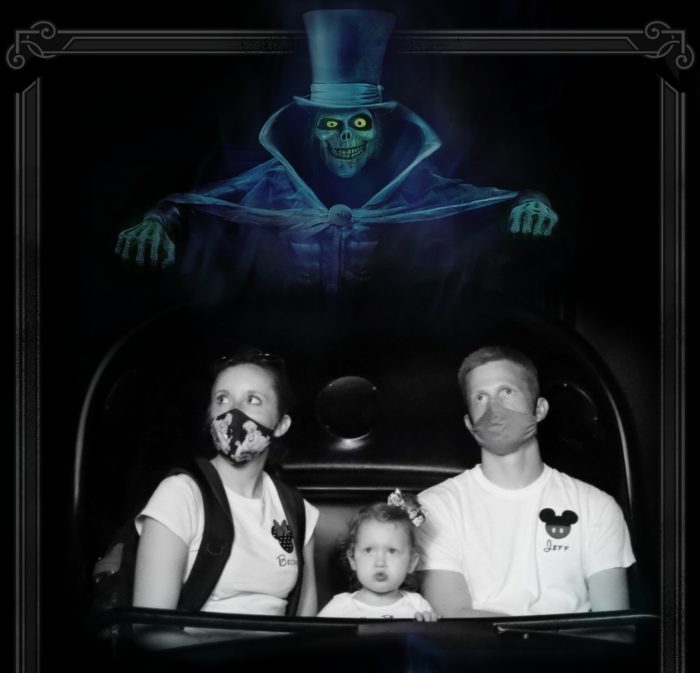 Wait Times November 7 – 13
Attractions with the Highest Average Posted Wait at each park
Oof. Maybe that's all that needs to be said. Hopefully this calms down next week before the big Thanksgiving rush.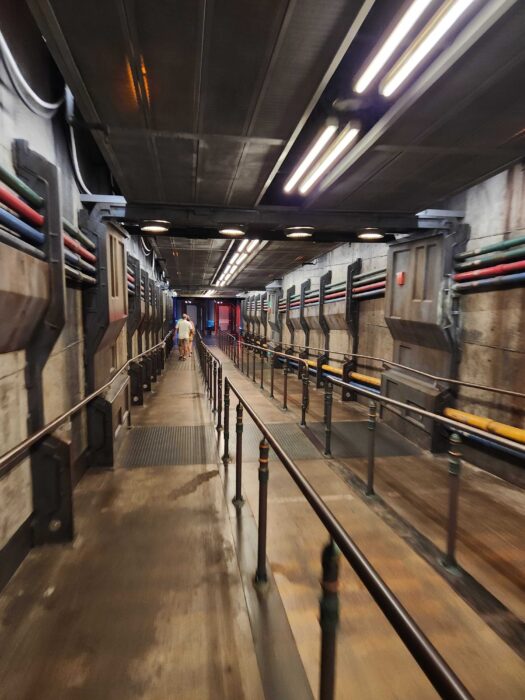 Parks with the Highest and Lowest Average Wait
These parks likely won't change week-to-week unless something ridiculous happens, but these data points will give us a high-level view of how wait times are trending from week to week.
Highest: Hollywood Studios, average park-wide posted wait of 43 minutes (37 minutes last week)
Lowest: Magic Kingdom, average park-wide posted wait of 27 minutes (24 minutes at EPCOT last week)
Thanks to the re-start of parties at the Magic Kingdom, it quickly takes back the crown of least-crowded park. And increase to almost 45 minutes at Hollywood Studios is a big deal too – that means a lot of waiting in a lot of lines.
Most Inflated Posted Wait Times
We all know that Disney inflates their posted wait times on purpose. They have many reasons for doing this. Some are totally understandable, and some are potentially more problematic. We can figure out how much posted wait times are being inflated by comparing submitted actual wait times from the Lines App and the posted wait time when the person timing their wait entered the line.
Over the past week, actual wait times in the Lines App averaged 65% of what was posted. This is slightly higher than the historical average, which means wait times are slightly less inflated than usual! Yay! Even still, if the posted wait time was 60 minutes, you could've expected to wait just 39 minutes instead.
But the worst offender for the past week is Kali River Rapids. At this one attraction, submitted actual wait times were 45% of posted wait times in the past week. That means that if Kali River Rapids had a 30 minute posted wait, you probably would've waited under 14 minutes instead. Less than half of what was posted. Remember to always check the Lines app for predicted actual waits instead of believing what is posted.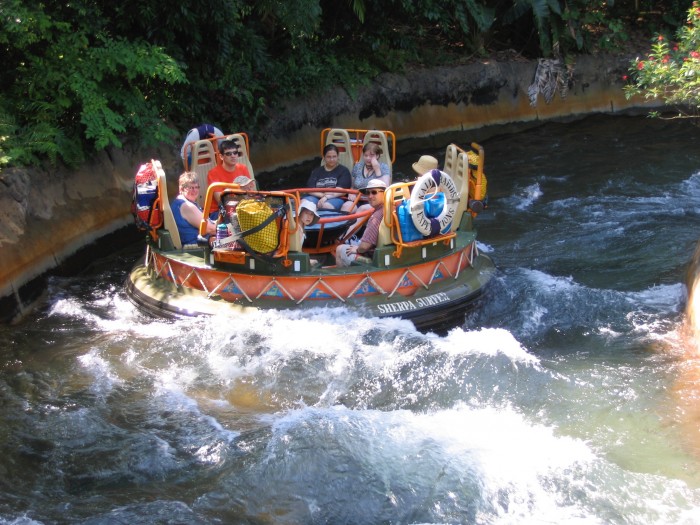 Actual Wait Time Rock Star
The Actual Wait Time Rock Star for the past week was … cabart.sc, who submitted 40 actual wait times through the Lines App over the last 7 days! This includes 4 Lightning Lane waits, 34 Standby waits, 1 single rider wait, and 1 virtual queue wait. Thank you for all of that timing, cabart.sc! It's still not enough to beat the all-time record of 78 recorded wait times in a single week, still held by psymonds.
Looking Ahead: November 14 – 20
Welcome to the calm before the storm. If the second half of 2023 has taught us anything about Disney crowd trends, it's that long weekends are more crowded than expected and in-between periods are much less crowded than expected. That should mean some doldrums this week and then a pretty flooded week of Thanksgiving.
The near-constant threat of rain should go away in the next couple of days, bringing with it plenty of sunshine and slightly lower temperatures. Is it finally fall in Florida?