Morimoto Asia Lunch Is A Standout Experience
Morimoto Asia is centrally located in the Landing area of Disney Springs. We visited at lunch when appetizers (and sushi) range from $10-$18, entrees from $20-$40, and there are no desserts. Ordering a complete meal off the main menu will run you about $45-55, not including drinks or gratuity. The restaurant offers Bento lunches on weekdays that are priced between $24 and $29.
The dinner menu is more extensive than the lunch menu, but prices are the same if an item is present on both. Morimoto Asia also offers an Omakase Experience nightly for $250 per person (reserve in advance), with dishes chosen and prepared for you by the restaurant's chefs – including Morimoto himself when he is in town.
The restaurant is large and reservations are often available on short notice, with the usual caveat that those who make reservations later in the game may not get much choice about the time of day. You may also be able to find times on Open Table that aren't available through Disney. The atmosphere is relaxed and the dress code is casual – feel free to show up in whatever you wore to the parks.
We visited Morimoto Asia in 2022; you can also read that review which covers some dishes we didn't try on this trip. Given the consistent quality of plates that we ordered on both occasions, I'm comfortable saying you can expect a similar experience with those dishes even though we didn't have them in this meal.
Appetizers
Miso Soup – cup $9. | bowl $12
miso broth, silken tofu, and scallions 
The silken tofu was silken, but what impressed is that the broth also somehow managed to feel silken and luxurious. Light and delicate, without the punch of umami that you sometimes get with miso, but still complex enough to keep you going back for the next spoonful.
Lemongrass Chicken Dumplings 4PC – $16
chicken, sweet corn, onion, scallion, lemongrass
On our last visit we had the pork dumplings and I wrote that it was a mistake, because they were very good but nothing special. This time around we were smarter, and we were rewarded for our learning. These were delicious, with the lemongrass prominent enough to create some aroma as you bit into them but not so strong as to take over the bite.
Crispy Popcorn Shrimp – $18
signature tempura shrimp tossed in spicy gochujang aioli
This is one of a few dishes that we ordered again. Spoiler alert, it will undoubtedly grace our table on all future visits too. It's easy to say "well, the sauce was a winner", but the shrimp underneath were a standout too. My family loves the "Bang-bang Shrimp" and its ilk that have become popular everywhere, but the tempura fry on this is outstanding. It's light and crispy and doesn't just become a soggy mess under the sauce. (To be fair, that probably also has to do with the timing of when it's sauced before being delivered to the table. But quality is in the details!)
Sushi
Spider Roll – $19
tempura soft shell crab, spicy mayo, cucumber, asparagus
Shrimp Tempura Roll – $16
asparagus and spicy mayo 
California Roll – $16
blue crab meat, cucumber, and avocado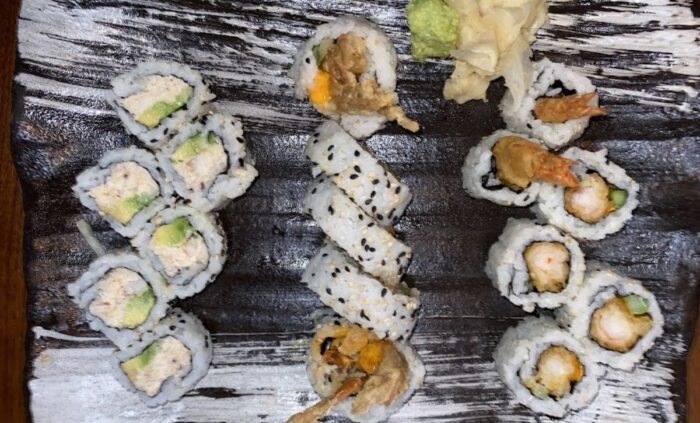 I am not a sushi lover, but my husband would eat it daily if we could afford it. It's kind of a miracle that my marriage has survived for more than two decades and over that time you may imagine (correctly) that I have sampled quite a lot of it on a quest to resolve this incessant source of friction. That context should help you understand that when I say these rolls were excellent, that is a pretty high bar. One thing that was really interesting, and difficult to see in the picture, is that they were thinner (a smaller diameter) than rolls found in many other places. They were cut longer as well, so that the bite was about the same volume, but I felt that the difference in shape made it easier to taste all the flavors at once. Sometimes, with the wider rolls, either the rice or the filling seems to dominate.
Entrees
Morimoto "Buri-Bop" – $36 
korean style yellowtail rice bowl, served in a hot clay pot and prepared tableside with egg yolk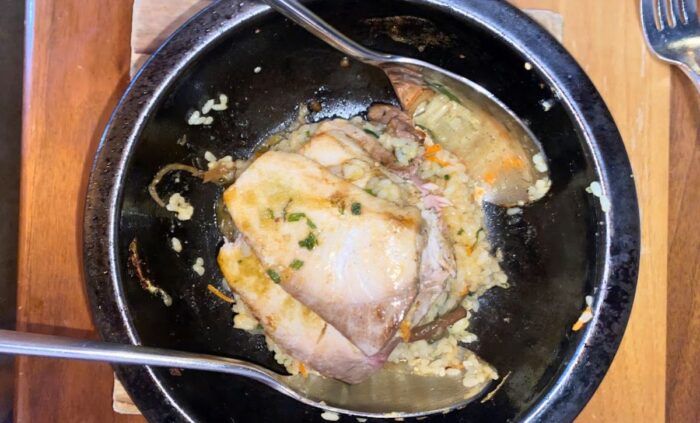 Morimoto's Buri-Bop (based on a dish from Iron Chef Battle Yellowtail) has a tableside presentation that's beautiful to watch. It arrives as a mound of rice with the strips of yellowtail folded over it. These are then opened, like an unfolding flower, onto the sides of the bowl to cook. As they do, the exposed egg nestled in the center of the rice is tossed with the rice and other components to cook the fried rice base of the dish. When the rice and fish are both cooked, the fish is folded back onto the top of the rice to recreate the original form, like a package of treasure waiting for your fork to break it open.
This is another dish that we sampled on our previous visit. I wrote then that I would be happy to order it again anytime, and with the passage of time I found this was one of the things I was most looking forward to trying it again. I felt this so strongly that I ordered it for my entree, and I wasn't disappointed – it was just as great as I had remembered. The fish was tender. The rice was perfectly cooked, including the bits on the bottom that crisped up against the screaming hot bowl during cooking. And the flavor was the perfectly balanced salty-sweet-umami that supports many standout Asian dishes.
Morimoto Spare Ribs – 3-rib $18. half rack, 6-rib $ 35 
pork ribs, cilantro, hoisin sweet chili glaze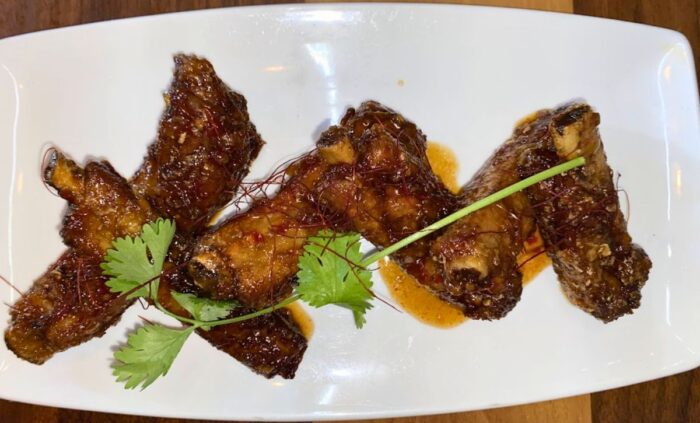 As a mom, I feel compelled to note that there are no vegetables on this plate, but in this instance I'll forgive it. These are another standout that we ordered on our last trip and will get again in the future. In fact, I'll go so far as to say that if you're in Disney Springs and aren't having a full meal at Morimoto Asia (for whatever reason), you should make time for a snack. Get these from Morimoto Asia Street Food, the attached Quick Service, where they're often on the menu. You won't be sorry.
The sauce is perfectly on point – sweet with a little heat – and there's just the right amount of it. The meat was tender and fell off the bone when you bit into it. What really makes these so special is the crispy texture of the coating which comes from the dish being braised, and then fried. You can get the recipe here, but honestly it looks like enough work that I'm happy to let Morimoto's make these for me.
Morimoto Peking Duck – for two $79
carved house-roasted whole duck, apricot sweet chili, hoisin miso, choice of: steamed flour tortillas | bao buns | lettuce cups,  choice of: steamed white | steamed brown rice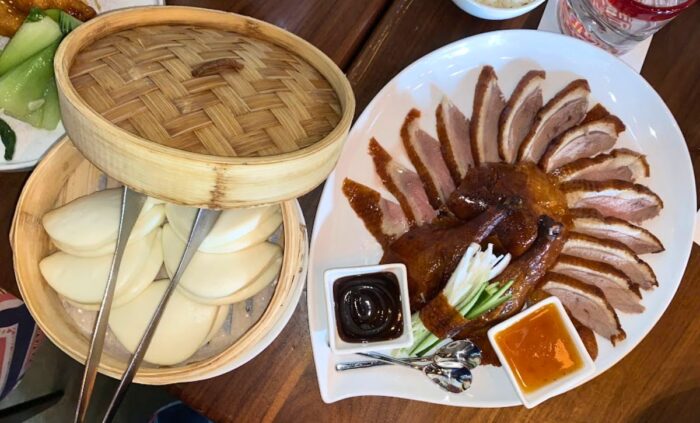 Hands down, this is the best Peking Duck I've ever had. There are two challenges in cooking Peking Duck, the fat and the skin. Everyone knows about the skin, that you need that beautiful mahogany flavor (yes, mahogany is a flavor, I'll die on that hill) and it needs to be crisp. But the fat is also important. It's easy to make fat rubbery, greasy, or just generally unappetizing. It's much more difficult to gently render fat so that it loses any bit of chewiness, seeps into the meat and heightens the flavor with moisture, and generally just lights up that part of your brain that recognizes food that is satisfying. I'm one of those people who routinely cuts every last scrap of visible fat off my meat unless it is perfectly cooked, and you better believe that I didn't feel the need to do that here. Crisp skin. Fat so well rendered it was almost liquid. And of course, tender, succulent, delicious duck meat. I did put it in the (also excellent) bao wrappers, but that was only because otherwise it would have been over too soon.
Wrapping Up
We had high expectations of Morimoto Asia from previous visits, and it didn't disappoint. The Crispy Popcorn Shrimp, Buri-Bop, and Morimoto Spare Ribs were as good as we remembered, and we have a new favorite: the Peking Duck. If you're visiting Disney World and looking for a special dining experience, Morimoto Asia should absolutely be on your list. For myself, I know I'll be back.
Have you eaten at Morimoto Asia? What was your meal like? Let us know in the comments!