Disney in a Minute: What is a Preferred Room?
We're here with a series of quick posts, "Disney in a Minute"–bite-sized nuggets of information that can better help you understand a Disney term or planning topic. Enjoy!
When making reservations at many Walt Disney World resort hotels, you'll be presented with the option to choose a standard room or a preferred room. What's the difference?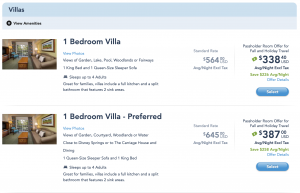 The first thing you'll notice is the obvious price difference, from about $30 per night for annual passholders at a value resort, up to several hundred dollars per night for a multi-room villa at a deluxe resort. So what do you get for that hefty markup? Not a better appointed room – the preferred rooms at, for example, Pop Century, are exactly the same as the standard rooms. Not necessarily a better view. At, for example, Coronado Springs, the standard King Bed rooms might have a view of a "courtyard or parking area," while the preferred King Bed room might overlook a "lake, courtyard, or parking area."
The real difference in standard vs. preferred is location of the room within the resort. For example, the Saratoga Springs resort preferred rooms are "close to Disney Springs or to The Carriage House and Dining." The resorts that offer a preferred designation are typically large, so a location nearer transportation or restaurants might make a difference in your stay. But how much of a difference and at what cost? If you have a car and plan to drive to the theme parks, does it matter if you're close to the bus stops? If you're planning to eat most of your meals in your room or at the theme parks, does it matter if you're close to the hotel food court?
Another thing to consider is that Disney's preferred location might not be your preference. For example, at Saratoga Springs, the preferred rooms are in red in the photo below.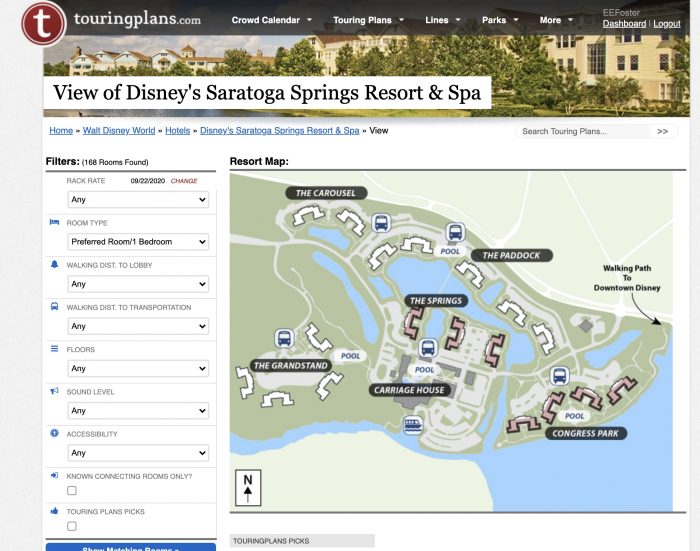 The Congress park preferred rooms are great if you want a quick walk to Disney Springs. The Springs preferred rooms are great if you want a quick walk to the main pool or the golf course. But neither location is great for the other purpose, and Disney doesn't make it easy for you to specify which you want.
But good news! The TouringPlans Room Finder tool can help you get the actual preferred room you want, or better yet, get a room location you prefer without paying preferred prices. Just go to any of our hotel pages (here is Pop Century's) and click on the "Find a Great Room" button.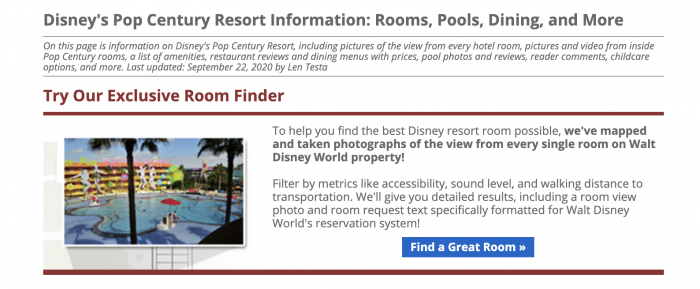 There you can select a preferred room type (in the "room type" field) and click "show matching rooms" to reveal those expensive preferred rooms.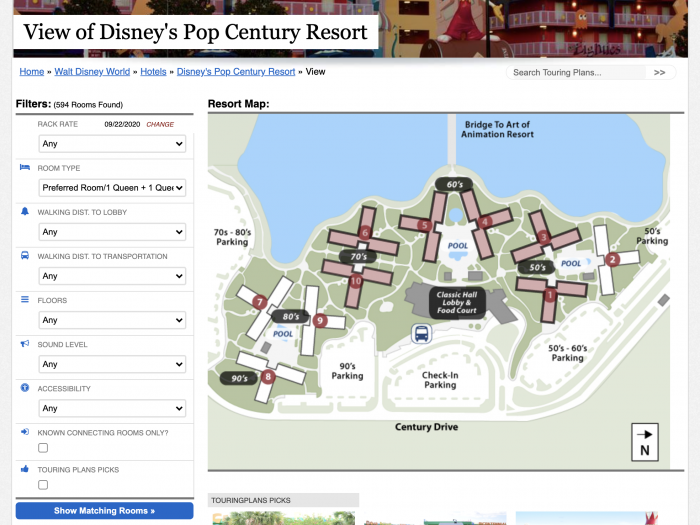 Then, for the best of both worlds, as a TouringPlans subscriber, you can select a room that's right next to the preferred area (the right-pointing spoke of Pop Century's building 9, or the Paddock building closest to Congress Park at Saratoga Springs, for example) and we will fax Disney to make that request for you, helping you get the best room available without paying extra.
Let us know what Disney topics you think need just a bit more explanation in the comments.