Disney in a Minute: What is Flatbread?
We're here with a series of quick posts, "Disney in a Minute," bite-sized nuggets of information that can better help you understand a Disney term or planning topic. Enjoy!
What is Flatbread?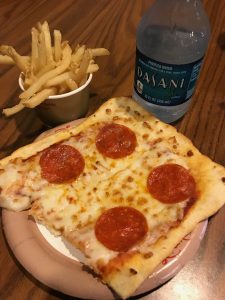 At the Disney theme parks and on Disney Cruise Line, you'll often see a menu item called "flatbread." Before I was clued in, this was something I avoided because I wasn't sure what it was. Come to find out, flatbread is simply Disney-speak for pizza. Both pizza and flatbread are terms for crust with sauce, cheese, and toppings, and both pizza and flatbread can describe a bready crust with more unique toppings. Flatbreads and pizza can be found at breakfast, lunch, or dinner. There doesn't seem to be any rhyme or reason about which word they use. Pizza can be elaborate and elegant, flatbread can be boring and basic, and vice versa.
If you're in the mood for pizza at Disney, it's important to look for both pizza and flatbread on menus. To find either, use the TouringPlans menu finder tool at the bottom of our Dining Information page. For example, within Epcot, a search for "pizza" yields options at Via Napoli, Tutto Italia, Sunshine Seasons, and Akershus, while a search for "flatbread" shows options at Kringla Bakeri og Kafe, Chefs de France, Rose & Crown, and a Food & Wine Festival booth. Many of these items are virtually identical.
Let us know what Disney topics you think need just a bit more explanation.