Disney World Resort Rundown: All-Star Resorts Overview
Quick quiz: Do you love having "the "Disney Experience"? Are you a rope-drop-until-fireworks person? Do you feel smart when you're saving money? Do you like bus rides?
If you answered "yes" to any of these questions, then one of Disney's All-Star Resorts may be for you! In this article we'll discuss what the three All-Star resorts have in common, and in future articles we'll go over more resort-specific features to help you choose the right one for you.
Disney's All-Star Resorts: Overview
The All-Star Resorts include three separate resorts, each with its own theme. In alphabetical order, they are All-Star Movies, All-Star Music, and All-Star Sports. Cheaper than Pop Century or Art of Animation, they are the least expensive Value Resorts at Walt Disney World.
Spread over a vast expanse, the resorts comprise 30 three-story motel-style guest-room buildings. Rooms open out onto an exterior walkway, not an interior hallway. The three resorts are "connected" by a mile long jogging path. Although they're neighbors – more like siblings, actually – each has its own distinct lobby, food court, and registration area.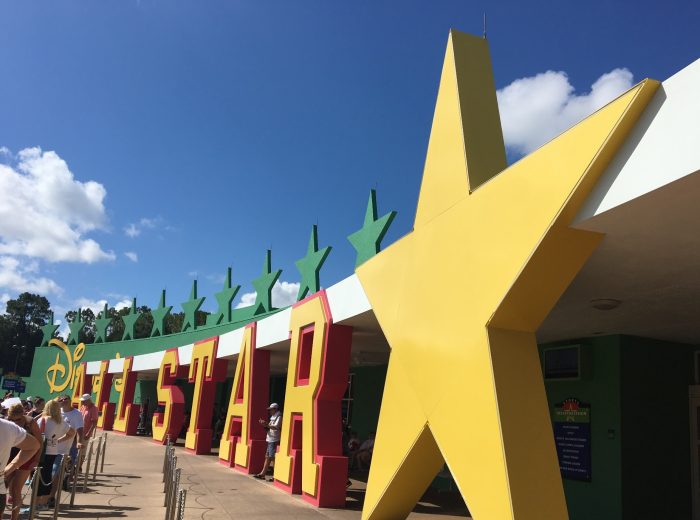 The All-Star location may seem less than ideal for some folks. All are located in the Animal Kingdom area of Walt Disney World on the western edge of Disney World, and there aren't many parks or attractions within easy walking distance. But FWIW, Blizzard Beach is just down the road and some claim it's almost walkable.
As Value resorts, the All-Stars lack some of the amenities that Moderate and Deluxe resorts offer. For example, there are no Table Service restaurants or fitness centers at the All-Star Resorts. The pools do not have waterslides or jacuzzis and may feel like the theming is a little more lightweight.
Because these are the least expensive Disney Resorts, larger groups often book here. It's possible the resort may be noisy with school groups or sports teams enjoying the pools or food courts. Crowds can also affect your wait times at the bus stops if you happen to arrive when a big group is waiting to board.
If the above feel like warnings of minimalism, well, they are. But that's by comparison – these resorts still have tons of theming that will put a smile on your face. At the All-Star Resorts you'll get Disney magic, complimentary (bus) transportation, and Early Theme Park Entry every day, with the most budget-friendly rates of any Disney-operated resort.
Rooms
The All-Star Resorts have been undergoing refurbishment, renovation, and reimagining. Work began at All-Star Movies and the last up is All-Star Sports. At the time of this writing work there is in progress and anticipated to be done in early 2023.
While the rooms at the All-Star Resorts are the smallest on Disney property at 260 square feet, the recent refurbishments are lauded as making excellent use of the space. But if you're a rope-drop-to-close person (who also likes saving money), then the size of the room may not matter to you because you'll probably just sleep there (and feel smart because you're saving money).
Rooms are decorated to highlight the theme of each resort: Music, Movies or Sports – all with Disney flair and style, of course! As Value Resorts, they have less Disney theming than the rooms at Moderate or Deluxe resorts. But the price you pay may make up for what they lack in decoration.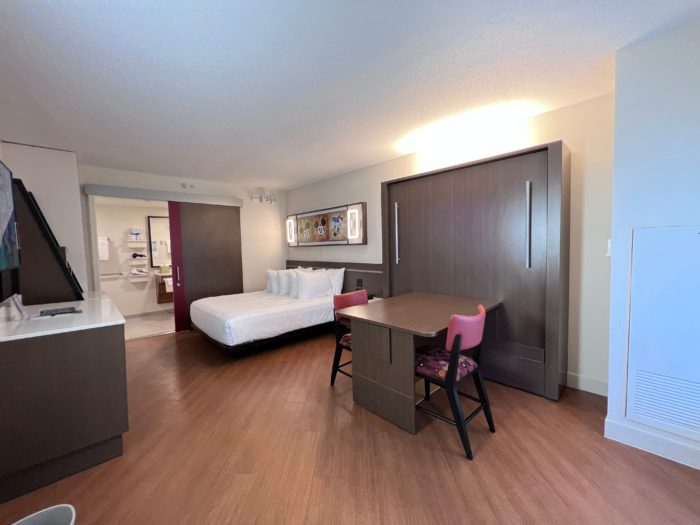 Regular rooms sleep up to four people and come in two types. Most rooms have a queen bed and queen-sized Murphy bed that sleeps two and provides a table when folded up. A number of rooms have a king bed only and sleep two people. There are also wheelchair and hearing-accessible rooms providing accessible bathrooms and visual alarms. Last, but not least, All-Star Music has Family Suites that sleep 6.
The remodel ensured that there are plenty of USB ports in each room for charging phones, watches, etc. Also included are WiFi, TV, coffee maker, beverage chiller (not quite a refrigerator – it won't store food at 40 degrees or below), phone, safe, iron, and ironing board. The bathroom has a hairdryer and a single sink with counter space and storage underneath.
For storage, you'll find drawers, cubbies, and a closet. Suitcases and other luggage can be tucked under the bed, which is a great space saver. Although these rooms are small, every inch is well-used in the current design.
There are connecting doors, so you can try to book adjoining rooms if you want to keep others in your group close by. Note that Disney does not guarantee that you will receive connecting rooms even if you request them. When you're checking in online, you can also make requests for things like a quieter room, near the bus, near the food, and so on.
As mentioned above, rooms open to an outdoor walkway, not an interior hall. None of the rooms have a balcony. All of the All-Star buildings have elevators, ice machines, and vending machines available for guests.
Pools and Recreation
Each All-Star Resort has two pools. The larger pool hosts recreational activities and has a nearby pool bar serving snacks & sips. The smaller one is generally a quieter pool, meaning loud play and excessive splashing around are discouraged. The theming and amenities at the pools aren't as elaborate as other resorts, but if you're that rope-drop-to-close person we keep mentioning, getting your fill of the "Disney Experience" at the parks and just using a pool to cool off in while having a little downtime, this may be just fine.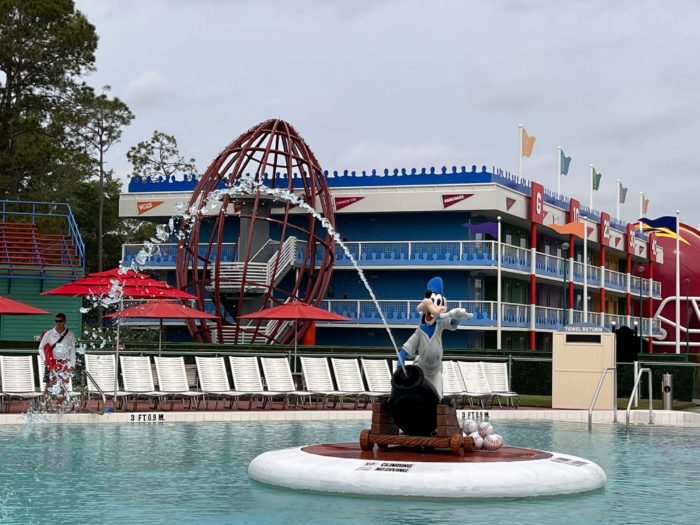 Around the pools you'll find showers, storage lockers, restrooms, and laundry facilities. But none of the pools at All-Star Resorts have slides or hot tubs. If that's a deal-breaker for you, you'll need to book at a Moderate or Deluxe resort.
Other All-Star recreation options include an outdoor playground and an arcade in the main lobby. And every All-Star Resort hosts "Movies Under the Stars" in the evening. If your resort is showing a Disney classic you don't care to watch, take the jogging path to another resort and see what's playing there. You've got options!
Transportation
Unless you bring a car, free transportation to the parks, other attractions, and Disney Springs is only available via bus. All-Star Resorts don't have a Skyliner station. They aren't near the monorail and have no boat access, either. Buses do come by frequently, sometimes stopping at the other All-Star resorts, depending on crowd levels and demand.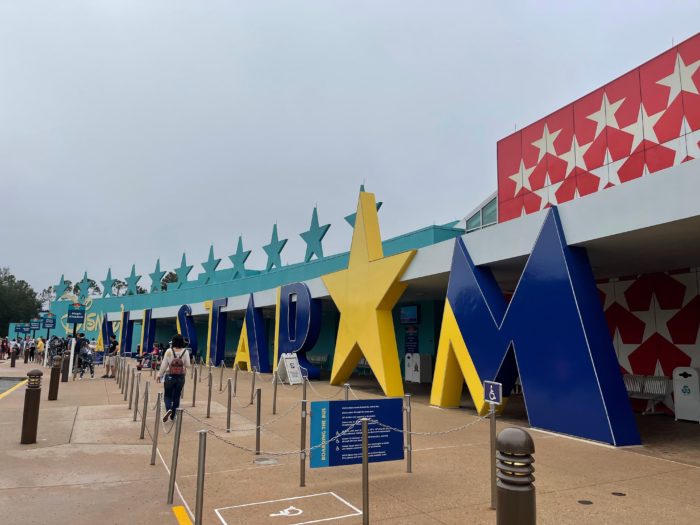 To get to another hotel, your best free bet is to take the bus to Disney Springs or a theme park and then take another to your ultimate destination. The downside is that it can take up to 2 hours to do so. If time is of the essence, you can choose a paid option such as a Minnie Van or rideshare.
Dining Options
There aren't any Table Service options at the All-Star resorts, so the dining options are limited to the Food Court and the Pool Bar. But if you like to use your money efficiently, the savings you get on your room may make some space in your budget for more Table Service dining! And, if you're that rope-drop-to-close person (are you getting a picture here?) it's likely you'll be eating most of your meals in the parks anyway.
The All-Star Quick Service food courts do offer a lot of choices, with menus that are much more extensive than you'll find at resorts with more dining locations. Menus are fairly similar between the three food courts, with some minor variations. All offer some allergy-friendly options as well as plant-based fare.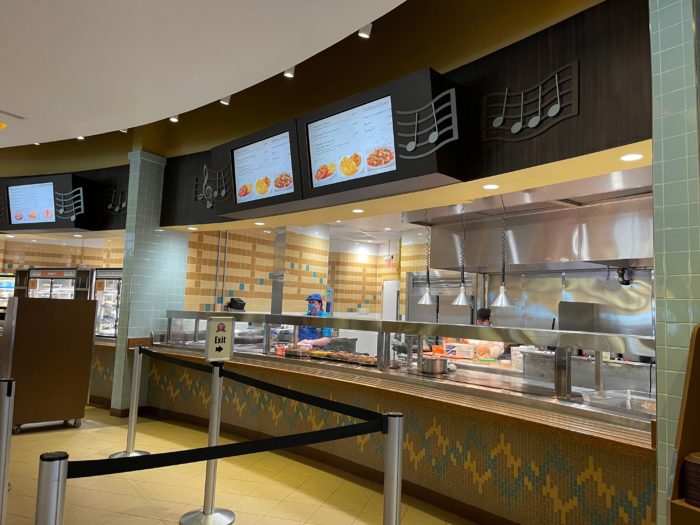 Here's a nice-to-know tip: you can use mobile ordering in the My Disney Experience app to place your order and avoid some time waiting in line.
Pool Bar menus are likewise similar between the three resorts, consisting mainly of snacks, salads, sandwiches, as well as beer and other beverages.
It's also possible to walk from the All-Star Resorts to the only on-property McDonald's. Depending on which All-Star you're in, it's about a half mile to just over a mile walk. (What's so Special about the McDonald's on Walt Disney World Property?)
Summing up
If you've ever wanted to stay onsite at Walt Disney World, but suffered a little sticker shock, you might take a look at one of the All-Star Resorts. All offer you Disney Magic at a price your wallet may find quite appealing.
Have you stayed at the All-Stars? Which one is your favorite? Let us know in the comments!