Disney World Crowd Calendar Update for Mid-April 2021
This Crowd Calendar update has updates going through 2022. For the rest of April and summer, the crowd levels are adjusted based on recent activity. Even with Spring Break being over, crowd levels have increased. Park Pass reservations have become more difficult for guests to acquire. More Disney cast members have been called back to work. We have seen more backstage areas being used for extended queues, and ride vehicles being loaded with more guests. This week we have seen more dining reservations and Park Pass reservations becoming available. There has been no official word from Disney, but these are all signs that Disney has or is preparing to increase attendance. As U.S. vaccination rates and Disney cast member vaccination rates increases, so will crowd levels.
March 2021
Looking back at March data, wait times at attractions that are running at 100% capacity are significantly lower than pre-pandemic times. Social distancing rules have caused attraction queues to extend beyond the attractions' entrances. The extended queues wind through the parks, going through closed attractions and restaurants, and even going backstage. Disney has been very creative in finding room for the extended queues.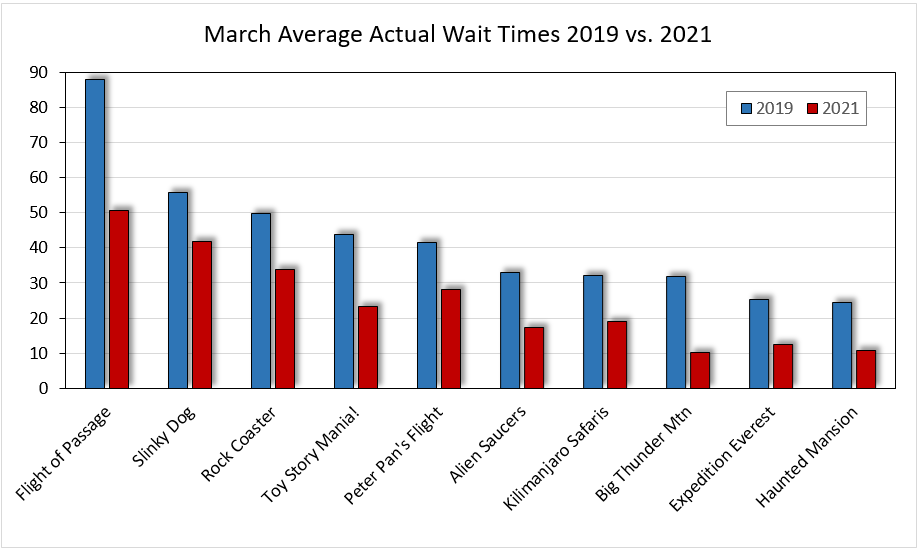 April and May 2021
We expect crowd levels to remain at current levels. Weekends will be busier than during the weeks, as locals visit the parks. Wait times are a bit higher than March, but still manageable.
Summer 2021
We expect Disney will be at 50% capacity by this summer. With an increase in capacity, we expect more experiences to open up. Disney has not announced dates, but we expect the Festival of the Lion King show at Animal Kingdom will be returning this summer. The first nighttime spectacular at Disney World will likely be Harmonious at EPCOT. Disney will still be limiting capacity. Demand will higher than available. If you are planning on visiting this summer, make your plans now.
Fall 2021
We hope and expect that Holiday parties will return to the Magic Kingdom in 2021. The Crowd Calendar is assuming the Magic Kingdom will close early for parties and party days typically have guests avoiding the Magic Kingdom. Party dates have not been released, and the party schedule we are using is based on prior years. October 1, 2021, will be the start of "The World's Most Magical Celebration" an 18-month celebration of Walt Disney World's 50th anniversary. Disney will use the celebration and new attractions in marketing to encourage people to return to Walt Disney World.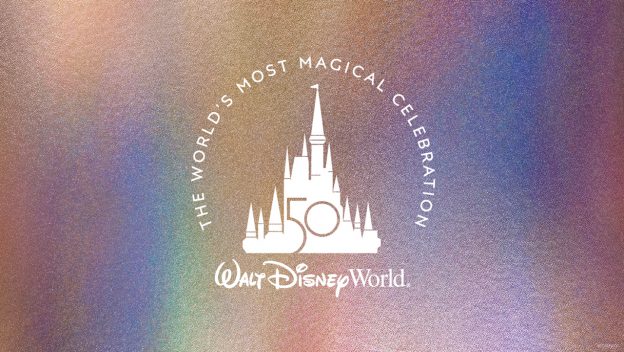 Winter 2021-2022 and beyond
We expect that Thanksgiving, Christmas, and into 2022 will have crowds similar to crowd levels prior to COVID-19. Many schools are preparing for a return to normal in-person schedules this fall. Domestic and International travel should return back to pre-pandemic levels. Bob Chapek, Disney's CEO, said he believes the tightened pandemic safety rules won't be needed by 2022.
For all future travel, the TouringPlans Travel division can help. With professional, no-fee travel agents ready to help, you can reserve the hotel you want now and they will keep you up to date on discounts to make sure you get the best price. Get your quote now.