Disneyland Alien Pizza Planet Review
Alien Pizza Planet is a quick service restaurant in Tomorrowland at Disneyland in Anaheim, California. This eatery, which is themed after Pizza Planet in the original Toy Story film, serves up pizza, pastas, and salads. In this post we'll review the entrees and see what's worth getting if you find yourself in a situation where you end up having to dine there.
Outside the restaurant you'll find that familiar font from its appearance in Toy Story. Other than that there's not many other visual similarities from how it appeared in the movie.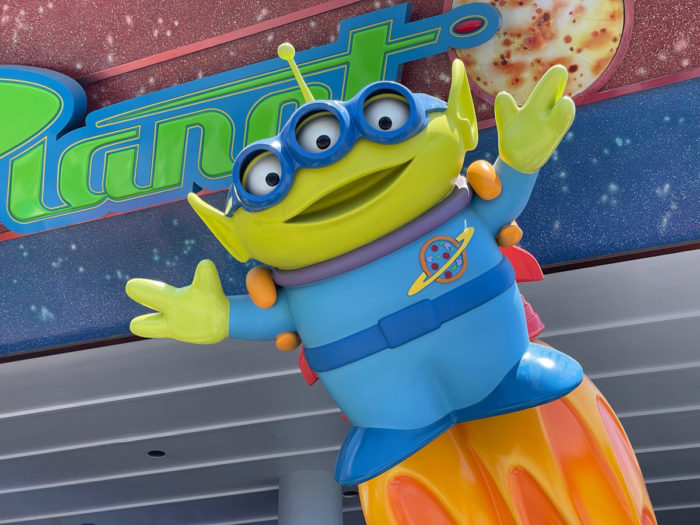 Figures of those lovable Little Green Men are stationed out front.
Here's a look at a slice of the standard pepperoni pizza, which is $8.49 per a slice. A cheese only slice is also available for $7.99. It's a totally fine, yet unremarkable slice of pie. If you want an idea of how it tastes, imagine a generic pizza place you'd see in an airport. "Any pizza is good pizza," you say to yourself as you spend way too much on something you know will be just good enough to not make you completely hate life. Then to your surprise it ends up being decent. That's this pizza.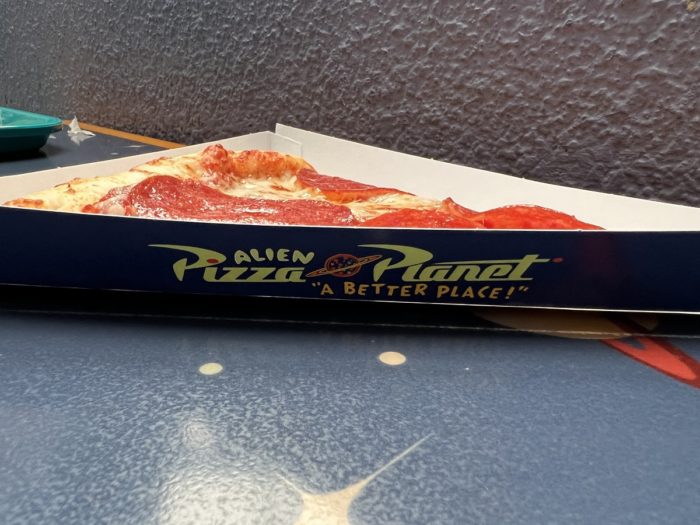 Alien Pizza Planet does have themed pizza trays. If I was rating it this alone would raise the restaurant a full letter grade.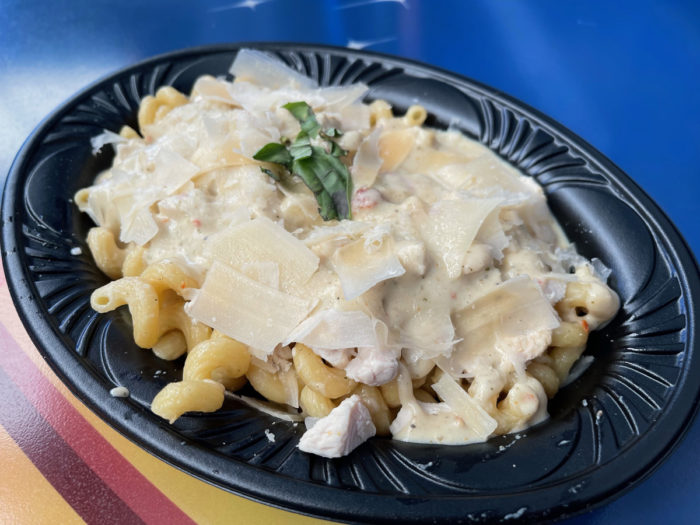 If you're not in the mood for pizza, Alien Pizza Planet has a couple of pasta dishes as well. Here's the Count Down Chicken Fusilli. This dish is made up of Fusilli Pasta topped with Seasoned Grilled Chicken, a Parmesan-Pesto Cream Sauce with Sun-dried Tomatoes and Shaved Parmesan Cheese.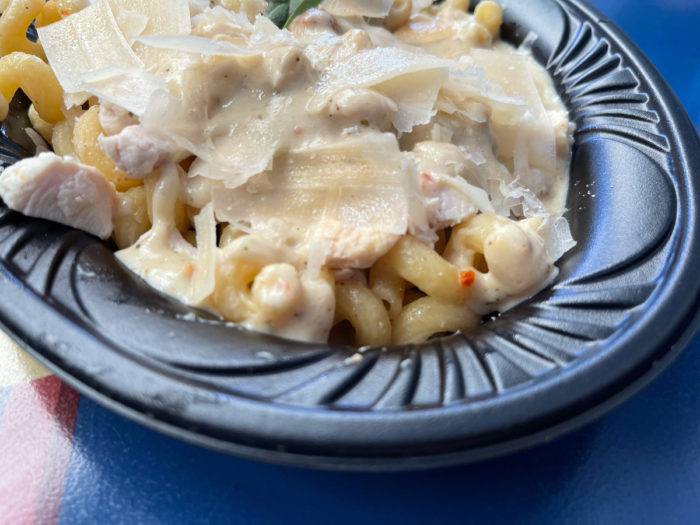 Like the pizza, the Count Down Chicken Fusilli another decent dish. Nothing about it stands out, but it's also not the worst thing in the world. I will say that I can not imagine eating this on a hot day. Eating a huge plate full of pasta drenched in thick and heavy cream sauce and a mountain of cheese while walking around a hot and busy theme park sounds like it should be a punishment for some low-level crime.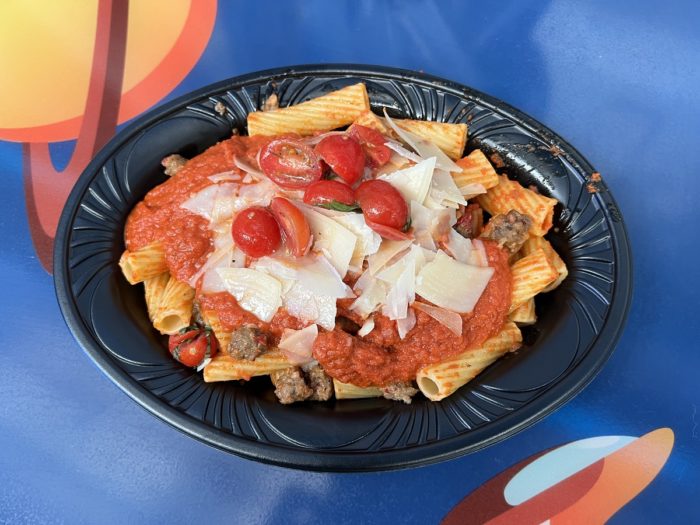 $11.99 gets you the Tomato Cream Pasta, which includes Italian sausage and bell peppers and blush sauce. This is a substantial meal that filled me up for most of the day. I consider it to be one of the better values in Disneyland Resort quick service because of it. It tastes a lot like something you could easily make at home with off-the-shelf ingredients, but that's not a bad thing.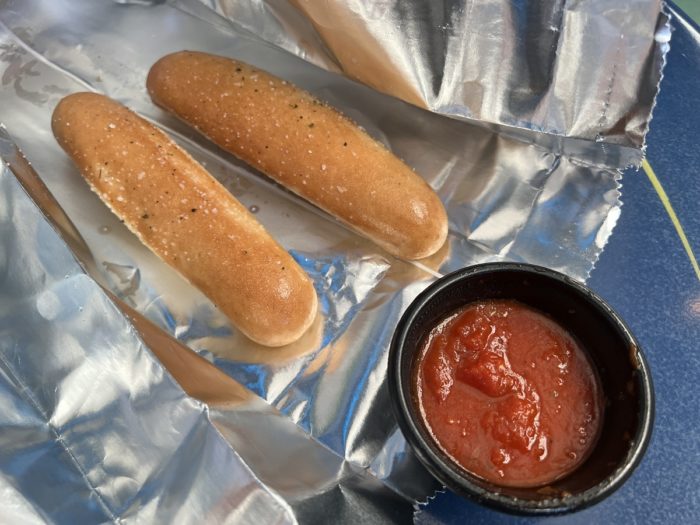 I present to you "Garlon Bread," which are breadsticks. If you're saying to yourself, "Wow Guy, those look exactly like Little Caesars breadsticks." You would be exactly right. They are indistinguishable. If you don't know what those are I will try to explain; Imagine soft/doughy bread, drenched in butter on the outside, and lightly dusted with parmesan cheese and garlic. I have a huge soft spot for Little Caesars breadsticks while also fully acknowledging they're junk food. These did not disappoint when it comes to taste, but at $4.99 for only 2 breadsticks it's a hard recommendation.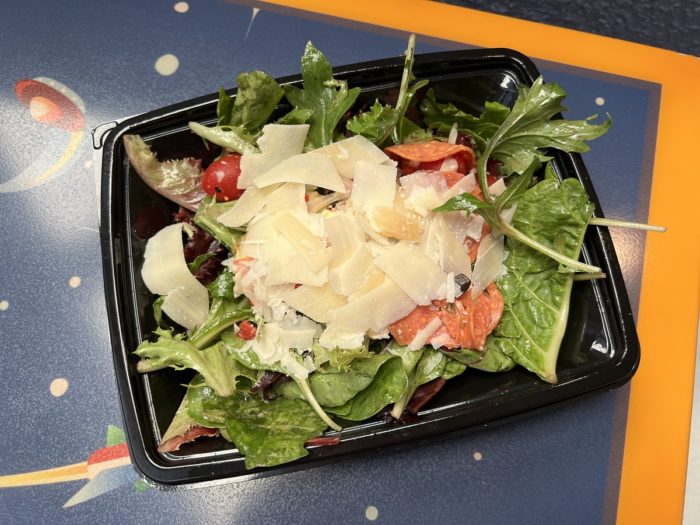 The Astro Antipasto Salad (crisp lettuce with pepperoni, tomatoes, mixed olives, pepperoncini, fresh mozzarella, roasted red pepper, artichoke hearts, and roasted onion, with balsamic vinaigrette and shaved parmesan cheese) is a surprisingly good salad, if you can look past the mountain of cheese. It's very fresh and filling. This is one of the better salads in Disneyland, and it's on the lower end of Disney quick service entrees at $10.49.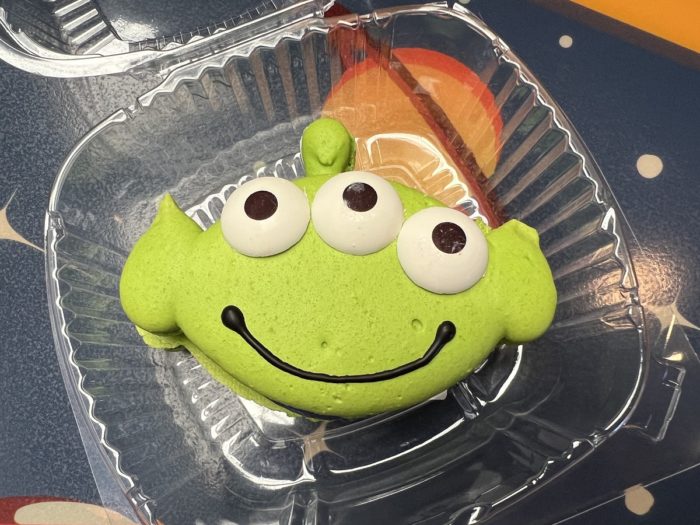 Alien Pizza Planet's signature (and only) dessert is The Macarooooon ($5.99). It's got blackberry flavored filling with some lemon custard hidden in the middle. It's very sweet, but I'm a big fan of the flavors. The look can't be denied, they did a great job with the presentation on this one. You can see why The Macarooooon is popular on social media.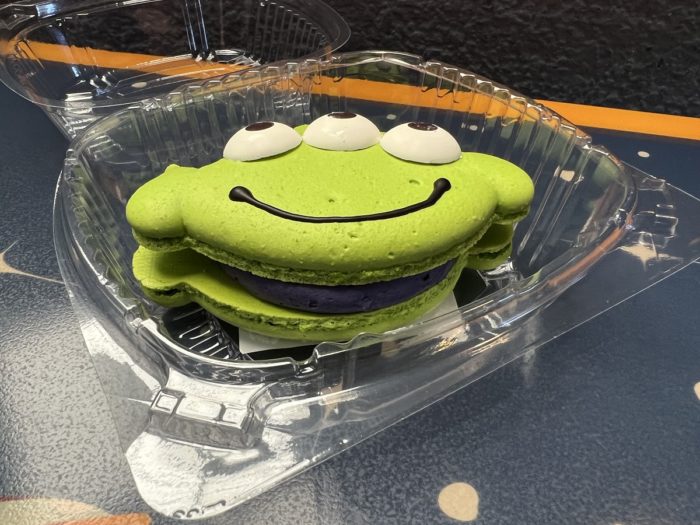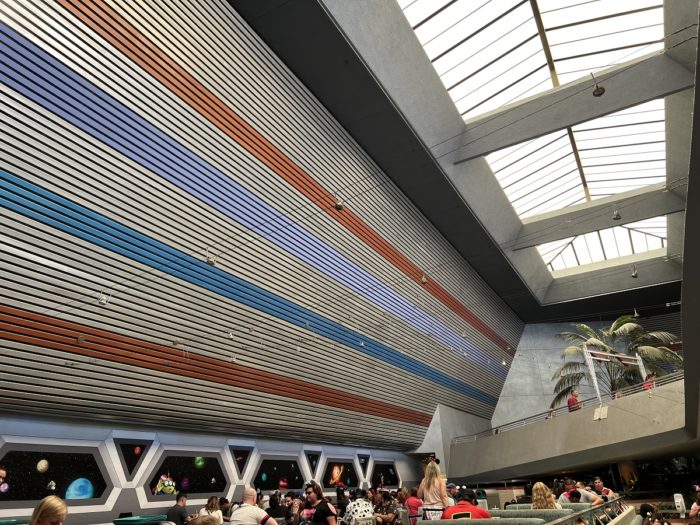 Skip the indoor dining room and head straight to the back patio. Here you can enjoy 100% mid-century Disneyland architecture at its finest. It's pure bliss.
Overall Disneyland's Alien Pizza Planet has a menu that is textbook theme park food. It's the kind of food that comes to mind when anyone thinks of standard theme park cuisine. Nothing on the menu will knock your socks off but you will definitely fill your belly at a fairly reasonable price (when you consider the price of other Disneyland quick service restaurants).
Now you know what to expect about Alien Pizza Planet at Disneyland. Are you a fan of this location? Do you feel the same way I do? Let me know in the comments.