Disneyland Hungry Bear Restaurant Review
Hungry Bear Restaurant is a quick service restaurant located in Critter Country, which is a part of Disneyland in California. Located amid lush greenery and flanked by the beautiful Rivers of America, Hungry Bear serves burgers, sandwiches, and funnel cakes. In this review we'll take a look at menu and help you decide if anything on the menu is worth trying out.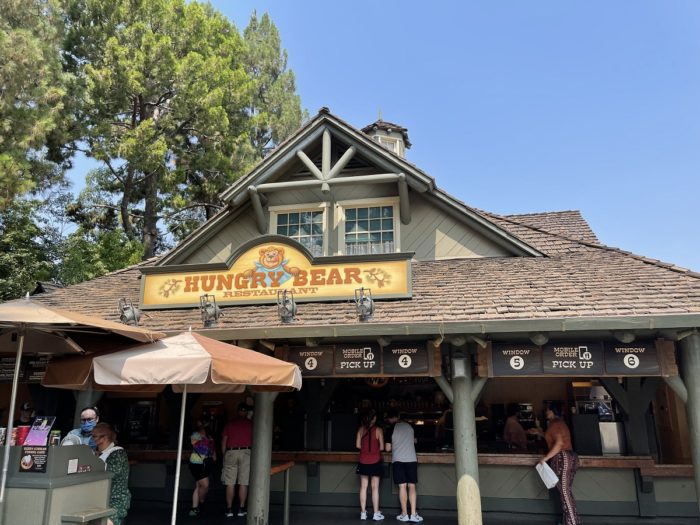 Hungry Bear Restaurant is tucked away in the far western corner of Disneyland, next door to The Many Adventures of Winnie the Pooh, and across the walkway from Splash Mountain. This area used to be a pretty sleepy area of the park when compared to other lands, but foot traffic has increased considerably since an entrance walkway to Star Wars: Galaxy's Edge was built along the restaurant's former waterfront seating patio.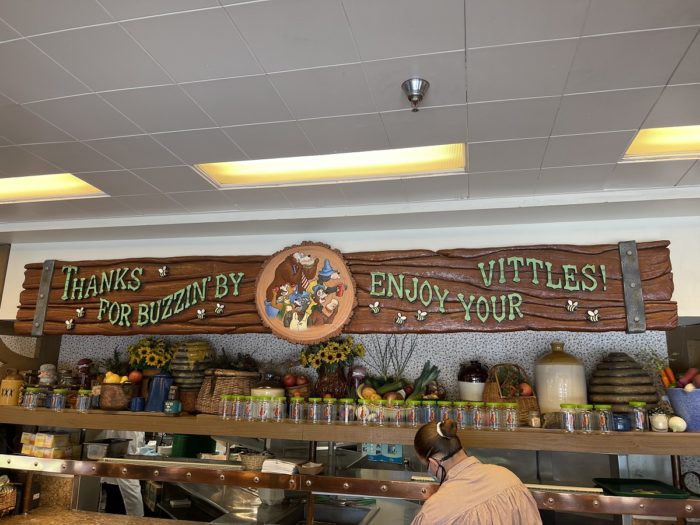 Hungry Bear is themed to its former neighbor, and greatest Disney attraction ever built, the Country Bear Jamboree. Remnants of the Country Bears still remain, including signs above the restrooms, and this beautiful marquee above the kitchen featuring the Five Bear Rugs.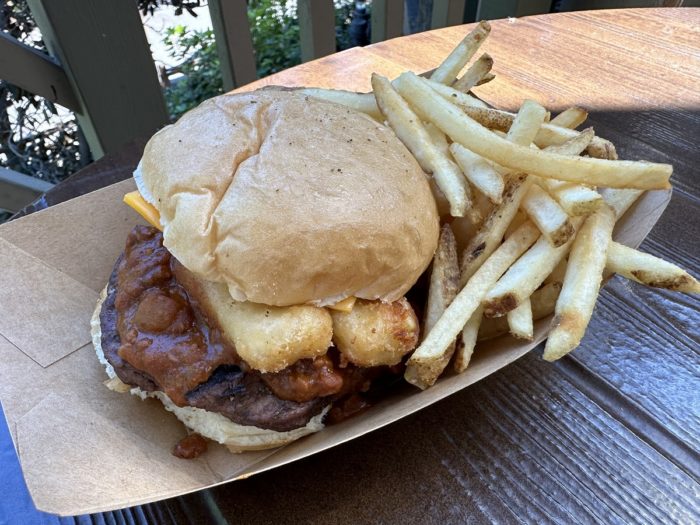 Let's start things off with the restaurant's headliner entree, the Chili Mac Cheeseburger. For $15.49 you get a 1/3 lb angus chuck patty, topped with chili, mac & cheese bites, American cheese and fried onions, and served with your choice of Cuties oranges, fries or onion rings. You read that right, mac & cheese AND chili in the same burger. Off the top of my head, this is the must gluttonous burger I can think of inside Disneyland. Burgers are usually the most basic food you can get inside theme parks, so if you're going to eat one, you may as well go big and get this one. The mac & cheese bites are pretty good and I'm shocked they don't sell them separately. I have a feeling people would really be in to that.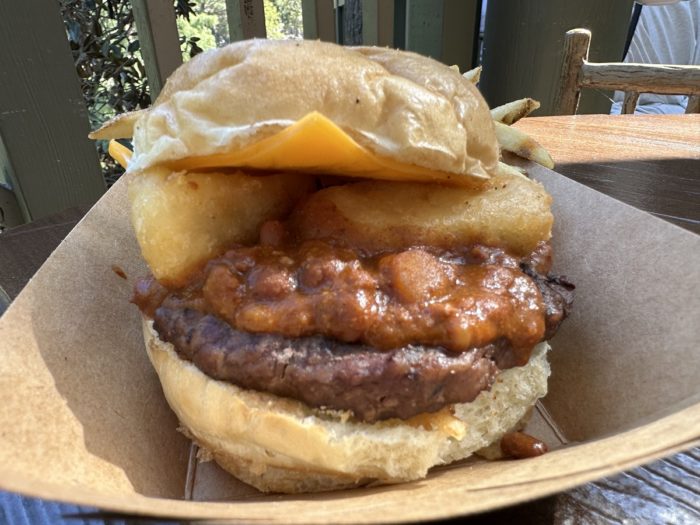 The Chili Mac Cheeseburger is very messy so be sure to grab some extra napkins. Also, ask for a fork to pick up all the bits that will inevitably fall out. I enjoyed the crunch the fried onions added to the burger. At some point in the last couple of years the buns at Hungry Bear must have been upgraded. They're not the stiff hockey pucks of cardboard they used to be. If the Chili Mac Cheeseburger isn't your thing there's also a Classic Cheeseburger on the menu for $12.79.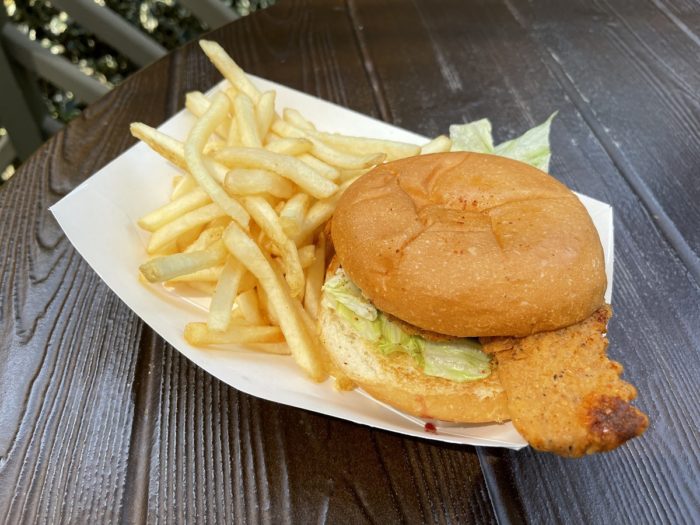 Here's the Honey-Spiced Chicken Sandwich for $12.99. It's served with fries, or you can swap those out for Cuties oranges, or onion rings.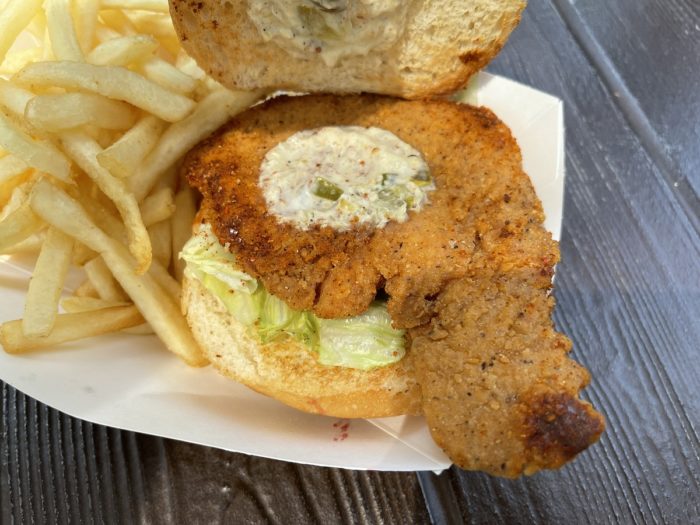 The chicken in the sandwich was very flat. I mean actually physically flat, like someone smashed it with a hammer. There's more breading than chicken here. Unfortunately I hardly noticed the advertised flavor. For something billed as being honey-spiced, I wish the flavor was more intense. It doesn't really have any flavor, let alone a honey flavor. I recommend avoiding this item due to it's poor quality.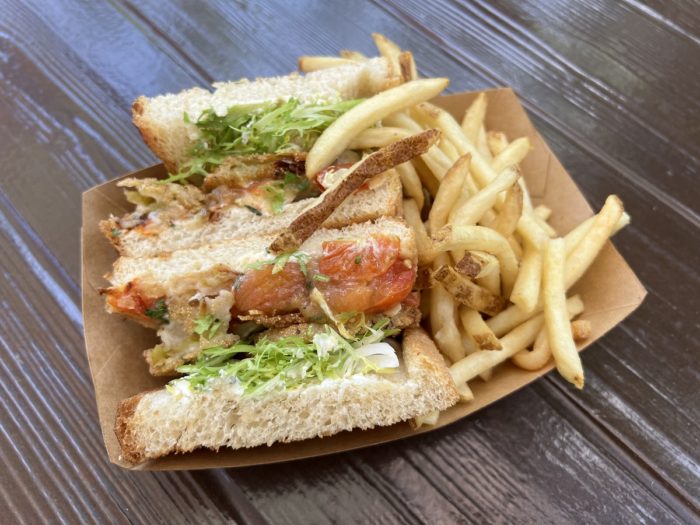 Years ago a Fried Green Tomato sandwich graced the Hungry Bear menu and we considered it to be one of the best quick service entrees in Disneyland. That one disappeared after a few years but now a new version is available in its place. Priced at $12.49, the sandwich includes cornmeal-crusted tomatoes with blistered tomato relish, frisée and mascarpone spread and is served on toasted sourdough, with Cuties oranges, fries or onion rings. We're big fans of the Fried Green Tomato sandwich. It's unique, a good value, and tastes great.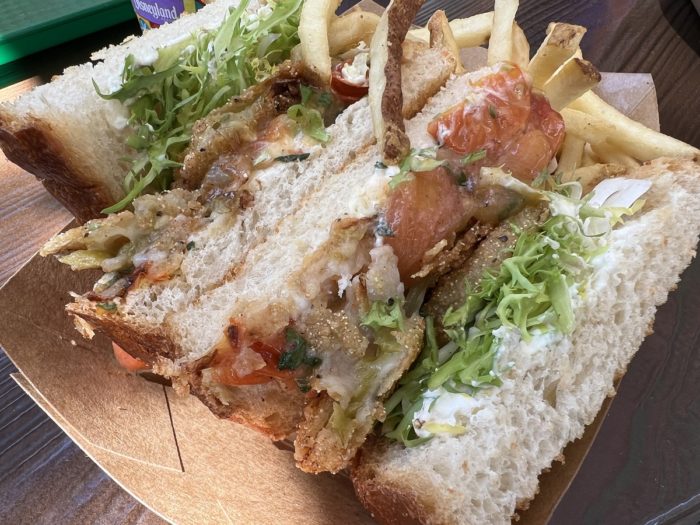 Here's another look at the Fried Green Tomato sandwich.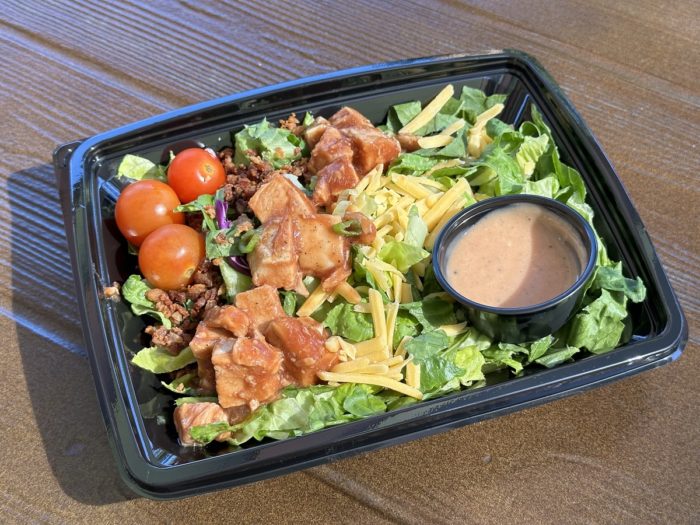 Disneyland Resort has made park-wide improvements to their quick service salads in recent years, including the BBQ Chicken Salad ($12.49) at Hungry Bear. The salad includes BBQ chicken, tomatoes, bacon bits, cheese, red cabbage, and BBQ vinaigrette. The BBQ vinaigrette was a little more sweet that I prefer, but thankfully it comes on the side so you can adjust how much you put on your salad. The greens were fresh and the BBQ chicken was tender and flavorful.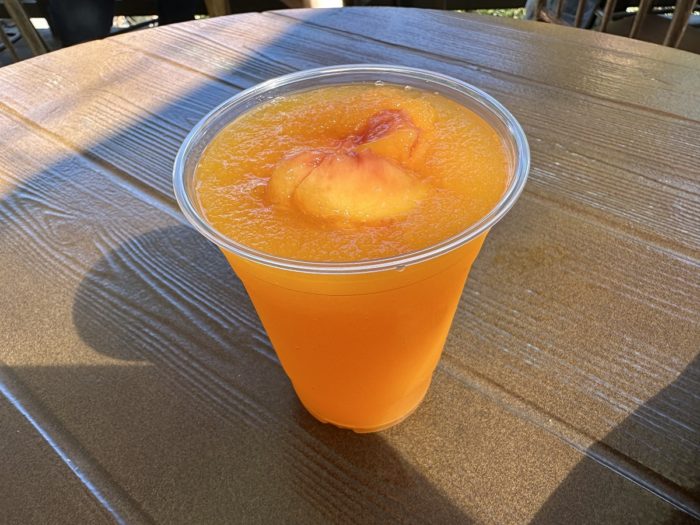 Everyone loves slushy drinks. Or at least that's what appears to be the case if you see how many quick service locations and stand alone outdoor vending carts serve these frosty drinks. Hungry Bear's drinks rotate in and out seasonally. Pictured above is the Peach Honey Tea Slush. It's extremely sweet on a hot day it's truly glorious. Also currently on the menu is a Watermelon Lemonade Freeze. The slushy drinks are priced at $5.99.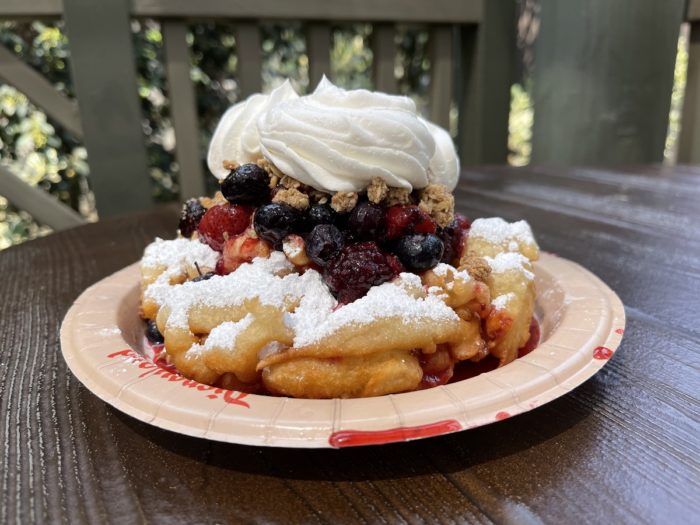 Hungry Bear's menu includes at least one funnel cake, but sometimes more depending on the season. Pictured here is the Berry Cobbler Funnel Cake. Look how tall this thing is! Included is a funnel cake topped with a generous portion of berries, streusel crumble, powdered sugar, and whipped cream. It's a massive portion that you can probably split with your entire party and maybe even the table next to you. A plain funnel cake can be yours for $7.49, while the seasonal funnel cakes, such as the Berry Cobbler, are usually priced around $10.
Overall Hungry Bear Restaurant is middle of the road in terms of food. There are better quick service choices in Disneyland (Docking Bay 7, Red Rose Tavern, and Plaza Inn come to mind), but you won't find anything at Hungry Bear that is bad or good, just completely average. But they do have some pretty darn good funnel cake.
Where does Hungry Bear Restaurant rank for you when it comes to Disneyland food? Let us know in the comments.