10 Side Trips to Take When You Visit Disneyland
Okay, I think most of us can agree that Disneyland does not take as many days to see as Walt Disney World.  In a strange way, I do like that about Disneyland.  Not everyone would agree on exactly how long it takes of course.  I can stay there for a good 5 days and never feel restless.  I had a friend go for 10 days once!  I'm pretty sure you can go every day for a month and still not be able to soak in every last exquisite detail.  But I know many people feel like they can do it in just 3 days depending on how crowded it is at the time.  That just may leave you some extra vacation time to spend in the Southern California area.  So, what are you going to do with that extra time?  Assuming you have some sort of transportation, here are some things that might interest you!
1. A Disney Cruise! – Being a lover of Disney Cruise Lines myself, this would definitely be my first suggestion.  Let me say that another way—a Disney cruise is my absolute favorite vacation bar none.  I could go on and on about the wonder and magic you will find onboard to fulfill your every dream and fantasy (but I digress).  Disney has 7-night Mexican Riviera cruises out of Los Angeles!  Disney won't be sailing out of LA for long though.  The Disney Wonder is scheduled for Mexican Riviera cruises from now until April and then, after a summer in Alaska, it will resume Los Angeles sailings until the beginning of December 2012.  After that the Wonder is headed to Miami for a while, so this may be your last chance to try those Mexican Riviera itineraries!  If you've never tried a Disney Cruise – DO IT!!!  You will be spoiled beyond belief.  It's a vacation for all ages.  Combined with a stop at Disneyland?  Even better!
2. Adventures by Disney Backstage Magic – I will fully acknowledge that this option is not a cheap way to visit Disneyland.  It is, however, a world class guided tour.  This is a 5-night/6-day tour that will take you places in Disneyland and Hollywood where the average visitor isn't allowed to go.  You'll visit the Jim Henson Company Lot, take a private tour of the Walt Disney Studios, stop by Walt's apartment in Disneyland, receive a 2-day VIP experience at Disneyland, and the list goes on.  Adventures by Disney is known for being one of the best in luxury tours.  They won't disappoint you if you decide you want to use them to extend your trip to Disneyland.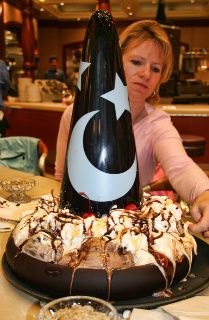 3. Disney Soda Fountain and Studio Store and El Capitan Theater – The Disney Soda Fountain and El Capitan Theater are adjacent to each other on Hollywood Boulevard.  The El Capitan Theater is a gorgeous theater that hosts live shows, World Premieres, and shows classic and new releases from Walt Disney Pictures.  In Hollywood tradition, it's a grand theater and seeing a movie there is a far cry from sitting in your local Cineplex.  It's more expensive than your local theater, but it is a truly unique experience.  After the movie, you won't want to miss a stop at Disney's own soda fountain.  When it opened, the press releases said it was like eating in an old fashioned ice cream parlor and that is exactly what it is.  They serve BLT's, hot dogs, Mickey waffles, salads and wraps.  But the real draw is the ice cream!  There are tons of sundaes from which to choose, but our favorite is Mickey's Masterpiece.  Served in a giant sorcerer's hat, it has eight scoops of ice cream, hot chocolate sauce, caramel sauce, whip cream, and marshmallow!  Sigh.  My mouth is watering just thinking about it.  When we are in Los Angeles, this is one of our favorite places to visit.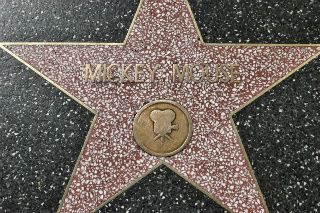 4. Hollywood and Highland – A visit to Hollywood and Highland (which is across the street from the Disney Soda Fountain and El Capitan Theater) is a great way to see Hollywood.  It's essentially a large shopping and entertainment center.  There's a parking garage underneath that seems to always have space.  The complex includes Grauman's Chinese Theater which Disney lovers will recognize as inspiration for Disney's Hollywood Studios version.  It's always fun to visit Grauman's and see the famous hand and foot prints in the cement, as well as get a picture taken with one of the many street characters hanging out in front of the theater dressed as your favorite movie characters.  Additionally, Hollywood and Highland has the Kodak Theatre, home of the Academy Awards, which you can tour for a nominal fee.  There's also a Lucky Strikes Lanes bowling alley, multiple shops, and restaurants.  The sidewalks in front of the complex are even covered with stars from the world famous Walk of Fame.  Get your picture made with Mickey Mouse's star!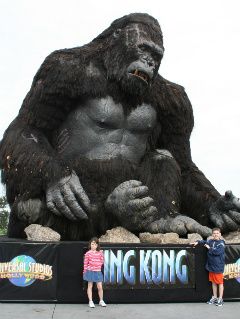 5. Theme Parks – There are several other theme parks around Los Angeles.  I wouldn't put these on the same level as Disneyland, but they all have their own reasons for being fun, and one of them may appeal to you.  Universal Studios Hollywood cannot quite compete with it's counterpart in Orlando.  It's only got one park, and not a huge one at that.  But the recent announcement that they'll soon be adding a Harry Potter attraction may make it too tempting to pass up!  Six Flags Magic Mountain is known for its roller coasters.  It's got 17 of them!  You thrill junkies out there might want to check it out.  Legoland is a little south of LA and now has a location in Florida too, but it's great fun for the under 12 crowd.
6. The Beach – Many visitors from our country's landlocked states won't feel like they've visited California without a visit to the beach.  There's certainly no shortage of beaches in the area within a 30-45 minute drive depending on traffic.  Huntington Beach and Newport Beach are probably the closest.  I have one warning before you visit though!  The Pacific Ocean is cold!!  Always!!  Even in the middle of summer!  If you love to go for a swim in warm water, this water is not for you (or at least consider getting a wet suit.  Seriously.  Even in the middle of the summer).  The kids never seem to mind though and you can still enjoy the beach.
7. Santa Monica Pier – This is one of the most iconic backdrops on one of the most famous beaches in America.  Once you've visited the Santa Monica Pier, you'll start to see it everywhere!  It's in the background of countless movies and television scenes, as well as commercials and photo shoots.  The Santa Monica Pier is a collection of eateries, shops, and carnival style rides.  The Ferris wheel and roller coaster are actually quite fun!  The infamous Muscle Beach is nearby in Venice Beach, and you are also within walking distance of Santa Monica's famous Third Street Promenade.  At certain times of year there's even a Cirque de Soleil production right off the pier.  Finally, once you've visited the Santa Monica Pier, you begin to understand what Disney was trying to pay homage to at the much maligned Paradise Pier portion of Disney California Adventure.
8. Go see a TV show taping – Another quintessential Los Angeles experience is a TV taping.  Most tapings are free, although they normally require some advance preparation.  A quick Google search will tell you there are lots of websites that give away tickets, but one of my favorite sites to check is Audiences Unlimited.  Audiences Unlimited has tickets for a lot of popular shows like America's Funniest Home Videos, Dr. Phil, The Big Bang Theory and sometimes you may even be lucky enough to catch a Disney show taping.  My kids and I were at one of the very first Hannah Montana tapings!  While they are way past the age today in which they would share that experience with their friends, it was a huge thrill for them at the time.  When we lived in Los Angeles, one of our favorite ways to entertain adult out-of-town company was to take them to see a taping of The Tonight Show with Jay Leno.  You can get those tickets the day of the show at the NBC Studios, or get them ahead of time at a website like TV Tix.  Remember, they're free!
9. Getty Museum– The J. Paul Getty Museum is worth a trip just to see the building itself.  Set up in the hills of Los Angeles right along the 405 freeway, it's a striking complex of white building that can be seen from miles away.  Exhibits change frequently and you're sure to find something there for everyone to enjoy.  It is truly one of America's great museums, and its location and views are just unbelievable.  Get this – there's even a monorail from the parking lot to the actual museum!
10. Shopping – Who doesn't mind a little shopping on vacation?  Well, my husband does actually.  Maybe I'm speaking mostly to women with this point, but there is some excellent shopping in Los Angeles!  There's way too many places to name, but if you've got some money to spend or just want to check out some of the highest price tags you'll ever see, take a trip to the LA Fashion District, which spans 100 blocks!  It's full of sample sales, bargains, high-end shopping, and just about everything you could want.  The Grove is another well known outdoor shopping center that's attached to a great farmer's market.  If you're interested, there's a decent chance you can spot a celebrity shopping at The Grove.  Southcoast Plaza is a ginormous shopping mall with over 250 stores.  If you can't find it there, well, odds are it doesn't exist.
All of these ideas are to help you complement your Disneyland vacation.  How about you?  Is there anywhere else you like to take a side trip to when you're visiting Disneyland?