Disney's Grand Californian Club Level Review
When you're on vacation, sometimes you want to splurge. For our trip to Disneyland, we decided to go all out and did a split stay to enjoy club level at two of the three on-property Disneyland resorts. You can read my review of club level at the Disneyland Hotel here.
The club-level lounge at Disney's Grand Californian is called The Veranda, and features many of the things that you would expect from a club-level experience. Outside of the lounge, you've got dedicated concierge staff who are able to help with dining reservations, park tickets, and more.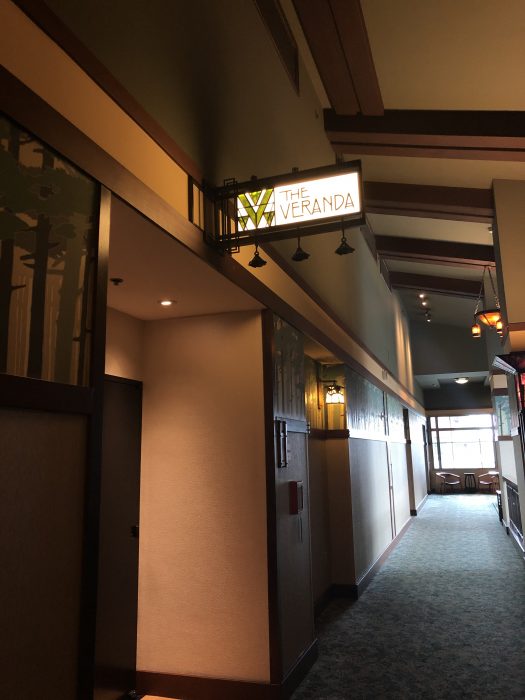 Because it is a newer hotel, you'll find a lot more modern touches at the Grand Californian. The space is open and bright, with a variety of seating.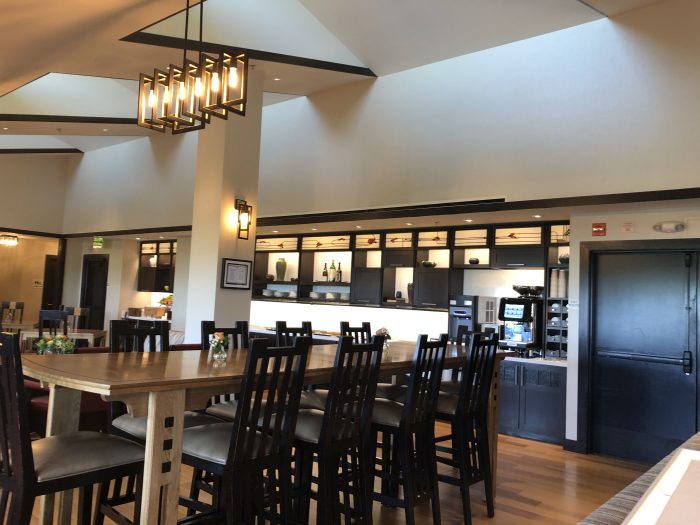 Drinks (including still and sparkling water, coffee, hot tea, iced tea, soda, juice, and "speciality drinks" like cucumber water) are available, along with beer, wine (including create your own mimosas), and more.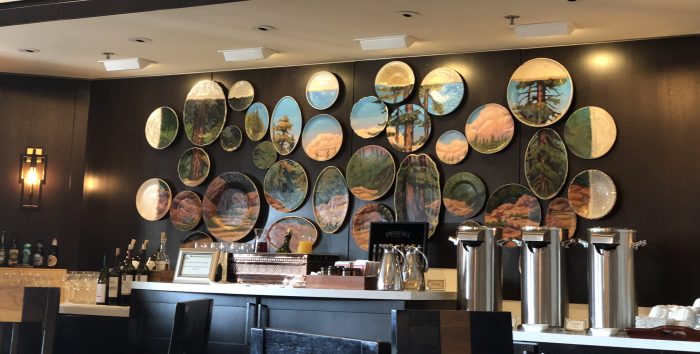 An assortment of foods is offered through the day, with breakfast offerings; mid-morning tea-type refreshments; cheese, crudite, and antipasto meats in the late afternoon; hors d'oeuvre-style options around dinnertime; and evening sweets. Options vary by day, but here's a sampling of what you may find.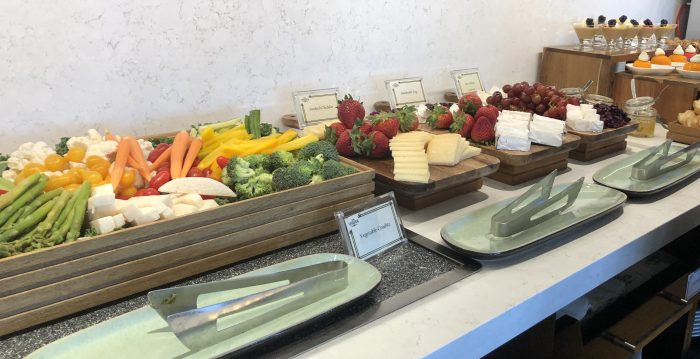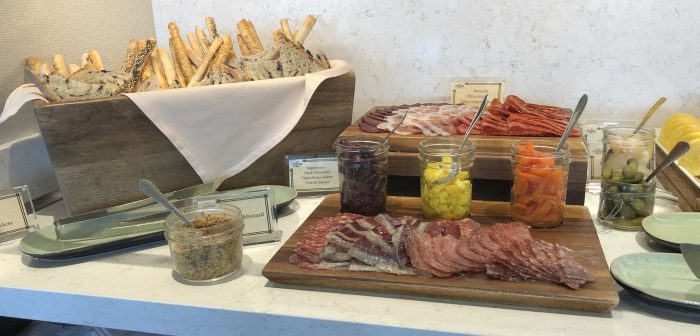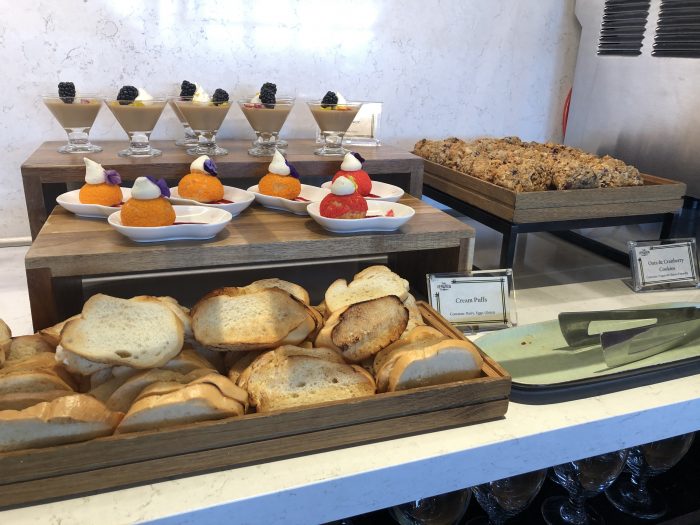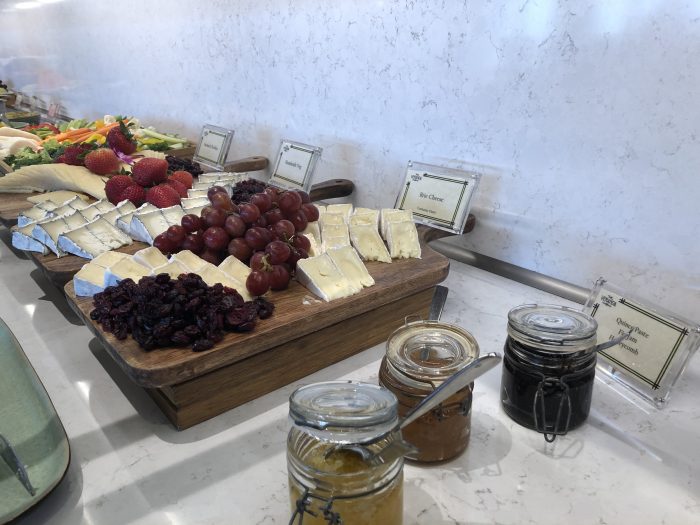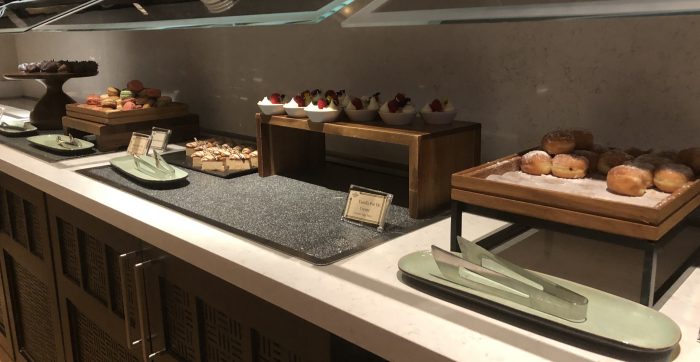 During the day, there's also a kids' station set up with items like finger sandwiches, snack mix, Uncrustables, and whimsical desserts.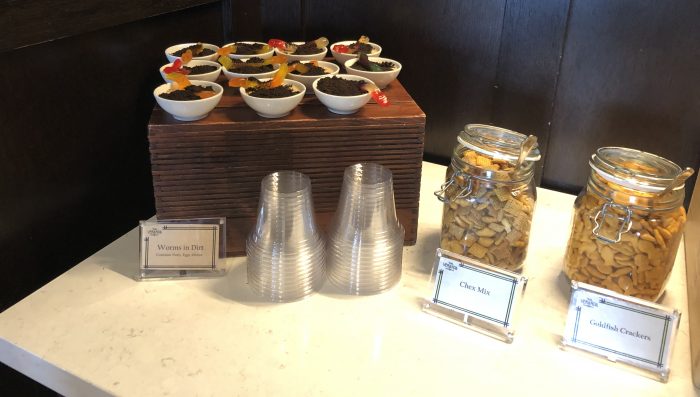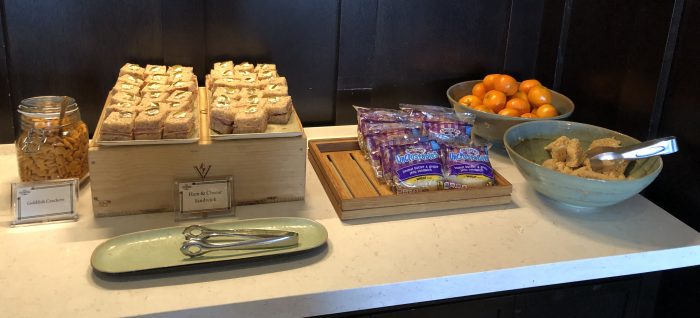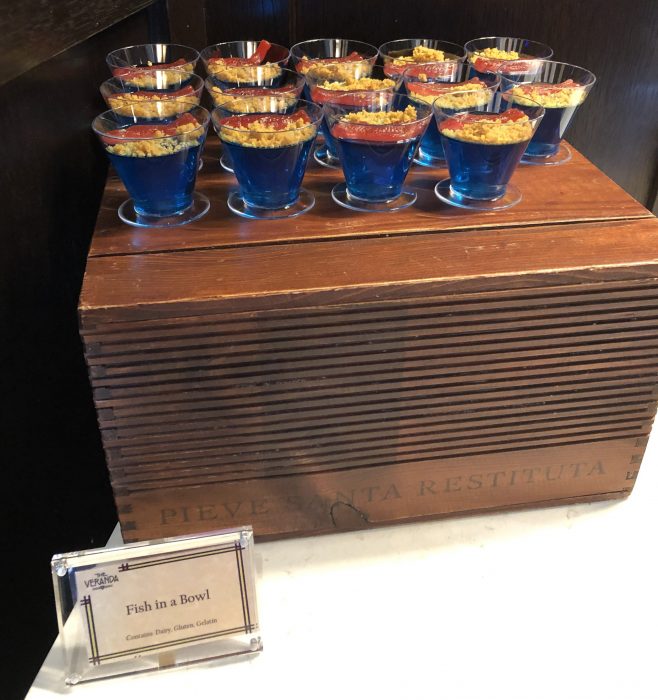 There were four unique aspects of The Vernanda that I really enjoyed. First, and probably missed by many, were the framed "leaves" on the walls. Upon closer inspection, these leaves were actually fiber arts–cloth, embroidery, and crochet done to give the appearance of being actual leaves. It is astounding work.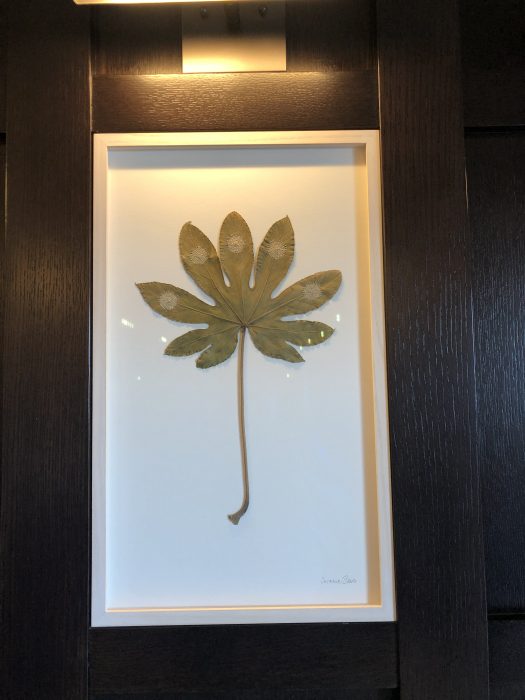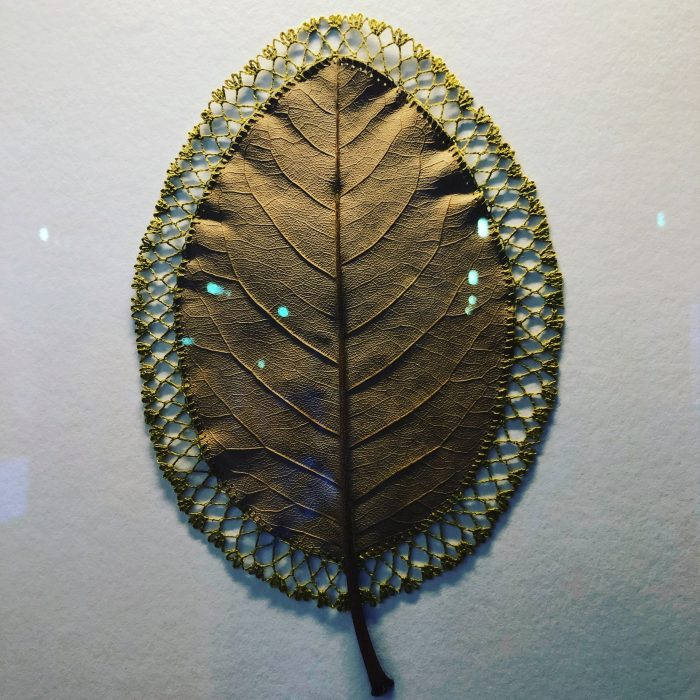 Second, there is an outdoor verandah (fittingly apropos) where you can enjoy your food and drink by day, but at night, it becomes a wonderful place to watch fireworks from Disneyland Park with the music piped in for all to enjoy. Think of it as your own private dessert party.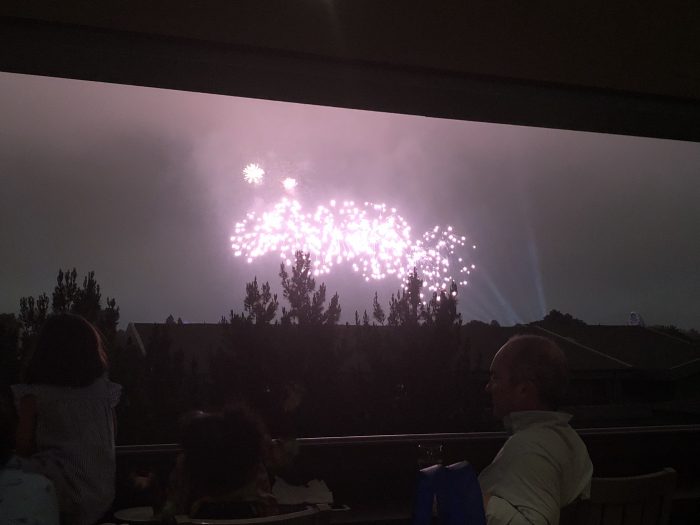 Third, and very unique compared to other club-level stays I've had, in the evening there's a small cooking demonstration where chefs come in and prepare some of the items for that night's service small-plate style for you. One night we had them preparing salads, and one night it was cake pops. (Three guesses what my family enjoyed most!)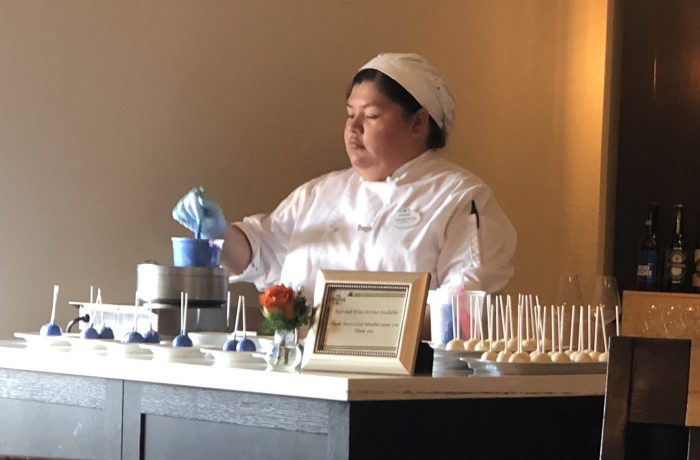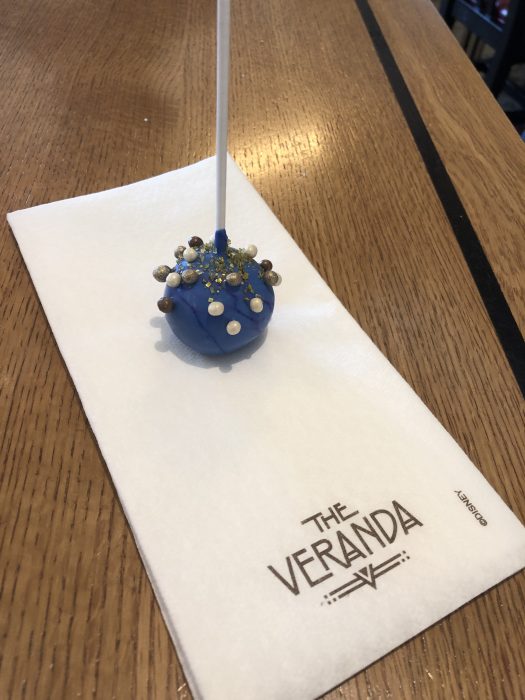 But the one item that I guarantee will have you and your family talking about it for years to come is the create-your-own donut station found some mornings at breakfast. Why other places don't have this is beyond me. It isn't complex to set up, but the wow factor is undeniable.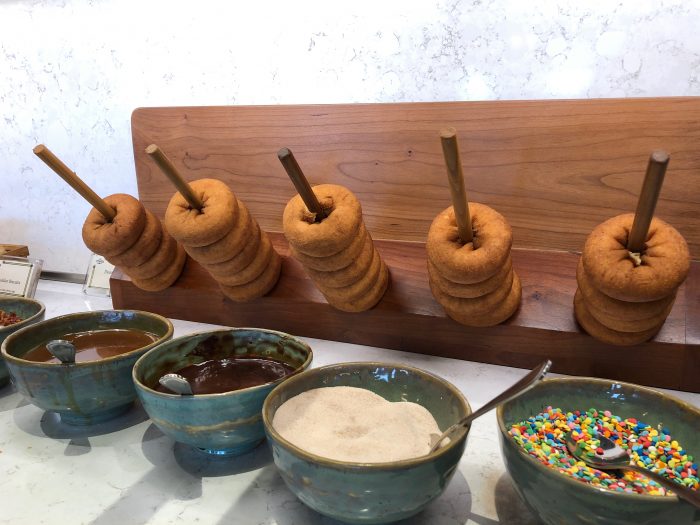 Invariably, the question comes up of "Is it worth it?" That is an extremely subjective question, and one that there's not a one-size-fits-all answer. We enjoyed our club-level stay, and stuck our fingers in our ears to sing la-la-la when we thought about the price. Especially at Disneyland where everything is so close, it was great to be able to walk into the lounge, grab a bite to eat or a drink, and walk back into the parks. Did we get our money's worth? Since neither my husband nor I drink much in the way of alcohol (and didn't have any at all on this trip), I guarantee we didn't get our money's worth–but the intangible quality of it that as an over-the-top vacation splurge did give us "mental value". This wasn't something we'd do at home. If you're visiting Disneyland frequently, it likely isn't worth the money for your stay. If you're doing what we did with the "once in a decade" trip, and you can afford it, why not?
Have you ever stayed club level at the Grand Californian? Do you love the idea of make your own donuts? Do you feel that what you get doesn't justify the price? Let us know what you're thinking in the comments.