Do We Deserve These Donuts?: Voodoo vs. Everglazed
Which is better, Voodoo Doughnut at Universal CityWalk or Everglazed at Disney Springs?
TouringPlans blogger Derek Burgan is a fan of all things Voodoo Doughnut. However a recent photo of TouringPlans creator Len Testa showed Len enjoying an Easter-themed Peeps donut at Everglazed. Could this be a rift of epic proportions like the kind that tore The Beatles apart? Who is right about the donut of choice? Is one better than the other? I decided to find out.
Voodoo Doughnut is an excellent donut shop at Universal Orlando Resort's CityWalk. Voodoo is a Portland-based chain that made their name creating specialty donuts. Their signature donut is the Voodoo doll which is a raised yeast donut filled with raspberry jelly topped with chocolate frosting and a pretzel stake.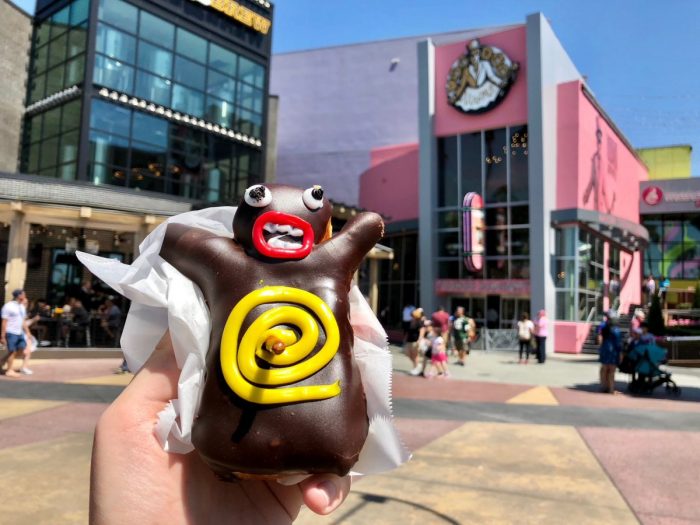 Everglazed, on the other hand, opened in early January 2021. Everglazed is far more than a donut shop. Their menu has burgers, sandwiches, and fries. They will even make some of these items using donuts as the bread. They have many alcoholic and non-alcoholic beverages such as flavored milk and spiked coffees.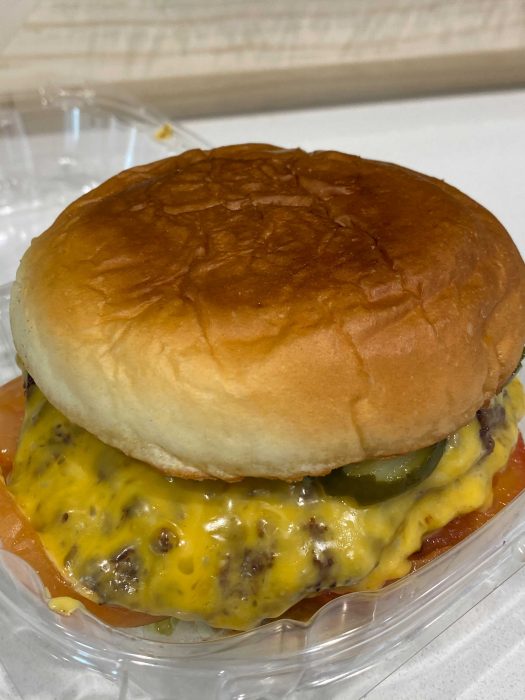 Now for the Orlando area local donut enthusiast, there are many places that claim to be king of the donut, and Orlando area theme park visitors are blessed to have both Voodoo and Everglazed. However, with each spot there is good news and bad news.
Everglazed at Disney Springs has 16 standard donut options to choose from with a few temporary items like the "Peeps" donut. Their donuts are far larger than your average donut. You will most likely need a fork and knife to eat these. Healthy young men have said that could not finish a donut in one sitting.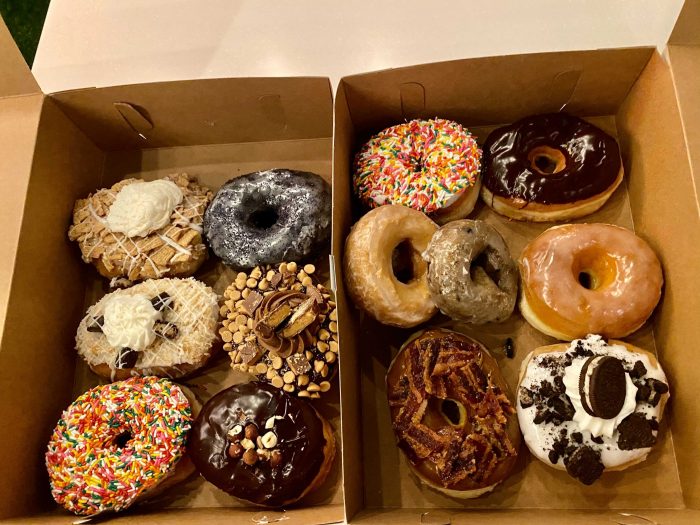 Everglazed has mastered creative toppings on their donuts without them getting stale. Everglazed also has a vegan donut known as the "Purple Glazed Ube", which gets high reviews. Yes, these donuts are perfect to post on Instagram.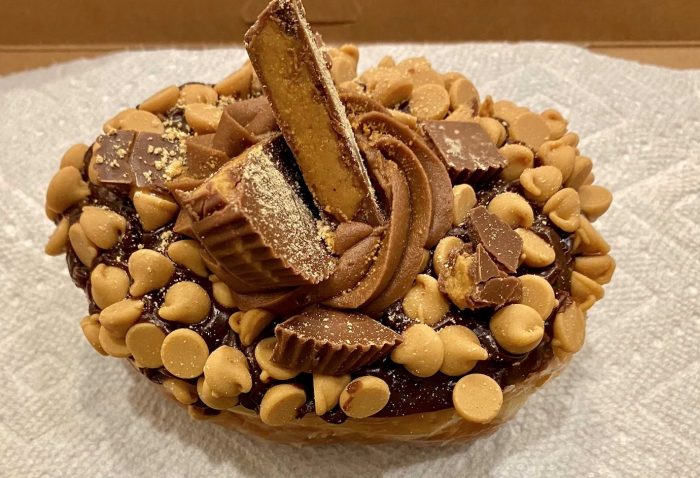 Alas, there is significant bad news about Everglazed. Their cheapest donut is $4.50, so plan on spending Disney prices for these. You can save a little money by getting a half dozen, but expect a built-in tip to be charged. Many of their donuts are remarkably like ones you would find at any specialty donut shop for less. Everglazed tends to engulf you with flavors and garnishes on their donuts so be primed if you are a messy eater. Some guests felt the toppings are unnecessary while others complained about "fake" filling flavors, especially strawberry. Everglazed also has a geographical issue for theme park guests. It is not easy to get to Everglazed for breakfast donuts while still going to parks for rope drop.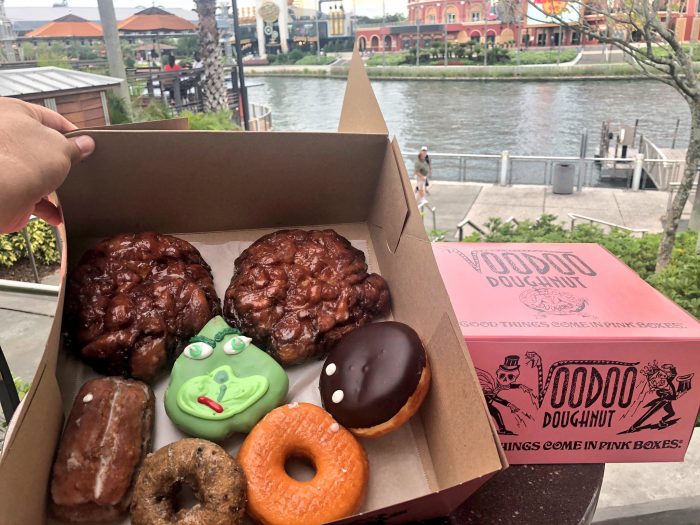 In contrast, Voodoo Doughnut reigns supreme in terms of breakfast options for Universal Orlando guests during breakfast hours. All off-site guests must walk extremely close to the Voodoo location before entering Universal's theme parks. A vast majority of Universal Orlando on-site guests must take this same path. Though food options at Universal have progressed dramatically in last 6 years, breakfast is still limited for day guests, especially in current times. Combine this advantage with Voodoo's over 40 varieties (about 10 vegan), and you can see the appeal. They make all varieties of donuts you would expect at a premium donut shop. You will not be bored with their donut menu. They constantly create themed seasonal donuts. So far this year alone, they have offered 12 different types of seasonal donuts, with some only being available a week. Though Voodoo donuts are smaller than Everglazed, they are a good size ranging in price from $1.50 to $3.50 for most of the menu. Voodoo offers far more filling flavors with new ones appearing literally weekly.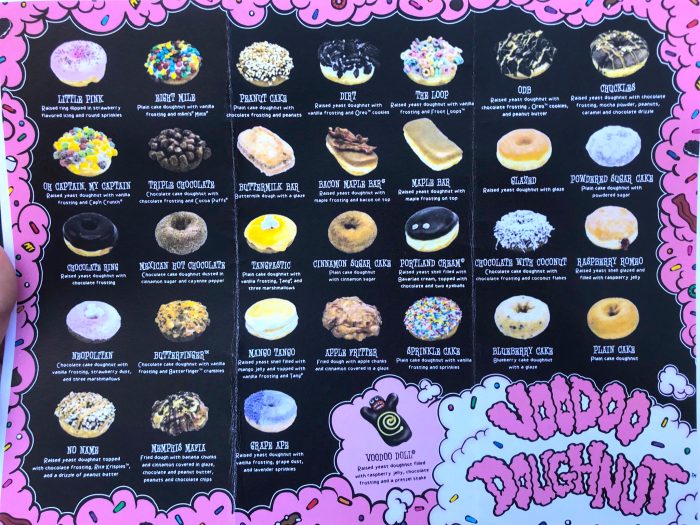 It is not all bunnies and unicorns with Voodoo though. The queue for Voodoo can still be long during busy seasons. They do offer a mobile ordering system, but it still fails occasionally. Some guests said the filling was inconsistent within the donut while others stressed that they were too sweet. A consistent complaint about Voodoo is their donut toppings, like cereal and pretzel stick being stale in contrast to Everglazed.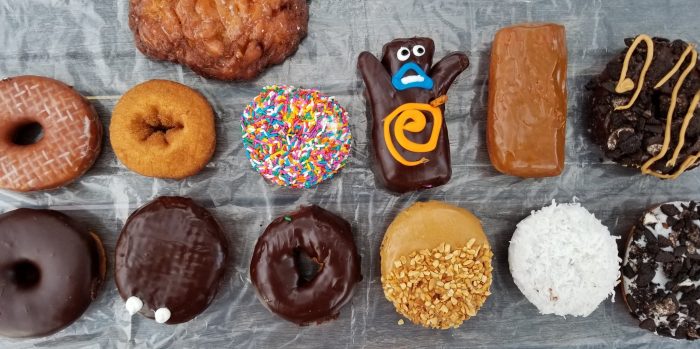 Now, the appropriate vacation choice is to try both places, which I did on a recent trip. Let us imagine you are visiting both Disney and Universal on your next vacation. You decide you want donuts during your trip. If cost is no concern and you do not need these donuts fresh for rope drop, then Everglazed wins. If you are going to go to Disney Springs anyway, maybe you can make an event of it by eating a grilled cheese sandwich with donuts as the bun at Everglazed. Then, you could get some donuts to go (as long your health professional never finds out). However, if you want a tasty breakfast available in the morning easily accessible before a long theme park day then Voodoo will win. The lower cost of Voodoo combined with more options make it great for guests.
Whatever you decide, remember the not so wise words: "Donuts can be a meal all by themselves if you eat enough of them." Have fun and enjoy the parks (and some donuts)!